If you are still undecided about centerpieces for your holiday party here are some very easy and clever ideas that I found on Pinterest. And the best part is you can use these ideas for any holiday just by changing up the colors a little bit.
My most favorite idea, ornaments in an upside down wine glass with candles resting on the top.
Coming in a close second, pillar candles in votives in a plain white tray surrounded by peppermint puffs.
Another all time favorite, berries and a candle. Cheryl from  'That's What Che said' used fake greenery and berries from the dollar store and a hurricane vase. The candle sits in a smaller glass vase to prevent any fire hazard.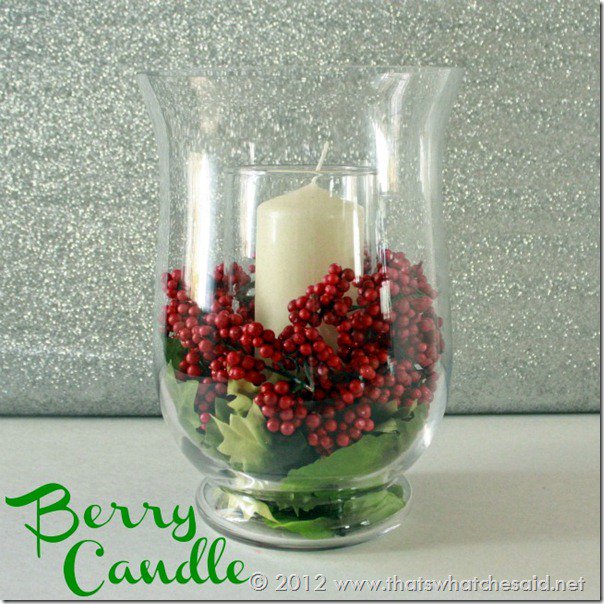 The next arrangement uses the vase in a vase trick that I used here. The carnations are in a small vase which is then kept in a large vase lined with peppermint puffs. A bow with a celebrate tag just adds to the charm.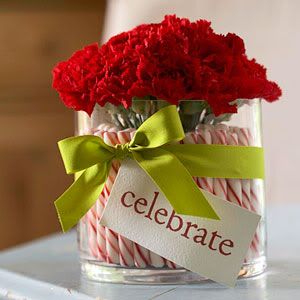 Another super simple idea yet so eye catching, a large ornament in a plate covered with a cloche. A rose and some fresh greenery keep the ornament company.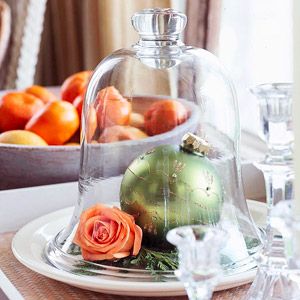 How was your weekend? Are you all set for the holidays yet? I just finished up my mantel today.
For more Christmas decorating ideas;