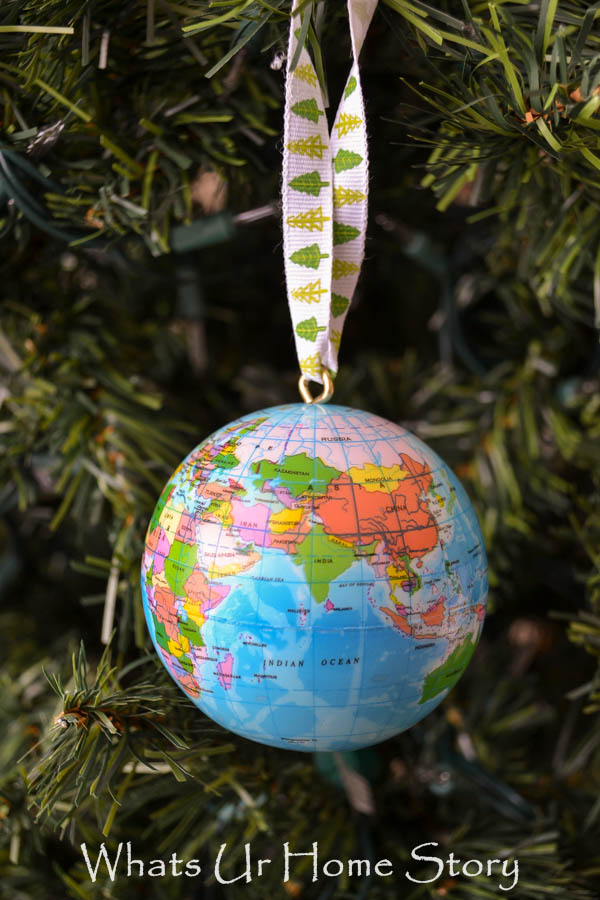 Happy Weekend! Today I have a very easy one for ya. Almost too easy that I feel bad calling this a tutorial! Really this globe ornament is a total piece of cake, a perfect kids craft idea. But as with everything in my life there is a back story for this one as well.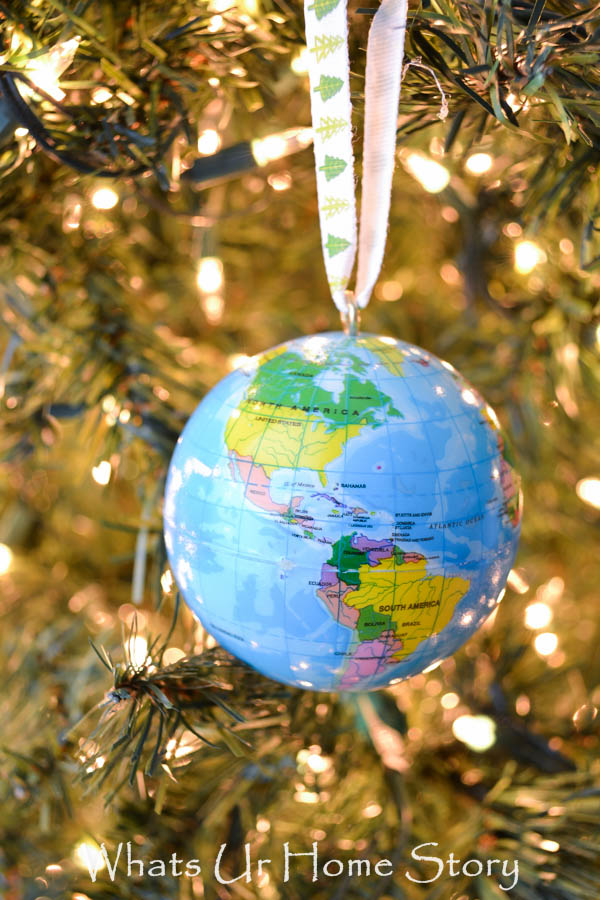 Every since I found an old Atlas at Goodwill for a buck I've been dying to use the pages in some craft or the other. But not a single idea cropped up in my mind. 😛 Can you believe a pretty map project that I might have a use for around the home has been eluding me for the last 6 months? Call it a crafter's block!
Until………….I started doing the 12 Days of Christmas series. I was like, "Won't a map ornament be the perfect project?" All I had to do was Mod Podge the maps onto a clear glass ornament! Brilliant, right?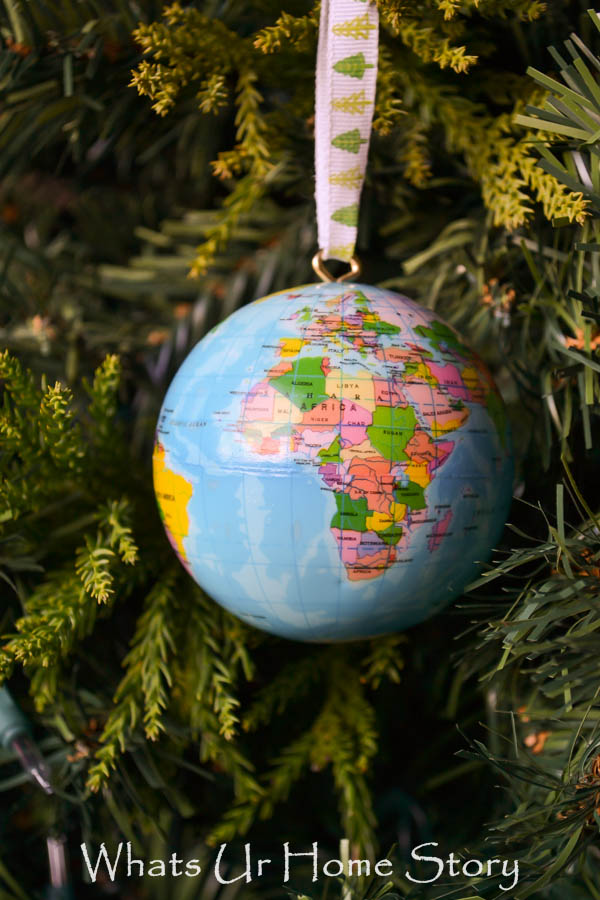 Not so much…….I realized that even before I started on the project 'coz of another ornament fail. So far I've shown you only the ornaments that made the cut ( Santa Belt Ornament,Sunburst Mirror Ornament, Glitter Swirl Ornament, Terrarium Ornament, Cork Ball Ornament, Woodland Reindeer Ornament,  Marbles Ornament, Vintage Jello Mold Ornaments, Snow Globe Ornament, and Fabric Scraps Ornament) but there was at least one that didn't make it. A leopard print ornament. Again a great idea and I'd found the perfect leopard print fabric. Sadly wrapping the fabric around the round ornament and getting a clean finish was impossible. In the process I ruined the beautiful fabric much to the disappointment of my animal print crazy daughter. She was upset with me for a day saying she could have used it for one of her craft projects and would have done a better job! The girl does have a point sometimes. 🙂
Anyhoo…that craft fail made me realize that I would have an equally tough time Mod Podge-ing the map in one piece around the round ornament. And the idea was shelved but not for too long. On my next visit to Michaels I came across this globe ball ($2). It is in the kids' plastic toy section, you know those bins with tons of animal figurines. It was the perfect size for an ornament! All it needed was a hook and some pretty ribbon. IPhone pics alert!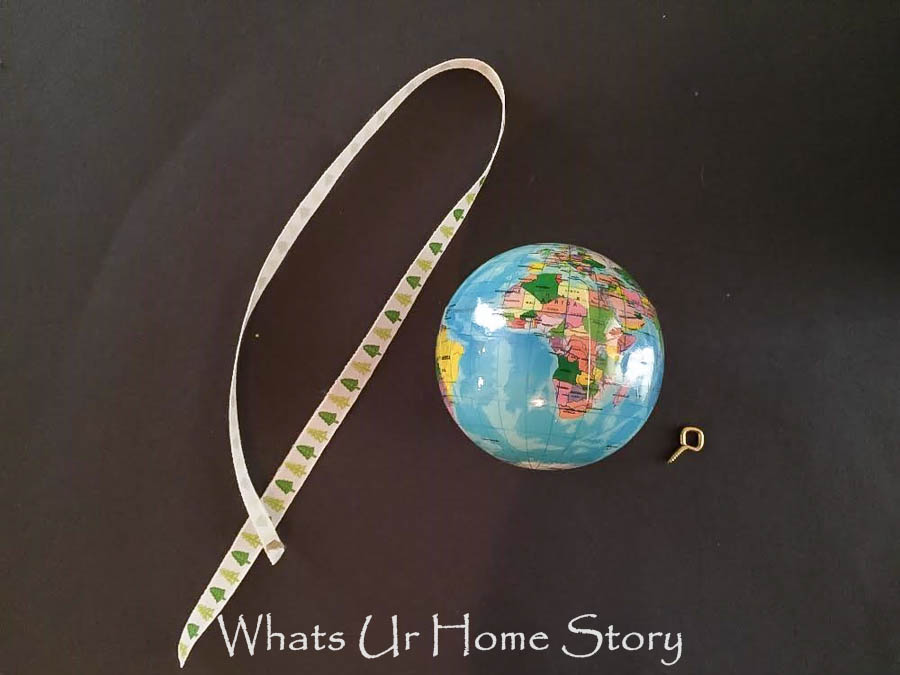 I just pressed a small picture framing hook that I already had into the top center of the ball. As the ball is made of a spongy material the hook went in very easily and stayed there.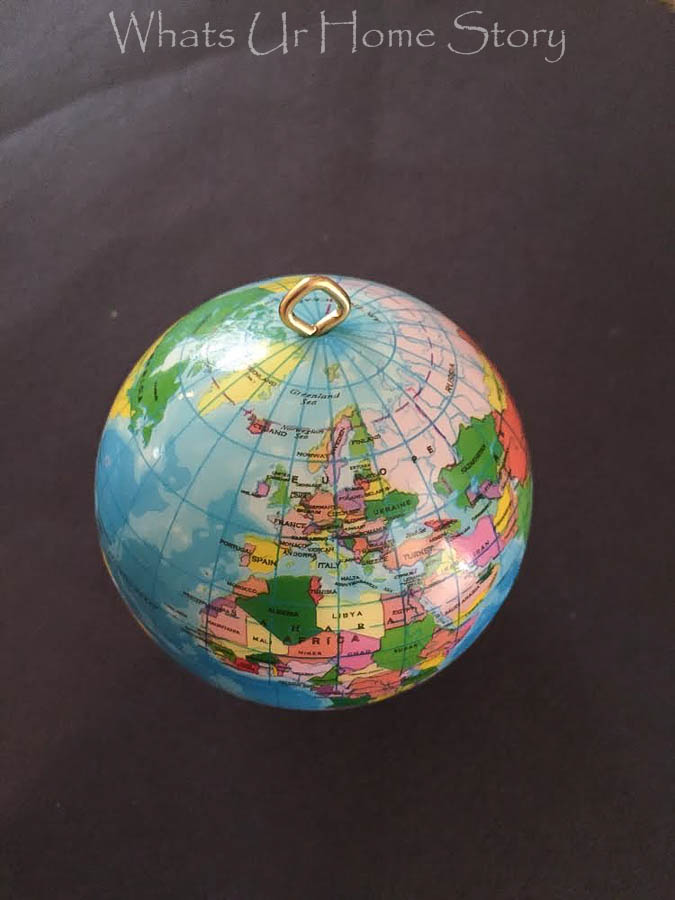 To give the ribbon loop a clean look I just hot glued the ribbon as follows;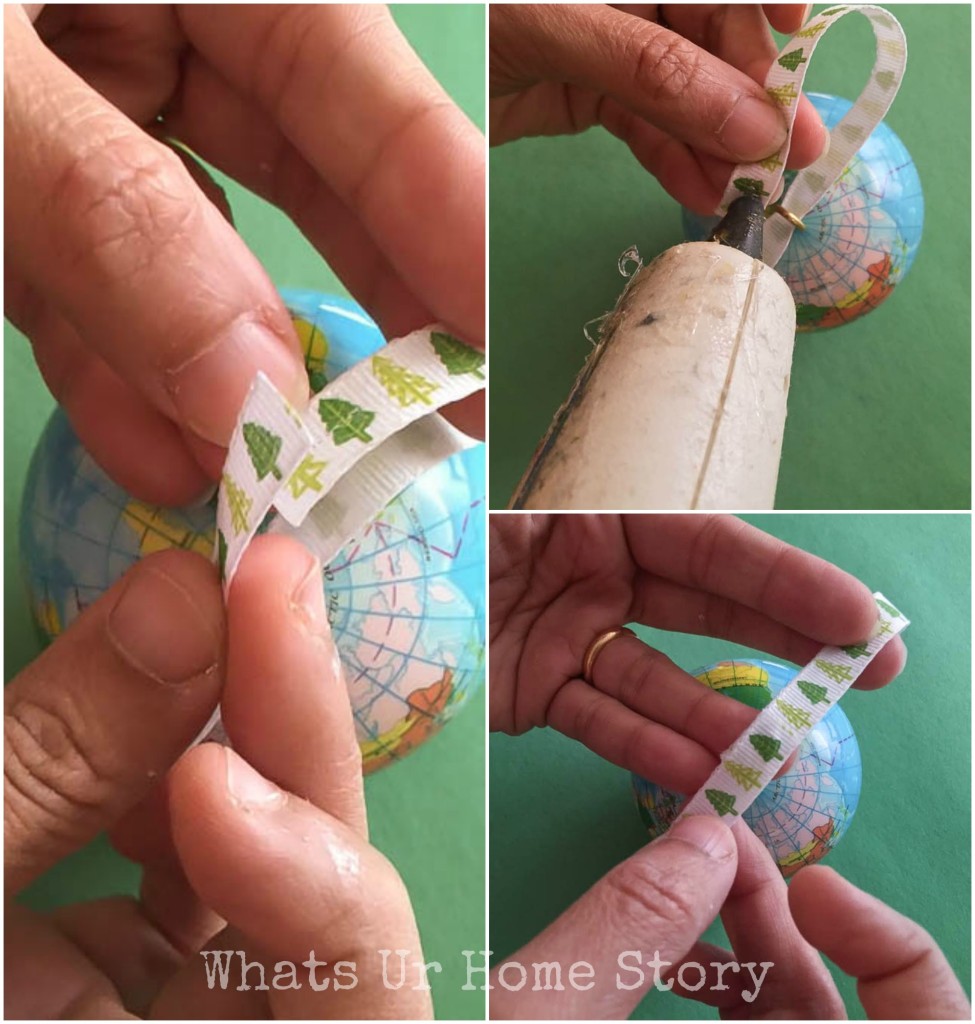 You could make this even more fun for the kids by letting them draw a heart with a Sharpie where they live. Hmm…the place where you live & a heart? Wait that gets me to my post for tomorrow….. 😉 Nope, no spoilers here. Head on over to my Facebook page for a sneak peek. Don't forget to check back in tomorrow as I've saved the best for the last! In the meantime do hop on over to these fabulous blogs and checkout their pretty handmade Christmas ornaments. There are some really clever projects on there.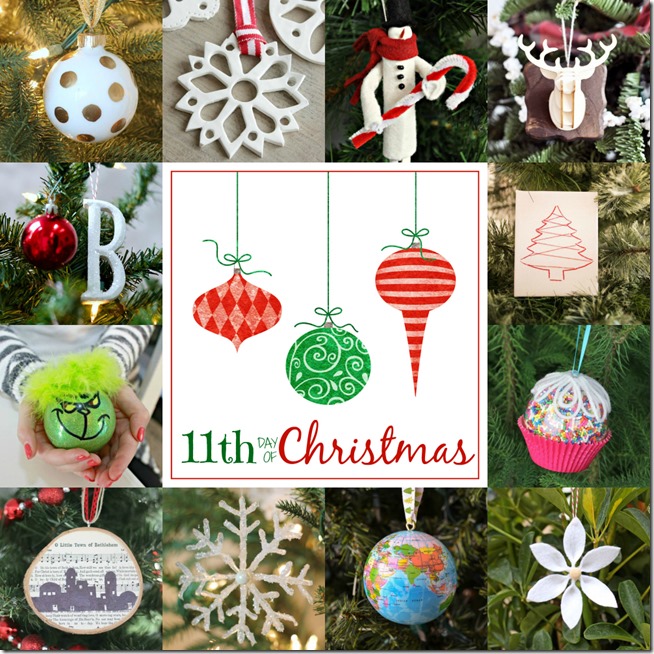 Gold Leaf Polka Dot Ornament | The Happier Homemaker
Polymer Clay Snowflake Ornament | Remodelando la Casa
Clothes Pin Snowman Ornament | Serendipity Refined
3D Deer Head Ornament | Cherished Bliss
Glitter Monogram Ornament | It All Started With Paint
Simple Canvas Tree Ornament | Bigger Than The Three of Us
Painted Grinch Ornament | Mom 4 Real
Cupcake Sprinkles Ornament | All Things G&D
O Little Town of Bethlehem Ornament | Lovely Etc
Frosted Hot Glue Snowflake | Thrifty and Chic
Globe Ornament | Whats Ur Home Story
Felt Flower Ornament | May Richer Fuller Be