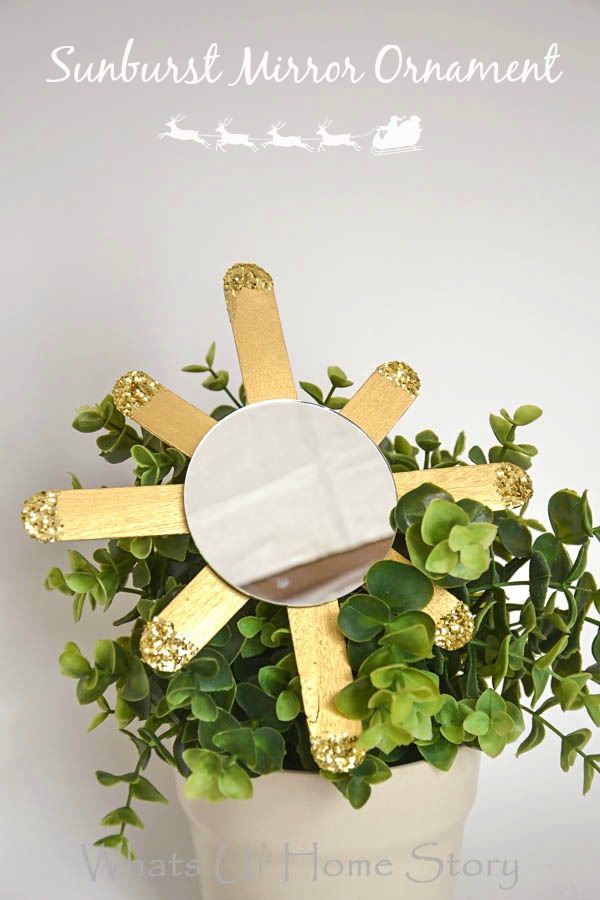 So last year I went crazy as in handmade ornament crazy……….you know, "I want to DIY everything that goes on my tree" crazy! Now when I think back "crazy" seems to be the only befitting word to describe me from Holiday season 2013. What was I thinking? Full time job, blog, home………..still I churned out one ornament after other. Naturally DIY'ing everything takes way more time than you think. I started posting in December only to realize that I ran out of time and couldn't get them all in before Christmas! Duh! There is only so much you can post in X no.of days! On the flip side, that meant this year I have some room to breathe;  a handful of projects that I did last year but didn't get a chance to post! Have one such for you today, the Sunburst Mirror ornament (think I had 3 different ones last year but took only step-by-step pics of this one).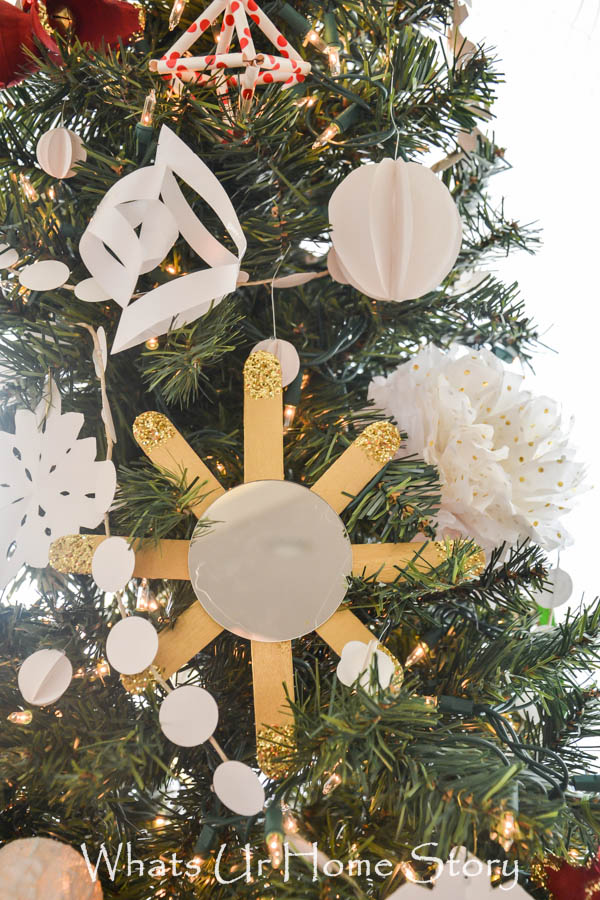 I know what you are thinking, "She had to make a sunburst ornament, she had to!" Oh yeah, I had to would be the right word. I have already tackled 2 big sunburst mirrors then why not an ornament? By the way that's our totally DIY'd Christmas tree from last year.
Materials
Craft sticks (Think that is what they are called) – 4 – Dollar store
Glitter – I seem to have them around all the time
Mirror – Michaels (these were left over from my Poster board sunburst mirror project; the original plan was to do 3 but that got shelved)
Mod Podge – again another item I always have around
Glue gun
Gold spray paint (not shown) – Think it was left over from the Gold Tribal Bowl project.
Scissors
Paper plate for the glitter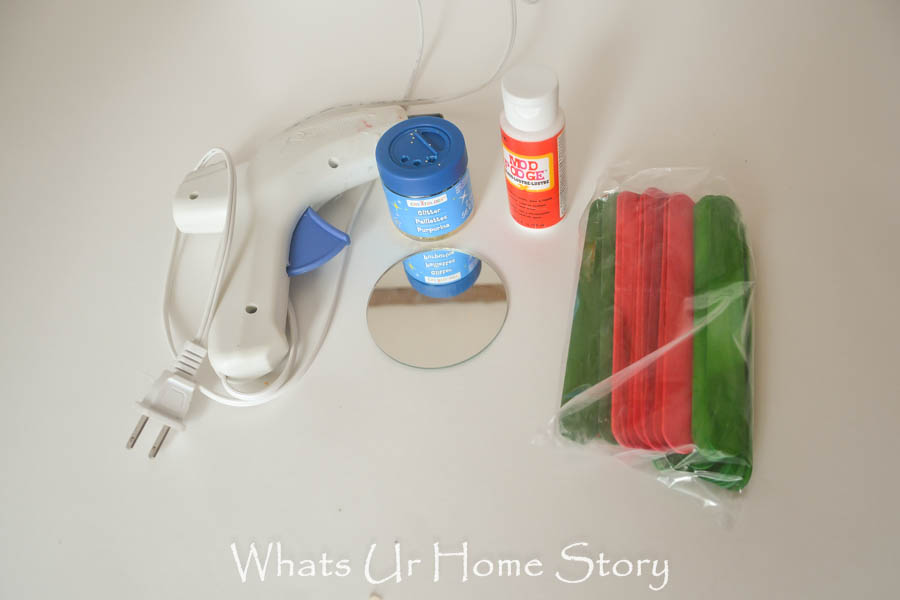 Method
With a sharp pair of scissors cut the sticks in half and spray paint them Gold.
Turn the mirror upside down and hot glue the sticks one by one to the back of the mirror. It is easier if you do the vertical ones first, followed by the horizontal, and diagonal last. For the diagonals I pushed the sticks a little more towards the center so they appear shorter. Doing this would give the impression of longer and shorter rays.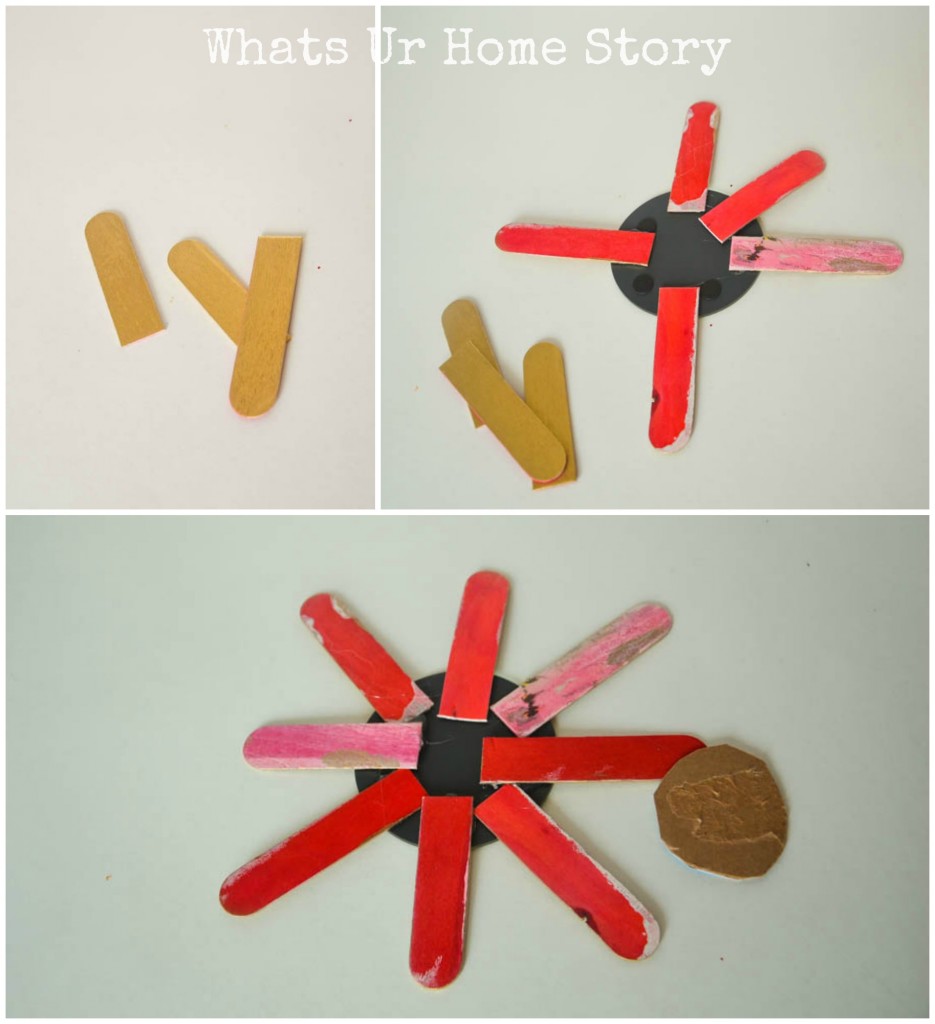 Hot glue a small circular piece of cardboard over the sticks to cover your work. This is strictly optional and is needed only if you plan on hanging the ornament. In which case you would hot glue a pipe cleaner hook to the back of the cardboard. I just placed my sunburst on the tree. It was big and light enough to stay on its own.
Paint some Mod Podge to the edges of each stick and glitter away.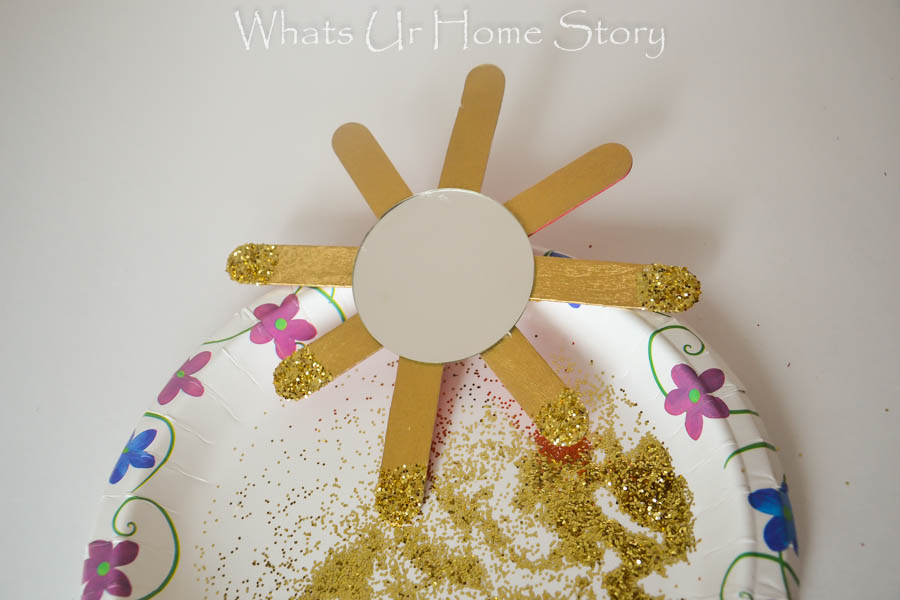 Blow/ wipe away any excess glitter and voila!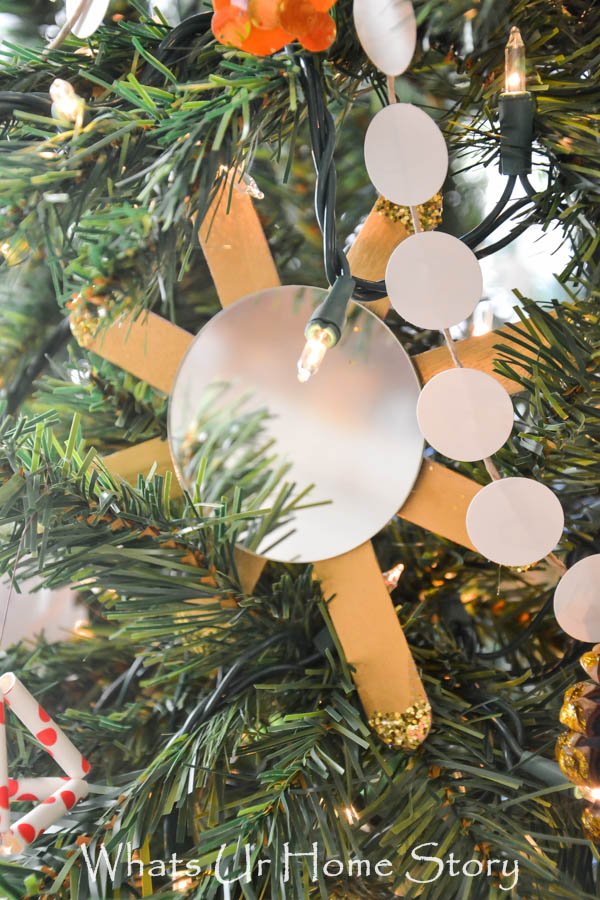 Any other sunburst fans out there? You gonna make this one for your tree? My other 12 Days of Christmas Ornaments: Santa Belt Ornament, Glitter Swirl Ornament, Terrarium Ornament, Cork Ball Ornament, Woodland Reindeer Ornament.
Don't forget to hop on over to my friends' and see what they are sharing today on our #12daysofChristmas hop.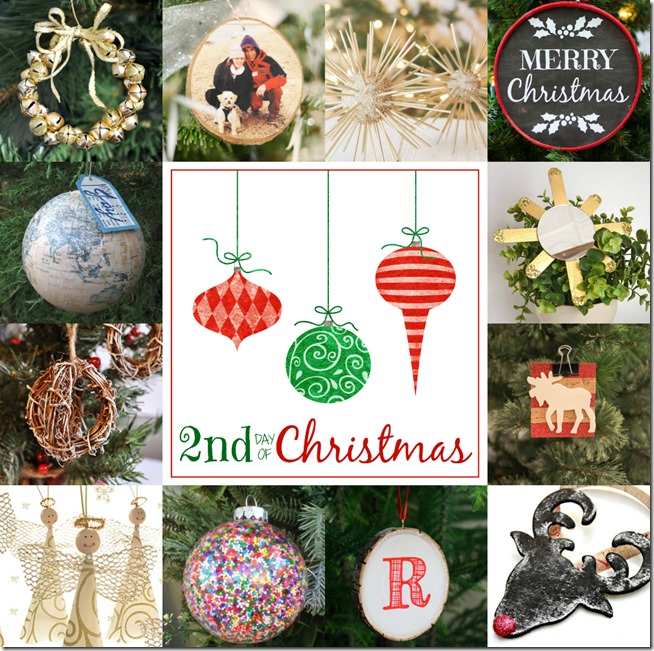 Easy Gold Jingle Bell Wreath by Serendipity Refined | Instagram Wood Slice Christmas Ornament by May Richer Fuller Be | Modern Urchin Ornament by Thrifty and Chic | Embroidery Hoop Ornament by It All Started With Paint | Joy to the World Ornament by Lovely Etc. | Sunburst Mirror Ornament by Whats Ur Home Story | Painted Rattan Ornaments by Cherished Bliss | DIY Moose Ornament by Bigger Than The Three of Us | Angel Ornament by Remodelando la Casa | DIY Sprinkle Ornament by The Happier Homemaker | Monogrammed Wood Slice Ornament by All Things G&D | Chalkboard Rudolph Ornament by Mom 4 Real