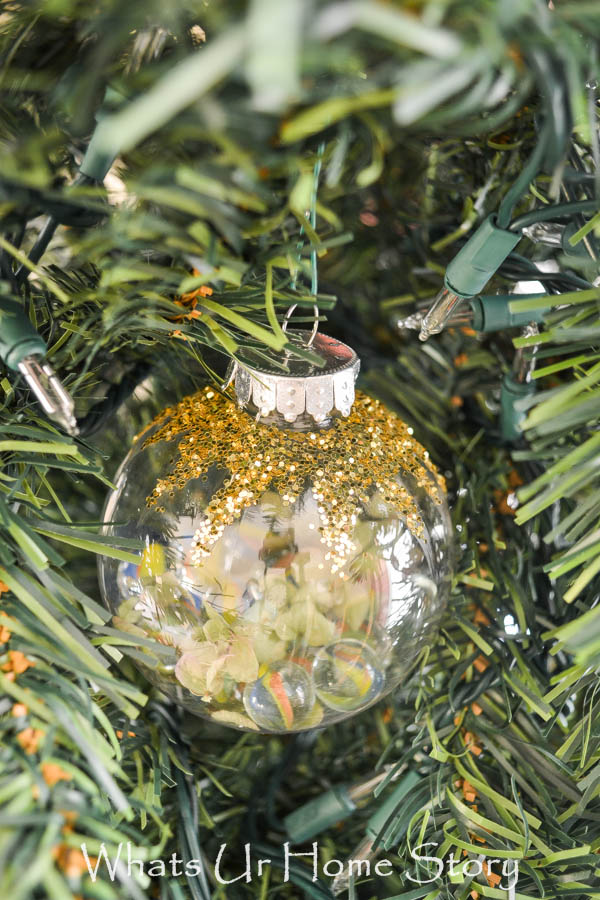 Today I have yet another easy (it took me 5 mins) ornament for you using a favorite toy from my childhood, marbles. The mere sight of them brings back so many good memories! Growing up in rural India these sparkly gems were hard to come by. So we treasured and exchanged them like my son does his Pokemon cards but with more sincerity and fan fare. Literally, the kid with the prettiest and most sparkly marble was the king of the playground. Such was the commanding power of Marbles those days!
Other than the occasional marble that we used to come across among my kids' toys these treasured gems were erased from my memory till I spotted a bag full of them at the Dollar Store the other day. Ever since I have been trying to incorporate them into my decor ( you might remember them from my summer flower arrangement post).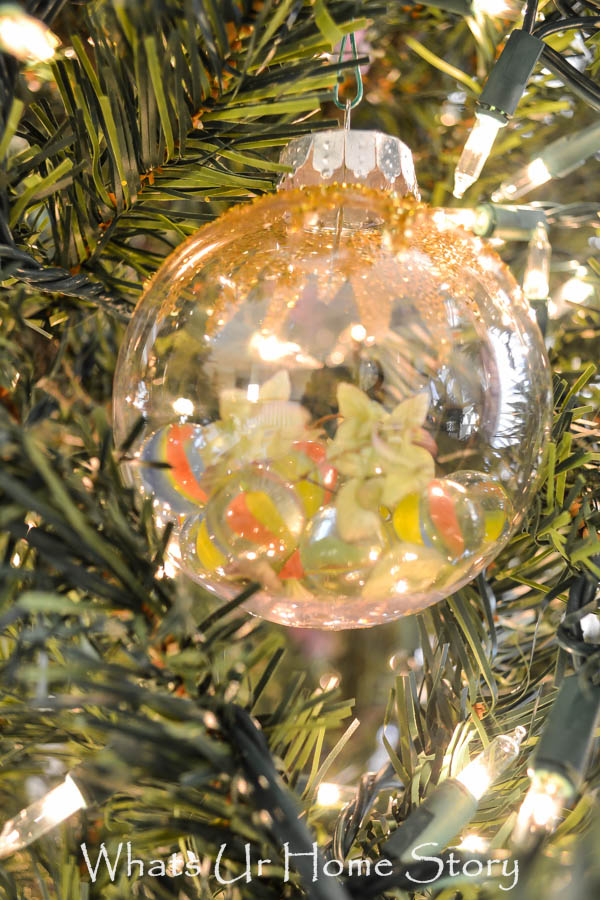 To make these you'd need;
Clear glass or acrylic ornament – Michaels
Marbles – Dollar Store
Dried Hydrangea – Optional
Mod Podge Brush
Glitter  
Start by adding 10 or so marbles into the ornament. And just 'coz I can't leave things alone I added some dried Hydrangea flowers in there too. What can I say, don't the colors complimented each other?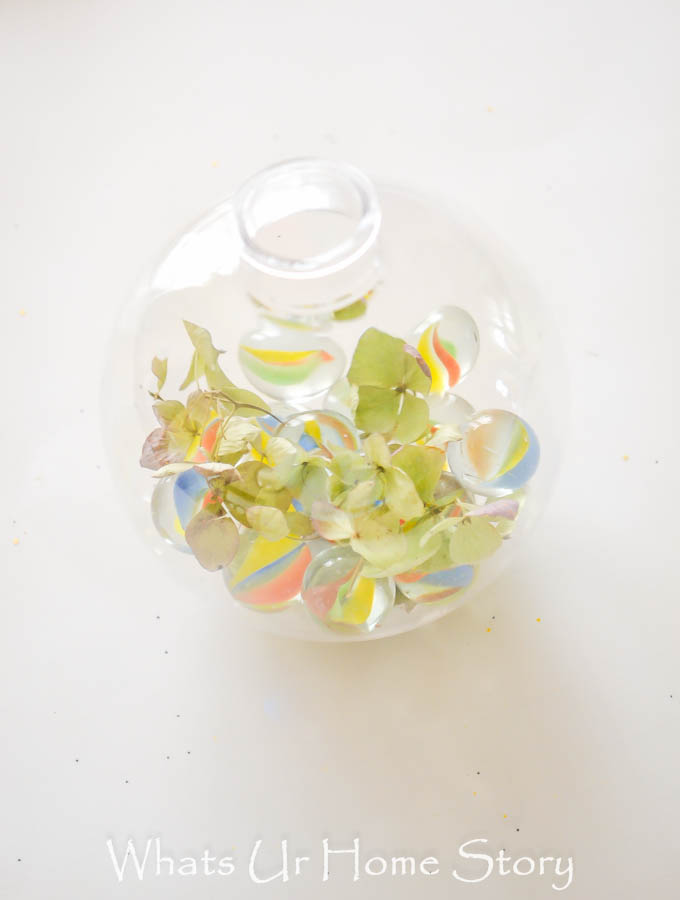 It could work as is but then again as I mentioned earlier, I HAVE TO embellish and that too with glitter. Blame it on my Jersey roots. 🙂
Close the cap of the ornament and with a brush dipped in Mod Podge draw rays around the cap. I was going for a sunburst, another weakness of mine, effect.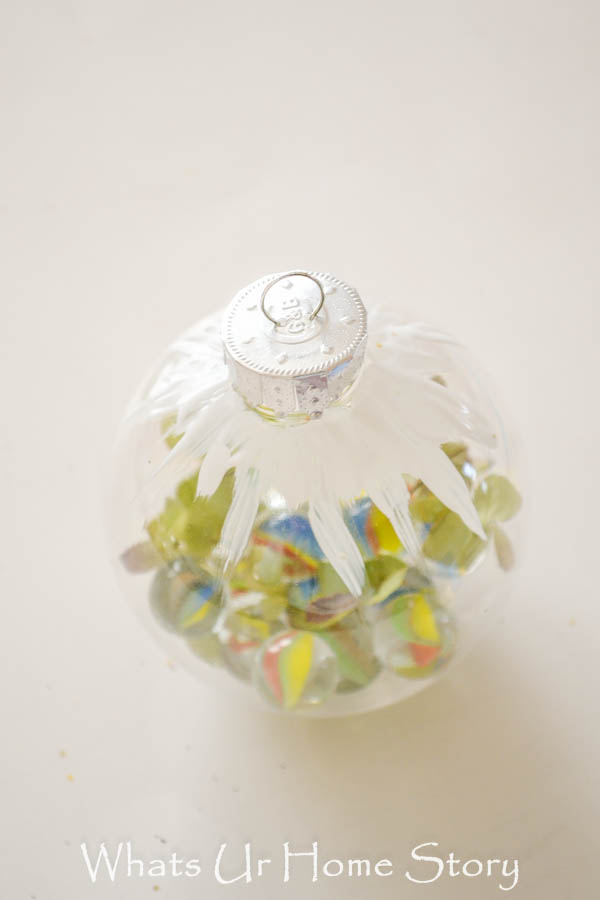 Pour glitter over the glue. Do keep in mind that you'd need to work in sections for this or else the Mod Podge will dry out. Blow/ wipe away the excess glitter and you've got a Christmas ornament with marbles!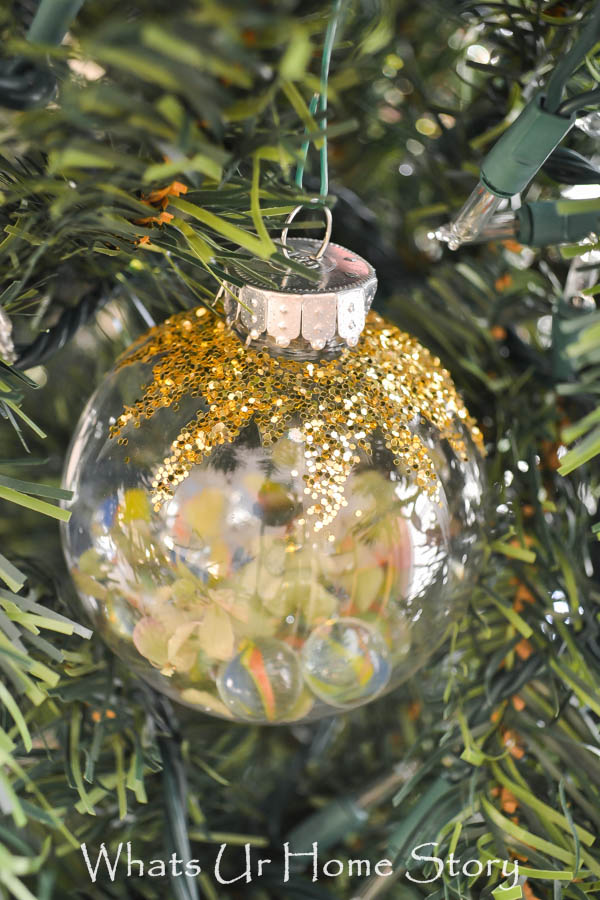 Here it is sparkling under the lights.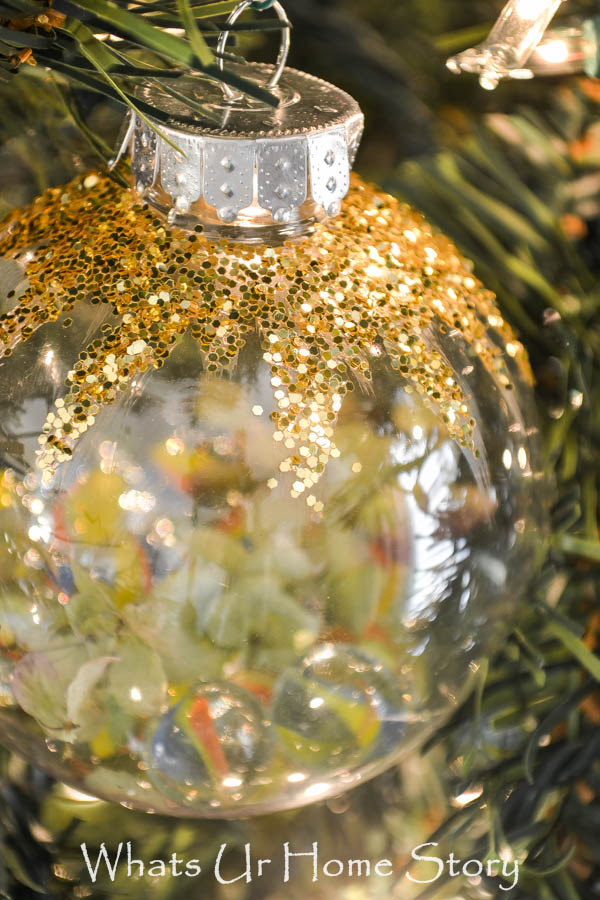 Have you got nostalgic memories related to marbles?
And now for my partners in crime, the 12 days of Christmas team. Oh and by the way here's my list of ornaments so far;  Santa Belt Ornament, Sunburst Mirror Ornament, Glitter Swirl Ornament, Terrarium Ornament, Cork Ball Ornament, Woodland Reindeer Ornament.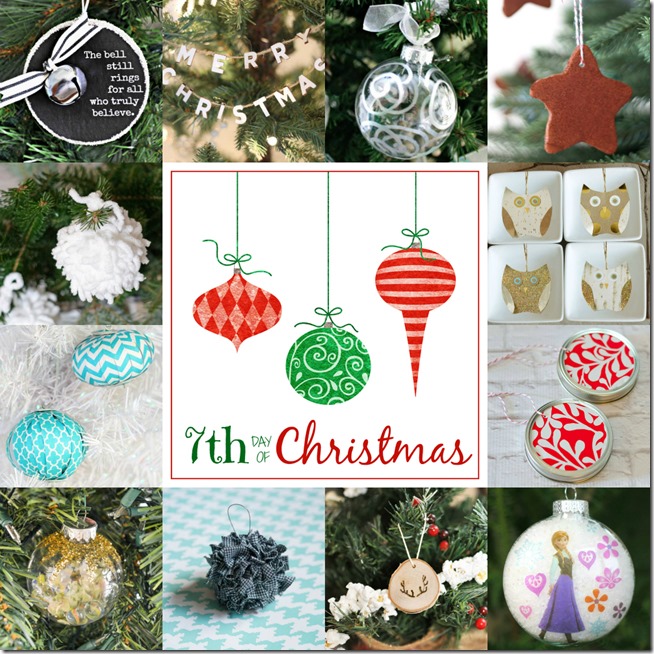 Polar Express Bell Quote Ornament | Serendipity Refined
Merry Christmas Jute Garland | Thrifty and Chic
Silver Painted Ornaments | Mom 4 Real
Cinnamon Dough Ornaments | The Happier Homemaker
Yarn Snowball Ornaments | May Richer Fuller Be
Paper Owl Ornaments | Remodelando la Casa
Scrapbook Paper Ornaments | Lovely Etc.
Mason Jar Lid Ornaments | It All Started With Paint
Marbles Ornament | Whats Ur Home Story
Antler Wood Slice Ornament | Cherished Bliss
Simple Fabric Ornament | Bigger Than The Three of Us
DIY Princess Anna Ornament | All Things G&D