Disclosure: Thanks to Collective Bias, Inc. and its advertiser for sponsoring today's story as always the ideas, tips, and thoughts are all mine! #HolidayMadeSimple #CollectiveBias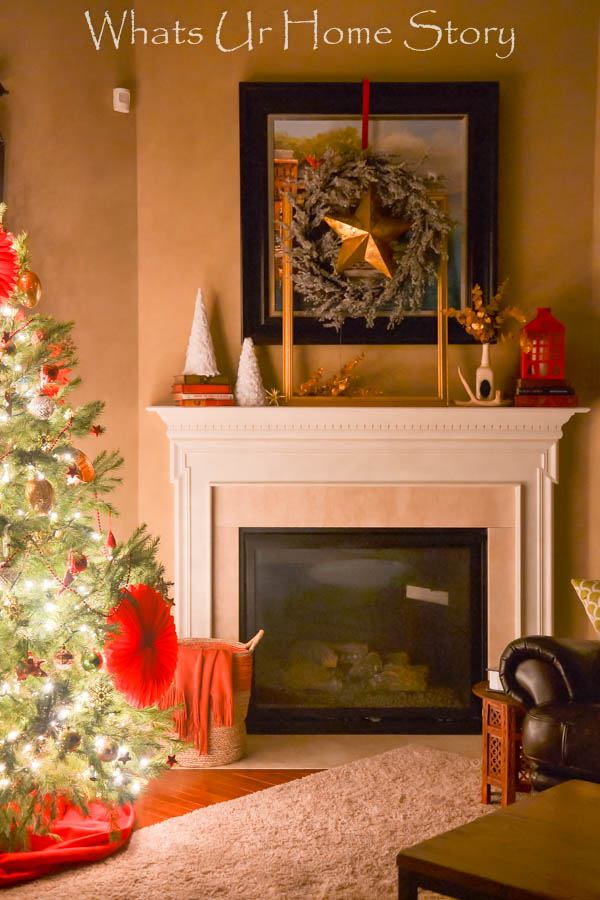 How was your weekend? Ours was pretty busy ending with a quick fun get together with friends. That's how most of our weekends have ended lately with a very informal get together and party (oh yeah there has to be food…..lots of it) at a friends' house or the other. Coupled with the fact that it's the Holiday season our gang's entertaining has been in overdrive. These impromptu get togethers remind me of our pre-kids times when we invariably wound up at a friends' house or everyone would be crashing at ours. Now that the kids are older and around the same age we are falling back into that routine and I'm totally liking it. I mean, who can say no to good company and fun times?
The other day I was at our local Walmart and saw the Nestle Carnation Famous Fudge kit in the Baking section and that set the ball rolling on this latest party.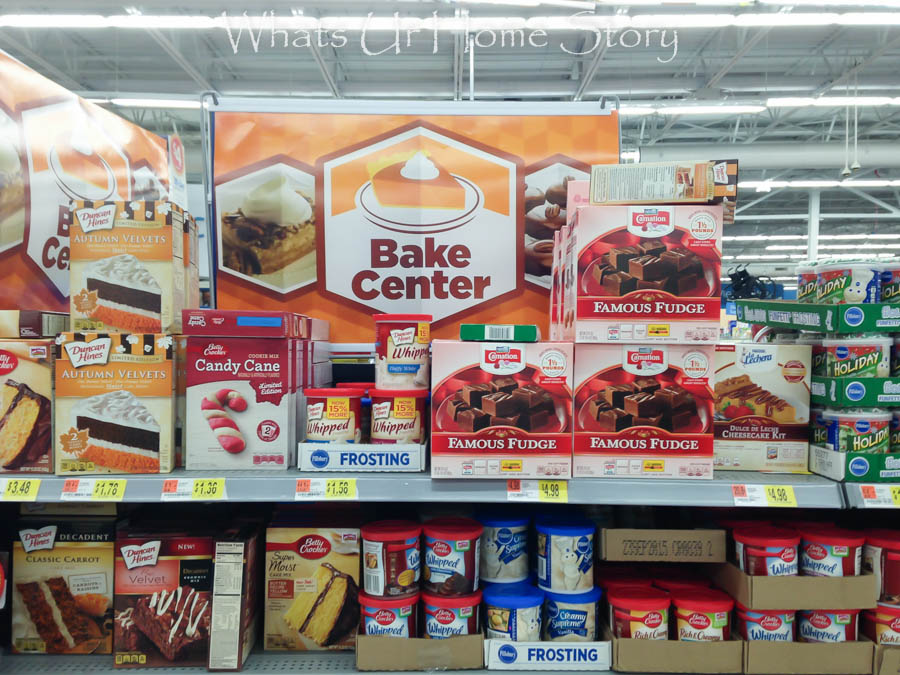 How about an International theme for the next party? As I walked the aisles a million ideas were buzzing through my head; Sushi….Taco appetizers, some Garlic Bread, some thing Indian and Chinese or Thai for the entree…..and a different take on maybe an Indian dessert? A Mango Cheese cake with Wonka SWEETARTS Candy Cane topping? Why not, I was standing right there in the candy aisle and those candy canes were smiling right back at me!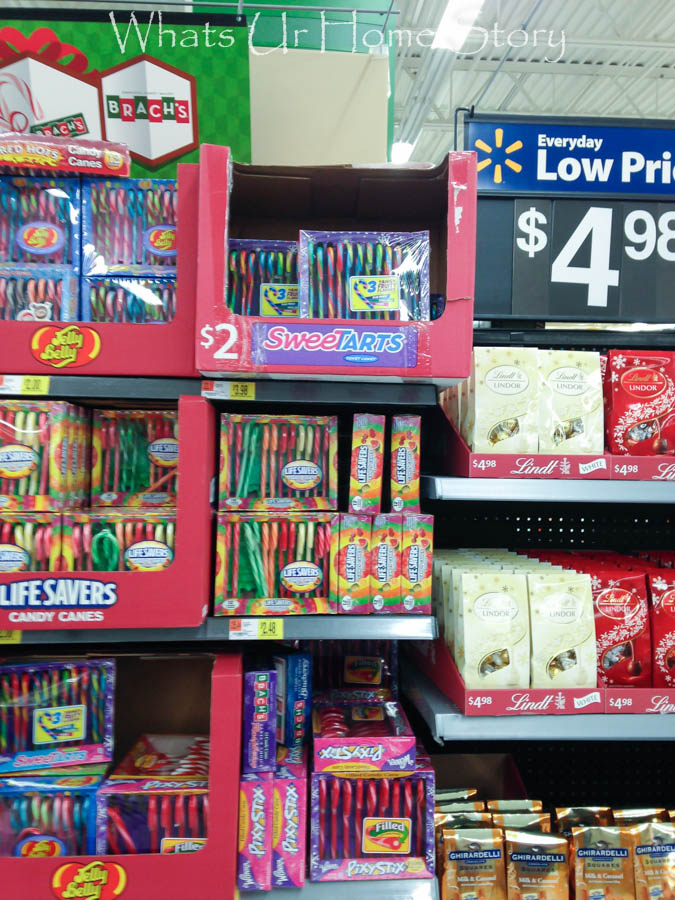 The only problem was I would have a hard time hiding the Sweetart candy canes from my Sweetart crazy daughter! She is all for the tangy flavors be it Blue Punch, Green Apple, or Cherry. I had to literally change the hiding spot every day in the pantry! Do you end up doing that too, hiding food from the kiddos?
Decor wise other than the Mantel and some update here and there I really didn't get much time.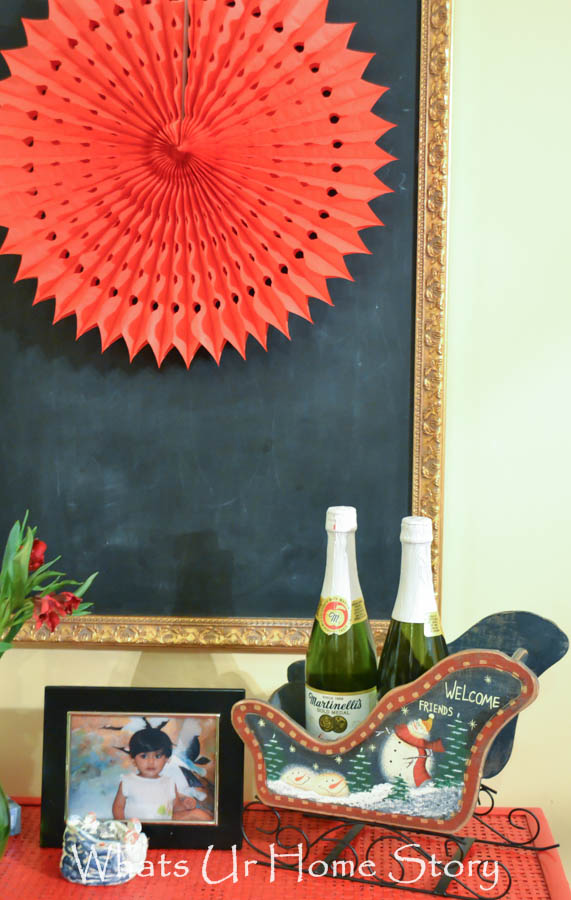 This season we have been decorating with a a lot of Red. So we carried that thorough the breakfast nook to over the dining table.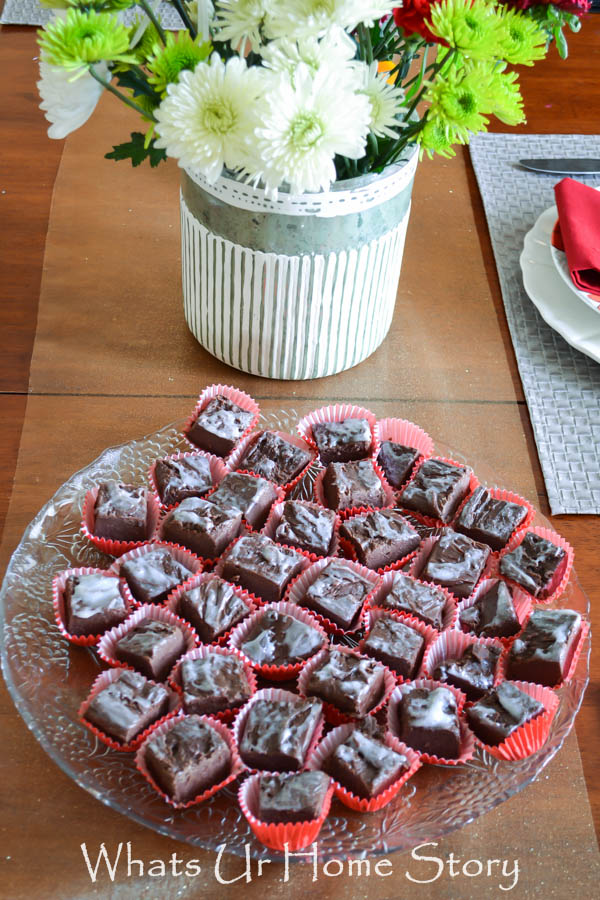 I even tried my hand at a place setting, which is a totally alien thing for us as we are big on the Buffet style.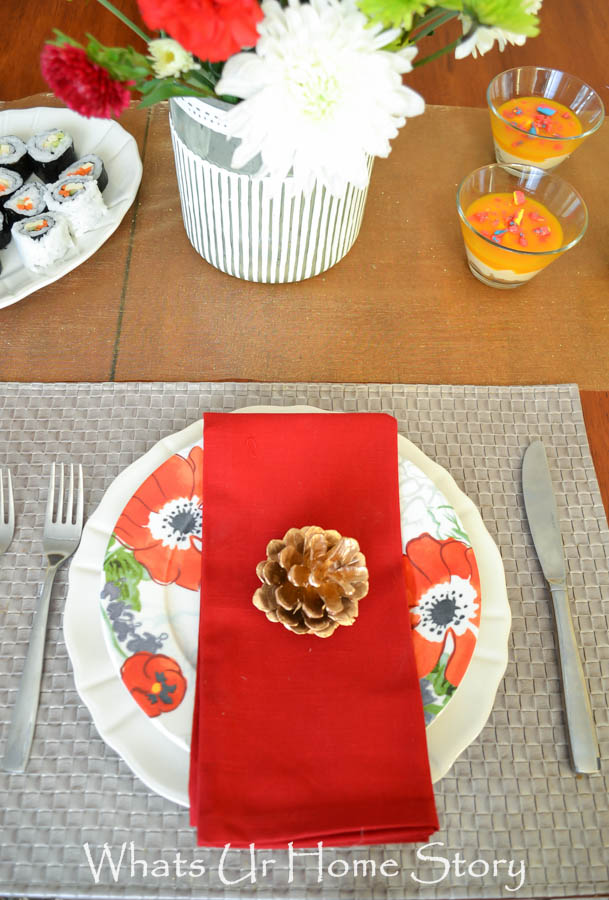 But soon we were back to the Buffet! The china changed to paper plates and cups….the cloth napkins morphed into paper napkins. The reason being it's Sunday night and the faster you can clean up the better. Can't really argue with that especially since we are late dinner eaters (really late around 8.30 ish – 9) and do have long commutes into work the next morning.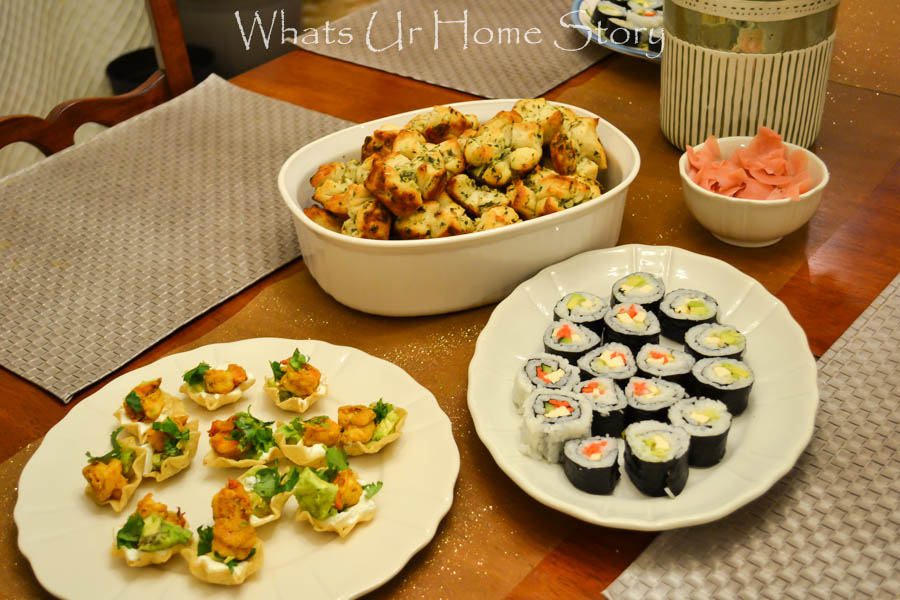 The No Bake Mango Cheesecake with Wonka Sweetarts Candy Cane Topping. Note to self for next time…add the topping only right before you serve or else the color will bleed.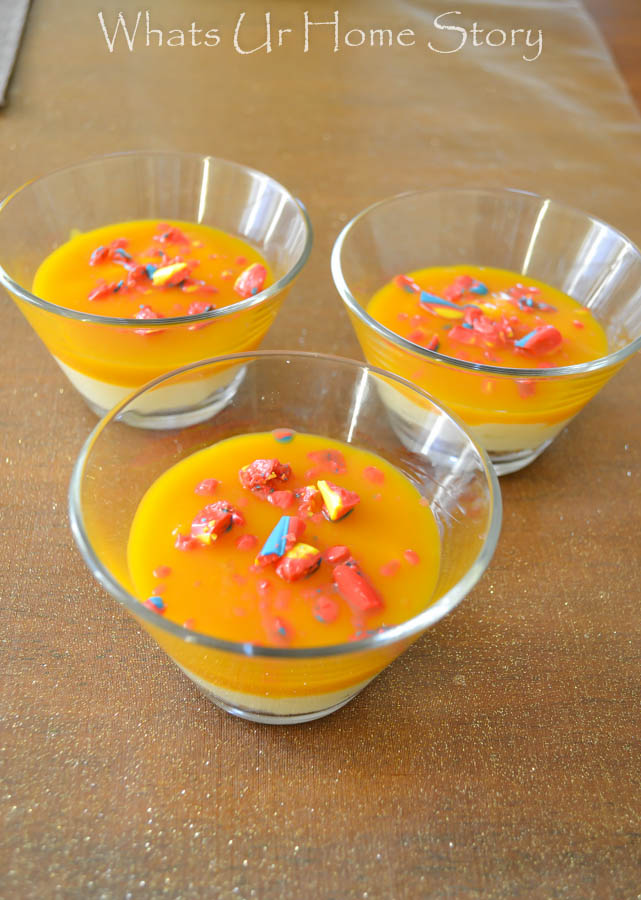 The highlight of the international themed menu were the easy recipes;
Homemade Veggie Sushi – I saw the lady at our local Asian market do a demo once and have been following her recipe since. If you have the Sushi tools is it super simple to make.
Mini Garlic Monkey Bread – The best one ever from Damn Delicious.
Shrimp Taco Bites – First time making it and a huge hit by I Wash You Dry.
Yucca Fry – A recipe I have modified over the years from one that a friend had passed on. This one by Pachakam is pretty similar.
Kerala Fish Curry – This is B's specialty and there is not one party at our house without this dish. It is a spicy South Indian Fish Curry in coconut milk made with King Fish. Frankly it is the best the Fish curry I've had even better than my Mom's and MIL's. This one from my friend, I Cook I Post, comes pretty close.
Fried Rice – The usual, again has been making it for years. It is all in my head. 🙂
Mongolian Chicken – Followed this recipe to the T.
Honey Chili Potato – Modified this recipe from Chhapan Bhog.
And for dessert, of course
No Bake Mango Cheesecake with Wonka Sweetarts Candy Cane Topping – I followed a bunch of different recipes I found on Pinterest and made up my own.
and the yummylicious  Chocolate Fudge from the Nestle Carnation Famous Fudge kit.  The kit's directions were  simple and it took hardly any time to make the 1.5 lbs of fudge! To recreate the look of Indian sweets with an edible silver leaf topping I dipped them in edible Sparkling gel before serving. Monkey #1 gave his verdict even before it set, "Too Good"!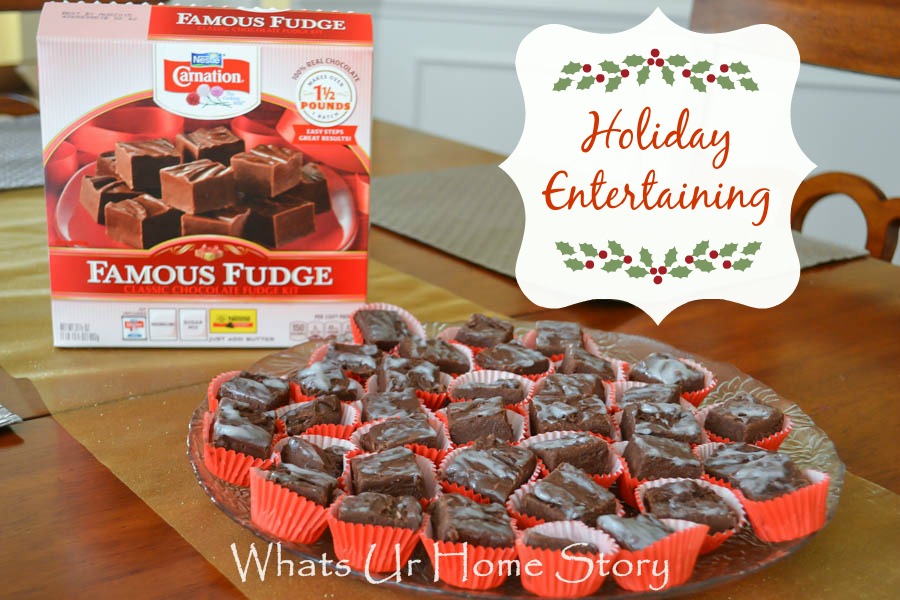 Was a fun night…….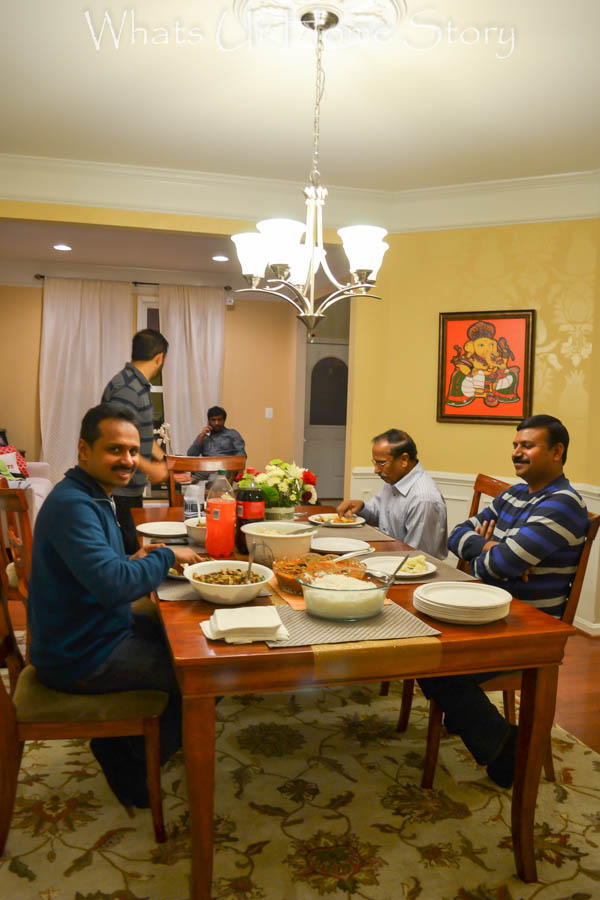 Here's to more holiday entertaining and the company of good friends!

How do you entertain for the holidays? Do you host formal or informal parties? What are your favorite holiday recipes?
PS: To celebrate the holidays Nestle is giving out $1,600 in Nestle Gift Baskets. You can enter below to receive a $100 Nestle gift basket (8 winners) and a $400 grand prize Nestle gift basket (2 winners).