If you haven't already done so, don't forget to enter the $50 Michael Dexter Design Store Credit giveaway for a chance to win custom wall art.
*********************************************************
And the wreath parade continues…..This time it is my burlap wreath updated for Christmas.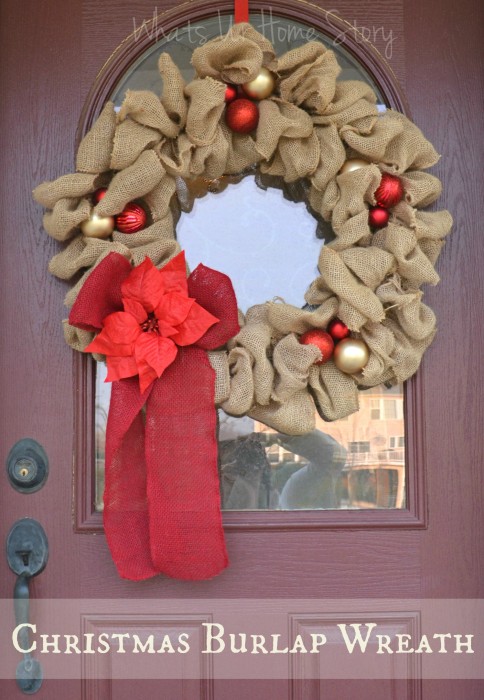 In the spirit of re-purposing I used the burlap wreath that I made back in Fall and updated it for the season with some small tweaks. You can see how I updated it for Fall and Halloween.
For this update you'd need;
3 types of Ornaments (4 of each) – I used the ones from my last year's Christmas Mantel; the big red and gold are similar in size while the third one is smaller.
Piper cleaners – Already had
Red burlap ribbon – Walmart ($3.47, I used it here too.)
Poinsettia Clip-on Ornament – Walmart ($0.97)
The original burlap wreath tutorial is here.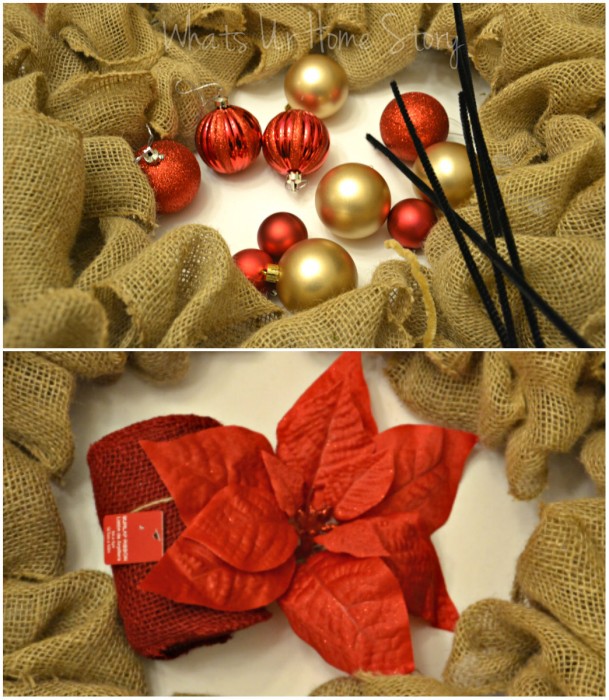 I stripped the chevron burlap ribbon from my earlier version and reused it on another wreath. 😉 I told ya, I'm on a wreath making spree!
String the ornament onto the pipe cleaner.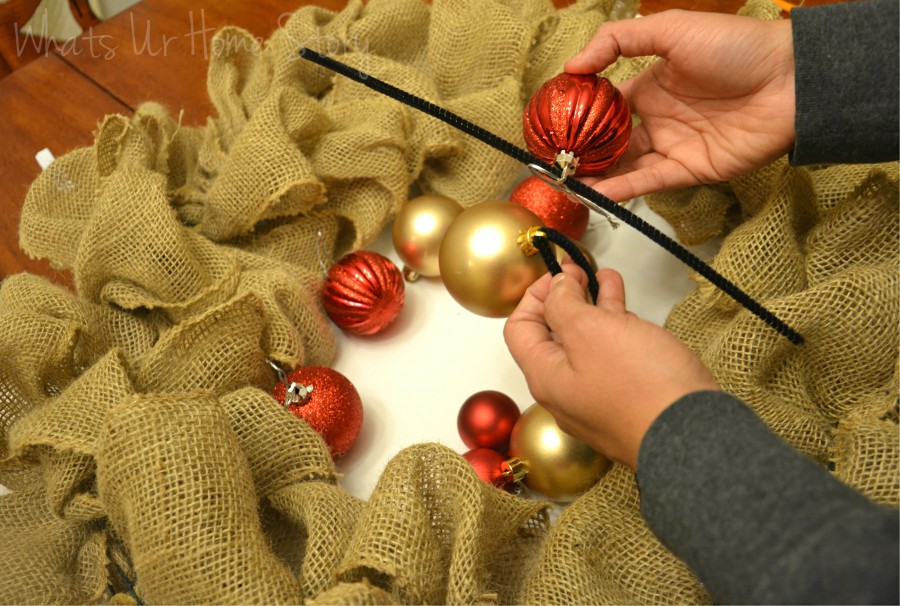 Attach the ornaments to the wreath frame in a group of three. After the first set is tied down in place eyeball the spacing and place the other ornaments (don't attach to the frame) so that you get an idea of where the next groupings go. In my case, I had added more burlap ribbon to my first version of the wreath because I thought I liked a fuller wreath. Realized after the fact that I preferred the first version over the fuller one but was too lazy to go back to the old one. Anyways that rearrangement left me with a rather thin spot on the wreath (it wasn't very noticeable earlier because of the chevron ribbon). So if your wreath has uneven spots no worries you can always cover it up with something. That's where the bow and poinsettia come in.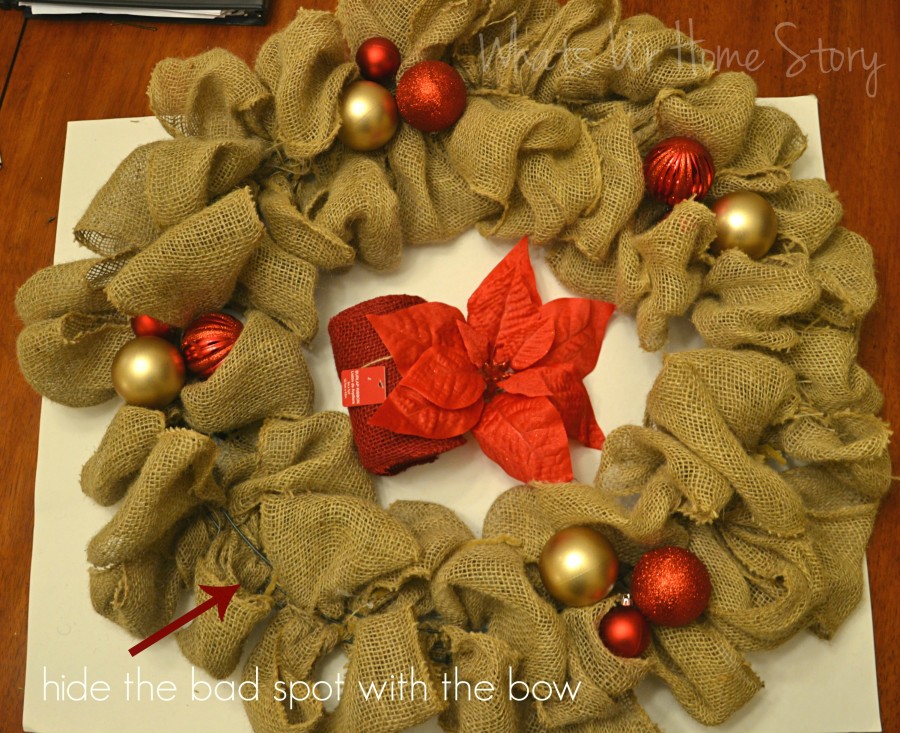 Once you finalize the spacing attach the rest of the ornaments to the frame in groupings of three.
The bow is nothing fancy, just tied it in the center with a pipe cleaner and used the same pipe cleaner to attach it to the frame.
Clip the poinsettia flower to the pipe cleaner in the center of the bow.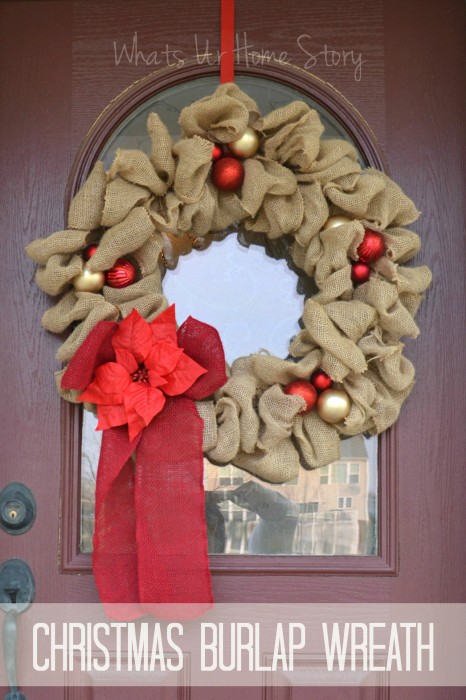 A zoomed out shot of our front door.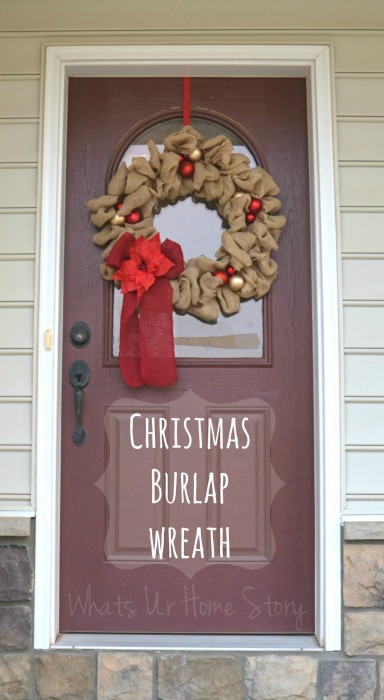 Don't you just love it when something is so versatile that you can use it over and over by just changing a few things up?