The first of my Christmas wreaths, thanks to my cousin and her boxwood bushes.
I know I could have been a little bit more creative with the 'Joy' sign but was running short of time with the photo shoot.
As the story goes as soon as I spotted the boxwood bushes in my cousin's yard my mind went into overdrive thinking up ways to use it. Yeah, that's what I like to do on a holiday break! Anyways, it is simple to make but you do need some patience. Took me about half an hour from start to finish.
Before we get into the tutorial here's a shot of the vignette.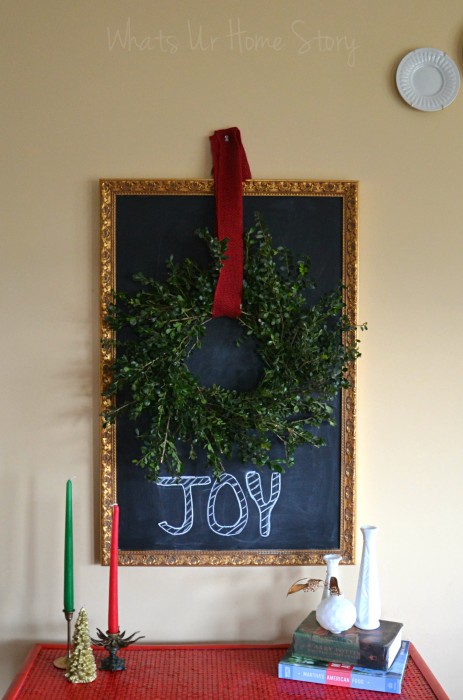 Materials
12″ Wire Wreath Frame – Micheals ($1.39 after using 50% off coupon)
Boxwood Sprigs – You do need about 3 big handful of sprigs in different lengths
Floral wire (not shown below) – Walmart ($1.50)
Burlap Red Ribbon for hanging – Walmart (I already had)
Craft scissors (not shown)
Total – $2.89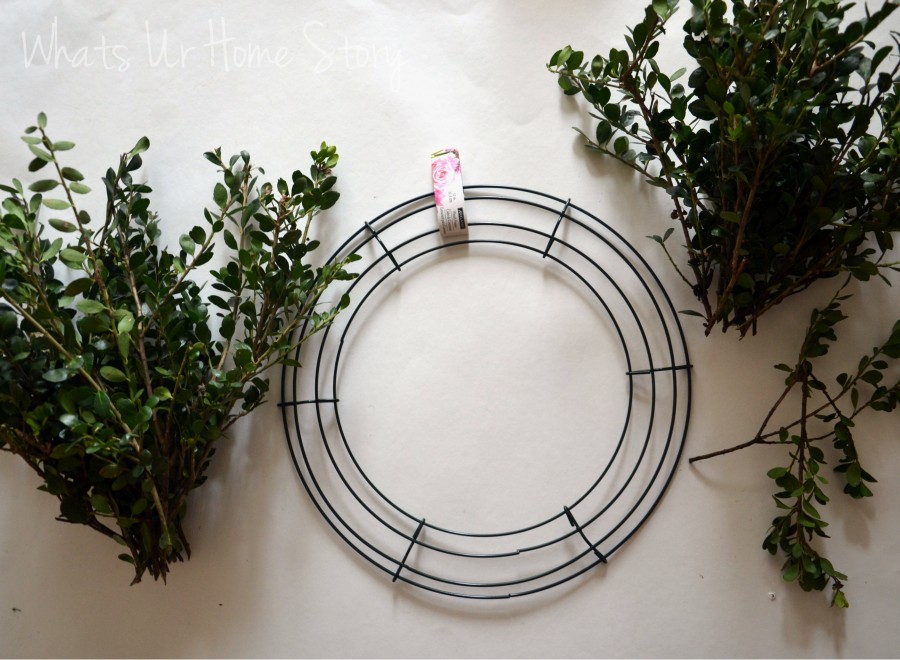 Tutorial
Start with the longer sprigs. Take a sprig and go under the cross bar and try to fit in the end of the branch in between the concentric wires so that it is taunt. As the branches are long and thick you don't really need a wire at this stage.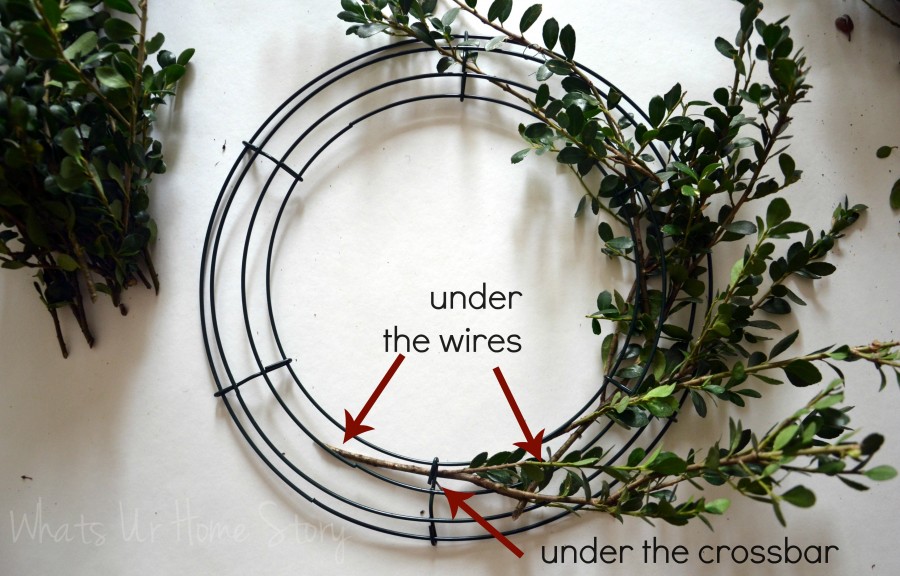 After the first round of filling in you will end up with this.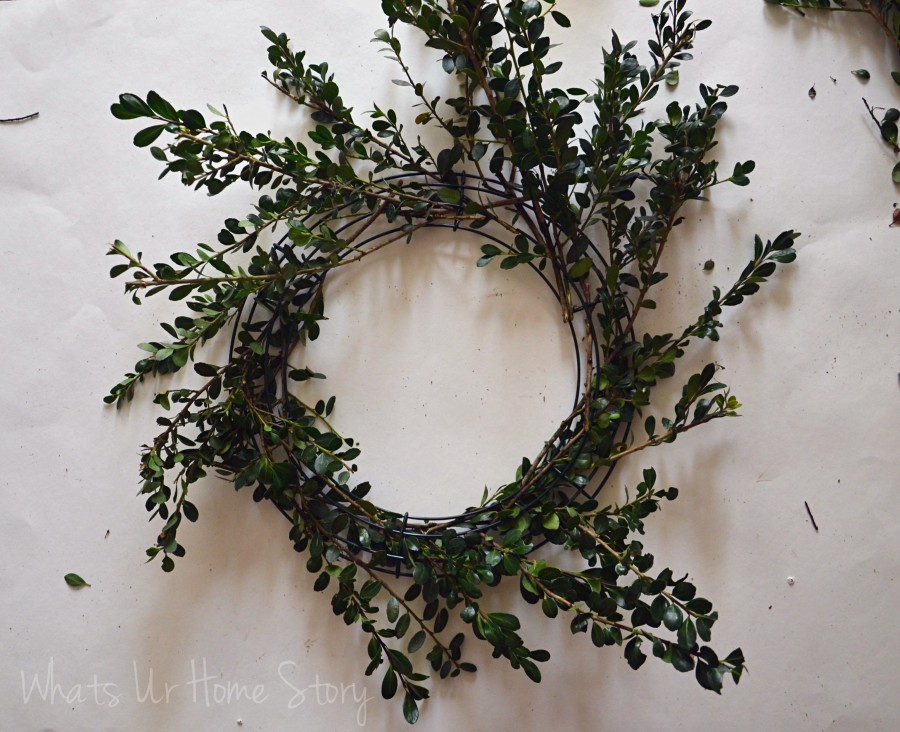 Step back and assess your shape. You will get a pretty good idea of how much to fill in and where to fill in the branches to make the wreath full. See how full the top right corner is? I was shooting for that level of fullness all around.
Cut small pieces of floral wire with the craft scissors and tie the remaining branches to the wire frame as and where needed. There is really no rule to it just keep filling in the holes.
You are done when you like how full it is!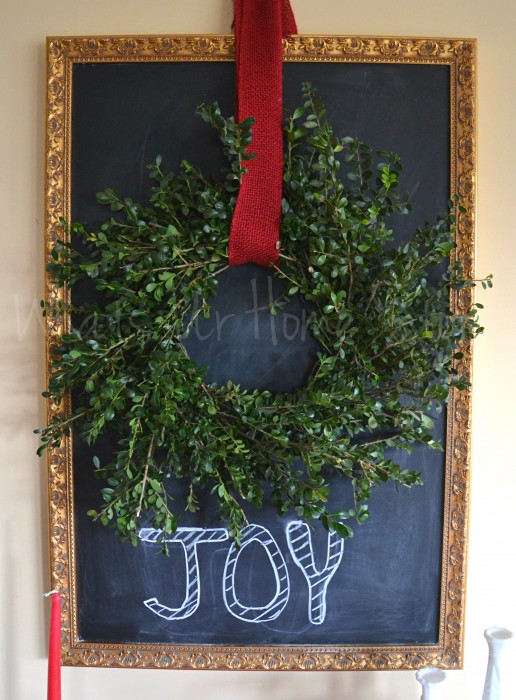 The burlap ribbon I had was too wide so I folded it in half to hang the wreath. It is pinned to the wall with a….wait for it, a push pin! 'Coz that is the only thing I could find! 🙂
Almost forgot to show you the side angle shot. 😉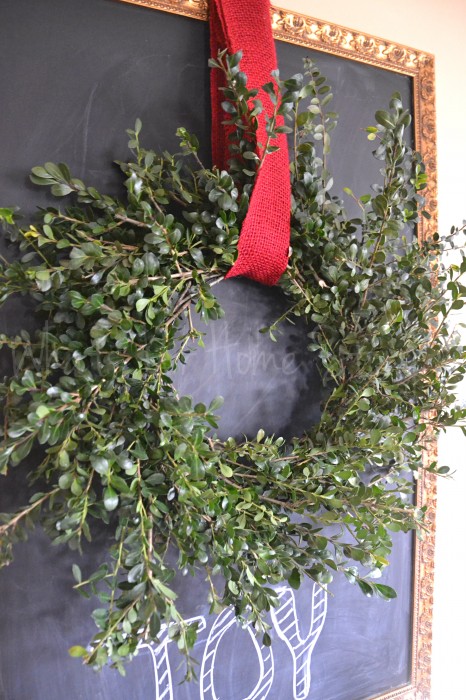 Do you have boxwoods in your garden? Our landscaper had suggested replacing our drab Hollys with those last year. I wasn't too convinced back then but I'm now. Can't wait for spring to plant my own boxwoods. At least that way I'll have an end less supply of boxwoods for future projects. 🙂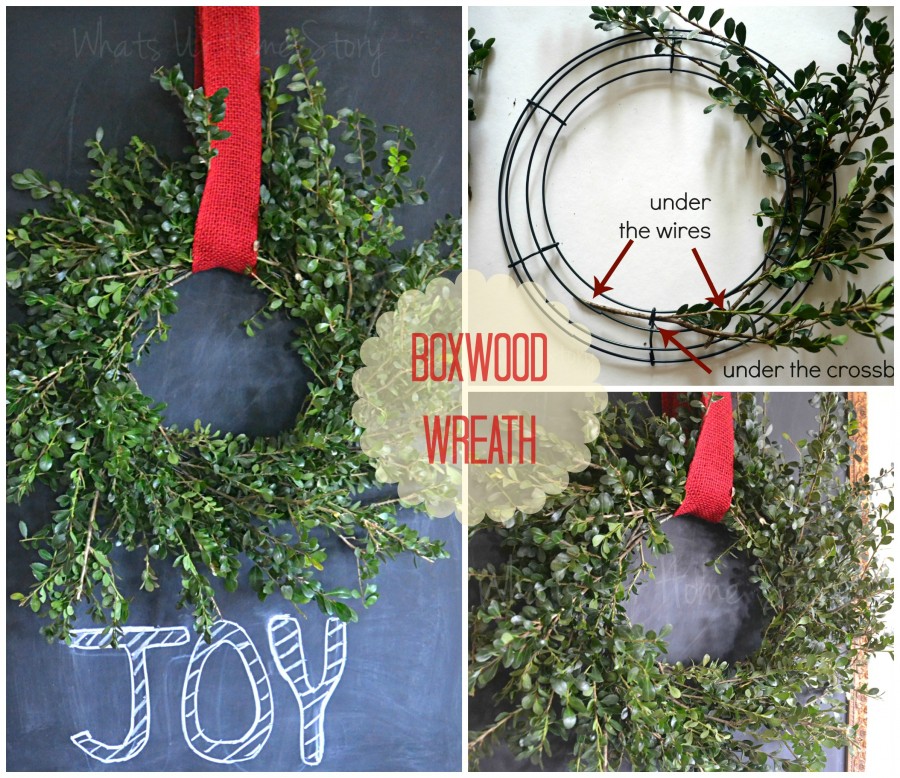 For more Christmas decorating ideas;