How was your weekend? We had our first snow of the season yesterday followed by an ice storm. So school is out. Enough said! Before I forget today is the last day to enter the $50 Michael Dexter Design wall art giveaway, so if you missed the post do check it out.
I have one more wreath for you, this time made with the magnolia leaves I gathered from my cousin's yard at Thanksgiving.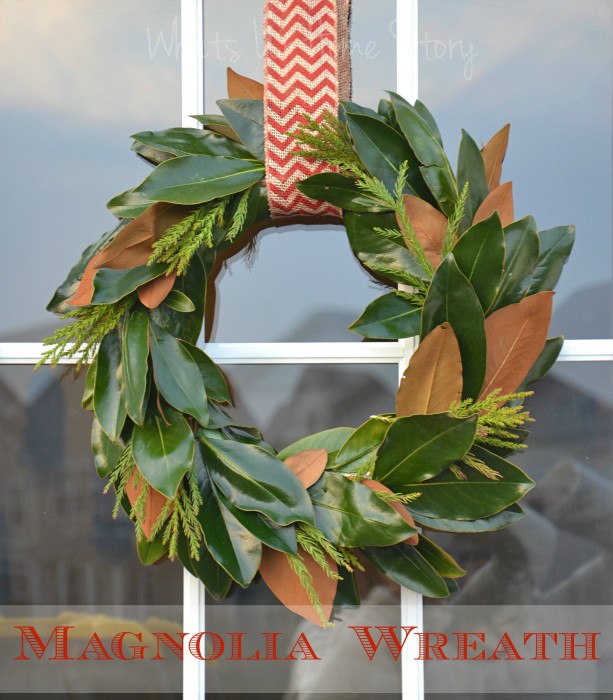 I was inspired  by Pottery Barn's live magnolia and fir wreath. Not too bad of a knock off attempt with the little leaves I had?
Materials
12″ Styrofoam wreath frame – Walmart ($4)
Floral wire – Walmart ($1.47)
Magnolia Leaves – from my cousin's
Fir sprigs (not shown) – from my yard
Burlap Ribbon to hang – Already had from this project
Craft scissors
Total : $5.47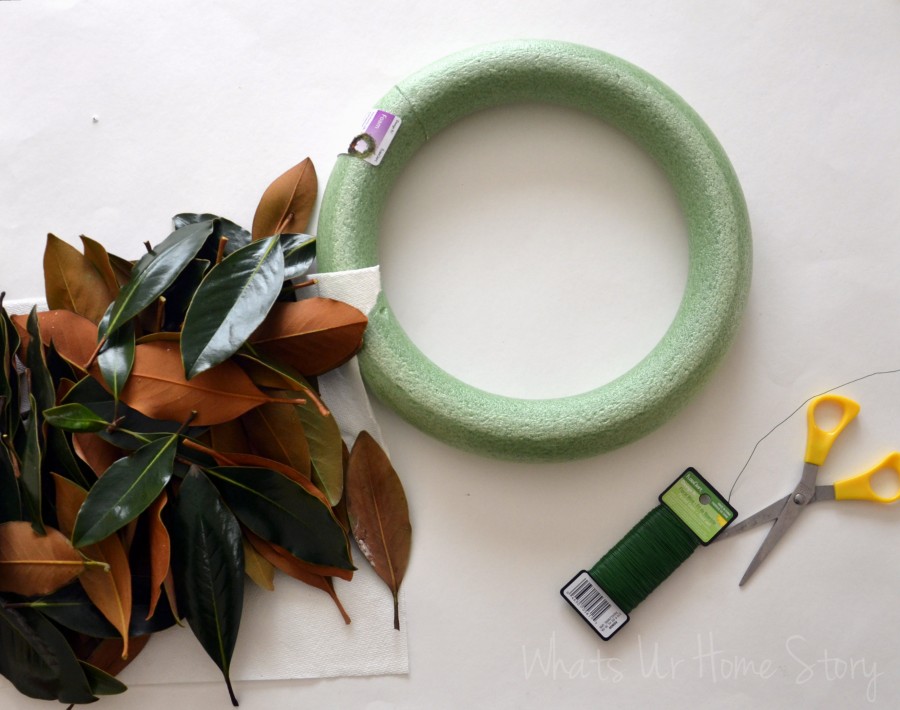 Tutorial
If the leaves are dusty clean them with a wet paper towel or baby oil. I had picked mine after a 2 day rain storm. So they were pretty clean.
Group your leaves in three and tie into a bunch with a long piece of floral wire. See pic below.
For the next bunch, turn the middle leaf so that the backside faces you. This way you will get to see both the green and brown sides of the leaves.
With the excess of the floral wire tie the bunch down onto the frame.
Tie down the second bunch over the first one so that the leaf stems are covered well. I worked in an clockwise direction 'coz that was what I was comfortable with.
Repeat till you cover all of the wreath. Now you'll end up with a ring of leaves with the inward side of the Styrofoam still showing.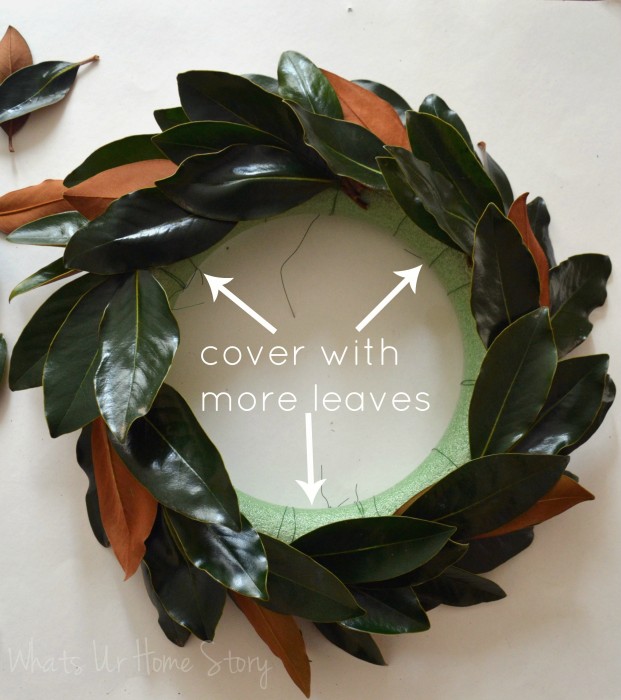 To cover this part up, remove the stem from the rest of the leaves. Bend a small piece of wire into a 'U' (hook) shape.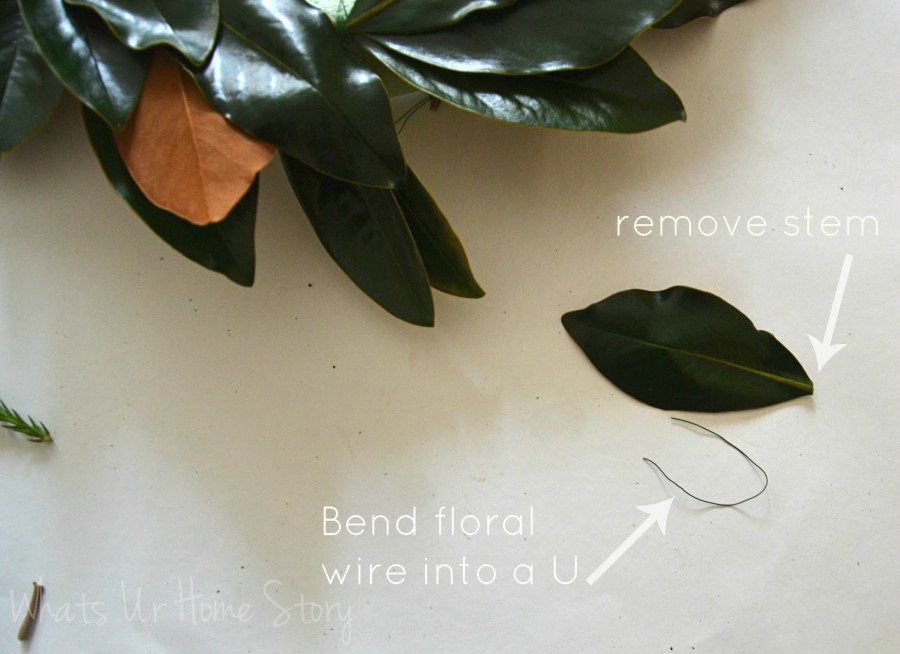 Place the leaf on the wreath and press down the U pin firmly into the foam. Repeat till you cover up the whole frame. You could use the U wire to hold down the other leaves too in case they become loose.
Add in a few springs of fir; I just poked them into the frame. You could use the U wire idea here too.
Hang it with a burlap ribbon and that's it!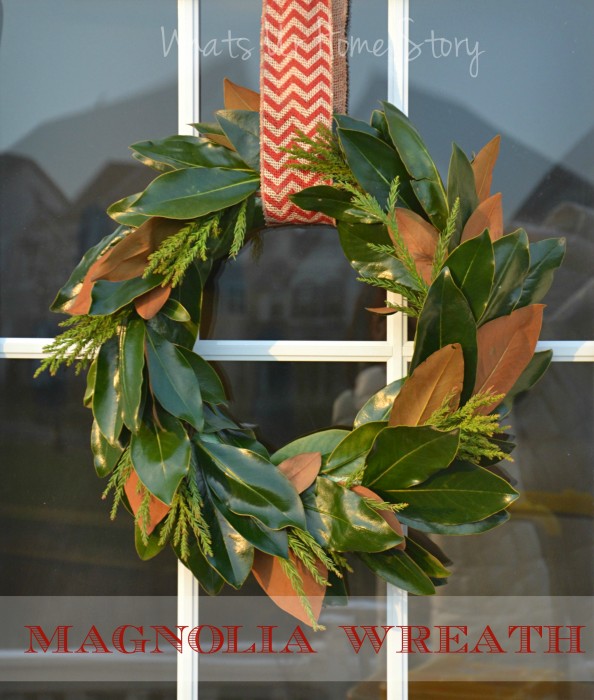 An evening shot of the same wreath over our patio door.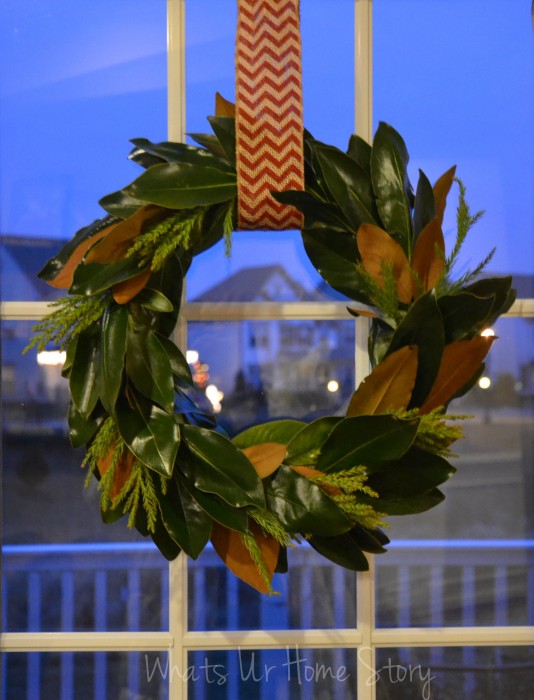 All for under $6! The wreath stays fresh for about a week after which the leaves start drying eventually turning into a brown color. You could keep the brown leaves as is or discard and reuse the frame.
Do you add fresh greenery to your home around the holidays too?
For more Christmas decorating ideas;