Of all the decor we have on the tree this year these egg carton ornaments are our favorite.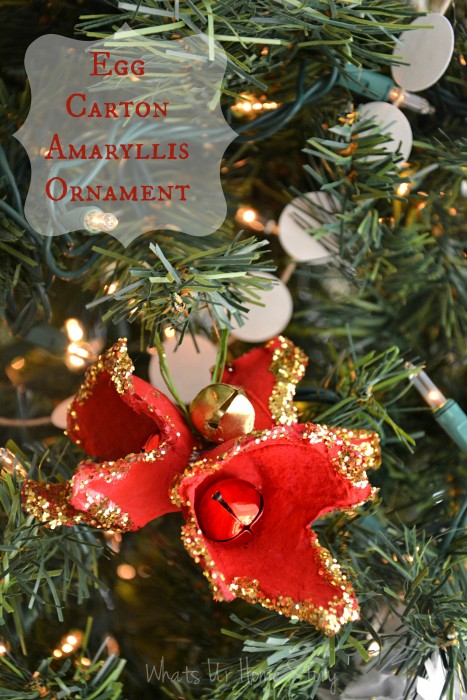 They are;
Recycled √ Colorful √ Has the right amount of bling √ Jingles √ 
What more could you ask for?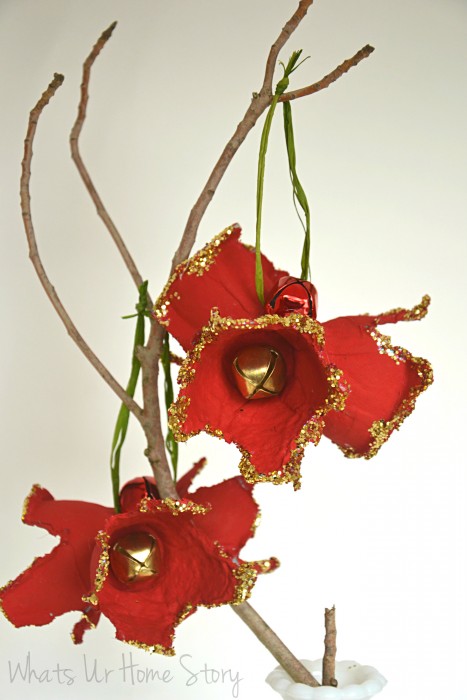 Ever since I had seen my friend Jennifer's, from Brave New Home, Egg Carton spring wreath I had been looking for an excuse to recycle egg cartons. And handmade Christmas decor seemed to be the best opportunity to let leash my egg carton flower craze.
Here's how you can make one for yourself.
Materials
1 Egg carton (not the Styrofoam kind) 1 bottle Red Craft Paint – I used Holiday Red by CraftSmart from Micheals (think it was $0.50) Glitter, a little goes a long way – Micheals (around $3) Jingle bells -4 per ornament – Dollar store (I got a garland for $1) Twine – Dollar store ($1) Green raffia or ribbon -Already had Mod Podge or Elmer's glue – Already had A paper plate for glittering Hot Glue Gun  
Total – $5.50
(I made 4 ornaments and still have materials left over)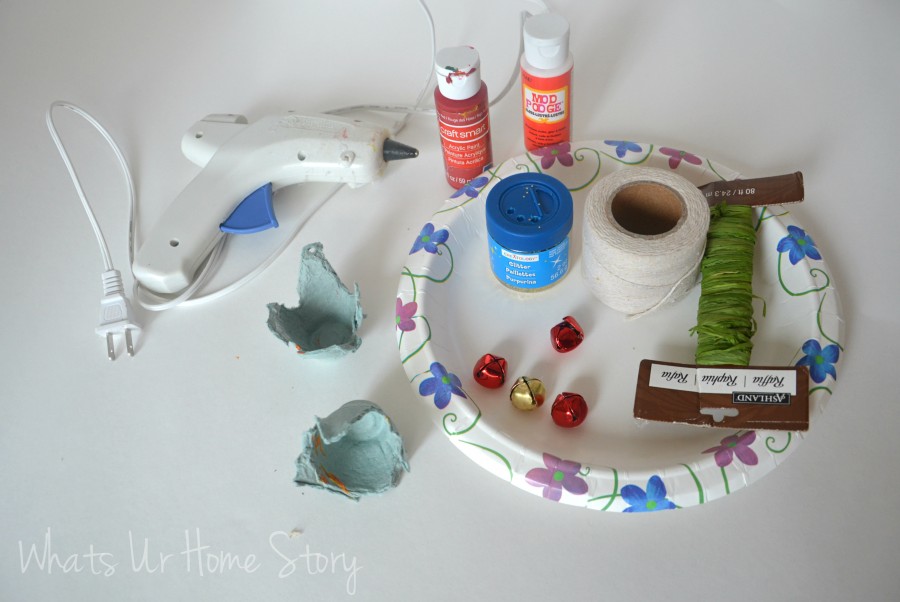 Tutorial
1. Tear apart your egg carton so that you have individual cups. The edges can look as raggedly as you like. If you want a more cleaner look you can cut them into the needed shape with scissors. Paint each cup red all around (inside and outside). You need 3 cups to make an ornament.
2. Once the paint is dry poke a hole in the center of the cup with a skewer or pencil. Thread your jingle bell on the twine.
3. String the jingle bell along with the twine through the hole.
4. Tie all three of the jingle bell twines together to form a cluster. If you feel that the flowers move around a lot you can hot glue them to each other in addition to the knot. Cut off the excess threads.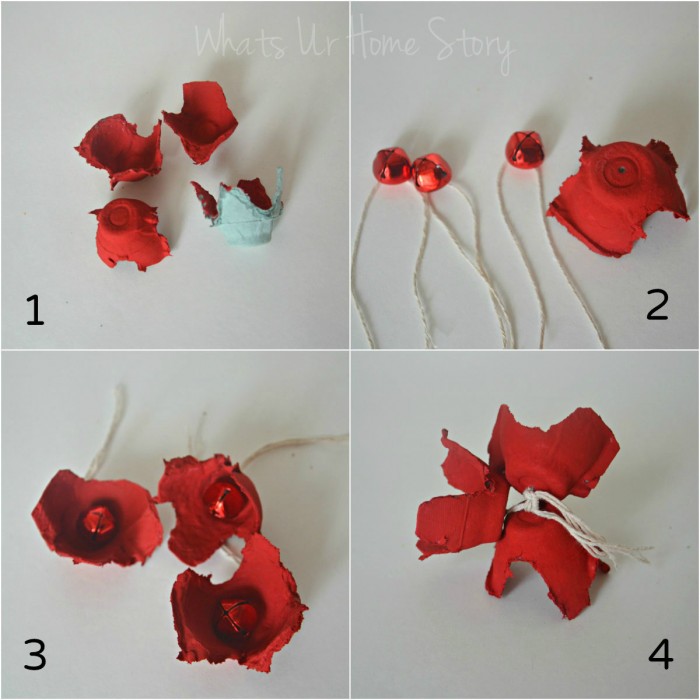 5. Knot a piece of the raffia/ribbon into a loop (for hanging) and hot glue it to the center of your flower cluster aka. the knot in between the flowers.
6. Before the glue dries stick a jingle bell over where you attached your hanging raffia/ ribbon loop. This will cover up the original knot and or any glue mess.
7. Coat the edges of the flowers with Mod Podge and dip in a plate of glitter. It is ready to hang on your tree when it is dry.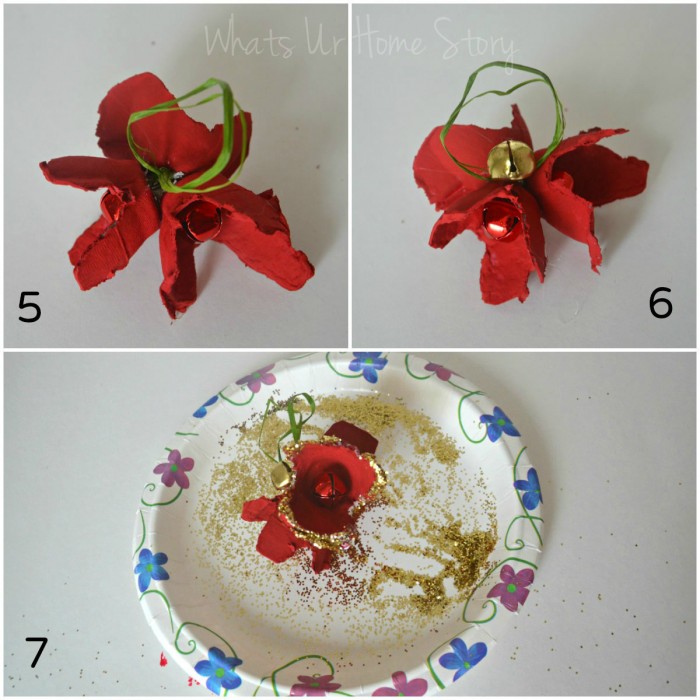 Wasn't that super easy and also kid friendly?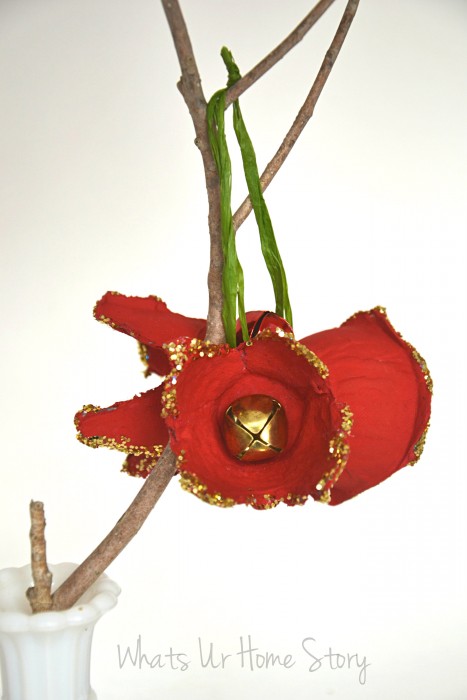 Here she is glowing on our tree.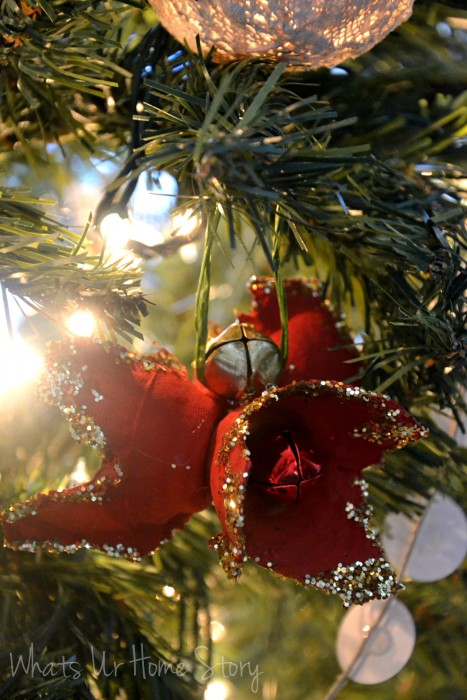 One more shot just because…..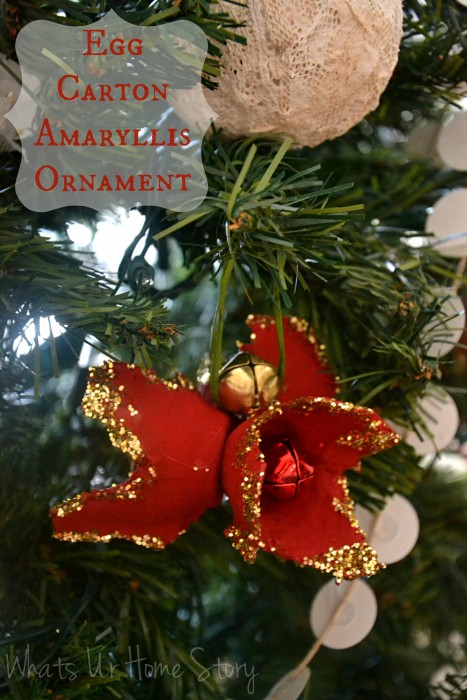 Do you have a favorite recycled craft? Have you made anything out of used egg cartons?
For more Christmas decorating ideas;