Ya, I'm talking about the arrangement you saw in my fall mantel reveal post yesterday. My 9 yr old son's reaction at seeing this, "Amma (mom in my mother tongue) did you really intent to make it look that way? It reminds me of the layers of soil. You know, the top soil, sub soil, bedrock, etc?" How's that for an honest opinion! 🙂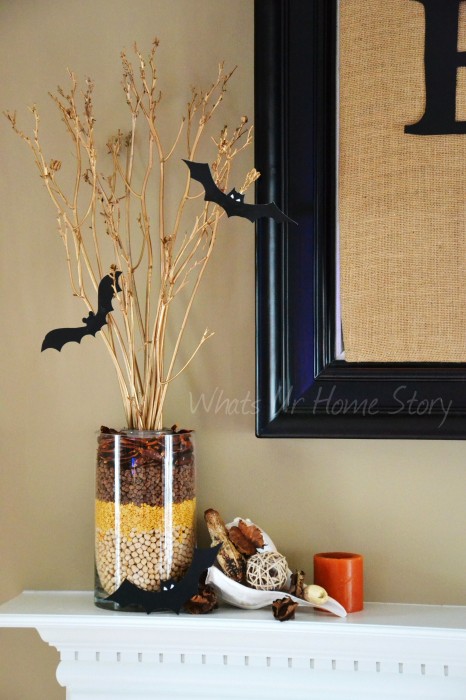 And to think that it all started with him! Two weeks ago he stormed inside asking if he could play with these….In his hands were some dry day lily stalks that he had plucked from the front yard. As soon as I nodded yes, it hit me. Before I could get it out of my mouth B said, "Why don't you do something with those? They have a very interesting shape." I was like, "That's exactly what I was thinking!" Not wanting to be a mean mom I waited for my son to be done playing ( I think he was trying to build a teepee or something) before rounding the stalks up. Once I had my hands on them I said, "No more playing with these. I need them for a project." Surprisingly the answer from the other side was "OK". I was like, "That was easy!"
Anyways, this is what we started with.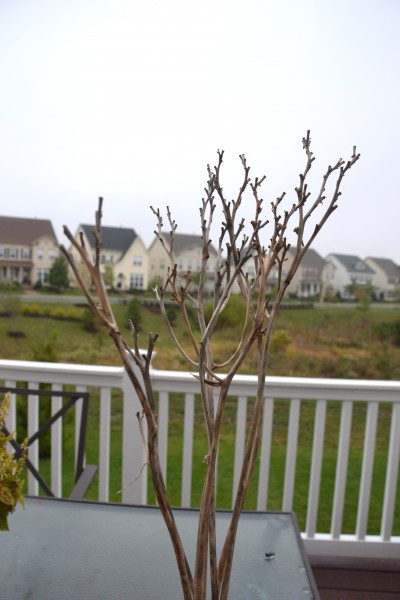 As you might have guessed I spray painted them. I tried painting them silver first as I had an extra can. But sadly didn't work. It just did not do anything to the stalks. So went to Micheals and grabbed a can of Krylon Gold and voila.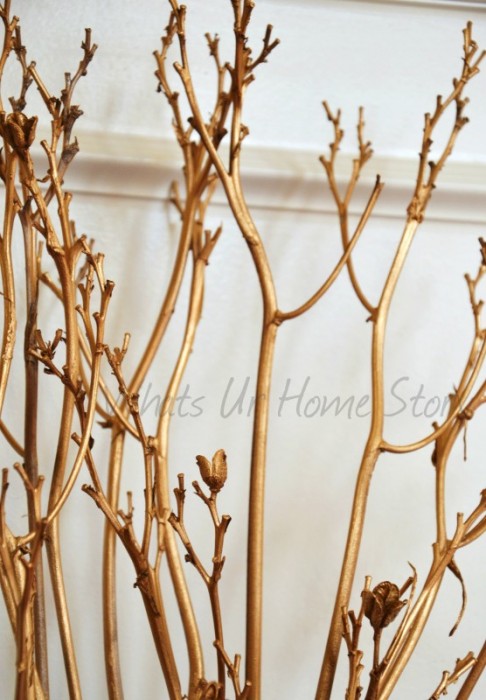 For the vase, I had planned on using the lentils and beans that I had at hand. Indian cooking relies heavily on legumes. So there is always at least 5 -6 colors of them at home. Since I was borrowing stuff from my kitchen, stuff that I would otherwise use for cooking, I had to make sure that I could cook with them even after their decorating stint.
The only way to do this is to use the florists' trick of using a double vase, aka. one small vase that will hold the flowers /painted sticks inside a bigger vase, which by the way is from Home Goods, that can be used for the layered beans. You may remember the smaller vase, a decanter, from this post.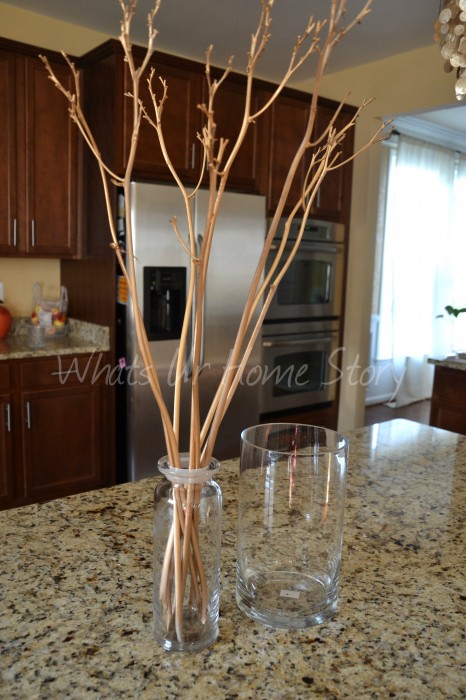 The first layer is the white chickpea/ garbanzo bean, followed by the pigeon pea/ toor  dal, and the Bengal gram/ brown chickpea.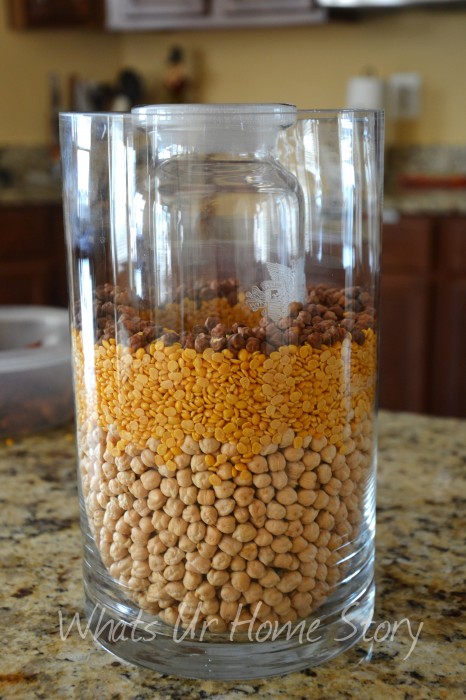 The last layer is dried red chilies. I would have used the mung bean or the moong dal which would have added a nice green touch to the arrangement but as luck would have it I was running low on the mung bean.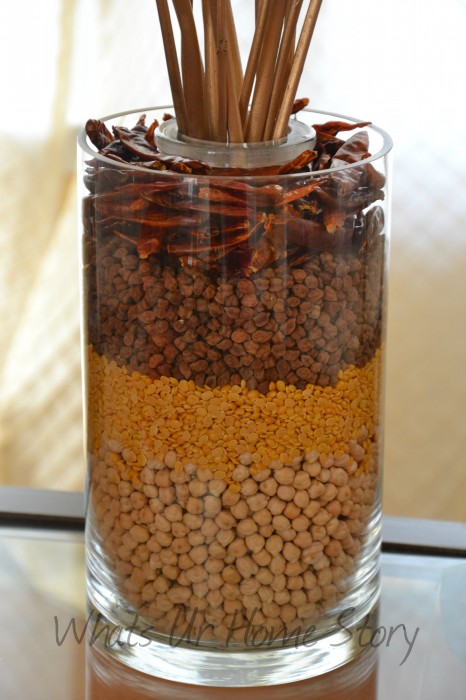 The final touch, the bats. I printed out a few that I found on Google, cut them out, and glued them to my daughter's hair clips. The hair clips were the perfect size for these tiny bats.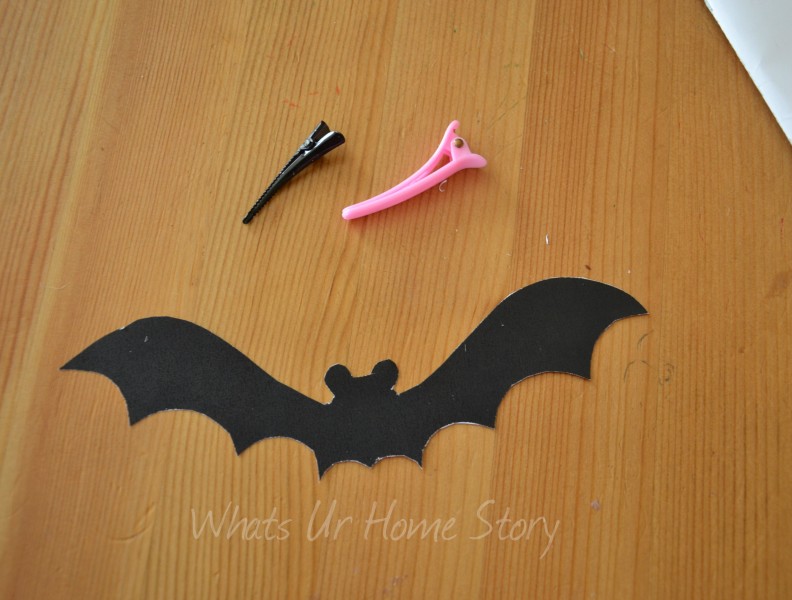 I just clipped them on to the stalks.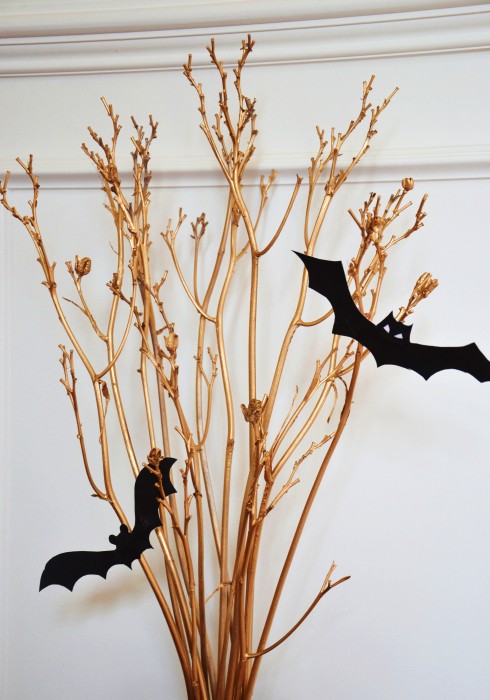 Here she is in all her glory.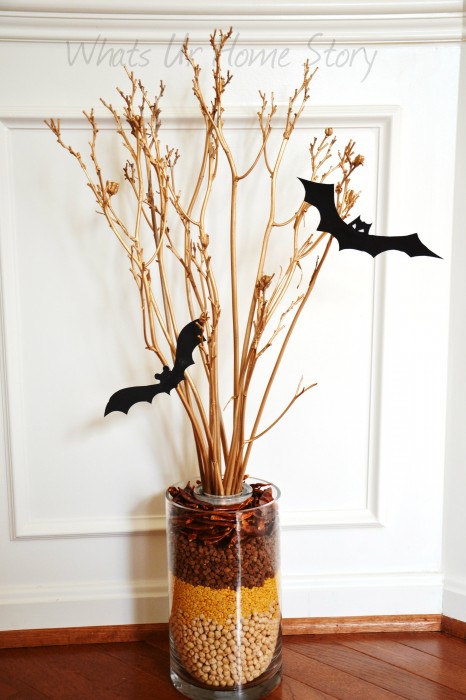 Was that easy and fun?
Partying at;