Last year on New Year's'day I stepped into the blogging world (after years of deliberating) with a 'Welcome' post.
The first month was all about sharing our story of how we bought the home and all my previous projects like the Moss Terrarium, Kerala Mural Paintings, Faux Coral, my Daughter's Room and our search for the perfect family room sectional. You even got of a glimpse of my parent's place back in India.
In Feb in checked off a major project on my list, the dining room, which involved a 11hr stenciling marathon and DIY'd paisley art. We also made significant progress in giving our family room some decor direction with our new sectional, Restoration Hardware knock off coffee table and Fireplace Mantel redo. Another easy project was how we gave our beaten up bench a fabulous makeover. The DIY water garden post which was actually a birthday post was the best gift I've given myself! It is my most popular post in terms of views, shares, pins, and comments. A special thank you to each and every one of you who gave this post your time.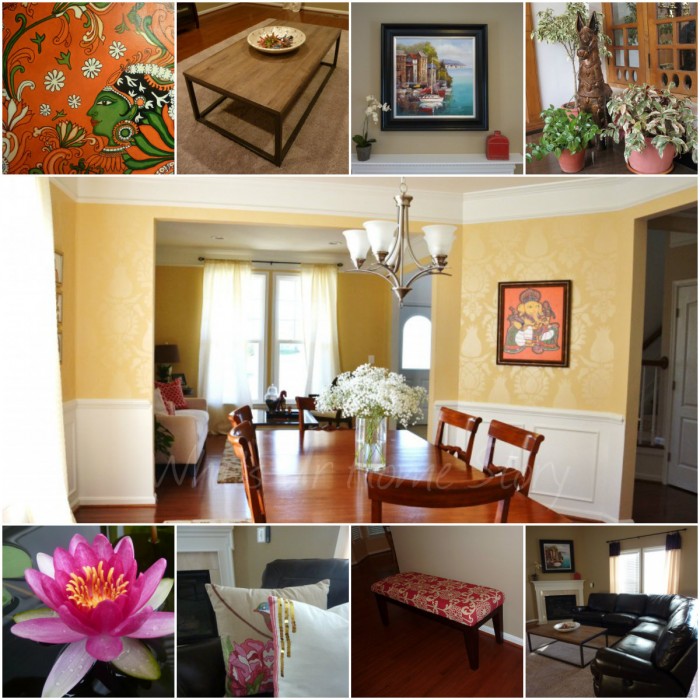 March saw us sprucing up our porch in time for spring and my son's room PS: I've been working overtime on his room ever since the CurlyQ compass wall decal lighted the explorer spark. Can't wait to show it to you guys. We explored a bunch of decor ideas like the post card wall, ventured into DIY pillows with dish towel throw pillows, went on amazing Long Distance Decor trips, and even shared some accidentally found pics of our first home.
In April we celebrated 12 years of wedded bliss by buying a desk for the office room and a DSLR! Ya, that is how we celebrate our anniversary, by buying gifts for our home not for each other. 🙂 Call us crazy but that is what we decided on our first anniversary plus it is a guilt free excuse to spend on something big for the home once a year. 🙂 You also got solid proof that the DIY pillow bug has bitten me so hard that was here to stay for a very long time with the Namaste Pillow and the Stenciled Pillow. With the advent of spring more gardening posts followed like this tea cup planter rescue (one of my favorite trash to treasure projects) and the succulent planter. April also marked the first giveaway on WUHS!
I had tons of fun in May on my trip to the Lucketts Spring Market, antiquing in Purcellville, and by giving a face lift to my thrift store finds.
June was busy….busy; the office room makeover and whole slew of projects that made it special to us, the new landscaping, two new monthly series', Same Look 4 Less and Reader showcase. . For the first time on the blog I went a little deeper on  a personal level with the story behind our gallery wall and a tour of homes from my hometown. We also had our first official house crashing and the first water lily bloom of the year in my water garden.
July was a celebration month with our 6 month anniversary Giveaway and of course July 4th! And then there was the Zebra! Love it! Even my skeptic hubby is now sold on the zebra rug.
August was another holiday month with one of our biggest traditional festivals, Onam. And I conquered set aside my uneasiness with sharing our personal lives with these posts (here, here, and here). There were also projects galore like another stencil marathon (which ended in a giveaway), painted decorative plates, and our auction find. You also got to see my kitchen (for the first time) and my summer garden.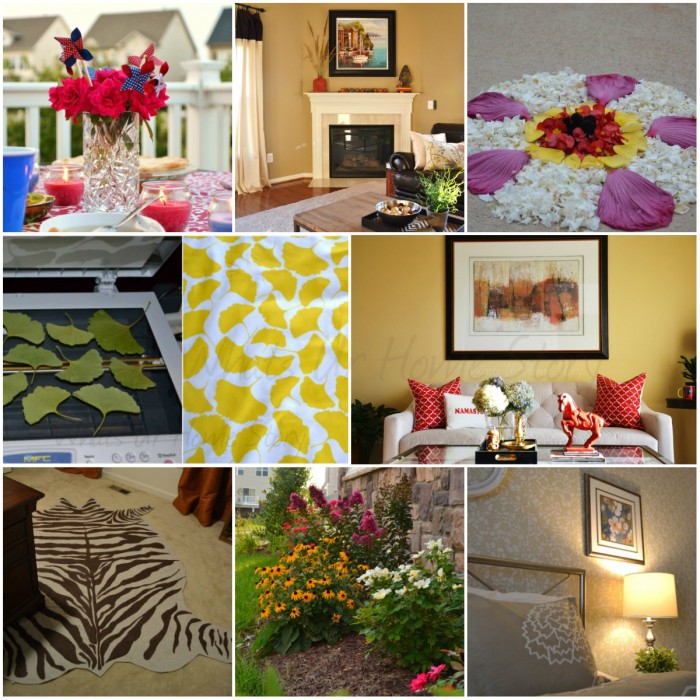 September saw some major decorative changes around the home, the living and family room updates. I had so much fun making my own ginkgo fabric and the poster board sunburst mirror.
We dived into fall in full swing with a new look, some simple fall decor, fall mantel, and amazing fall foliage pics from the scenic Shenandoah Valley. My sassy pumpkin gal marked the started of Halloween celebrations around here. The list of projects for the month included the floating shelves in the family r00m, Episode 1 of my chair makeover series, and the ginkgo pillows.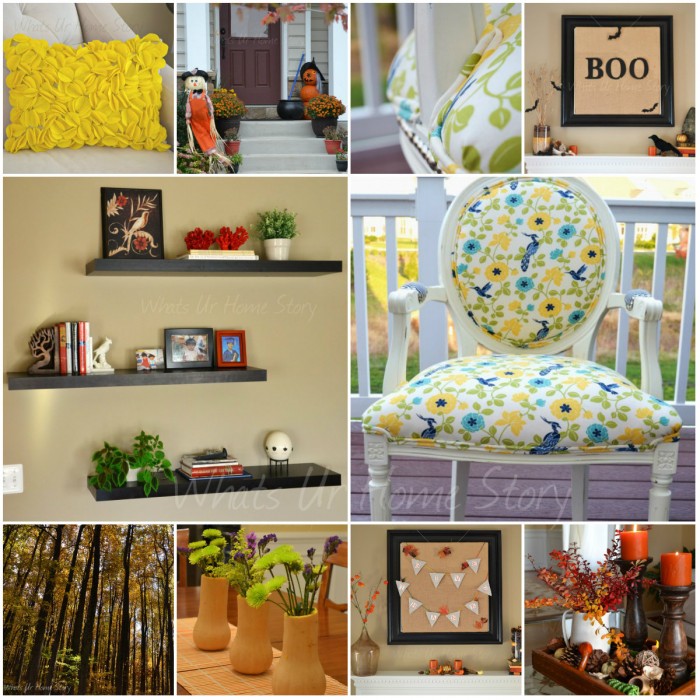 The Thanksgiving month was a big project wrap up month for moi. The chair story had a spectacular finale (thanks to all of your encouraging comments) after some initial hiccups. The felt circle pillow, a post that took off like crazy on Craftgawker, that I had started months ago is now the star in our guest bedroom. More Thanksgiving posts followed like the mantel, centerpiece, and holiday decor. We also kicked off the start of the Christmas season the West Elm Gilded Pine Cone Knockoff Ornament (another viral post on Craftgawker).
December was all about Christmas. The glitter pine cone ornament, painted clear ornament (a big thank you for all your pins and shares….love ya), alphabet ornaments, tinsel trees, our nature inspired glam Christmas tree, outdoor lighting, and the mantel. And two great blogger friends who chimed in to help me with guest posts the last two days on my bloggy break.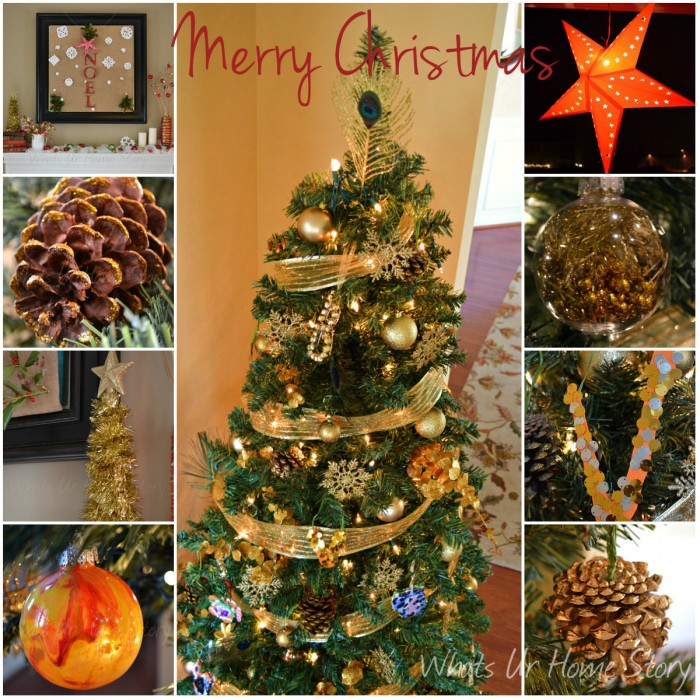 Whoa! Can you believe the post is close to a 1000 words? And all this wouldn't have been possible without you guys, my amazing readers. My heartfelt and sincere gratitude to each and every one of you who spent even a second of your valuable time browsing this blog.
Whoa! Can you believe the post is close to a 1000 words? That is it folks, my life at WUHS after one year of blogging! See you back on New Years Day! Wish you an abundant and joyful Holiday Season!