I had asked Acha (my dad) to take some pics of the traditional Kerala houses in their neighborhood as I wanted to continue my series on slopping roofs especially the detail that go into roof design/decor in Kerala. Staying true to his over planning self he sent me over 70 pics! That's my dad, always thinks of having extras for the 'just in case' situations. Love you. 🙂
The last time I visited my folks, almost 3 years back, they had not moved into their current home/neighborhood. After seeing all these beautiful houses I just couldn't help but push the roofing series out for another week. All the greenery, the coconut trees (our state's name Kerala means the land of coconut trees), the banana plants……….reminded me of home so much. I had to show these to you…
Like I said, all these homes are in my parents' neighborhood. They are your typical middle class/upper middle class homes that you will see all over the state. Unlike in the US, people over there prefer to build new houses from scratch rather than buying an older home. They rarely work with a builder (though that is changing, we are seeing more cookie cutters there too) instead work directly with a team of contractors/ architects to build based on a customized plan.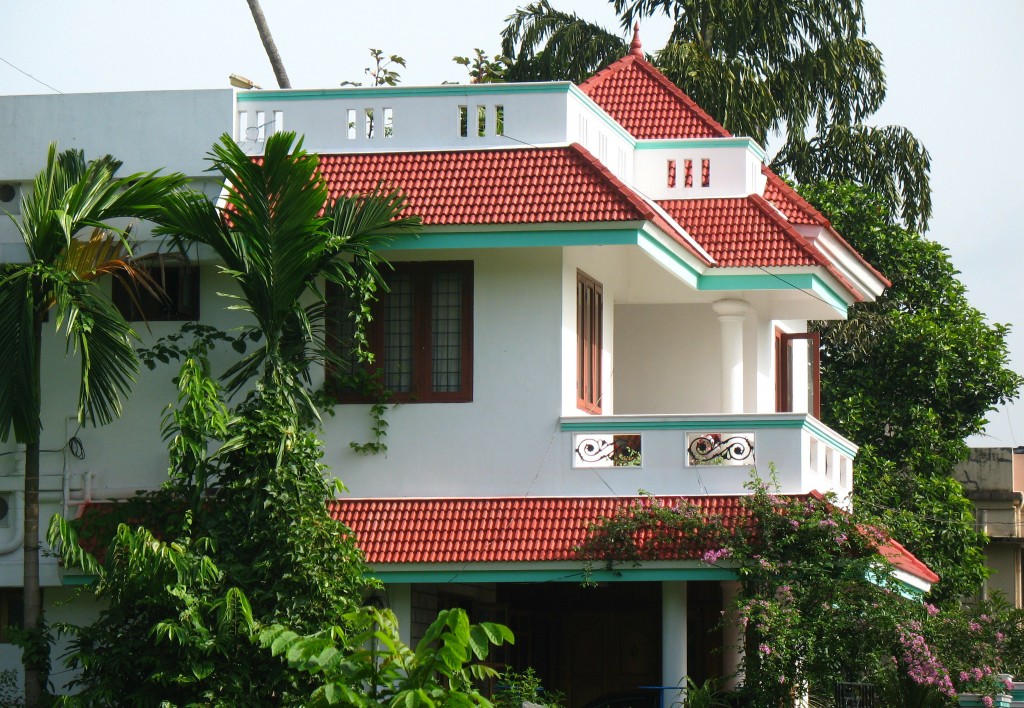 As you are going to see there is an abundance of tiled roofs in Kerala houses, which naturally are sloping; an ideal design solution to deal with the heavy monsoon rains.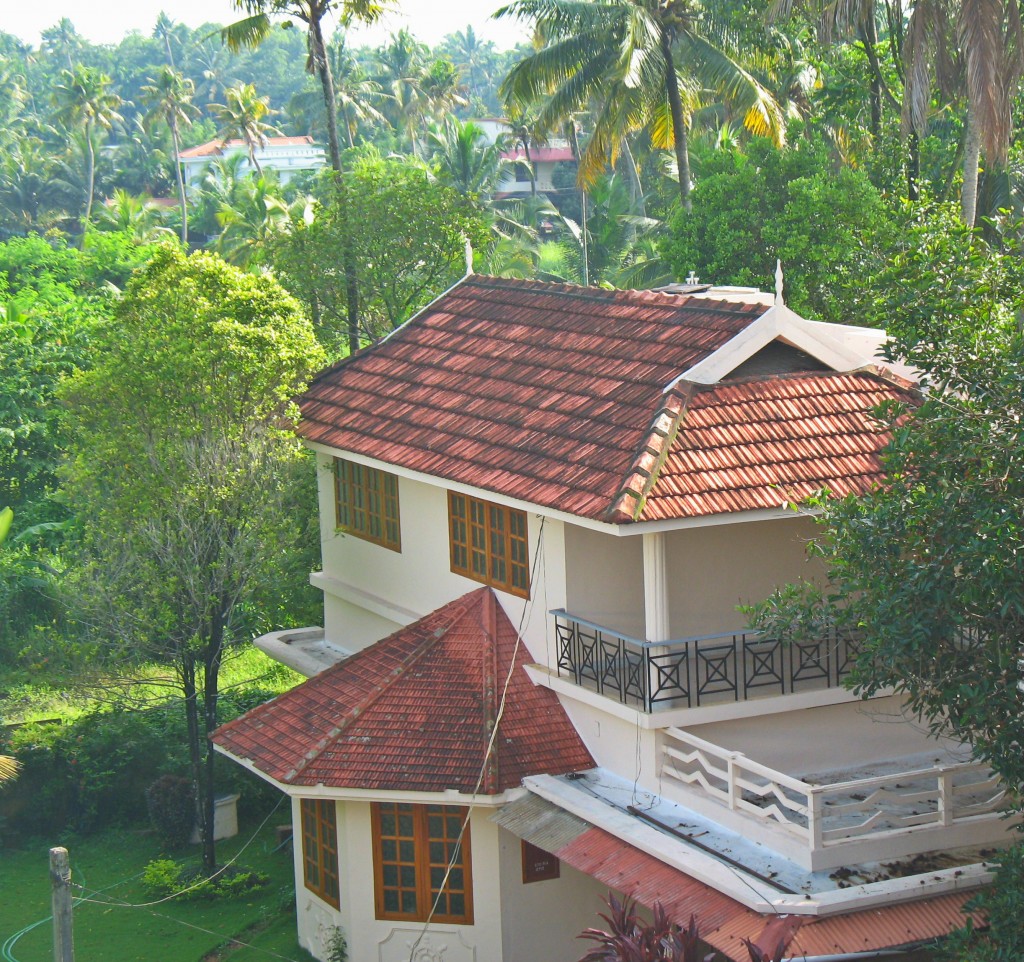 Notice the love of balconies and porches? The roof line designs are variations of the same thing.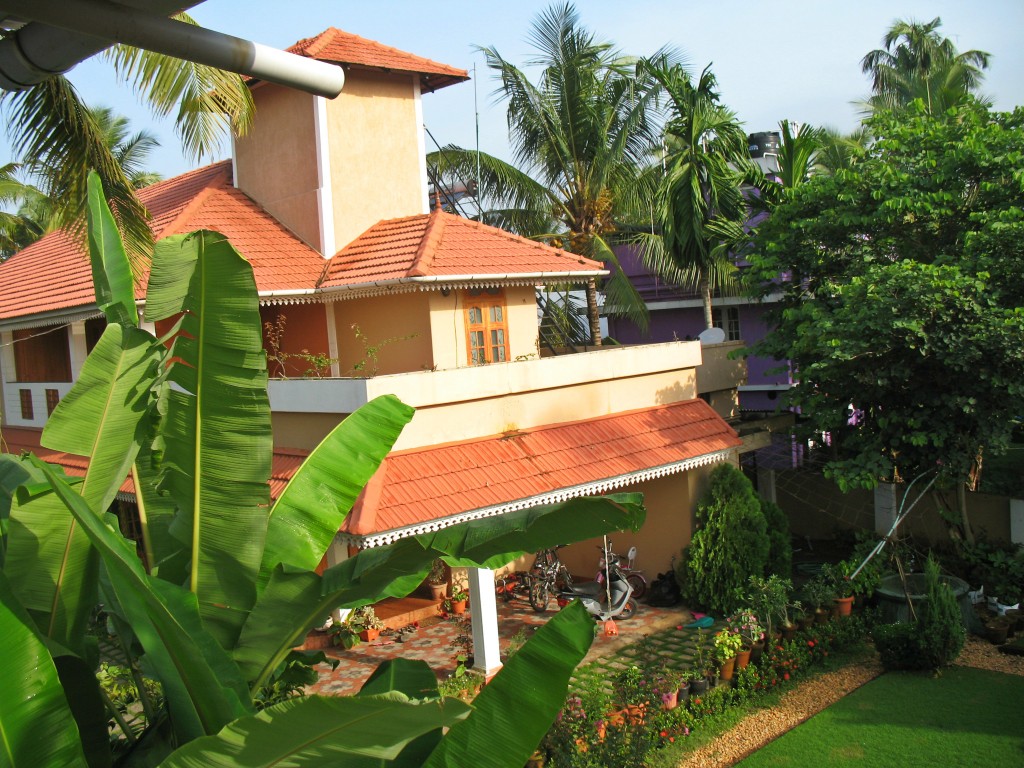 The design details above and below the roof line is typical of the traditional style. In the next pic, the home owners have tried to mix the boxy western style with the traditional roof.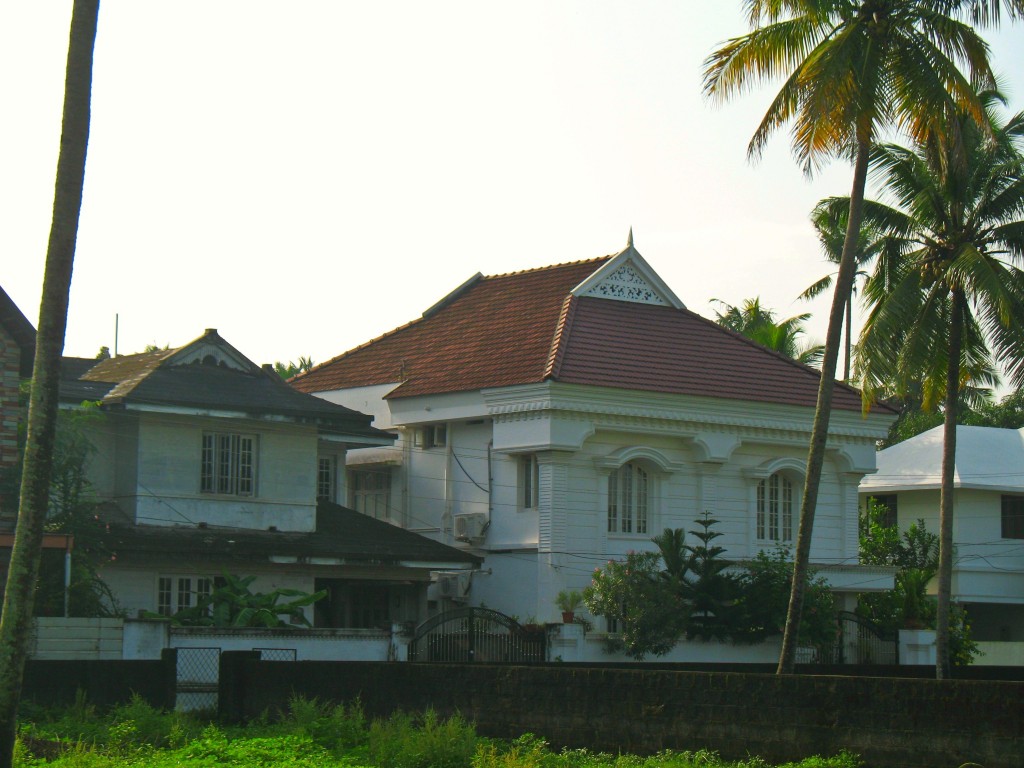 Oh….and all the homes have compounds walls and gates, a fact that my kids find puzzling. Their usual question is, "Why do they need those"? I retort with, "Maybe they feel safer with a gate". "How come? We don't have a compound wall or a gate and we are doing good"? At this point I change the topic deftly. 🙂 Anyways, here is closer view of the compound wall and the fence.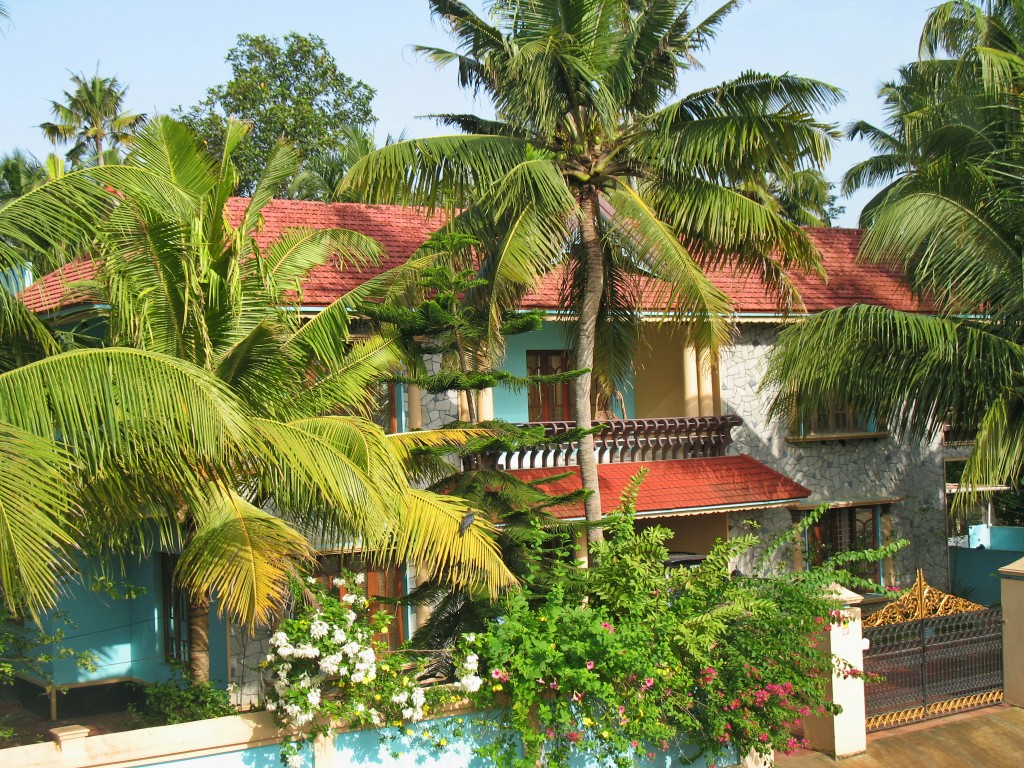 All these pics are making me so nostalgic. Another one that is a mix of styles; middle eastern arches, western, and the traditional Kerala architecture.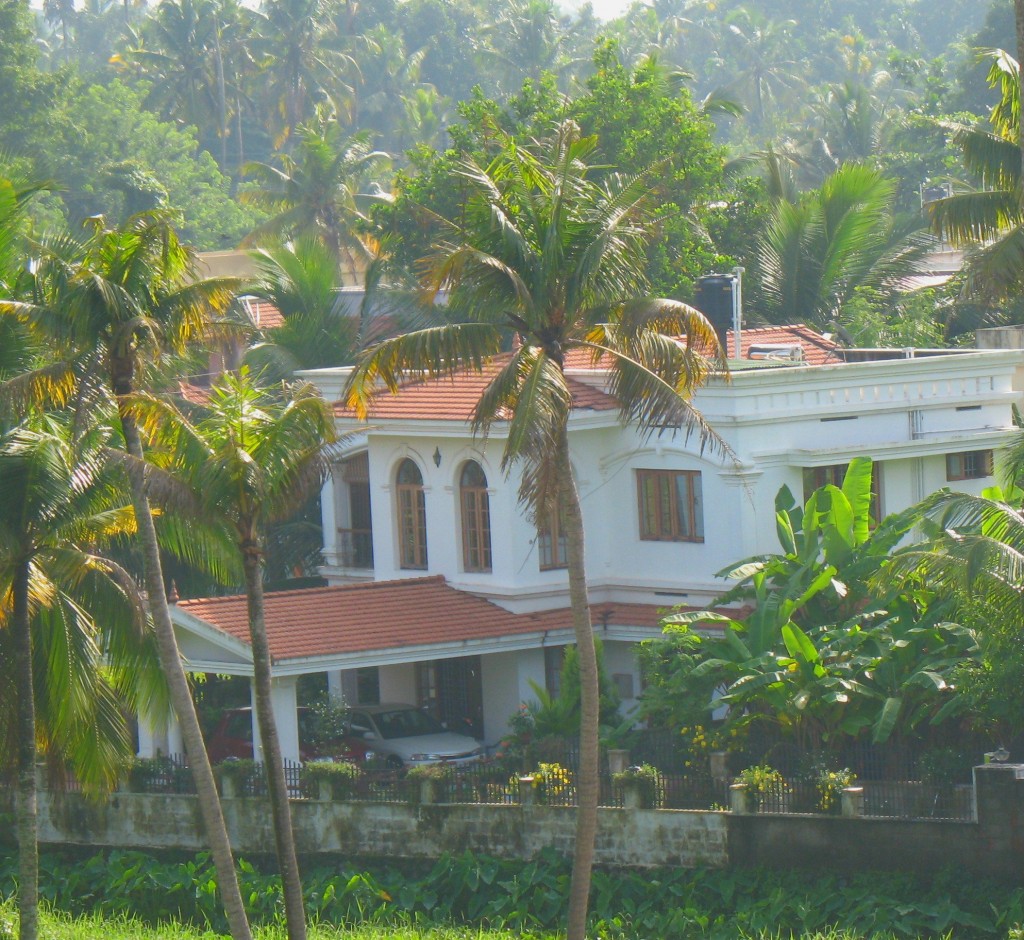 You can see all the design favorites together in the next one; the roof tiles (they have even found a place on the compound wall and gate posts, a very common sight), the porches, balconies, and intricate iron gates. We even have names for our homes not just a number. Talk about personality! 🙂 The home on the right, 'Amritham' is my parents'.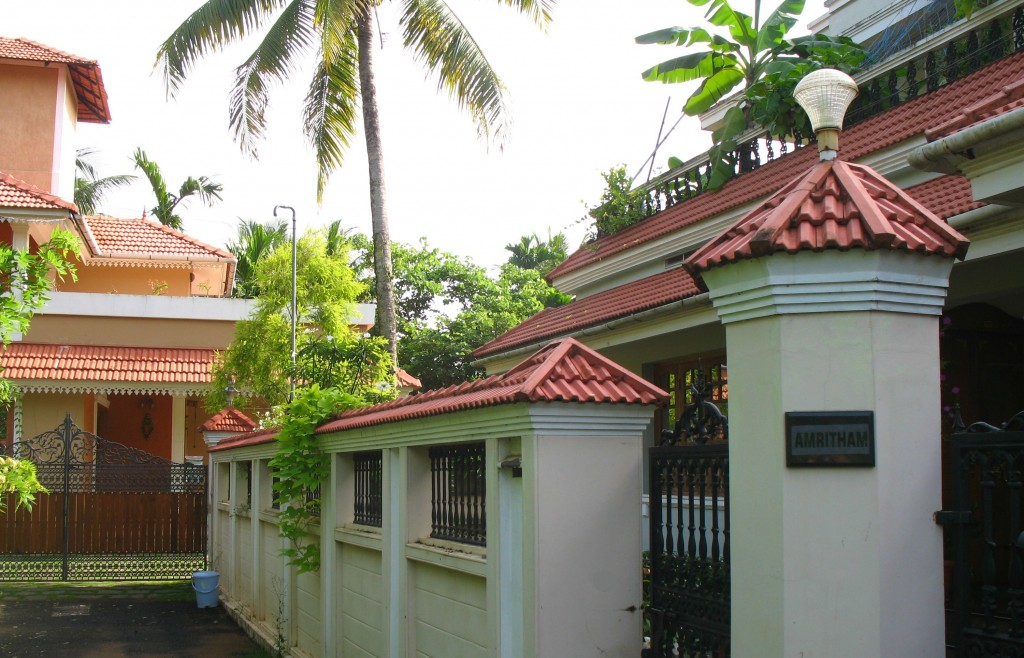 All that tropical foliage………..badly need to go home. Time to book the tickets.
Do you like the tropics too? What is your favorite city/town?