You saw this cork board world map in our new office room the other day, right?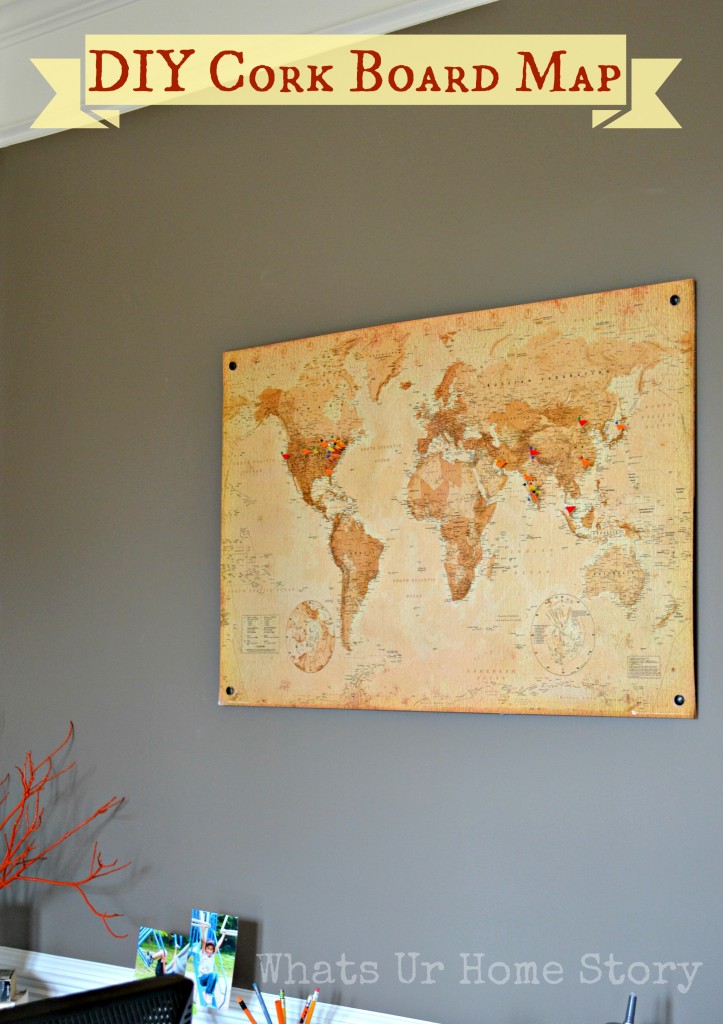 Wonder how the whole map story started? From this $1.28 map that I found on Amazon! Yup, you read that right $1.28! With shipping it ended up costing a whopping $5.27! The map is up to date with the current nations yet has a vintage feel.
Materials
Map – $5.27 – Amazon, including shipping*
Cork tiles – $9.98 – Walmart, 2 packs of 4 cork tiles $4.99 each (similar)
Spray Adhesive – $3.89 – Micheals, after 40% off coupon (similar)
Sewing pins – $2.49 – Micheals
Screws -$3 – Home Depot
Total -$24.64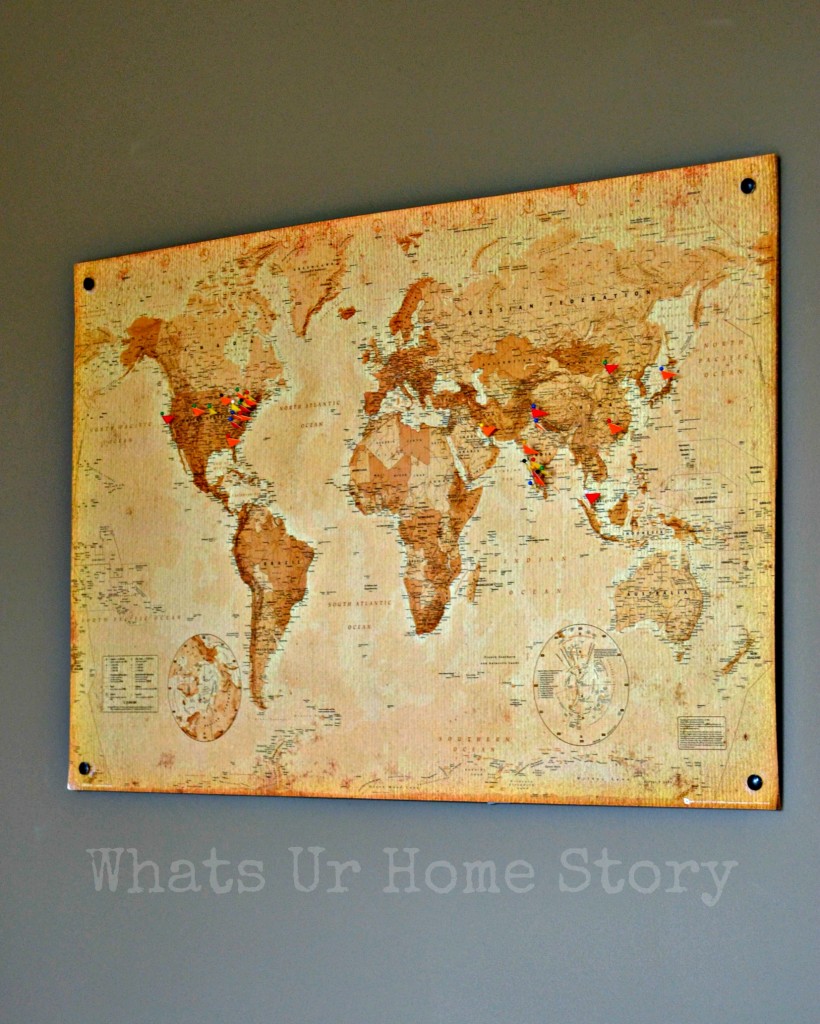 Tutorial
Once I had the map in hand (wanted to make sure that it was indeed what I was looking for) I headed off to Walmart and bought 2 packs of cork boards. Each pack contains 4 12 x 12 squares. The map is 36 x 24. So I needed 6 squares, hence the 2 packs. I have two extra squares, may be they will end up as another project.
I had seen several tutorials online like this one from YHL (that I had pinned here) where they had made a cork board out of cork squares. So I decided to use the same technique.
Lay your cork tiles on a flat surface. Duct tape all the joint edges.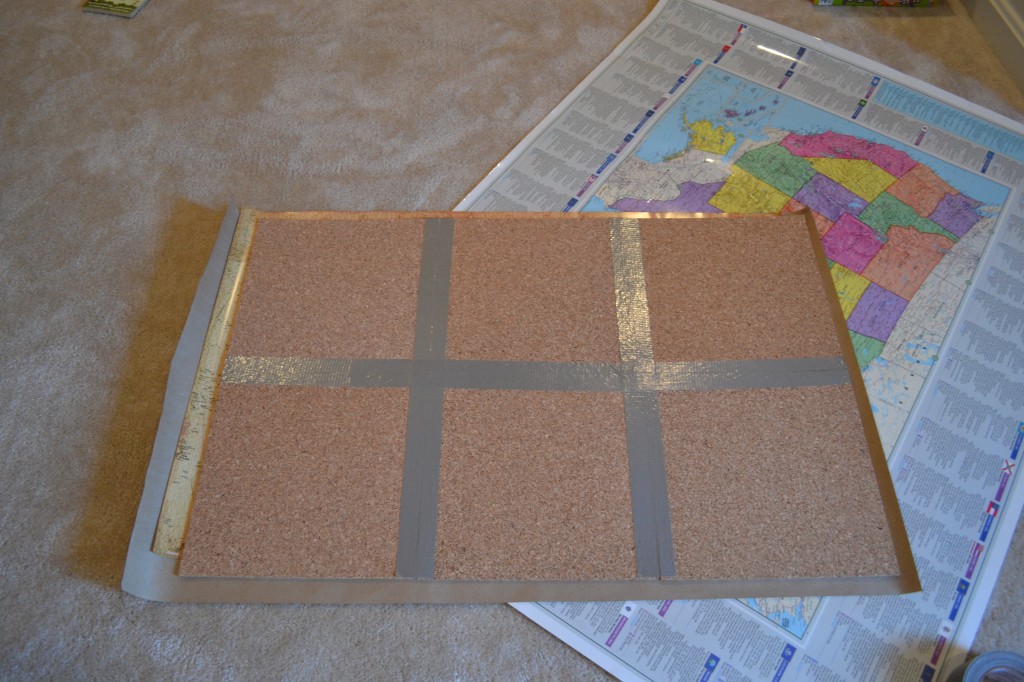 I later went over it with duct tape from corner to corner in a giant X but forgot to take the pic.
Now you've got to unroll your map. Lay it on a flat surface and place your cork board over it. By the way I had tried to work with the colored map (on the side) that we already had but it was way too big and colorful for the office room.
Weigh down the cork board with whatever you can find, in my case kids' board games (this is the sneak peek pic that you saw here).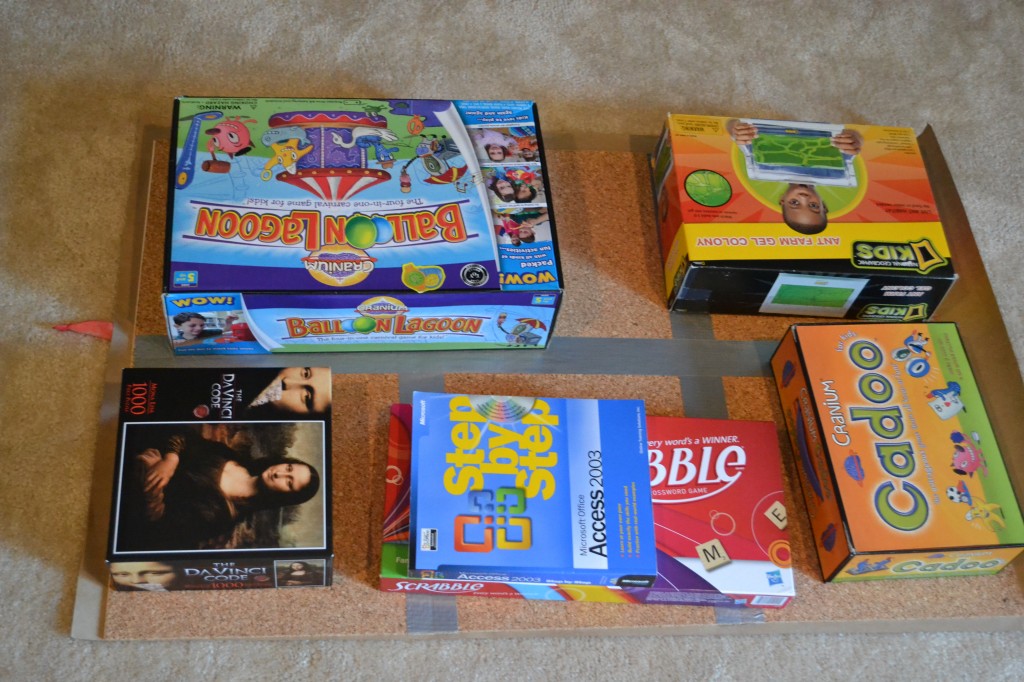 Definitely leave it overnight or else the map would have a tendency to roll back up. Mine stayed like this for a week till I got around to it.
By this time we had decided that we wanted to screw the map to the wall with bolt like screws to give it an industrial look.
I spray painted the screws with ORB spray paint left over from this frame redo project (forgot to take the pics).
We marked an X on the map with an X-acto knife on all the 4 corners for the screw and poked a screw through those all the way through the cork board. That's B helping me.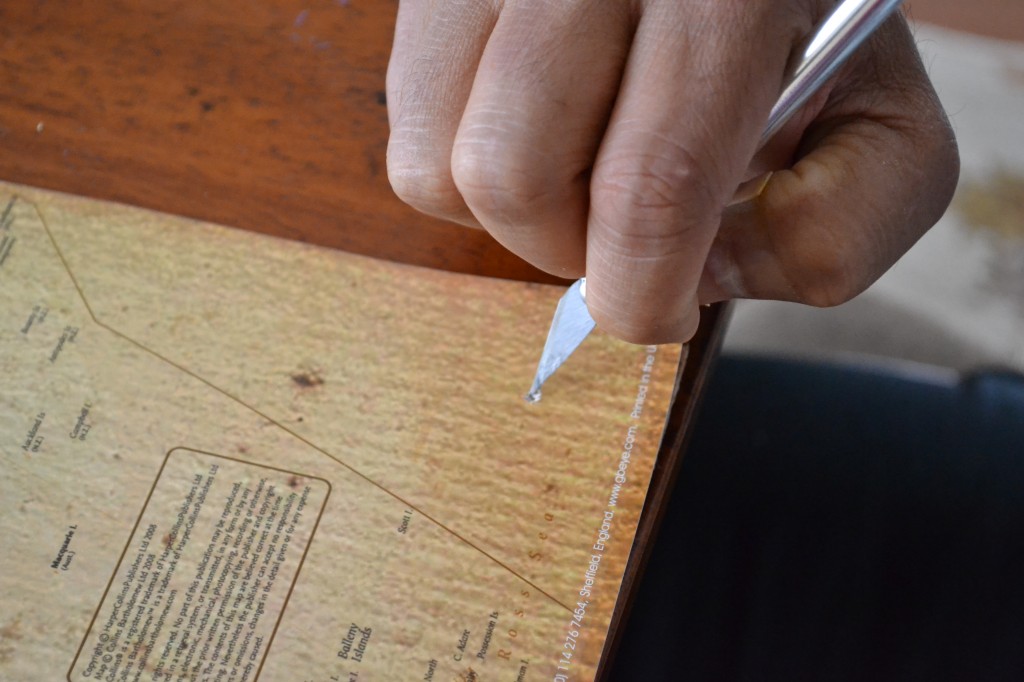 Use a permanent adhesive like Krylon's Spray Adhesive. On a side note, I had tried using the Martha Stewart re-positionable stencil adhesive that I had left over from my stencil marathon. No idea what I was thinking other than may be saving a few bucks! Really bad choice. Not only did it not work it also it made the back of the map a bit grainy and way too sticky. So don't try to skimp on this step, use the real thing.
Spray the adhesive on the cork board and slowly place the map over it one section at a time.You need two people to do this. Start from one end and work your way in sections. Smooth out the air bubbles with an old credit card.
While it dried (takes 3-4 hrs) we made the flag pins from old school folders that the kids brought back home during the last week of school, sewing pins, X-acto knife, and hot glue. 🙂 We went from this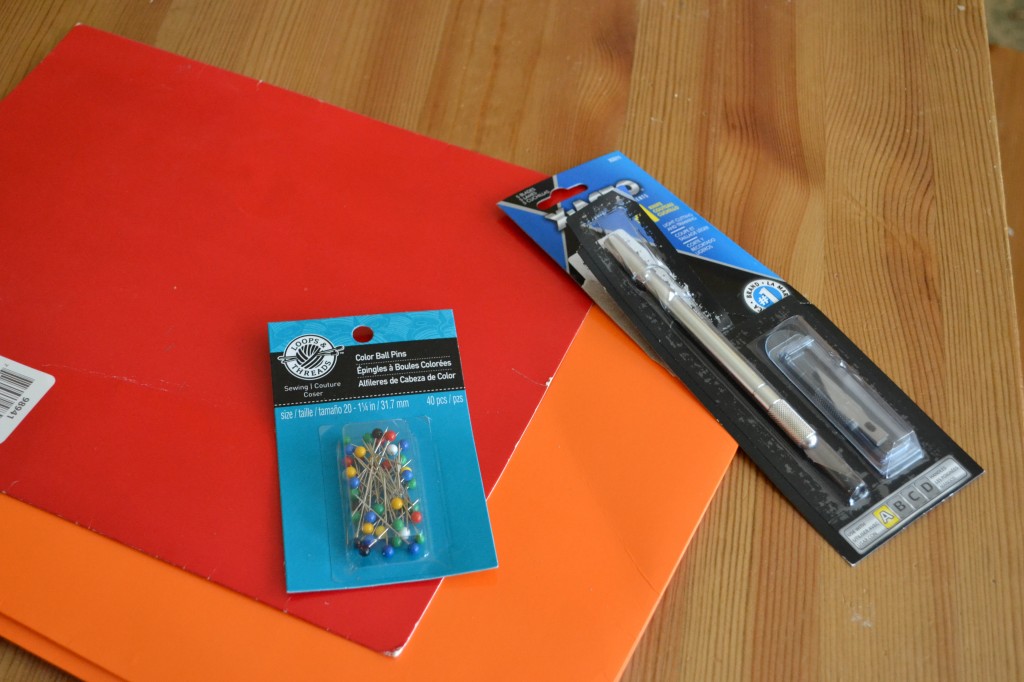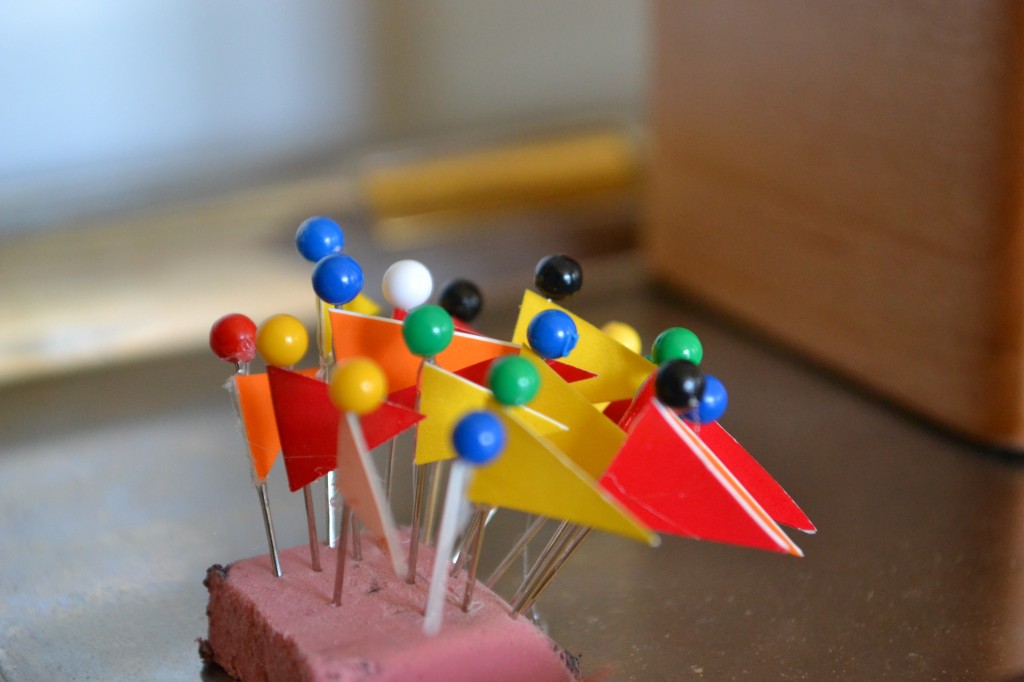 Measure where you screws need to go in and drill holes. The screws that we used, I don't know what they are called, they looked like bolts which you would tighten to the base with your hands/pliers.
The kids' had an awesome time pinning the places where we (mostly B) have been to.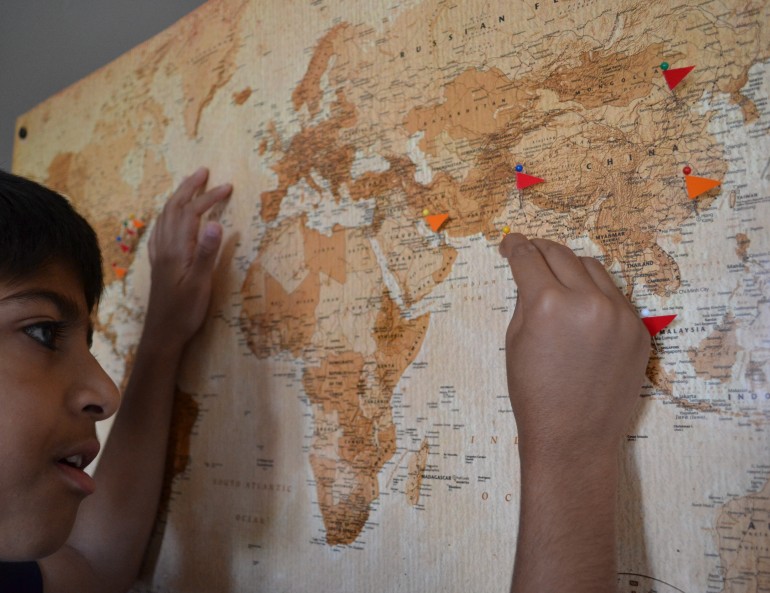 Ain't that a fun project?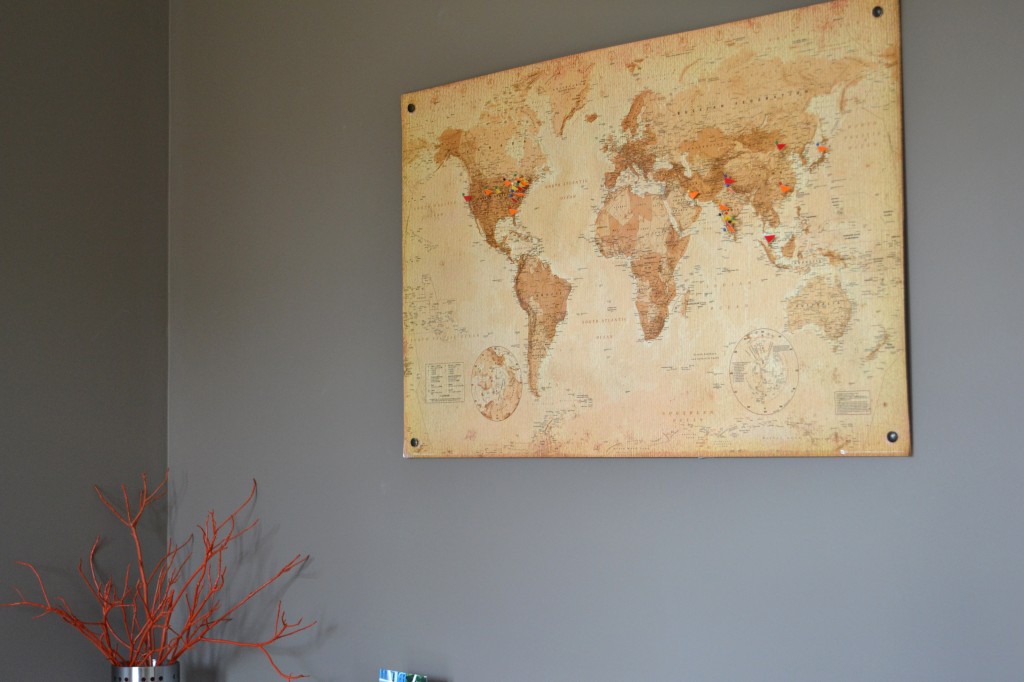 A shot of it in the room;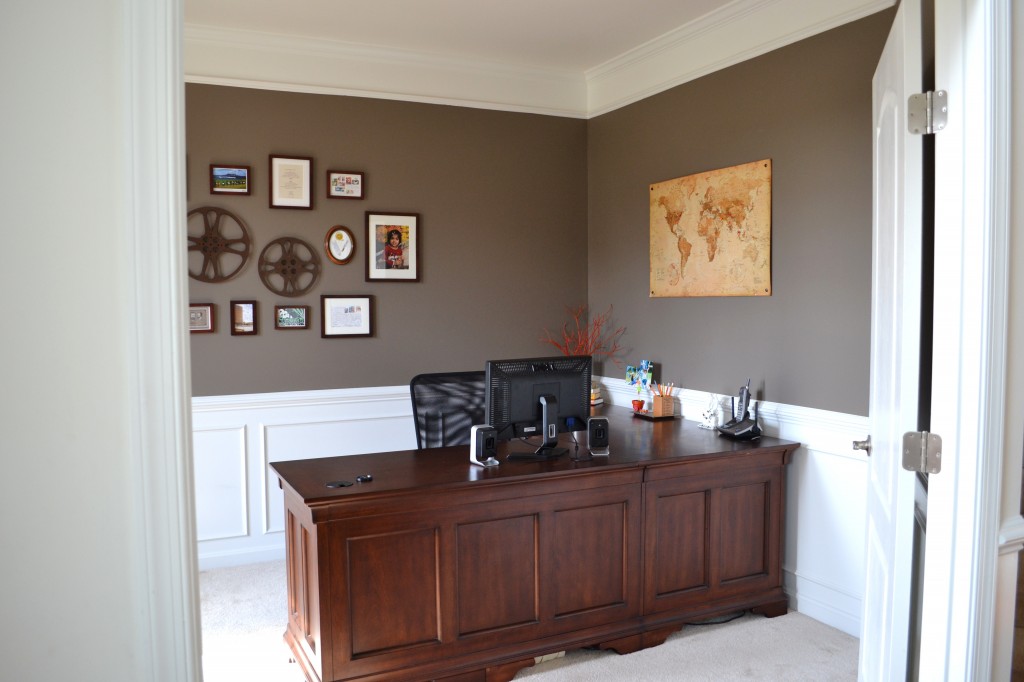 Another close up;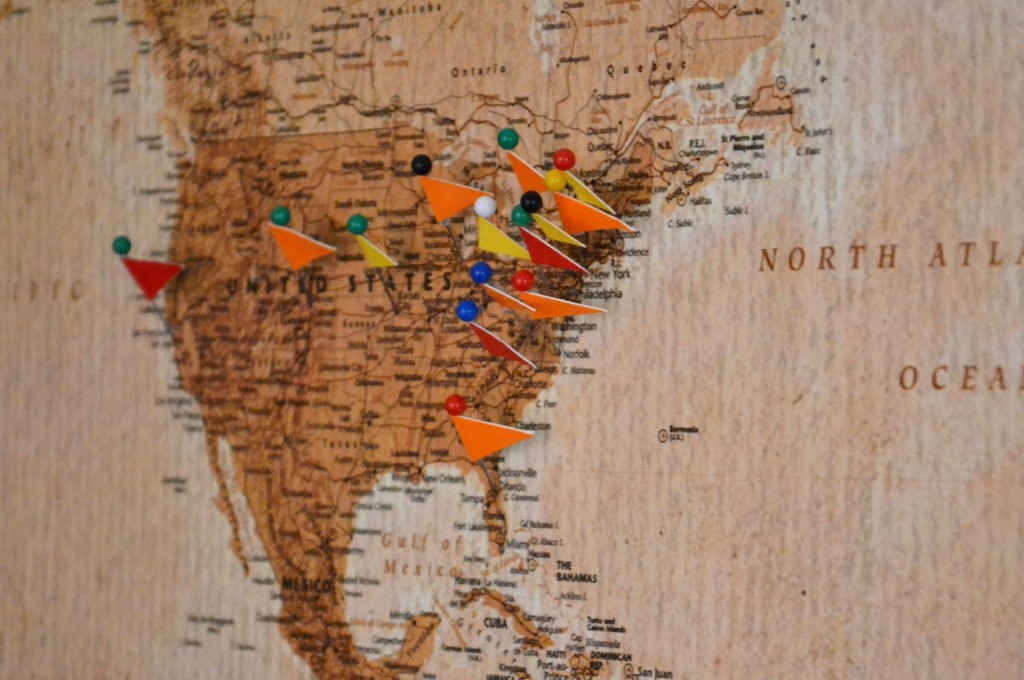 Have you ventured into cork board land? I'm kind of getting obsessed. Here is how I revamped a thrift store cork board find.
*Affiliate link