Lately I have been hearing from so many of you that you've found inspiration at WUHS. I'm so humbled that I've been able to inspire you guys to push your creativity. That is what I set out to do with this blog……..to inspire others, like so many other bloggers who have inspired me. In fact, I got the courage to try so many DIY projects after following bloggers like Young Hose Love, Nesting Place,  Homestories A 2 Z, Censational Girl (to name a few) for years. This post is an ode to all those talented bloggers, to you my readers, and to anyone who is looking to get back in touch with their creative side.
So if you have an interesting project (it doesn't have to be WUHS inspired), a room makeover, or a before – after that you think our readers would appreciate then please email the details/pics  to [email protected]. I'll be honored to share them here in this new series.
Debuting the reader showcase series is Cristie Wojciaczyk's DIY Fairy Garden terrarium that she made after reading my terrarium post. Ain't it beautiful?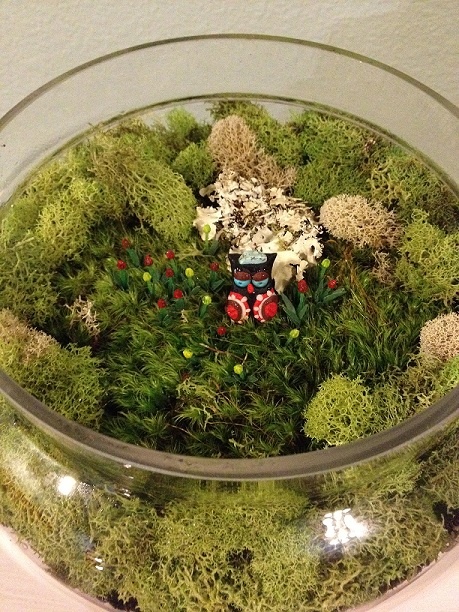 Got to admit, it is way prettier than mine. What a creative idea to mix different types of mosses! She dressed up her's with an owl from Etsy and small tulips from the craft store. The best part of it all, she posted this pic onto Whats Ur Home Story's Facebook page just a few weeks after I started the blog! It was such a huge boost to my confidence during those uncertain initial days. Thank again Cristie!
Since we are on the topic of inspiration, guess whom I've inspired lately? 😉 My Amma (mom)! After seeing all my water garden posts, she is gathering arsenal to create her own water garden. What more do I want………all my life I've been inspired by her! I've always wanted to be like her (like every other girl in this universe), a full time working mom who was so adept at cooking, sewing, gardening, you name it and of course raising us two girls who had completely opposite personalities and who were forever fighting.
Now I see my daughter saying the same thing, that she wants to be like me. I feel both blessed and burdened at the same time and pray that I can live up to her expectations. Still the motherly instincts take over and I reply, "You are my daughter, you can't be like me….you have to be better than me". And my 6 yr old nonchalantly replies, "Of course Amma, I'll be….I'm your daughter".
Coming back to the post….looking forward to your emails and pics. Can't wait to see what you guys have been up to.
For more miniature garden ideas;
Corsican Mint and Orange Scented Thyme Terrarium