I've been teasing you with pics of yellow felt circles for some time. This is what I was up to!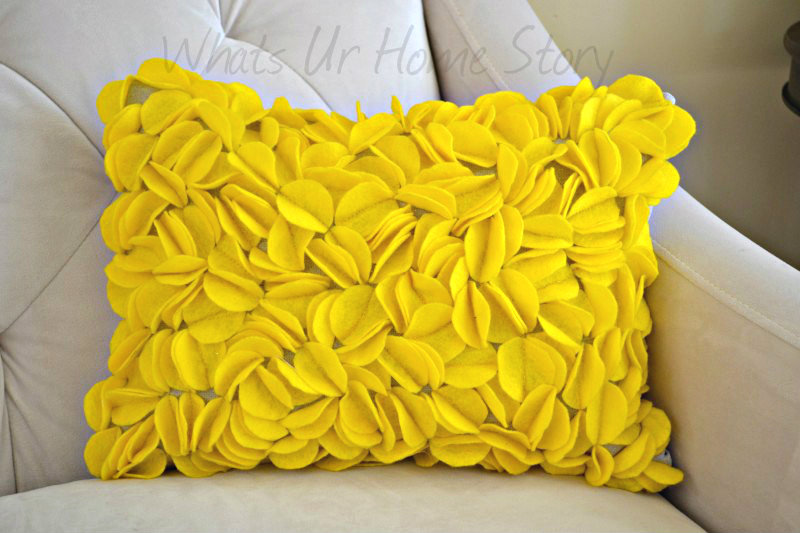 This is actually a Pinspiration turned to reality post. I saw this pillow on Pinterest and it was love at first sight.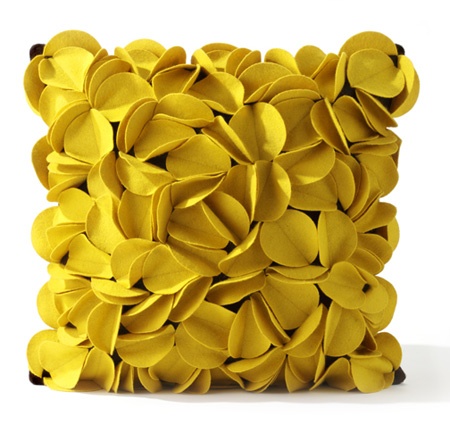 Sadly the House and Home article did not come with any instructions but I found 2 other adventurous ladies (Pressserfoot and Maybe Matilda) who had tackled this project.
For the pillow I used a yard of yellow felt (as this is going to go in the basement bedroom where the accent color is yellow) from JoAnn, left over drop cloth from my zebra rug, and leftover white fabric from the ginkgo pillows. First up you need to decide how big you want your circles to be. The cap of a Pediasure bottle was the perfect size for me. As a side note, my 7 yr old is a very poor eater. So we still have Pediasure in the home at any given time. With a pencil I lightly traced circles on the felt and cut them out with regular scissors.
I might have cut out around 150 circles. Yes, this is the most time consuming and mundane part of the project. Once I was done cutting I folded them in half and ironed it.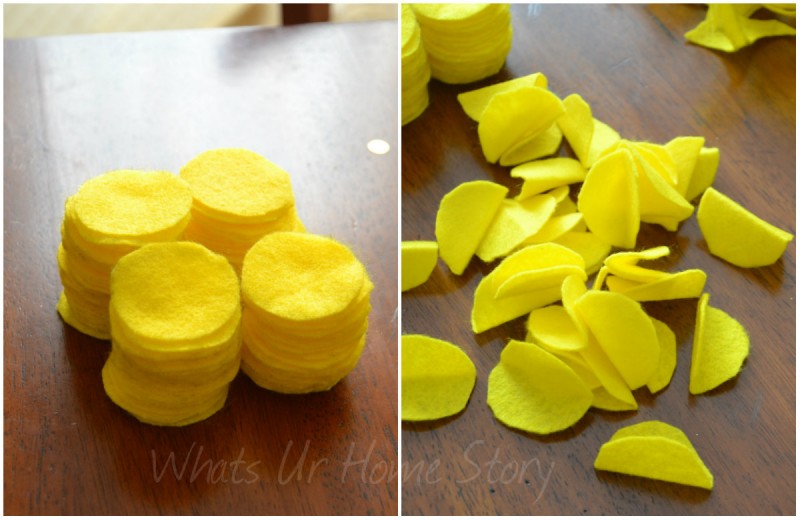 My pillow was going to be a 12 x 16. So I traced a 12 x 16 rectangle again lightly with a pencil onto my drop cloth and started sewing the circles along the folded crease, one at a time. A really great tip that I got from the other bloggers who attempted this pillow was to start from the center. This is going to make your life easier as the circles get fuller and you move towards the corners.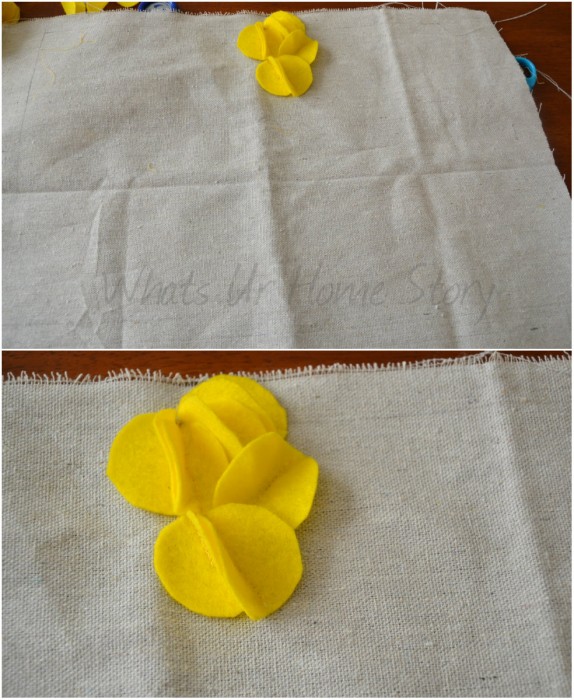 There is really no pattern for sewing them. Just stagger them around against each other making sure that they are not all in the same direction. Sometimes I would just get lazy and instead of sewing one at a time I would arrange a few in a string pattern and sew them all at a go. And then go back and fill in the gaps.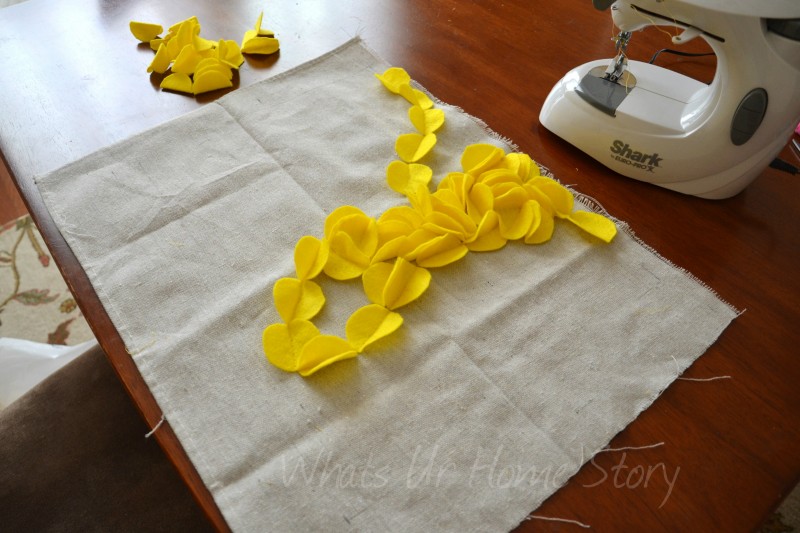 You can see my not so trusty $20 Shark sewing machine in the shot. I so want to replace it with a good one. Maybe one day! Here is another shot of the same thing. You can see my pillow size outlines clearly in this one.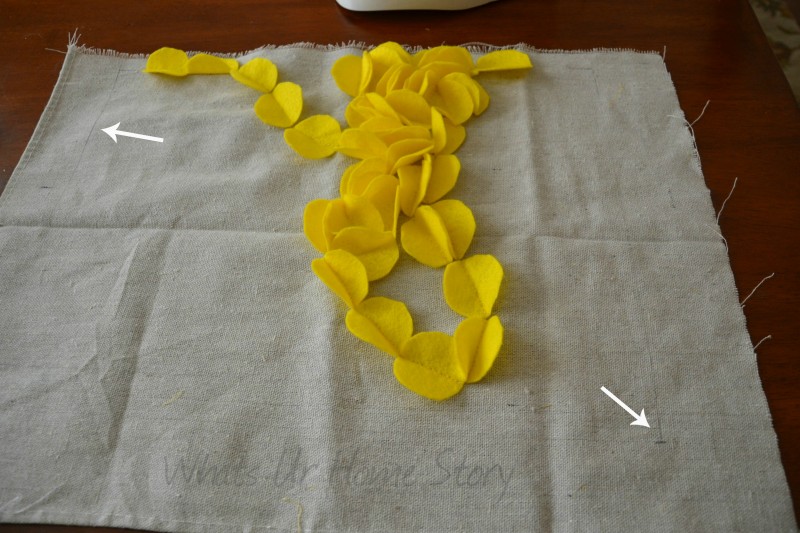 For the back of the pillow I used left over white fabric from the ginkgo pillows. I made a regular envelope pillow ( you can get the detailed instructions here). The only difference is that since the height was only 12″ I used only 4″ of extra fabric instead of the usual 8″.
All said and done, here she is;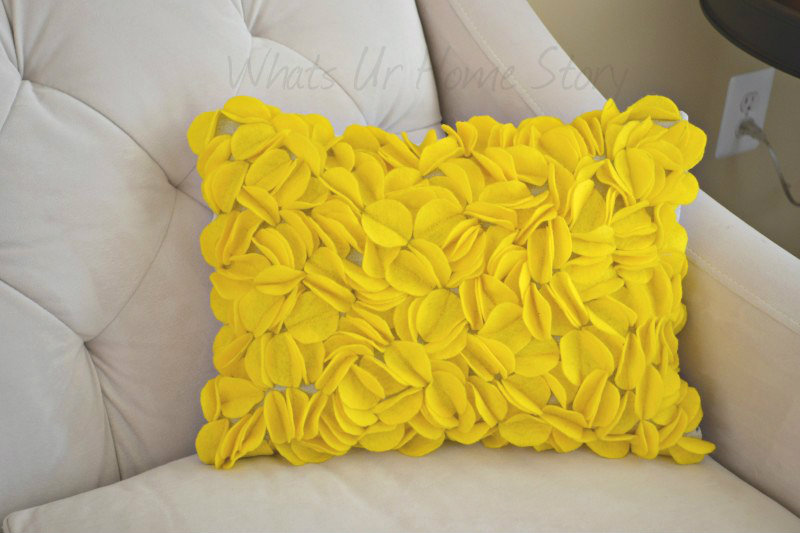 Can't wait to add her to the guest bedroom!
Source Details
Yellow Felt –  Around $3  for 1 yd of which I used two thirds (forgot the exact amount) was on sale @ JoAnn's Drop cloth & White fabric – Already had Yellow Thread -$2.40 @ JoAnn's Pillow Insert – $3 (Again forgot the exact amount. Used a 50% off coupon @ JoAnn's)
Total: $8.40 Yay!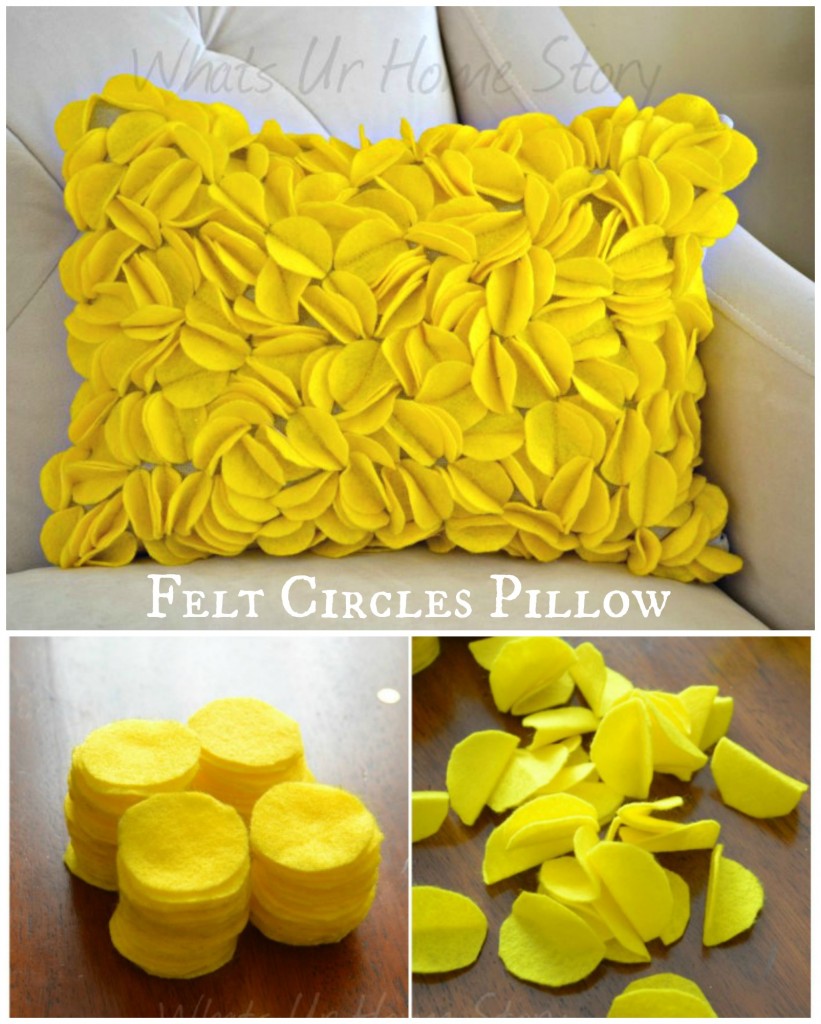 What have you been up to? What are your plans for Thanksgiving? We are hosting family this year. So excited about it.