You want to know how I made the zebra rug?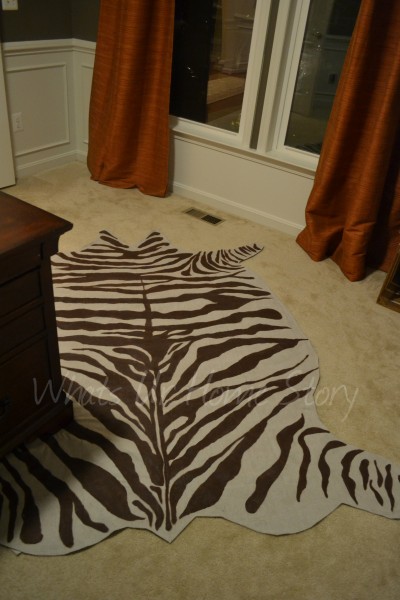 As promised here is the tutorial.
You'll need:
A canvas drop cloth
Printed pics of zebra hides that you can find online
Pencil, scissors
Dark Brown or Black Acrylic paint
Fabric medium
Acrylic sealer (optional)
Brushes
Rug pad (optional)
Needle and thread (to finish off the edges)
Plastic drop cloth or something else to prevent the paint from seeping onto your floor/carpet. I used packing blankets that I had.
I used a 6 x 9 drop cloth from Home Depot. I have heard from other bloggers (who did drop cloth rug projects) that you cannot beat the Home Depot /Lowes quality. So try to stick with those brands. As I prefer the dark brown over a taupe look I used brown acrylic craft paint (Craft smart espresso) directly over the drop cloth. If you like the black and white look then you will have to first paint the drop cloth white and use black paint for the stripes.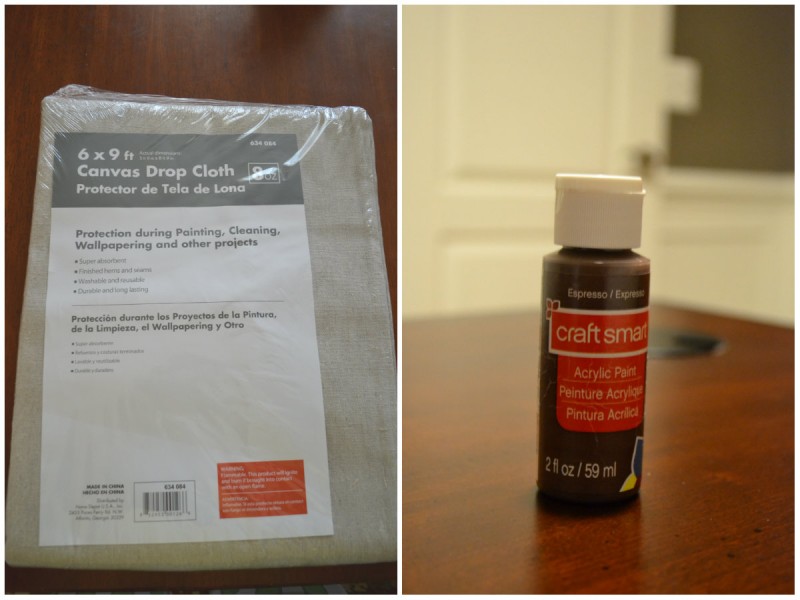 How to Make A Rug From a Drop Cloth Tutorial
Fold the drop cloth on the vertical. Measure and cut the drop cloth to size. I wanted at least a 4 x6 rug so I cut off a 5x 8 section.
Draw the outline on the drop cloth using the zebra hide pics as a reference.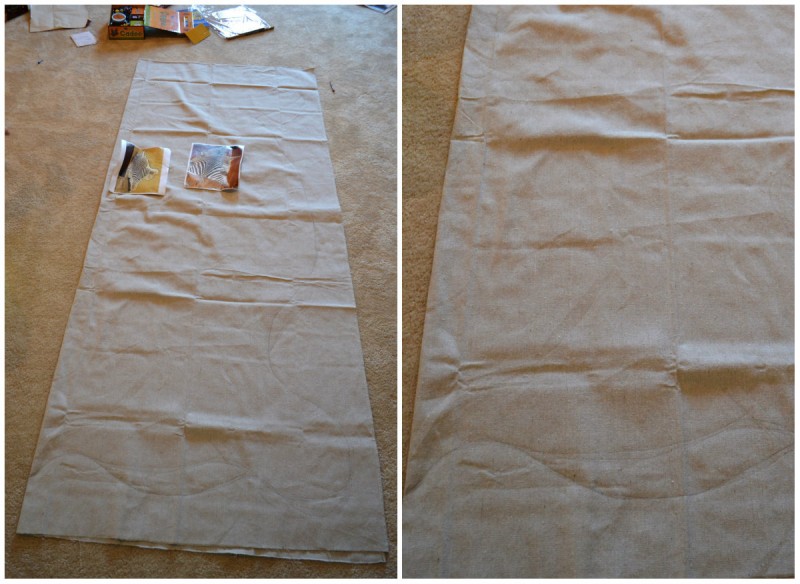 Leave an inch or two of trim allowance and cut out your shape.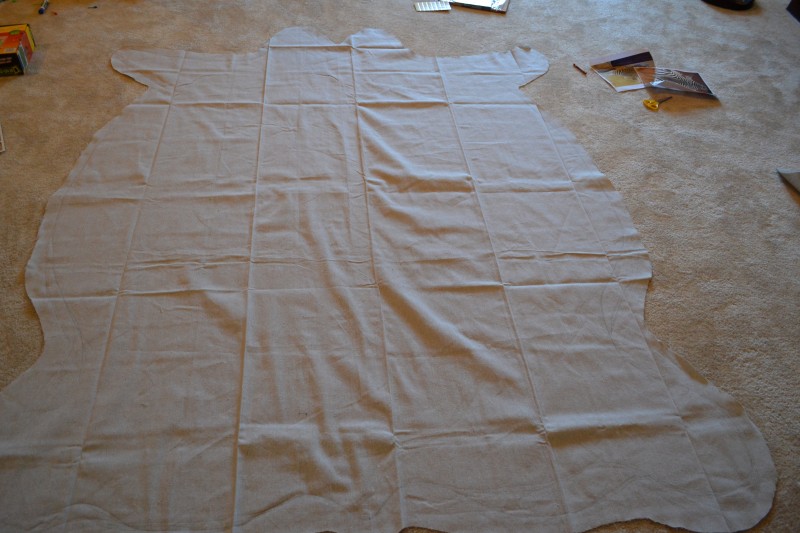 Now using your printed image as a guideline draw the stripes with the pencil.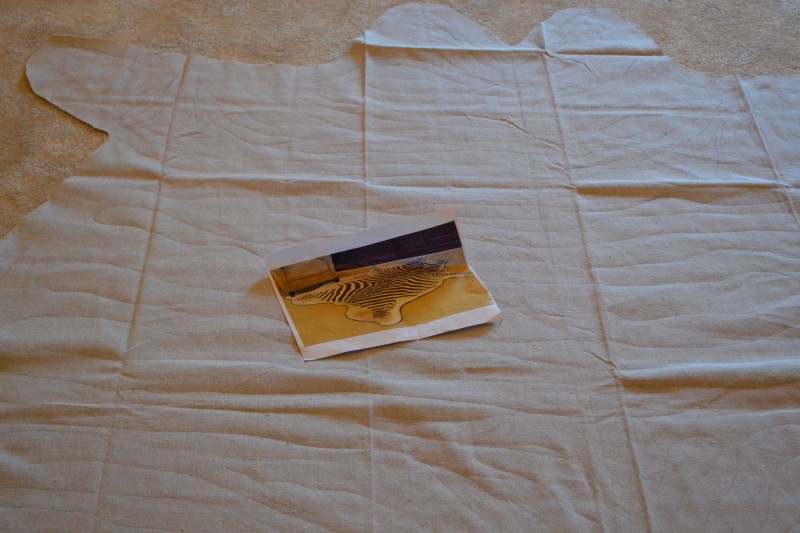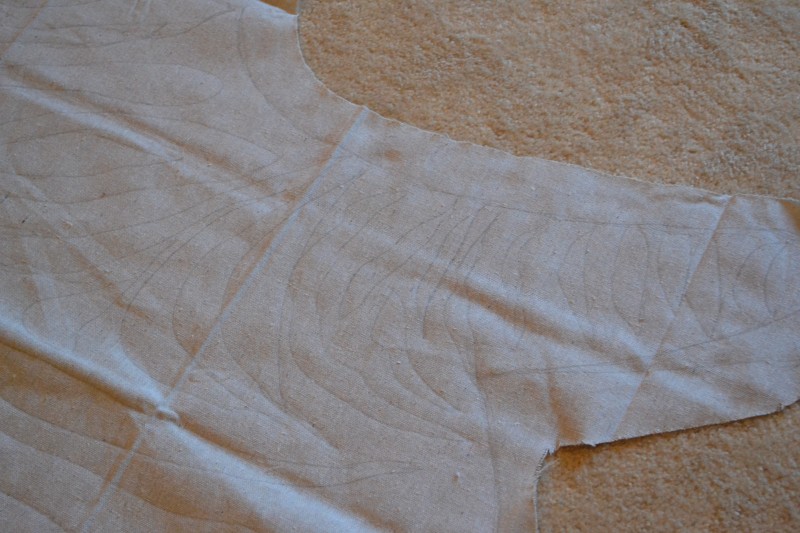 Hurray the toughest part of the project is over! Now the fun starts, painting. Mix your acrylic paint and fabric medium in a 2:1 ratio (more details in this post) and paint away. I tried using a foam brush but found that using a regular artist brush gave me more control. If you spill over the lines or drop some paint then you can adjust your stripes accordingly. You can also go back and cover any uneven spots. This is such a forgiving pattern.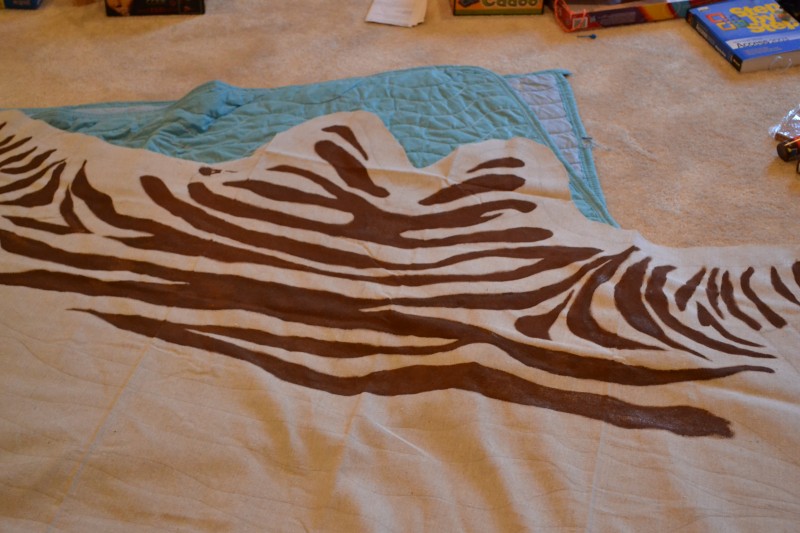 Here is another progress shot. Please ignor the mess around the rug. Just keeping it real, the kids were playing while I was slogging away. 🙂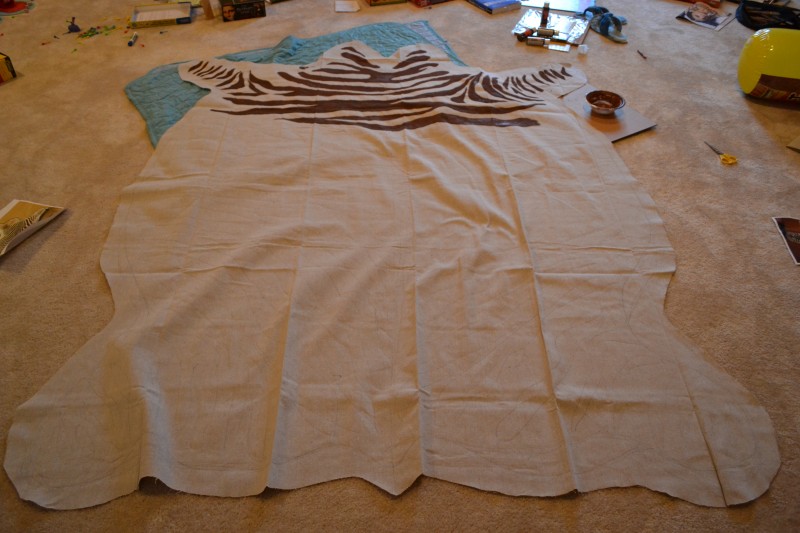 When you are done painting you'll end up with this. By the way it took me may be 4hrs over a period of 2 weeks. I just worked on it when I had time.
A closeup of the stripes as it dries;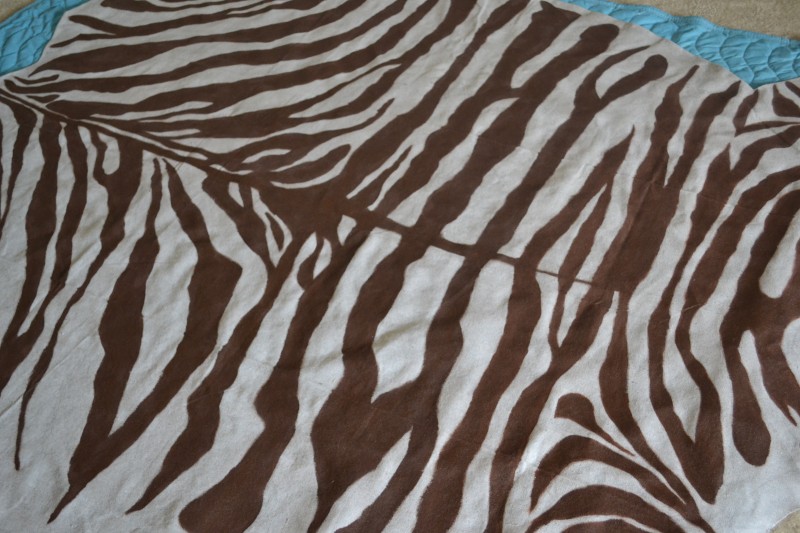 Once the paint is dry follow your fabric medium directions and heat set the paint.  If you are going to use the rug in a not so heavy traffic area or a room which does not get much kid abuse then I would recommend skipping the next step, sealing. Based on the fabric medium directions, the paint is washable at this stage. So any minor spills/stains might be ok. But I cannot guarantee that the paint will not fade with frequent washings if it is not sealed.
To seal, I used a a polycrylic water based sealer (Minwax clear satin finish). I did not use an oil based sealer because I've heard somewhere that oil based 'things' might increase the chance of a fire in the dryer. So, just want to be on the safer side. I applied a light coat with a foam brush. As soon as I started applying I noticed that the sealer dulled my paint color a little bit, which I didn't like.  This was the reason for doing a light coat vs. a dense coat with a roller.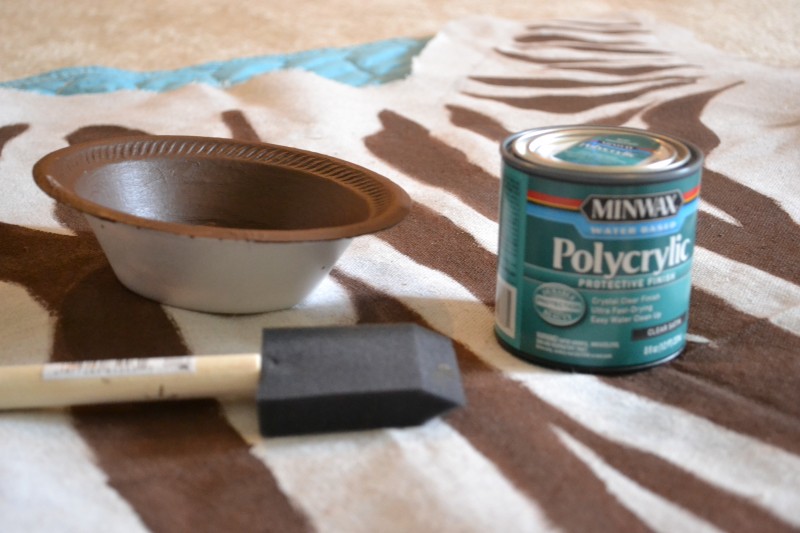 Another issue with the sealer is that it gives an uneven shine to the rug in day light.  In hindsight maybe doing a thicker coat with a roller might have been a better idea. Test on an extra piece of painted drop cloth to see if it dulls the paint color before you try on the real thing. Let it dry overnight.
I sewed the edges by hand with the basic running stitch folding the seam at my outline.  When it came to the corners I just cut the seam in sections for a better finish.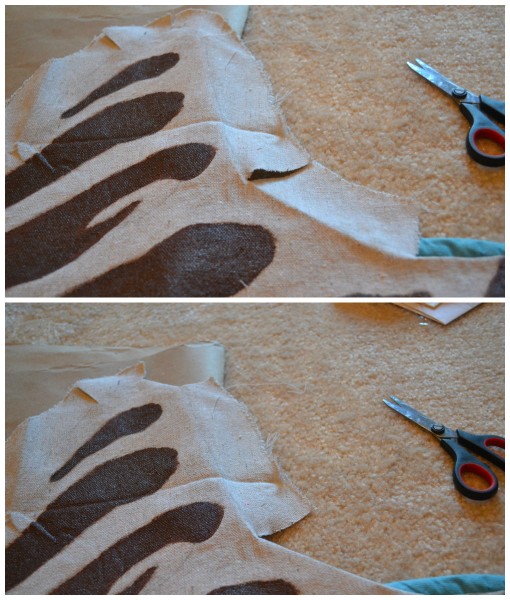 Voila, she's all done! In the end the rug measured 5 x 6.5 ft.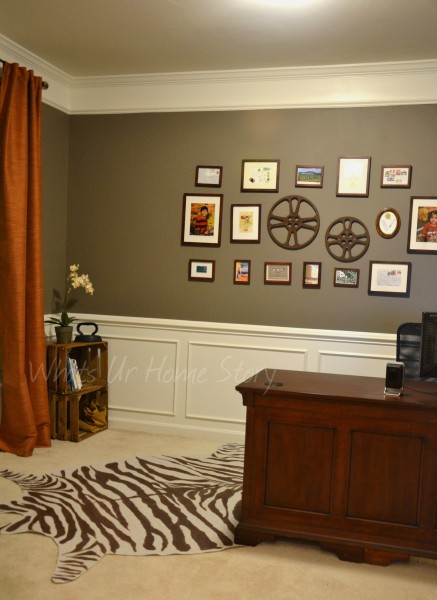 Here is a close-up shot.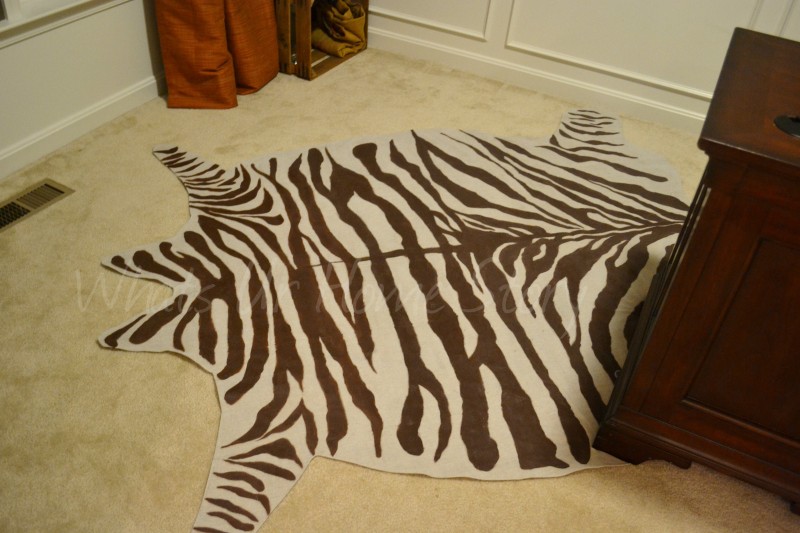 Take away: You could add a rug pad if the rug is going to go over a hardwood floor. It has been working great in our carpeted office without the rug pad. If you want to attach a rug pad then I would glue it down to the backside with a fabric glue spray before you finish the edges. When you sew the edge you would be sewing through the rug pad too. This will ensure that the pad stays in place.
Even after cutting out a 5x 8 piece from the drop cloth I have enough fabric left over to make 2 throw pillows.
Source Details
Canvas Drop Cloth -$10.98 – Home Depot Espresso Acrylic paint – $3 approx (I think it was $0.60 each, 5 bottles) – Micheals Acrylic sealer – $8.98 – Home Depot Fabric medium – Already had Brushes – Already had
Total -$22.96
Isn't that the best $23 I spent?