You know, one of best things about having a blog is that you are documenting your plans for the home as you go. And plans are just that, plans. Some come to fruition while others morph into a totally different version. It is so fun to go back to my original To Do List from 2012 and see what we got done in these 4 years! A lot has changed around the house! For that matter even the 2014 list's priorities look so different now! That's how much our family's needs have changed throughout the years!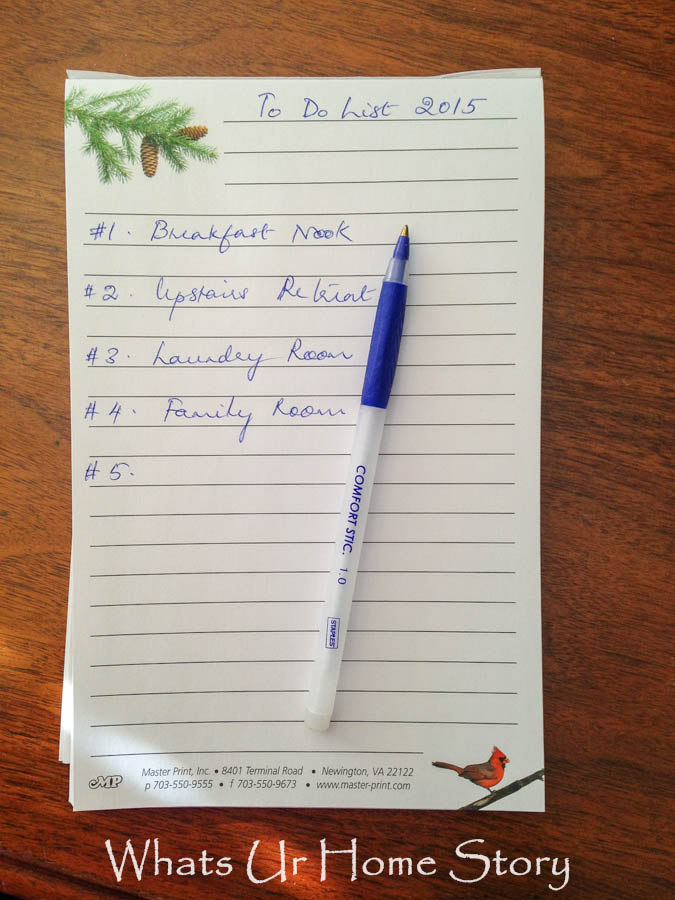 Anyhoo, I just realized that the last time I posted a To Do List update was around the same time last year! Lately we have been earnestly talking about moving up some of the projects that have been way down on our list and even adding a totally new one, yes this one took me by surprise too.  So I thought why not keep you also posted on the changes happening around here.
First let's look at the accomplishments over the last year.
Reupholster the Kitchen Island Bar Stools – Yes, yes they are done! It's been almost a year and they still look as pretty as the day I redid them. The fun Chiang Mai Dragon fabric totally warms up my kitchen.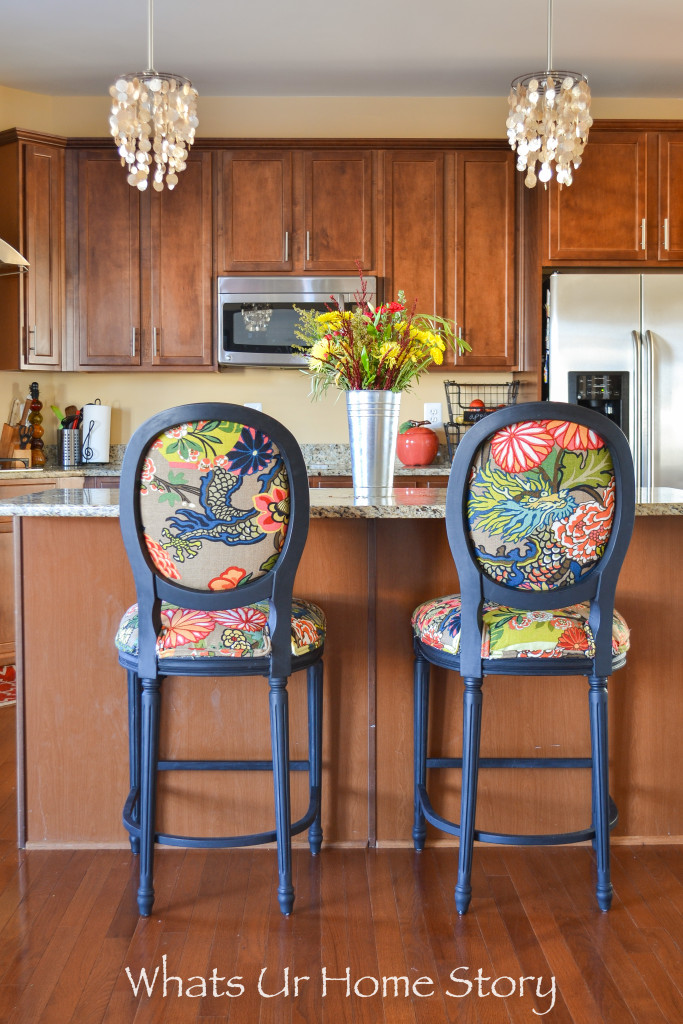 Our master bedroom closets – After 5 years of living in this house with practically useless builder grade closets we got them done late last year when the Container Store was having their annual sale on Elfa. Here's B's closet makeover.
It is one of those, "Why didn't we do this sooner?" projects having improved the quality of our lives dramatically! Cannot tell you how much less time it takes for me to dress for work every morning! And my closet;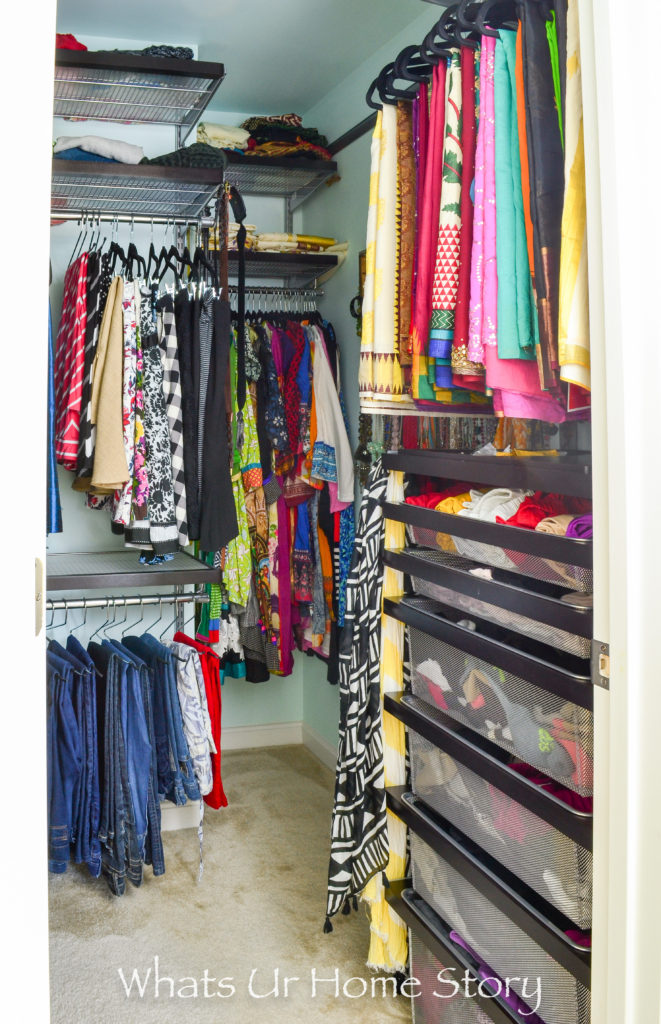 Build a Second Garden Bed – We didn't just build a second raised bed but two!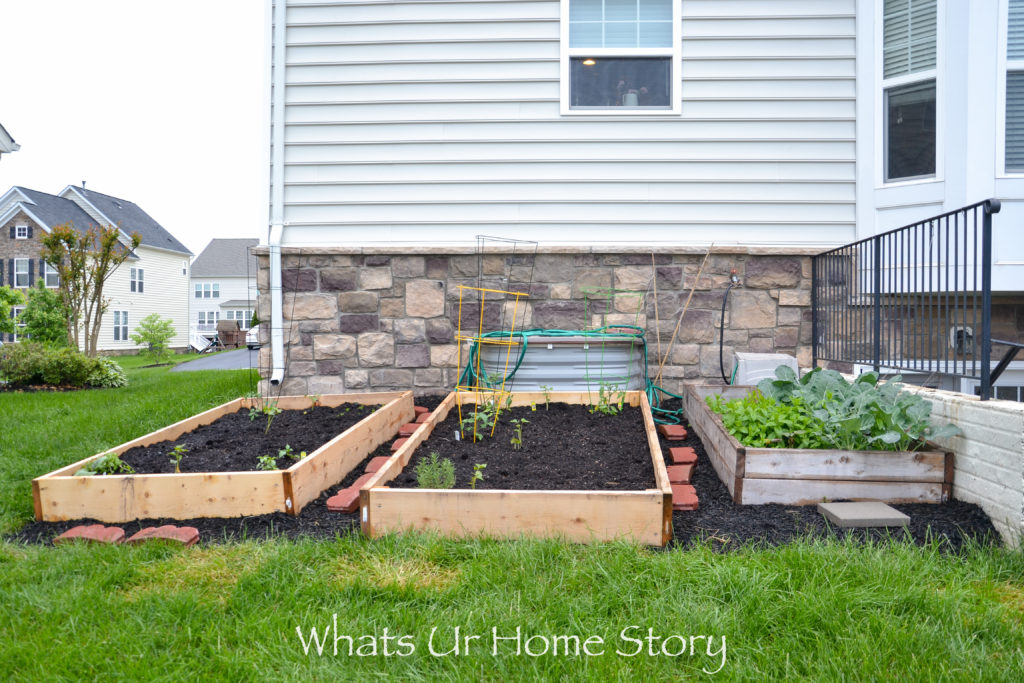 Yes we now have 3  garden beds and have been growing veggies all season long.
In the Works
Dining Room Overhaul – Wait, where did this come from? Didn't I call it done long ago? You know, after the 13 hour stenciling job? Well, as with everything in life you outgrow some things. That's what happened to our dining table and chairs. After taking 12 years of life and especially homework abuse from the kiddos (that's where we do homework) it is time for it to go. There is still some life left in it and we might repurpose it somehow but we need a larger table, a table that is more our transitional/ industrial style and one that seats at least 8. So there you have the catalyst for the change. New table and chairs, which we have yet to get, means new lighting, new paint color, decor. : ) The lighting we've got already. It is the Arturo 8 light chandelier from Ballard. Can't wait for the rest of the room to come together.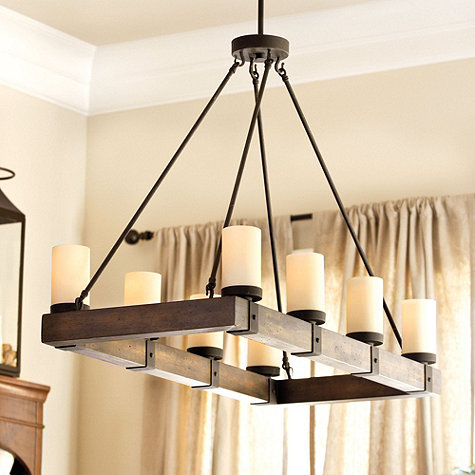 The Basement Hall –  Another project that made the list from literally nowhere is the basement hall. All these years it was a not actively used space that housed our old leather couch and dated entertainment center from our previous home. We've finally cleared the room aka. got rid of that mammoth entertainment center (warrants a separate post in itself) and are planning to set up a rec room/ man cave. Now you know whose idea this is, right? 🙂
The Upstairs Retreat – Long ago we'd added the ladder shelves up there to make a reading nook kinda set up. But with the changes happening in the basement hall we moved the small TV we had downstairs to this area. So now this space looks to be more like a gaming/reading nook for the kiddos. No definite plans yet over here but as things fall into place I hope this one will take shape too.
Repaint the Main Floor – Our whole main floor is pretty much open as each of the rooms flow into one another. So repainting the dining room means that we have to eventually repaint the rest of the main floor aka. the living room, family room, foyer, hallways, breakfast nook, and kitchen.
Complete the Family Room –  This is one of those "taking its sweet time" projects where I'd say we are pretty much 90% done. The area next to the couch is finally taking shape after we added my mom's mural painting there. We also got a fabulous industrial console table (yet to show you) for the space. However the area by the cane chairs is what is bothering me as I cannot seem to figure out if I should add a sofa table or a side table there.
Long shot projects
Kitchen Backsplash – All these years I had no clue what tile would look good with our cabinets and granite but I think now I have a good idea. Still it's been so hard to commit to the tile. 🙁
Expanding the outdoor deck – This one keeps cropping up every now and then but given all the changes we are making in the main floor we are mostly likely gonna hold off on the deck for now.
Our master bedroom – We have slowly started giving some thought to what we want the room to look like but then again not any time soon.
How are you doing on your To Do List? Do your decorating plans change often?