Have you heard of the saying, things creeping up on you? That is exactly what is happening to me as we speak. Tweaking the Home Tour page and the general look of the blog has been on my mind for a while but I procrastinated like forever and decided to pull the plug on it this week (along with a blog schedule change). All these changes leading into the Haven conference (who am I kidding it is this Thursday) for which I'm yet to pack or haven't even clearly thought out what to wear! Wait, I'm already freaking out and talking all over the place. How about we check off the easiest things on the list first?
Remember a few months back when I switched to the 3 posts a week schedule I said about experimenting with what days to post. After almost 5 months of living with it I'm kind loving the slower pace but feel that I'm crammed for time to get 2 posts in on consecutive days, Monday & Tuesday. So from next week onward the posting schedule is gonna be Monday, Wednesday, and Friday.
Now that is off the plate, have you checked out the new Home Tour page? A lot of the pics are the same but the look is cleaner and sleeker. You might have noticed the same with the blog background and the content areas. As reader I find blogs with white space less distracting and thought I'd try how it feels to sport the same look on WUHS. How do ya like it?
As I was putting together the pics for the home tour I realized that I never showed you the Ladder shelves in the upstairs loft aka. Kids' reading nook. It has been exactly a year since we installed them!
My kids especially Monkey #1 reads a lot all the time and both grandpas' and B are happier to spend money on books than toys. Means we end up with a ton of books that they can't even imagine parting with (we are working really hard on our donating skills this year). This space is the loft area where the stairs end, open to the foyer on one side and the stairs on the other. I had/have lofty plans for the loft all of which got stalled after the epic failure of my vintage lace chandelier. So for now it is just the shelves and reupholstered bench.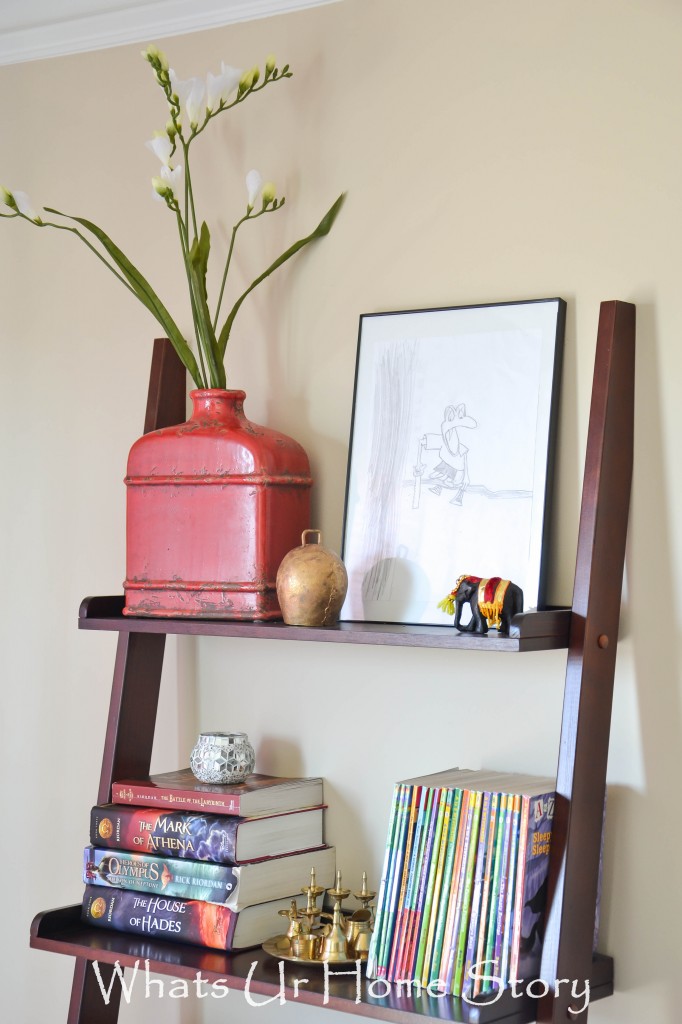 The room is flood lit most of the days thanks to 3 West facing windows. So the pics always end with stark lighting and shadows.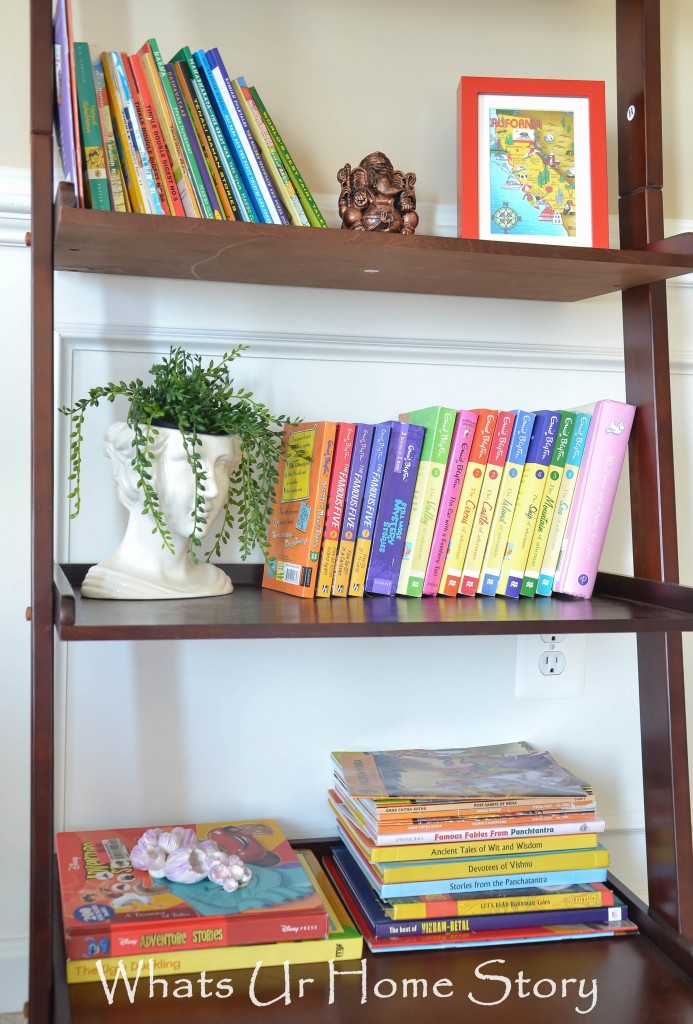 Will tell ya about how we installed them and where we got them etc later. Remember I still have my Haven packing to do?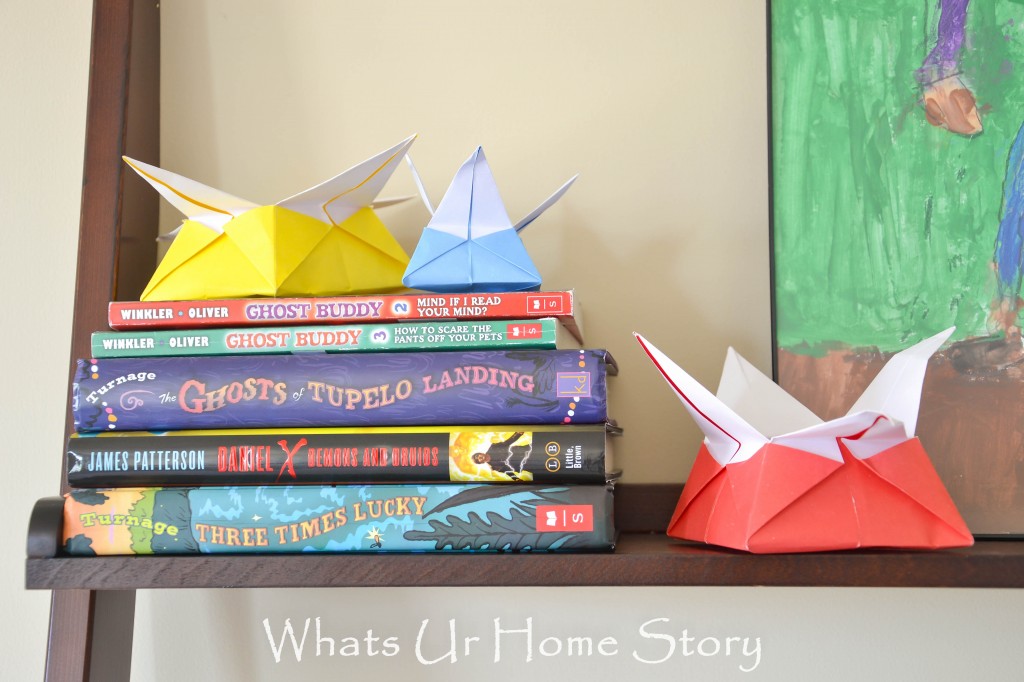 You can see part of the stairs in this pic.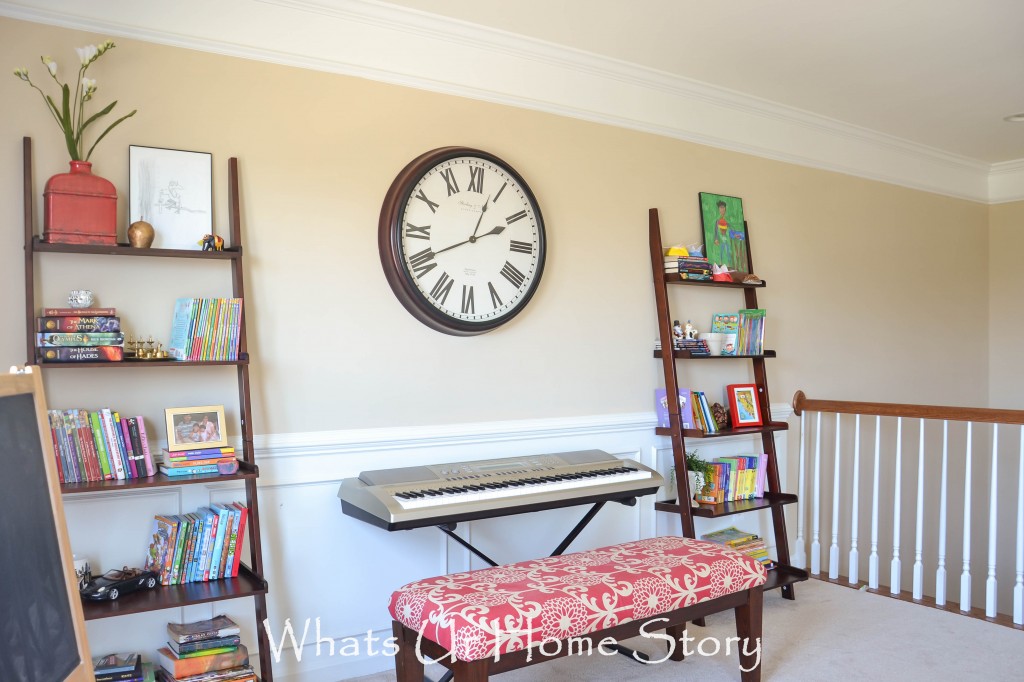 Got to admit that it took a lot of convincing to get B on board with the ladder shelves idea. So glad he went with it. Love how airy and clean they look while providing great storage and organization for the kids' books. Are you a fan of ladder shelves too?
PS: No post on Thursday. Follow me on Instagram or Facebook for updates from Haven.