It's always so much fun to do a 'before and after' room post.  Without wasting any time our new dining room….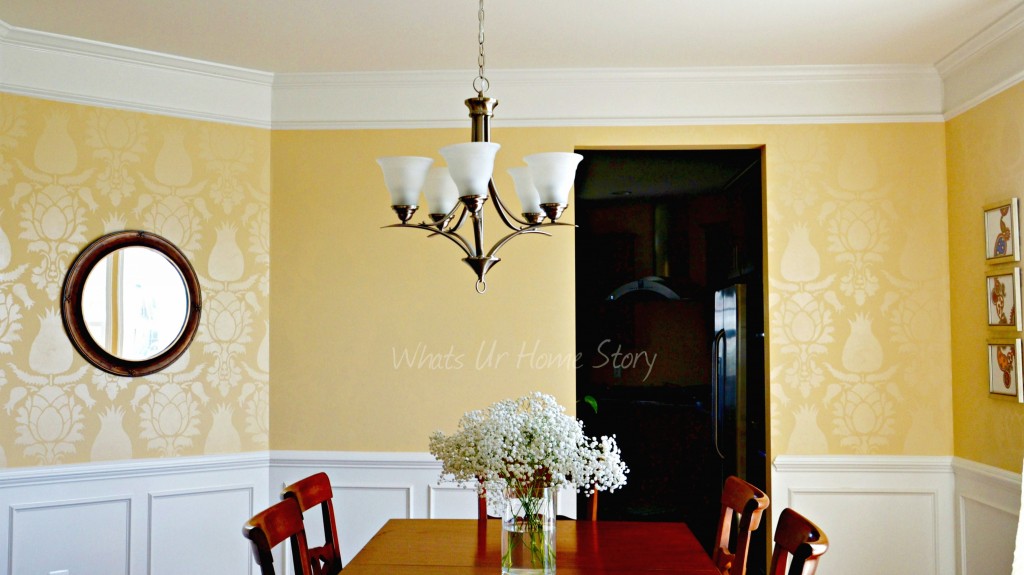 And this is what we started with, blank builder white.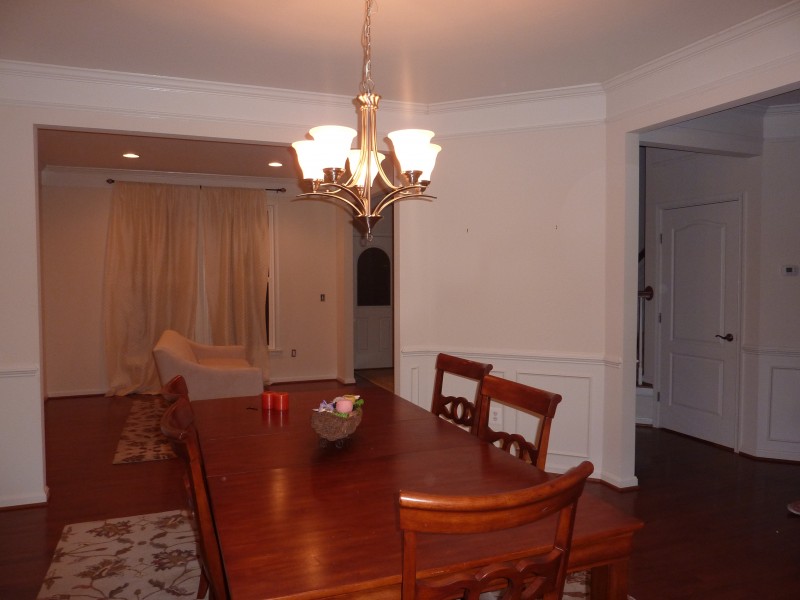 After adding a coat of paint, an 11 hour stencil marathon, and some art here is the new dining room.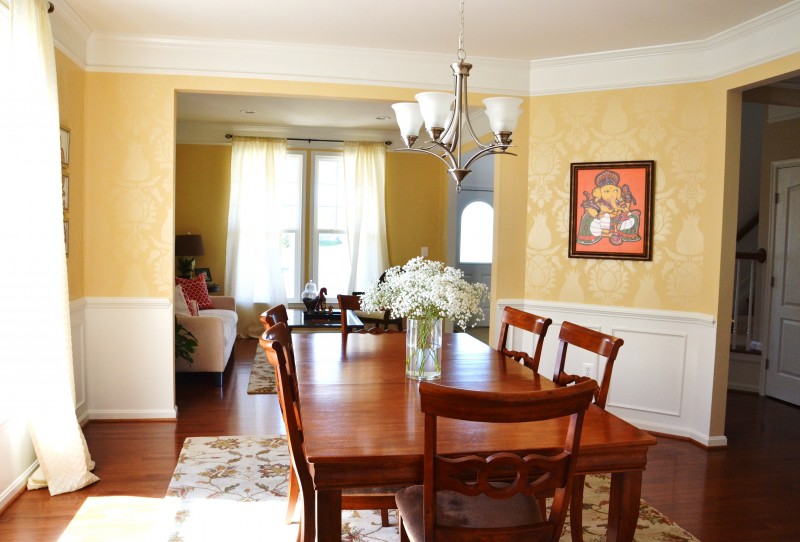 A before shot from the other angle;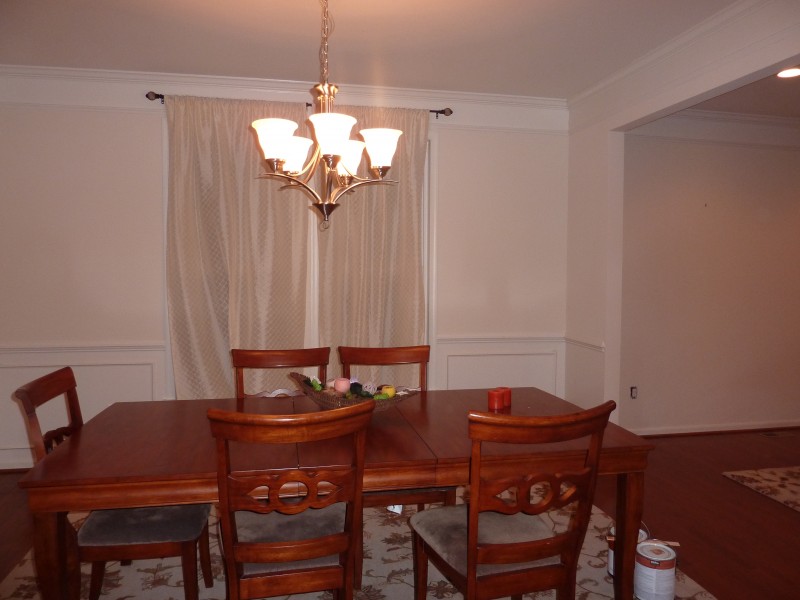 Now for the after.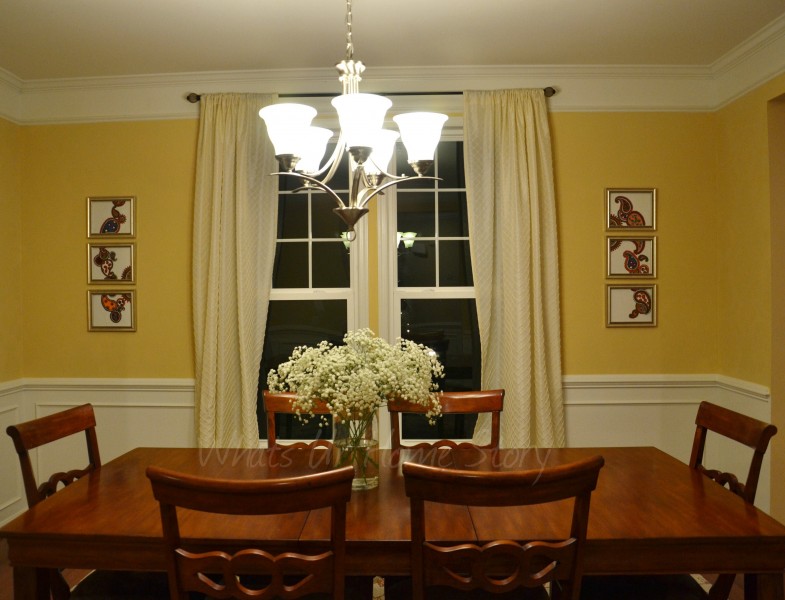 My camera acts weird sometimes, the stencils kinda disappear in some of the shots. So I've tried to take pics both in daylight and at night and with different settings. I don't know how to best describe the paint color; it is not yellow or peachy, may be it is more buttery with a peachish tint to it. I know I am not making sense. All I know is, it is a happy color and every time I see it makes me feel like I've step into sunshine. It just lifts up my spirits.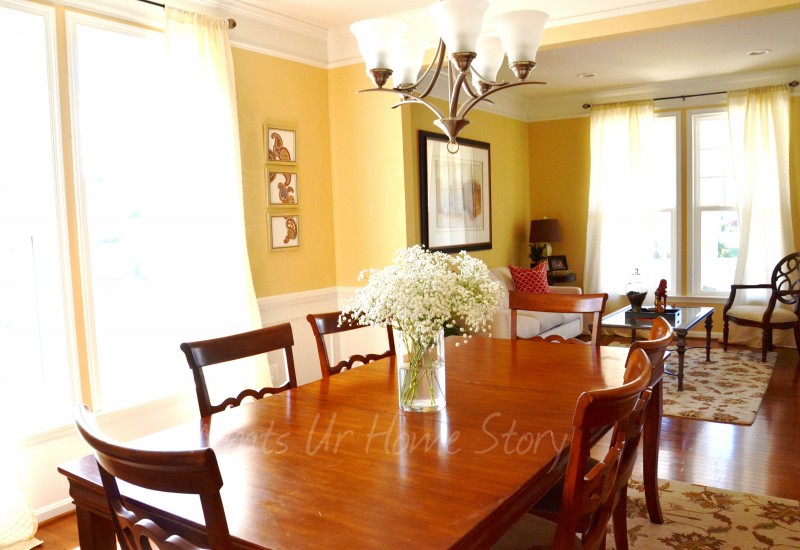 The after shot. You can see the stencils really well in this one.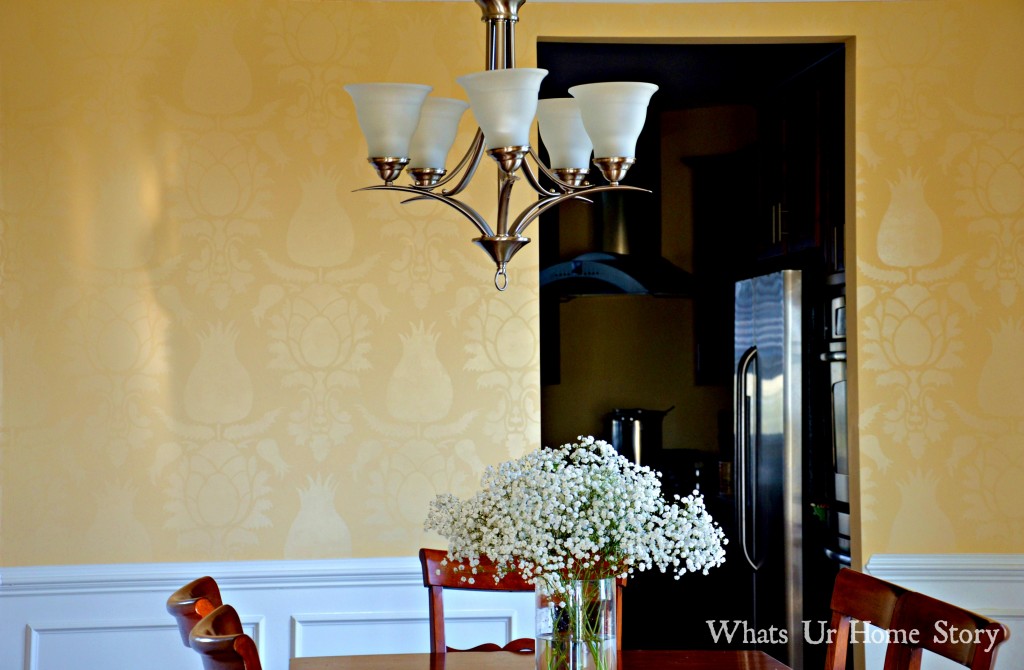 To recap, this is what we did;
Painted the room SW August Moon flat
Added the mirror, rug,  and temporary art work (more about that phase here)
Used the Uzbek Suzani stencil from Royal Design Studio to create a tone on tone effect using the same paint color but in high gloss
The stenciling was a leg and arm breaking process but it is well worth the effort
Added $5 art to the walls next to the windows
Switched out the temporary artwork with my mural painting
Finally added some flowers
Now for the last pic completing the 360 degree view of the room.

Source List
Mirror – $29.99 – Home Goods
Kerala mural artwork
– $57.24 Paint (Base Coat) – $26.99 (1 gallon, SW August Moon matched to Behr Flat at Home Depot) Paint (stenciling) -$12 (1 quart, SW August Moon matched to Behr High Gloss at Home Depot)
Stencil
 – $53.10 (was $44.10 after using 10% of
YHL
coupon code, rest was shipping) Brushes – $4.99 -Micheals Adhesive spray – $4 (after using the 50% off coupon from Micheals)
$5 Art Project
– $21.42 for 6 pieces Curtains – $95.98 ($47.99 per panel) – Overstock.com (+$1 shipping) Rug – $269.10 -HomeGoods (we opened up a HG card, so saved 10% on the $299 tag) Vase -$6.99 -Home Goods Flowers -$12 -Wegmans   
Total – $594.80