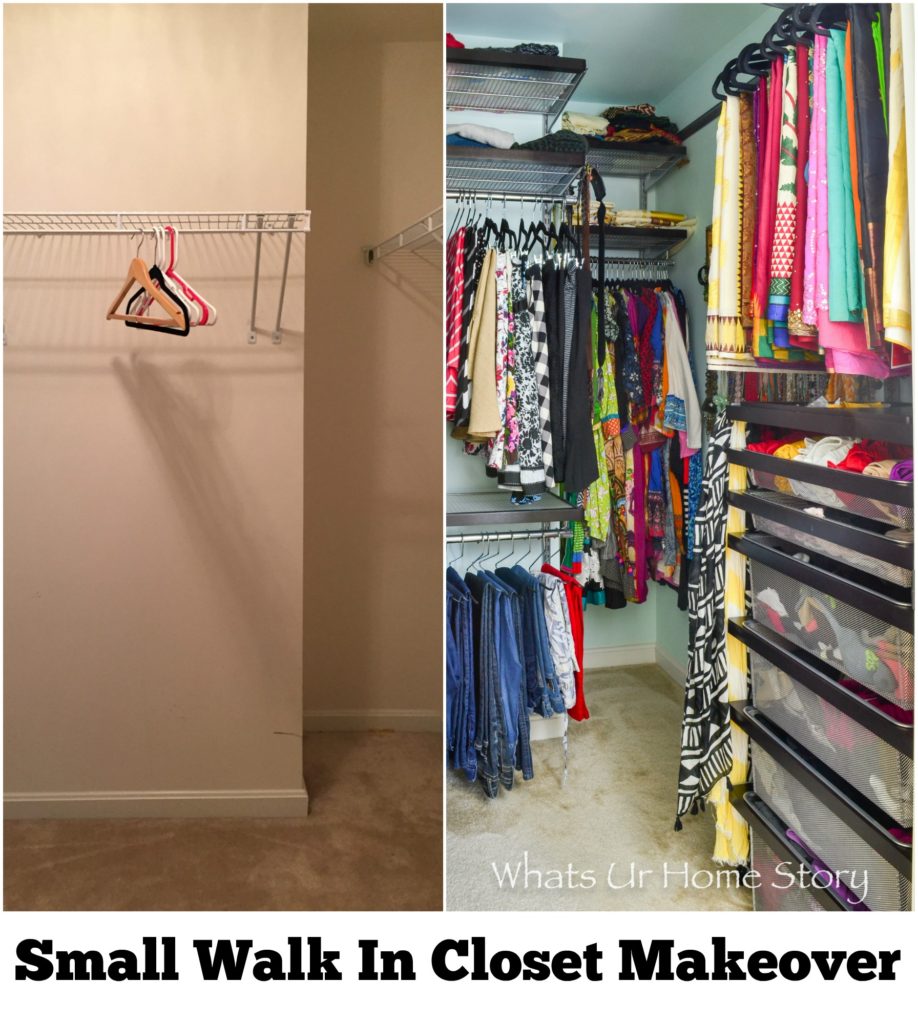 The small walk in closet you see in there is technically a her master closet aka. my closet. By no means would I call it a master closet but it is a walk in and is the smaller of the two master closets in our home. Yes, you read that right smaller! Why in the world would a sane woman pick the smaller closet when she has a choice? Frankly, I don't remember why I chose this one when we moved into this home 6 years ago. Only reason I can think of now is that the 'larger closet' had the attic access, which I didn't like. To be fair to B, when we decided to redo our closets he did offer up his closet (see the his master closet makeover here) but I stuck to my smaller one 'coz by then I had become a creature of habit. You know, I've this habit of getting attached to certain spaces, which soon become 'my space'…that quiet space where I go to blow off steam when I'm mad at the world, I can cry my heart out without anyone seeing, I can shut out the rest of the world and dwell in my own world…be it for 5 mins or half an hr…..my very own space. In the six years we have been here that small walk in closet has become that special space for me and I wasn't gonna let go of it even if it meant getting a little bit more space for my clothes. So, what's a girl gonna do when you only have a little space to organize your clothes and that too a very oddly shaped space?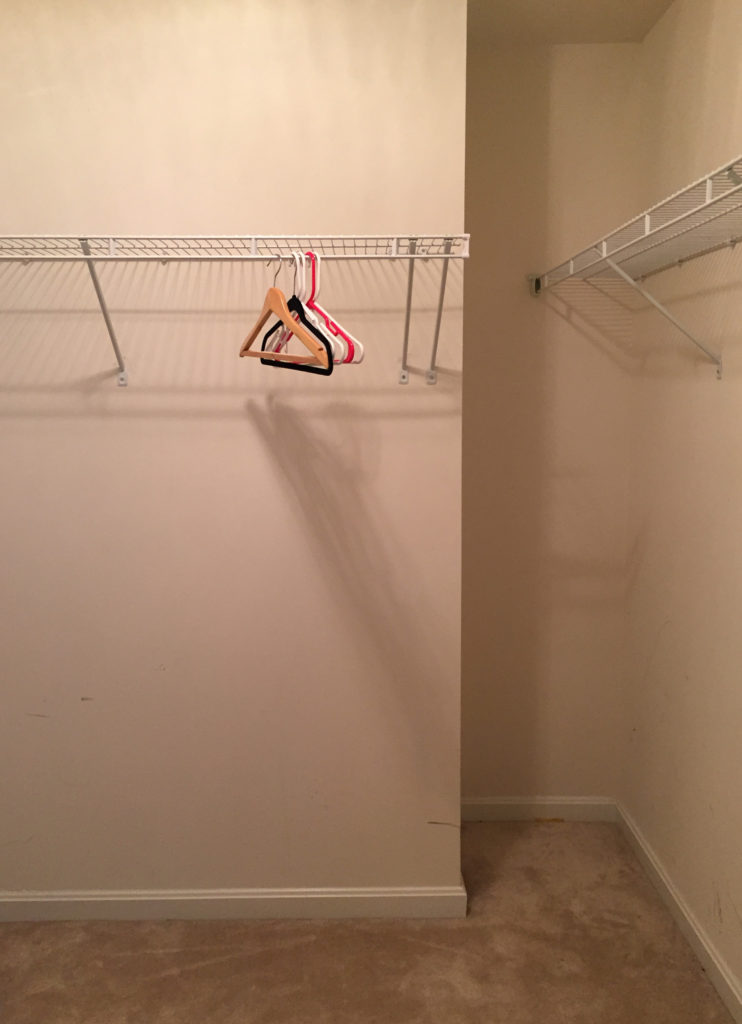 If you've been following Whats Ur Home Story for a while you already know that we are huge Elfa fans. We've used The Container Store's Elfa shelving system in our tiny coat closet, our daughter's room, and the his master walk in closet. So naturally we went with Elfa for my small walk in closet makeover too.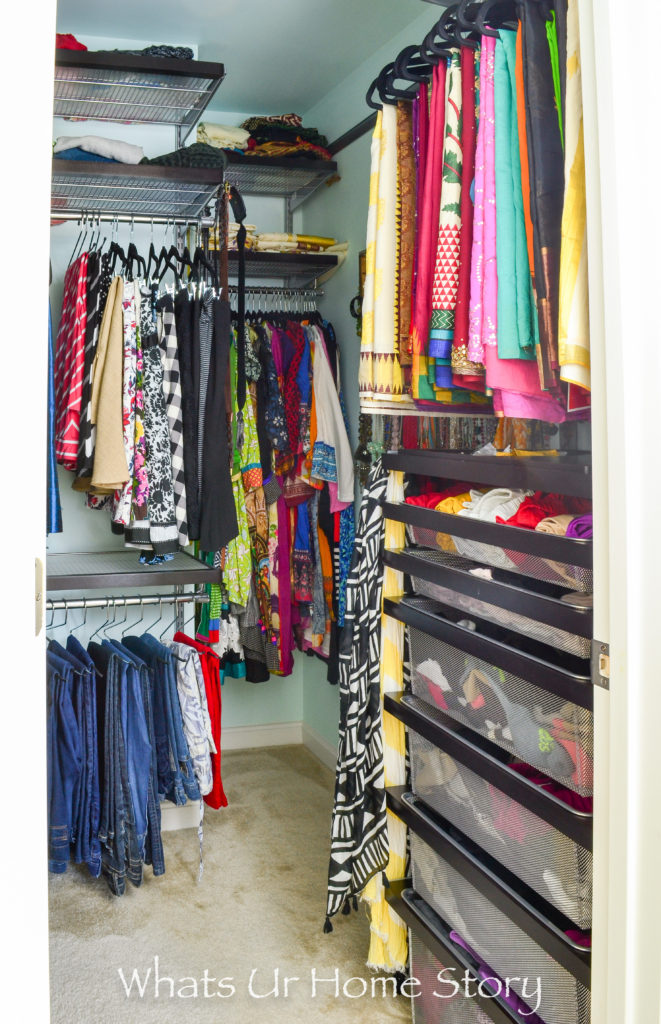 Here's a before picture of the other side.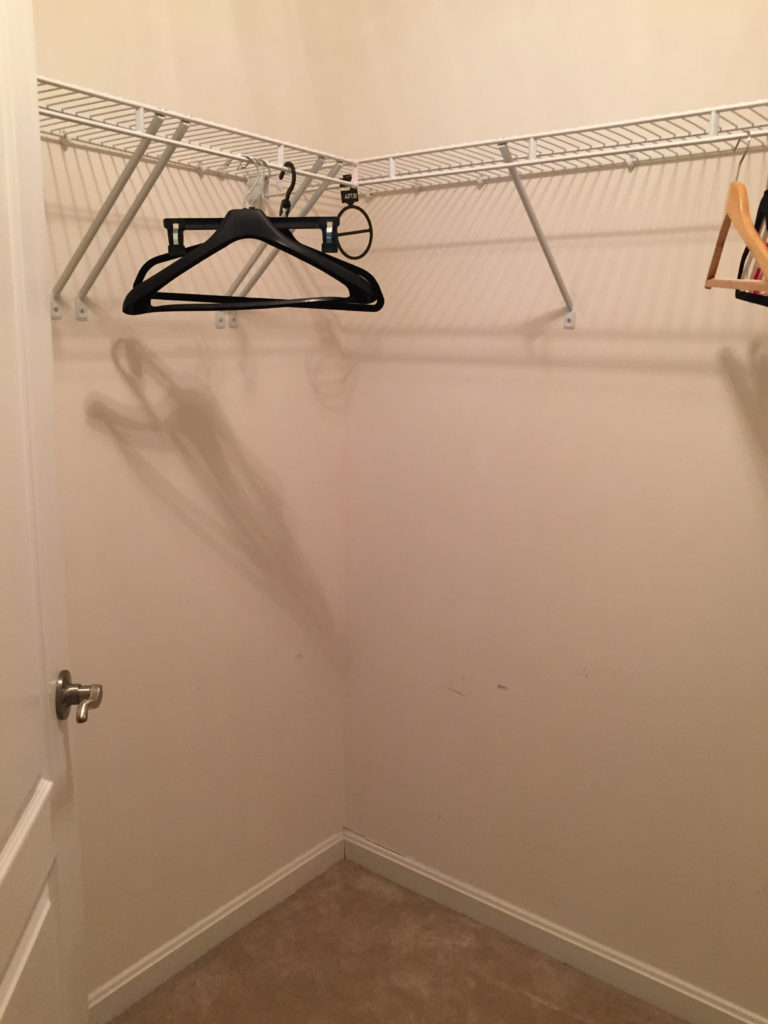 And the after of that corner.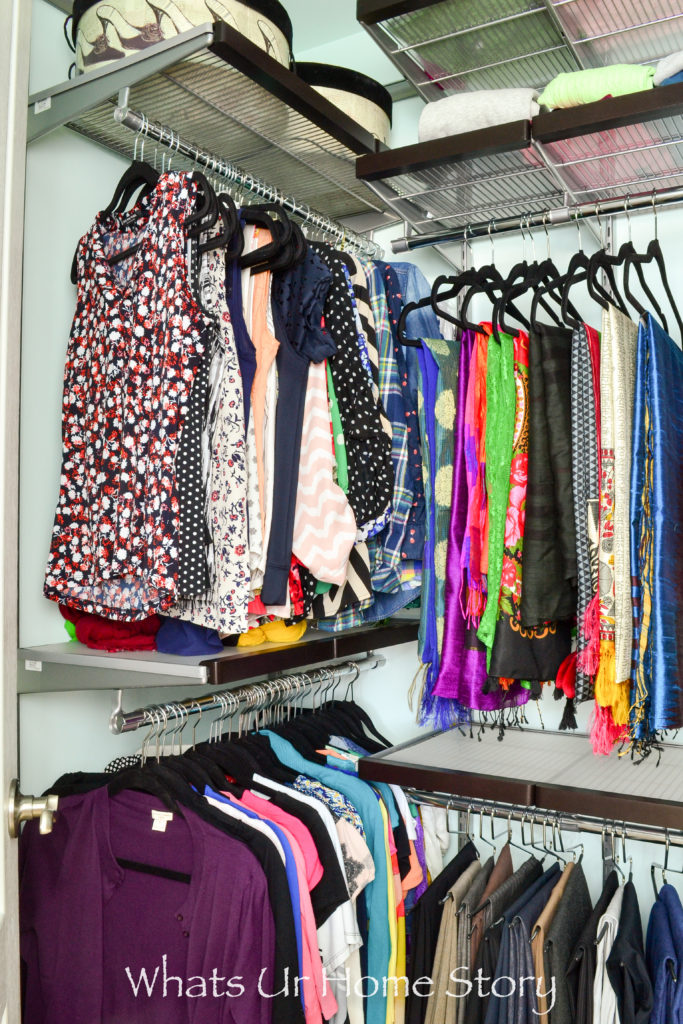 As we did with B's here too we replaced the plastic hangers with these no-slip velvet hangers for the shirts and these special  hangers for the pants and skirts, both from Amazon*. They are very compact and lets you hang a lot more clothes in the same space vs. the regular hangers.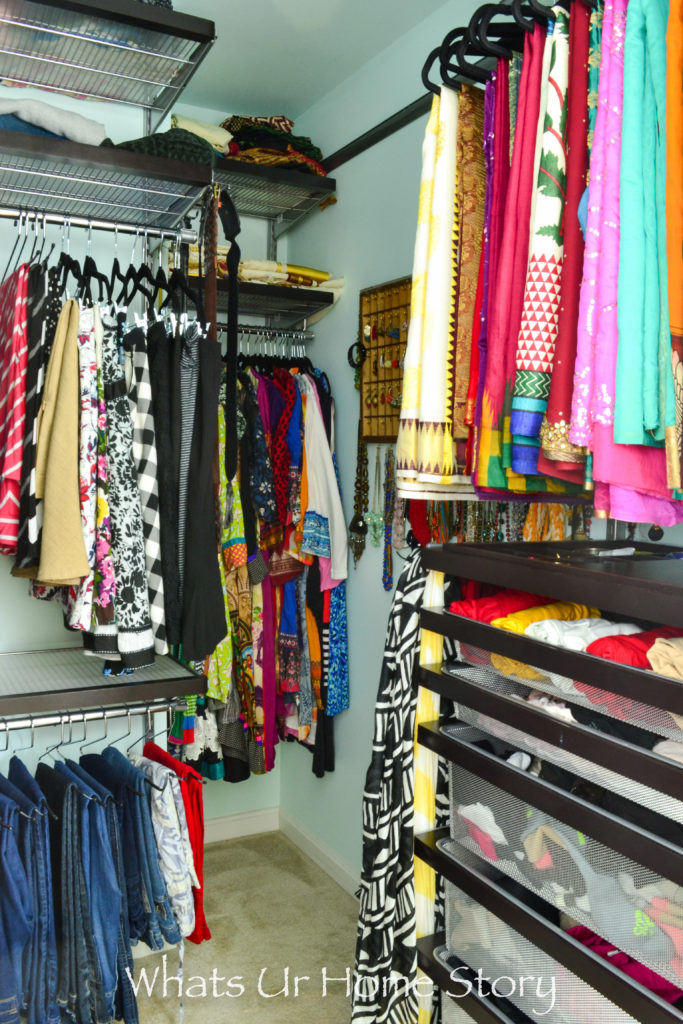 Can you spot my DIY jewelry organizer in the back? The letter press tray?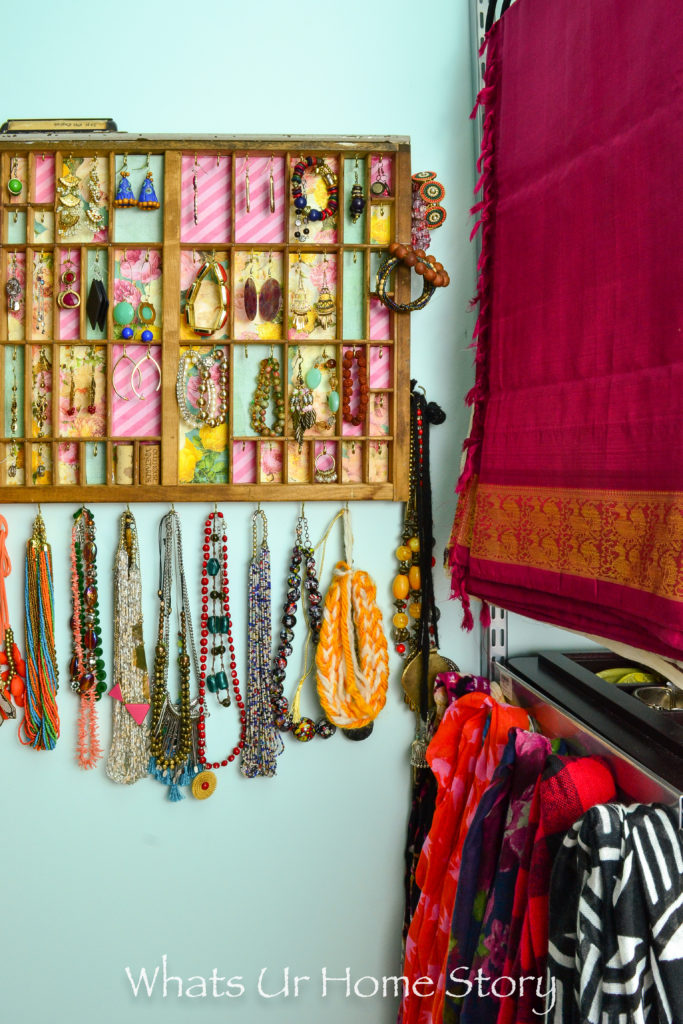 For the earrings and bangles that cannot be hung on my DIY organizer I have a pull out jewelry tray.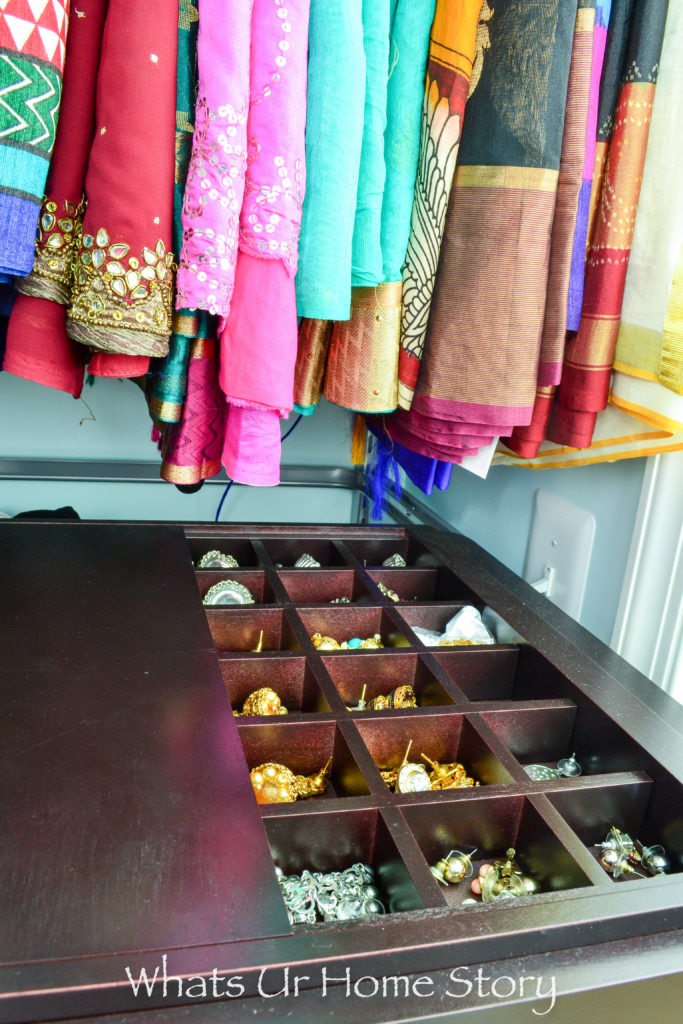 Here's how the tray looks when it is pushed back into place above the other pull out drawers. It even has a slider cover. And oh those are my sarees. The red one on the left is what I wore for my engagement ceremony. 🙂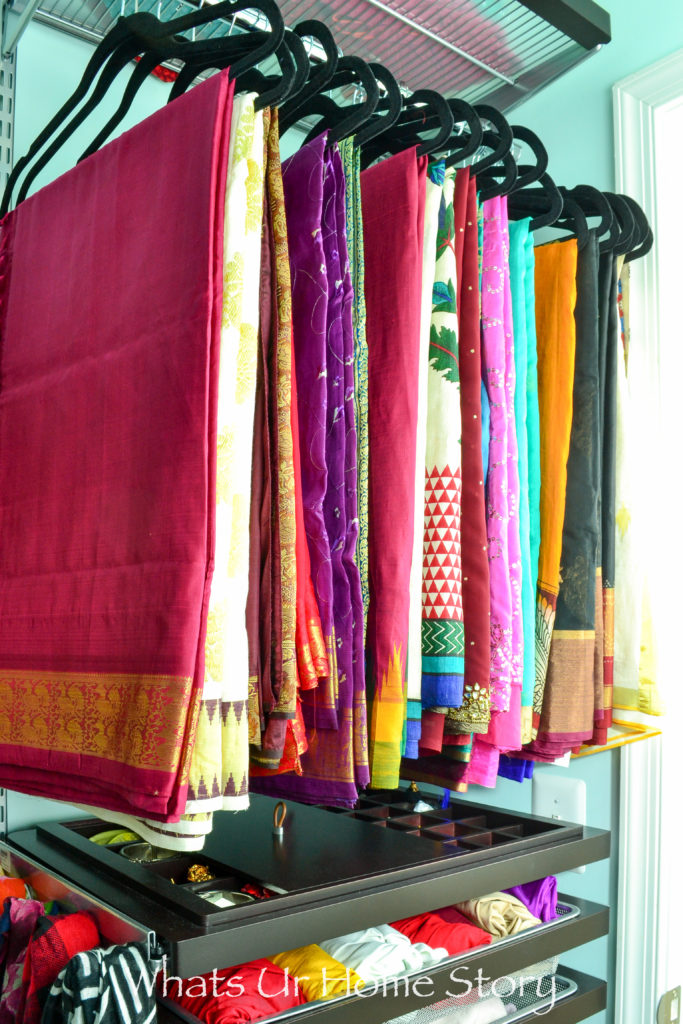 The scarves are hung on hooks that attach to the side of the shelving system.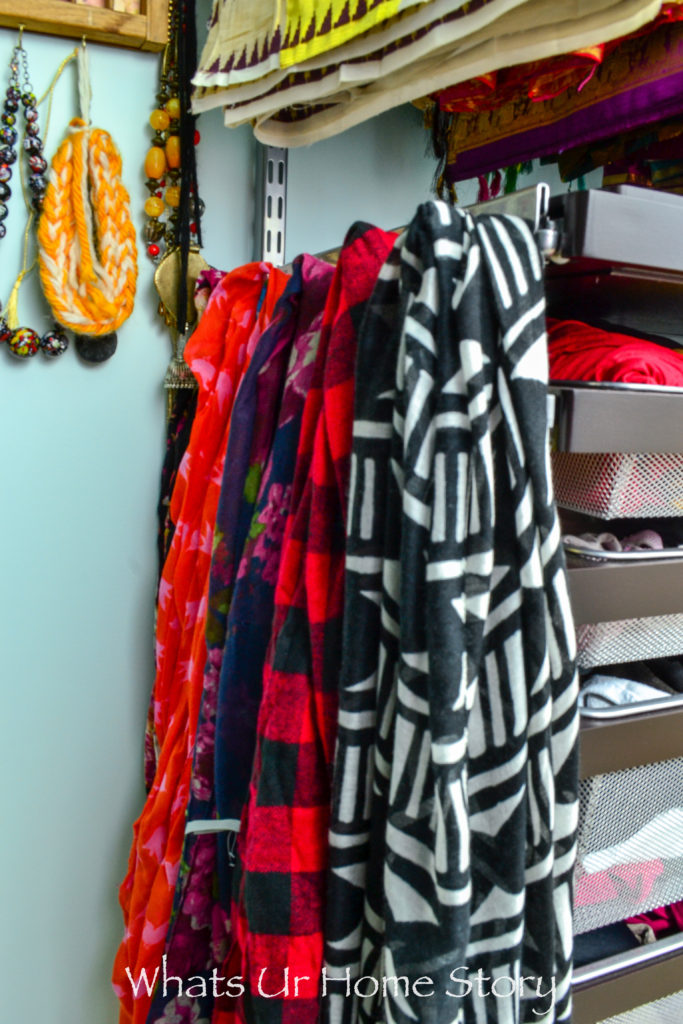 There is an angled wall next to the door or should I say behind the door. This is pretty much wasted space as we cannot add shelves there.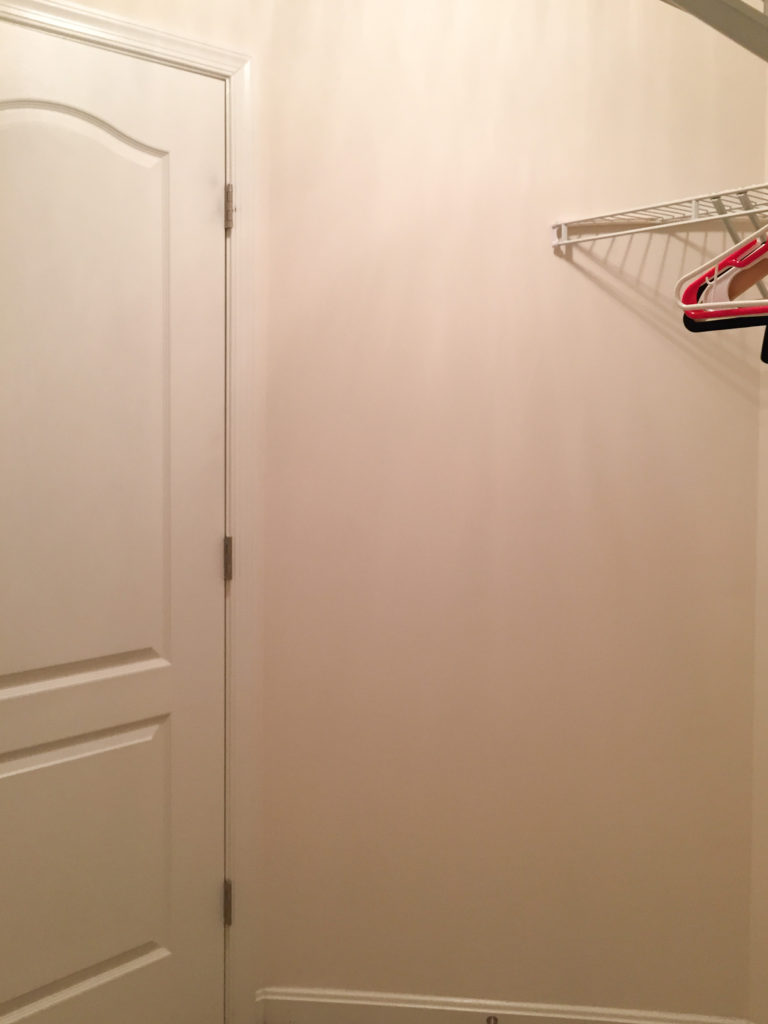 After all the work we did in here I didn't feel like wasting that wall space and came up with this idea.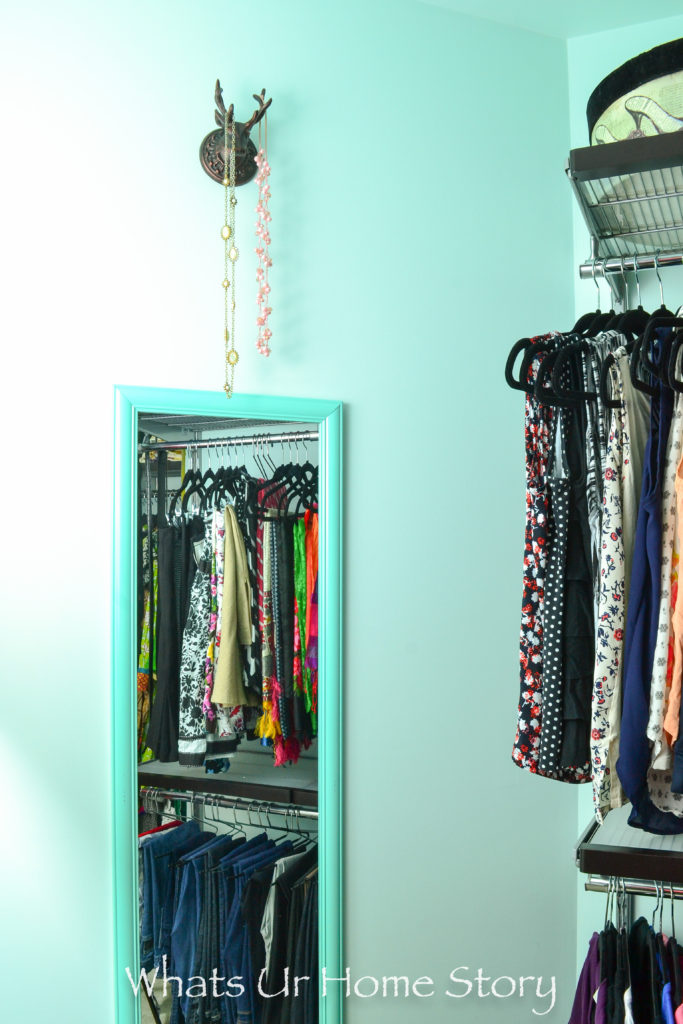 The deer hook, a Hobby Lobby find doubles as a hat hook.
The mint mirror from Walmart goes perfectly with the Sherwin Williams Crystal Clear paint color, don't you think?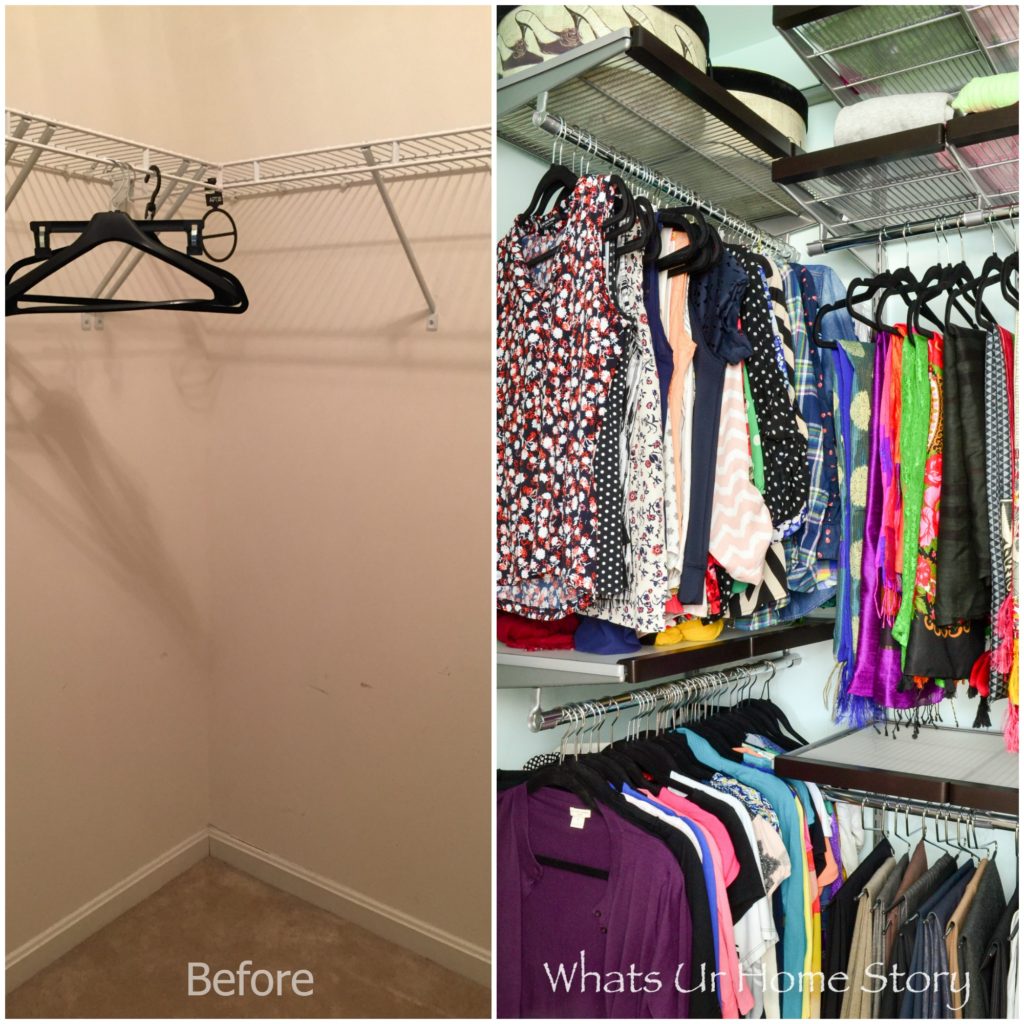 It is definitely one of those 'Why didn't we do this sooner projects?'. Can't imagine how I lived with those single wire shelves for so long! If you are in two minds about finishing your closet don't hesitate. I tell ya, you won't regret it!
*Affiliate link