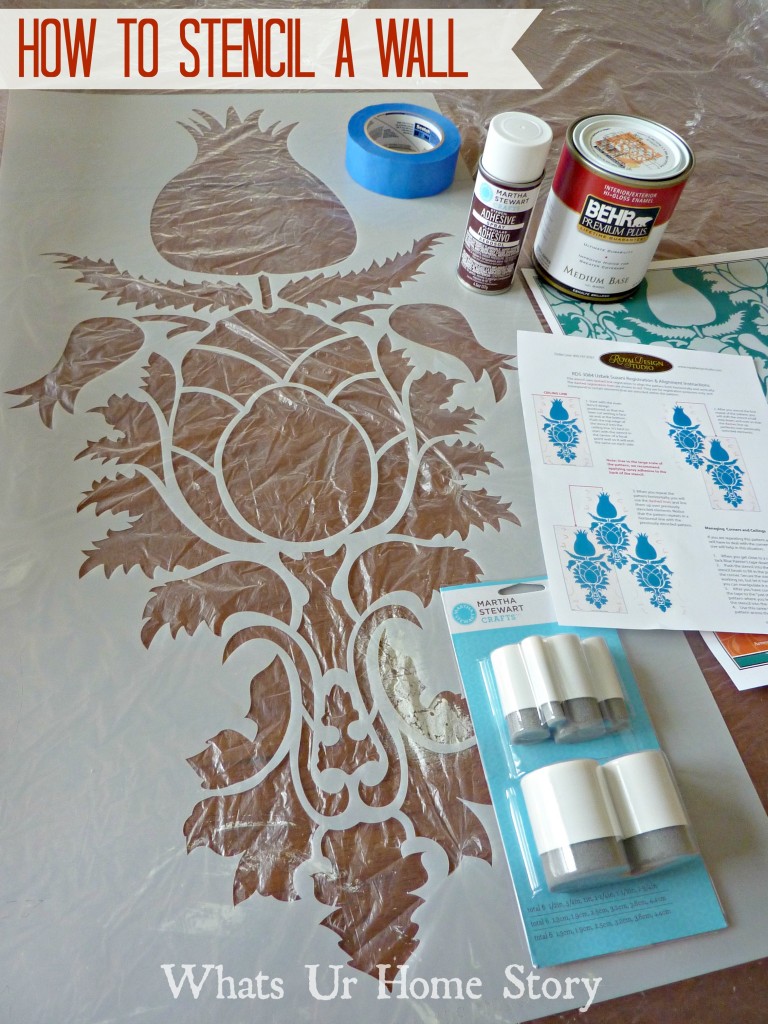 To paint a room with stencil is by no means an afternoon's task but as you are about to see it is well worth the effort. Fair warning before we head into the post; if you are doing a large room like a dining room it is strongly advised that you spread it over a few days rather than try to knock it off in 11 hours in one stretch.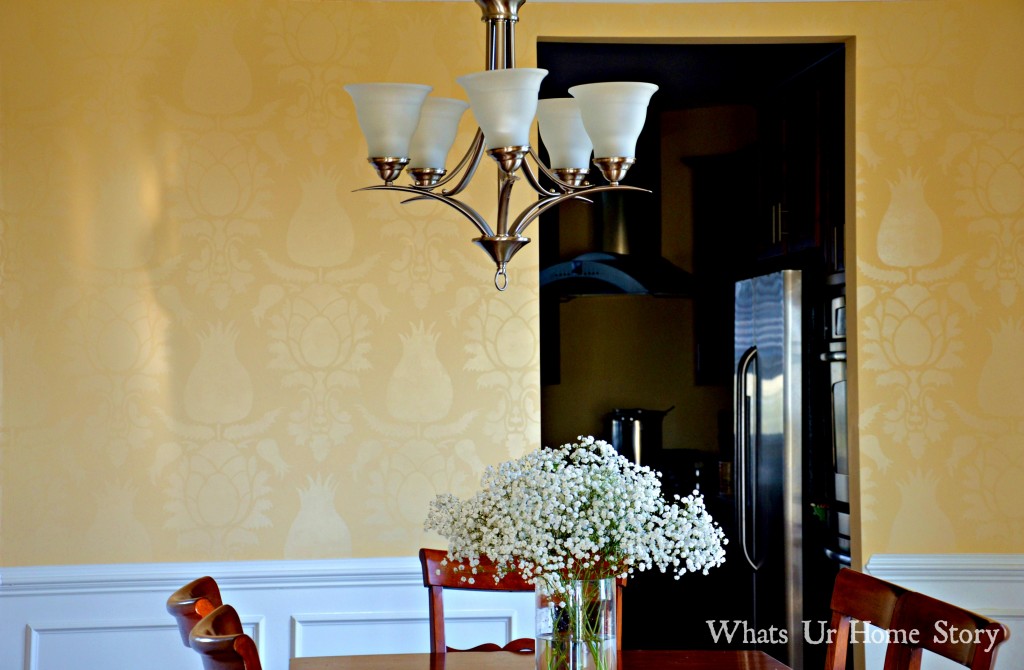 I got the idea to stencil my dining room walls after seeing Young House Love's fantabulous results in their office and ordered the Uzbek Suzani stencil from Royal Design Studio using the YHL coupon code.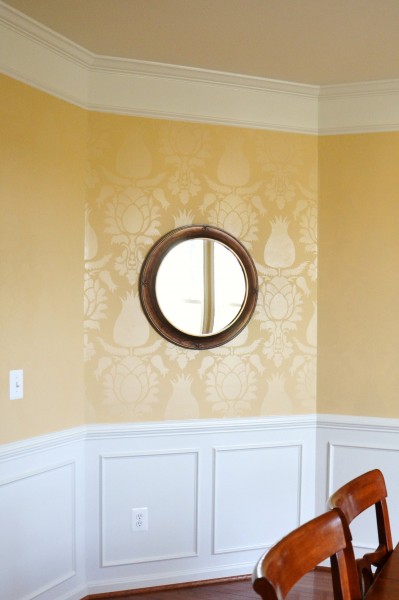 That's a big step up from what the room looked like before, don't you think? I was going for a tone on tone effect, didn't really want it to stand out so much. My base finish was flat, so I picked a high gloss finish of the same paint color.
Materials
Uzbek Suzani stencil from Royal Design Studio
Martha Stewart stencil adhesive spray from Michaels
Martha Stewart stencil sponge brushes again from Michaels
Paint – Sherwin Williams August Moon in Gloss, the base was already the same color but in Flat
Painter's tape.
Lots & lots of paper towels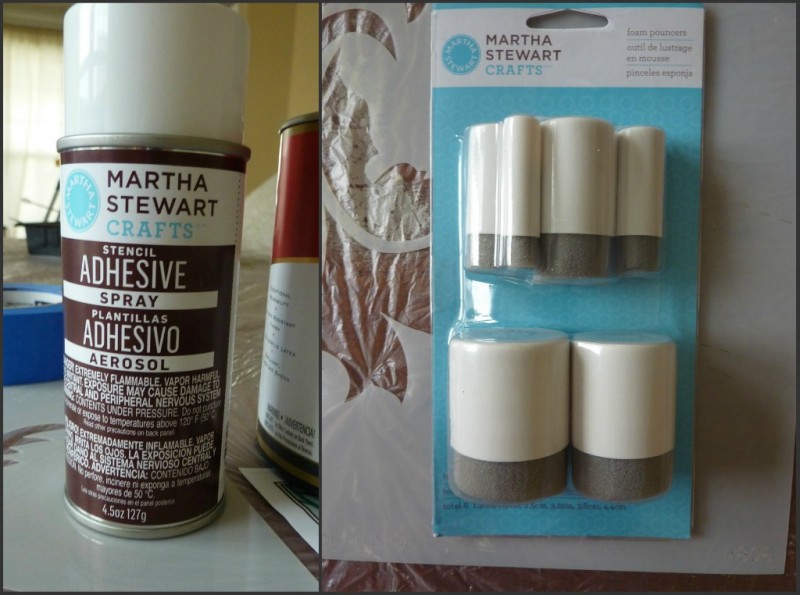 How to Paint a Room with Stencil
#1. First, scuff off any marks/finger prints with a paper towel. I had painted the base coat almost a year ago so there were quite a few little hand prints/marks.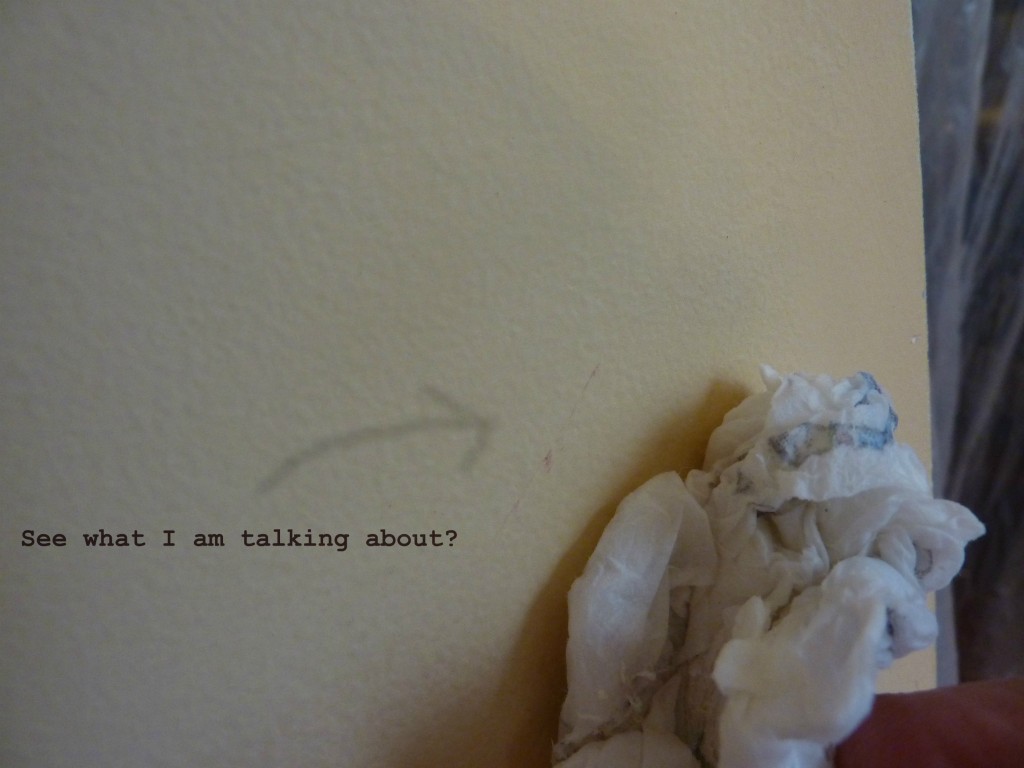 #2. You start at the center of a wall so the pattern ends evenly. I started off at the wall that is least obvious, so that any mistakes during the learning process won't be easily noticeable. I used some painter's tape to hold it, just in case. Actually I needed it only when I was keeping the stencil close to the ceiling.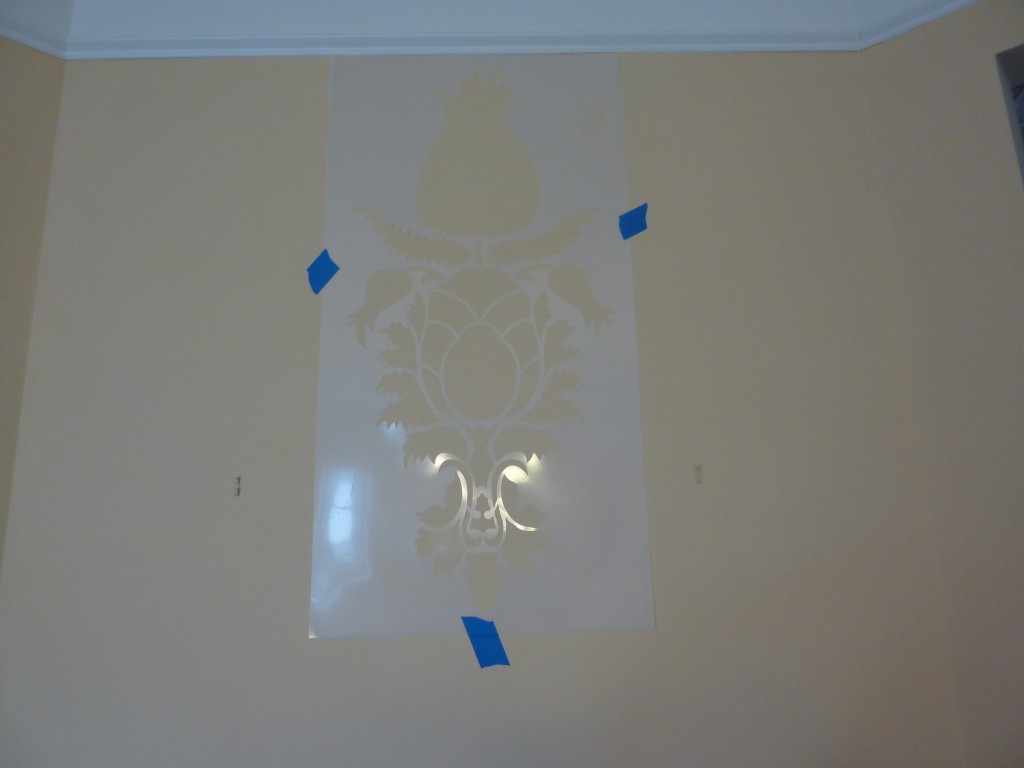 This is how it looked like after I was done with the first one.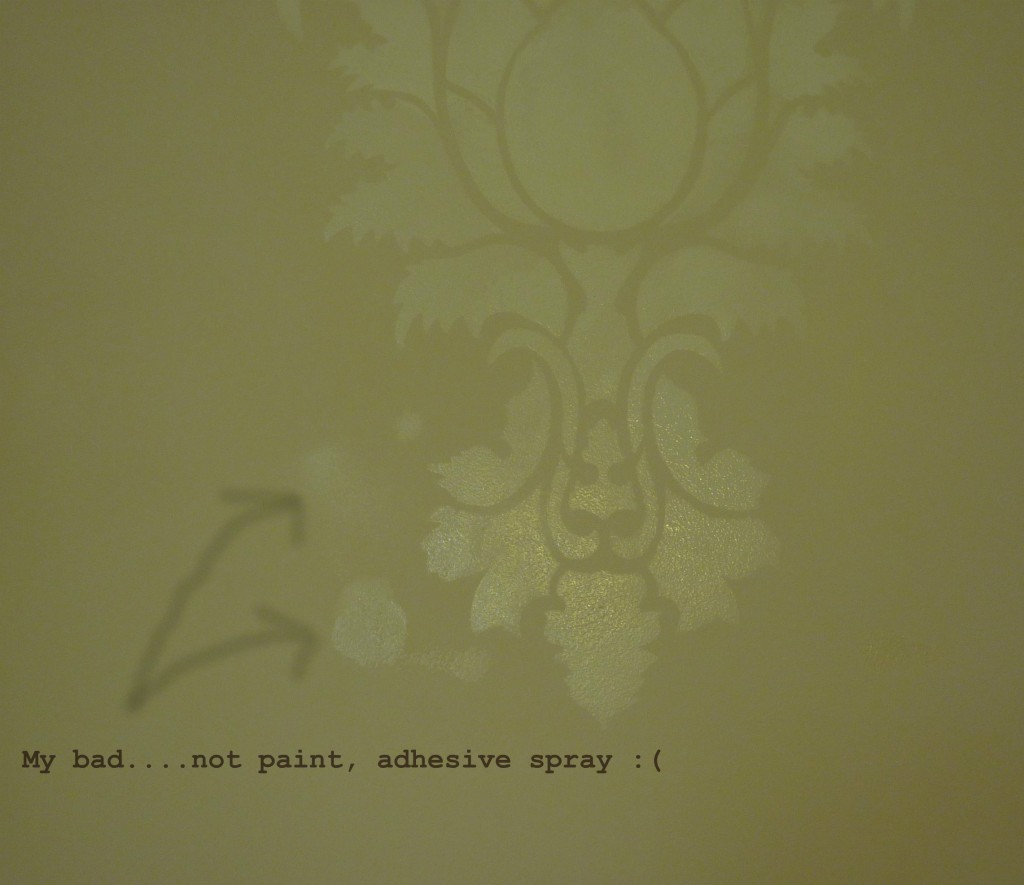 #3. Important lesson learned; always spray your adhesive to the back of the stencil while you lay it on your drop cloth. I did that but when I stuck it on the wall it felt like it was coming loose at the bottom. So I just lifted the back part (while the top stayed stuck) and sprayed on the adhesive. A big no no as you can see. Luckily that area will be covered by the painting we are going to hang there. Whew…just dodged a bullet. A light spraying of the adhesive is all you need. That can was more than enough for the entire room, still have 1/4th or so leftover.
#4. Dab the foam brush/ pouncer in the paint lightly so that it is coated evenly on all sides and center. Then dab it on another plate to take off any excess. We do not want to fully load the brush, will tell you why in a min. Hold the stencil with one hand to make sure that it is firmly in place and keep dabbing away on the wall GENTLY (key).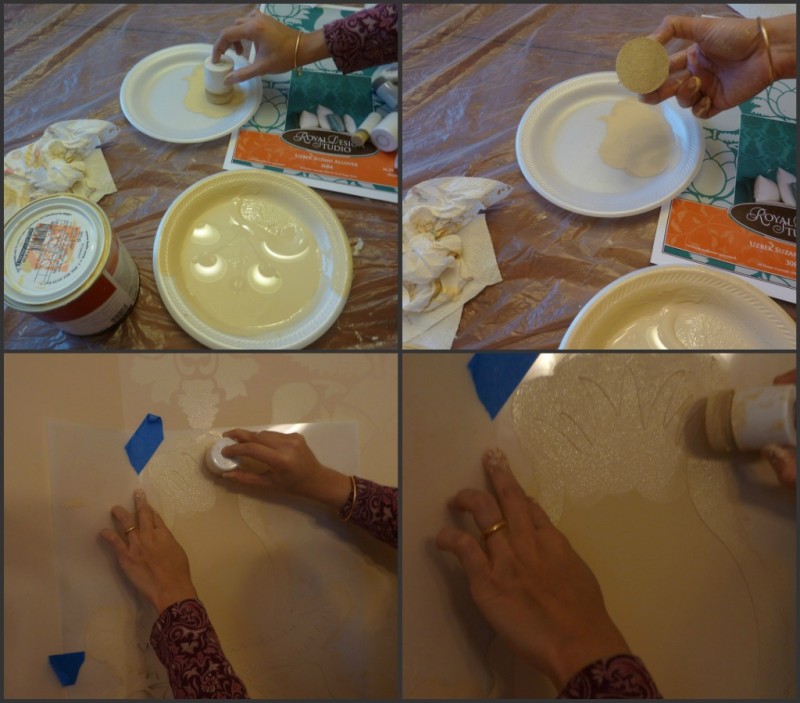 #5. Problem area 1: Sometimes I would get over enthusiastic and load my brush with more paint than needed or dab pretty hard and end up with this. The gloss finish of the paint added to the problem as well.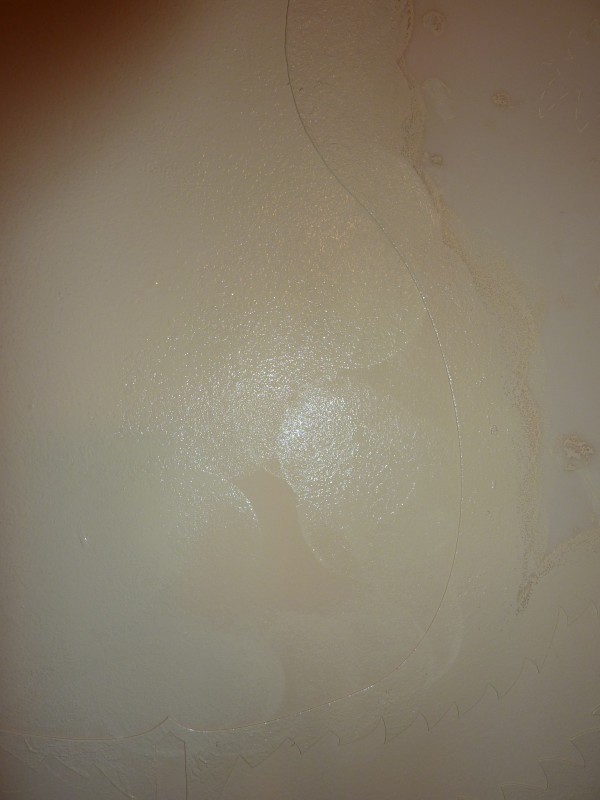 See those round brush marks? You need to go back and even those out other wise the gloss finish will just highlight it.
#6. Problem area 2: The corners. Man…these were painful. Squeeze the pattern as far into corner as possible (yes the design will be slightly off but it is ok) and then dab with you big brush to get the outline. Now go back into the corners with the small brush to fill in.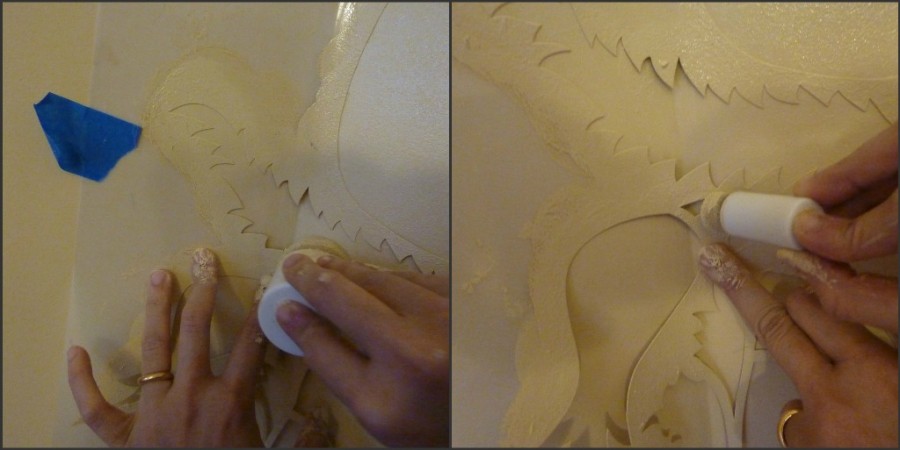 #7. Problem area 3: Mainly caused by my choice of pattern. The stencil had to be repeated in a staggering pattern. This meant that I had to match the outlines to the previuosly done part to make sure it lined up. Because I was using the same paint color (but diff finish) it was really hard to see the previously stenciled area.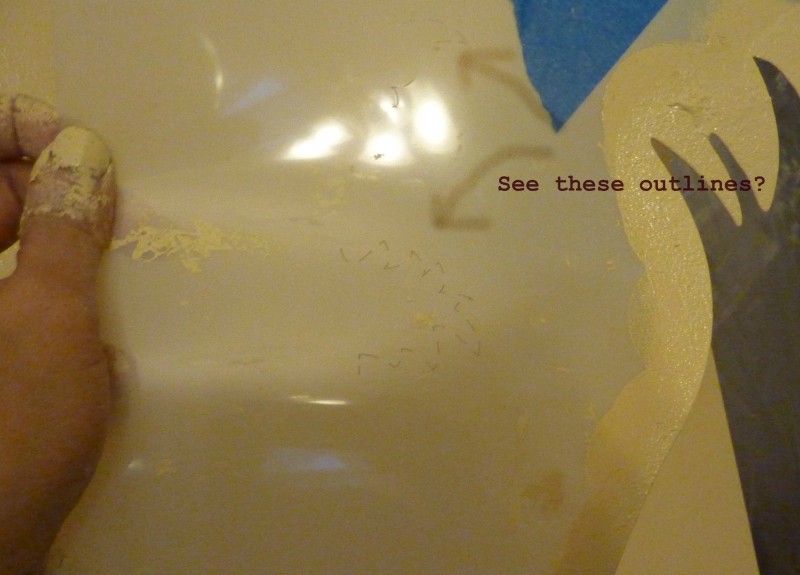 This also meant that getting the stencil to stick for doing the part next to the ceiling was a pain in the … you know where.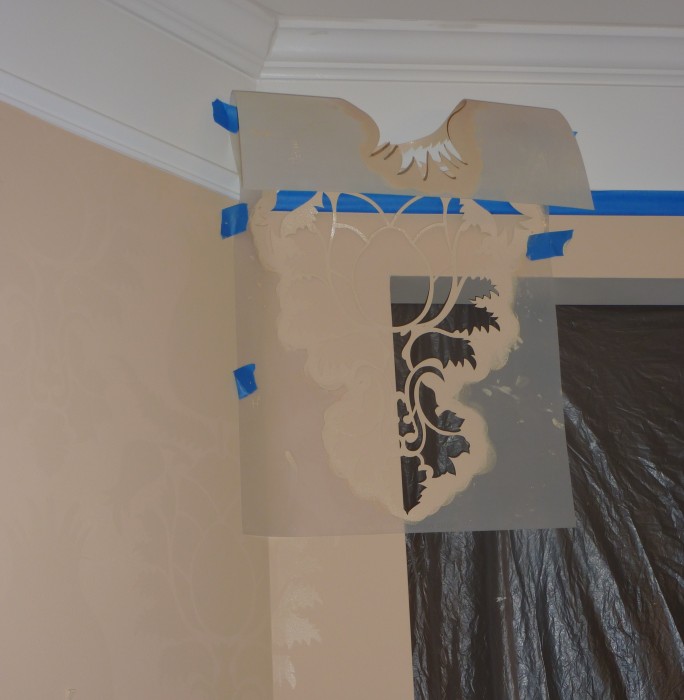 Maybe because it was a humid day or it was the gloss finish, I had to wait a little bit for the paint to dry the first time. After that I alternated sides; once I finished the pattern on the left side of where I started I would go to the right side and then come back to the left. By doing so the paint was dry before I put the stencil against it to match the lines.
# 8. Another problem that I ran into was the paint caking on the stencil, again I think because of the gloss paint. As a result the edges were not coming out really crisp. Some elbow nail grease fixed that issue.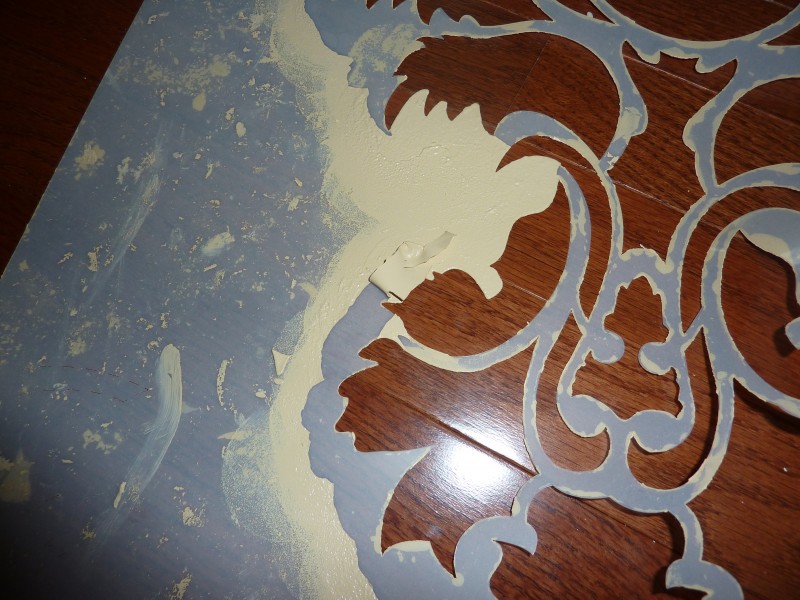 10hrs and counting, finally I was on the home stretch.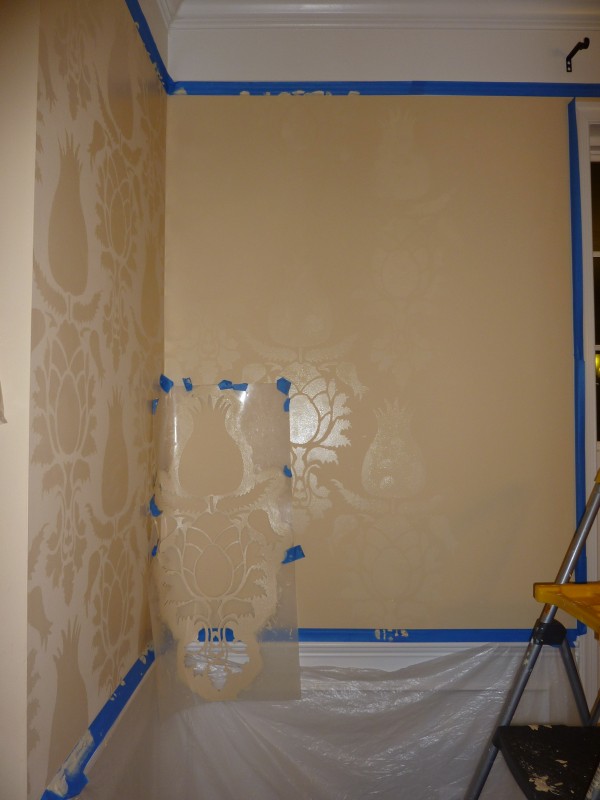 After 11 hrs (12hrs with an hr break in between) of back breaking, hand numbing hard work I was done. I started at 2.40 pm and was done at 2.38 am the next day! The paint color has a yellow undertone not the pink that you see in some of the pics (especially at night it somehow looks pink in the camera auto mode). Here is the finished room.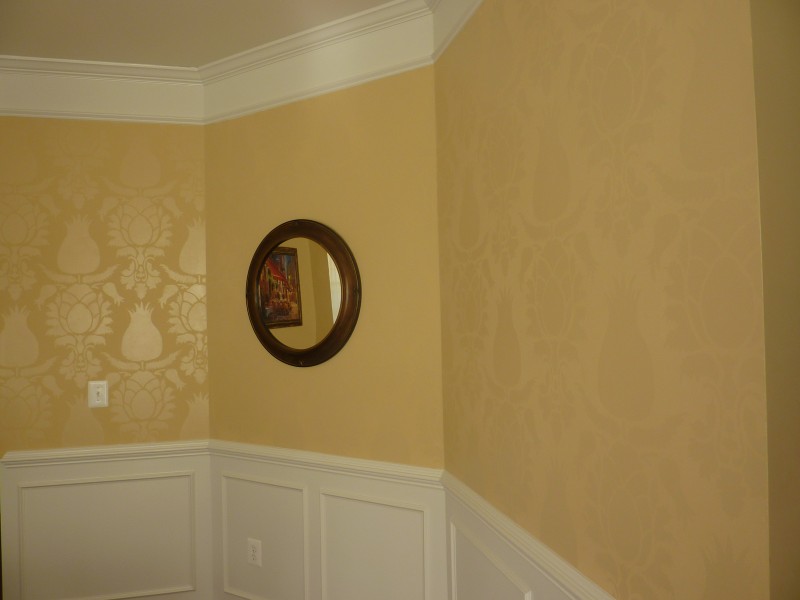 The stencil has a very subtle effect, like that of a layer of lace all over the room. It is like stencil art on my dining room walls! I looooove it!
The run down: Yes I was crazy enough to do it at a stretch. That is just me. I do not like to leave things midway and start all over again. Otherwise I wouldn't have finished it. There were times that I felt that I had bitten off more than I could chew. Plus, that is what you do when you are working full time, handling the house and the kids and you are left with the only free weekend in the near future.
All said and done, would I do it again? Yes of course I would! But the next time I'll make sure ;
To choose the design a bit more wisely, no staggering patterns (not sure how that is going to work out).
To choose a not so intricate pattern. Choose a pattern where I can use a roller instead of these small brushes.
Will paint with a different color not the tone on tone effect.
Will think double hard before I commit to doing the whole room.
Just a reminder, that cafe print is a place holder till we find a good one. You can clearly see the difference in the pic below. Both the living and dining have the same paint color, SW August Moon.
Is it worth the 11 hrs of hard work and 2 days of Mortin? Call me stencil-struck…..oh yes. 🙂
And there you have it my step by step tutorial on how to paint a room with stencil.
PS: You can see the final reveal here.