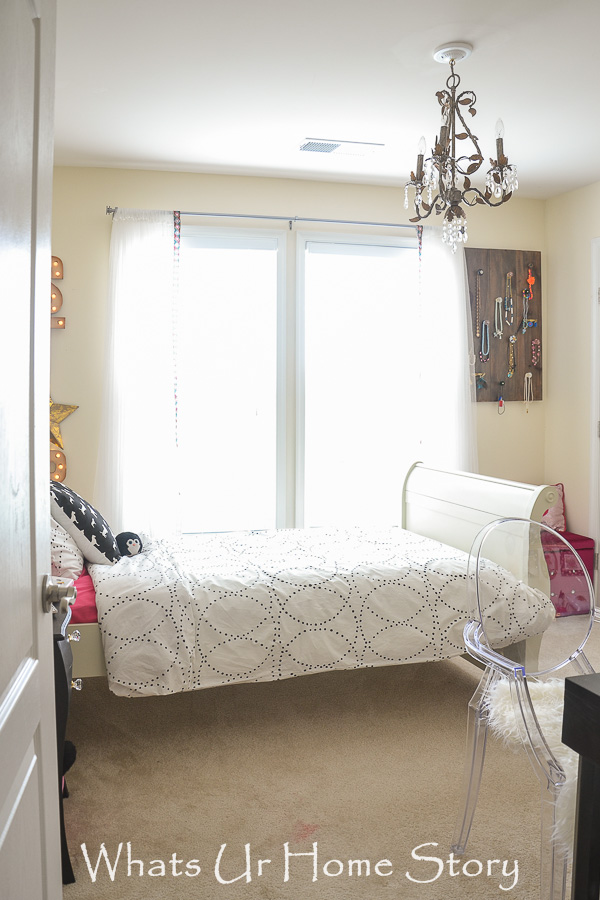 Its finally here! My daughter's room is blog ready (yeah for a day…..I guarantee you there will be a pile of clothes on the floor in the corner by the desk tomorrow morning 🙂 ). It is the perfect girls room for her, one that incorporates the right dose of glam, fun, and style.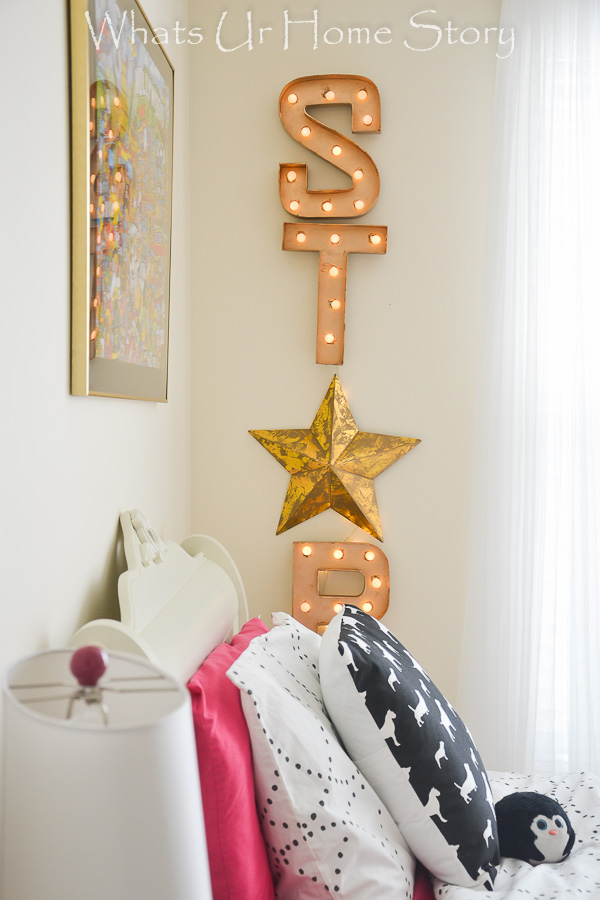 What can I say, as y'all know this one took a looooooong time thanks to a certain thing called life; a new job with a 2 hr commute each (did I tell ya bout that?), a very hectic Spring activity schedule for the kids, the AOR training and the race, and you know everything else that keeps happening around here.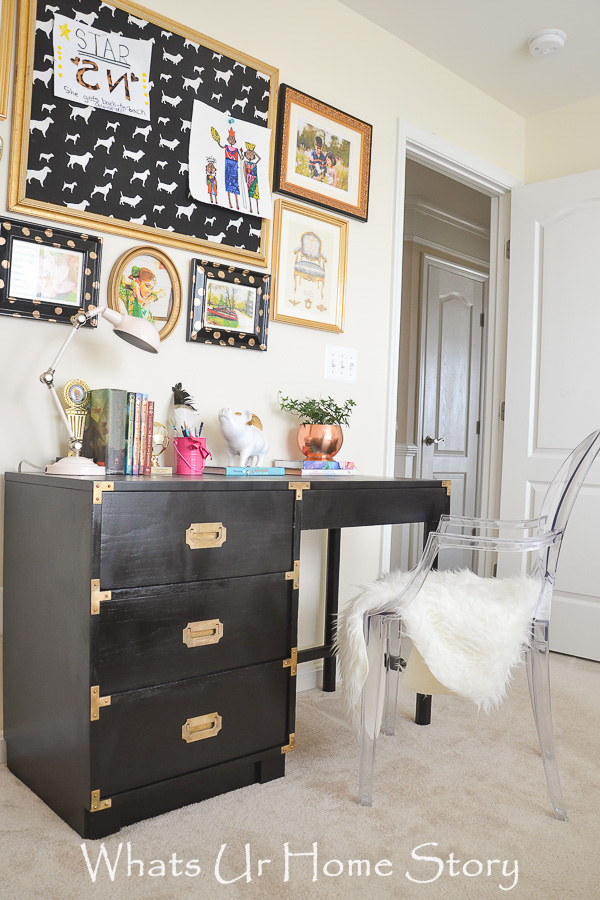 To refresh your memory this how it looked like before.
It all started with the crystal chandelier I found for $10 I think 2 yrs ago. The original plan was to spray paint it Fuchsia but I never could commit to it. So it sat there in our basement untouched till Monkey #2 started floating the idea of a Black and White room last summer. Thankfully my dad was around and in a matter of days he changed out the old boob light for this beauty. We then moved the bed over to the other side per someone's request. She had been asking for it since day 1 so we thought why not try out that layout.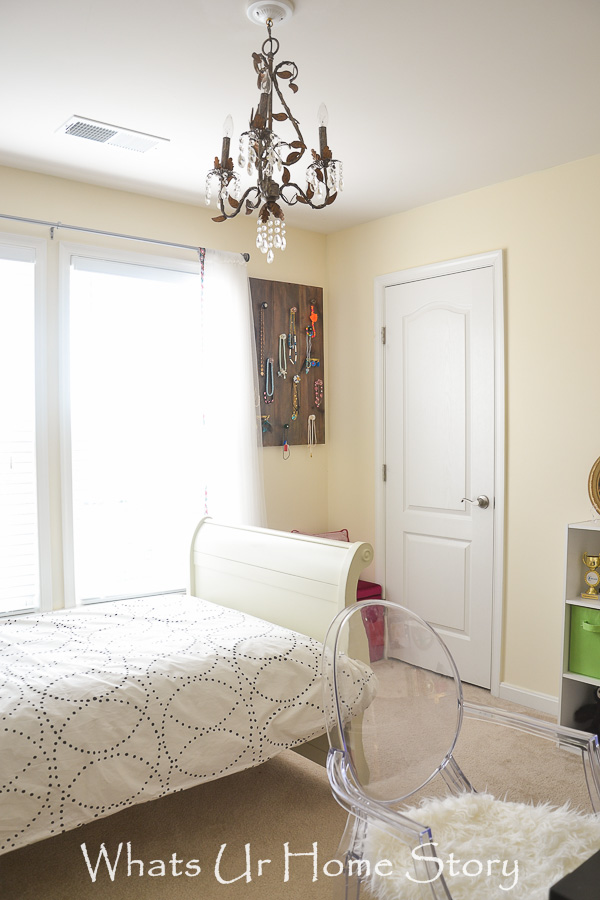 The campaign desk was a Craigslist find, $40. There is a really funny story with this one but that's for another day.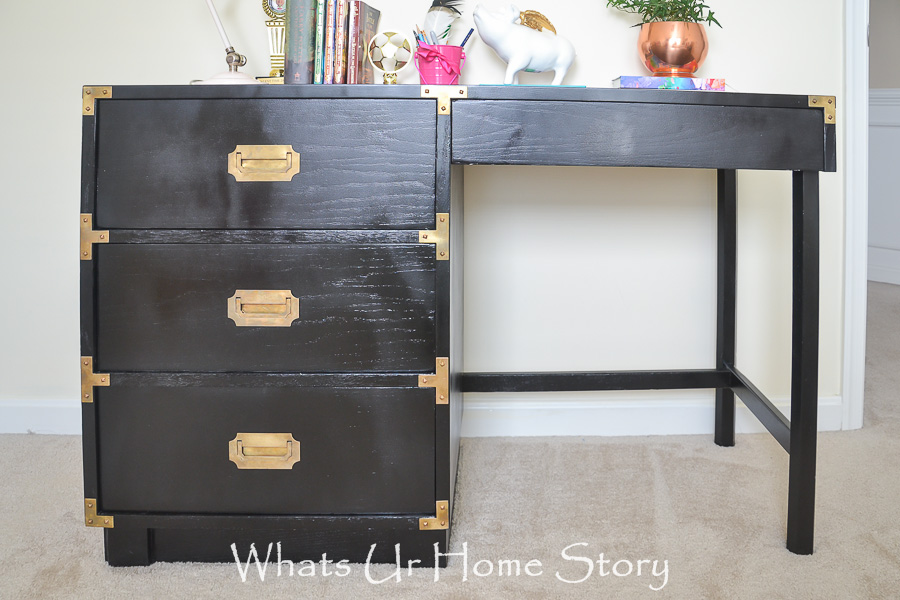 I refinished it with Amy Howard at Home High Performance Furniture Lacquer in Black, polished the brass ware, and sealed with a coat of clear lacquer. See the detailed post here.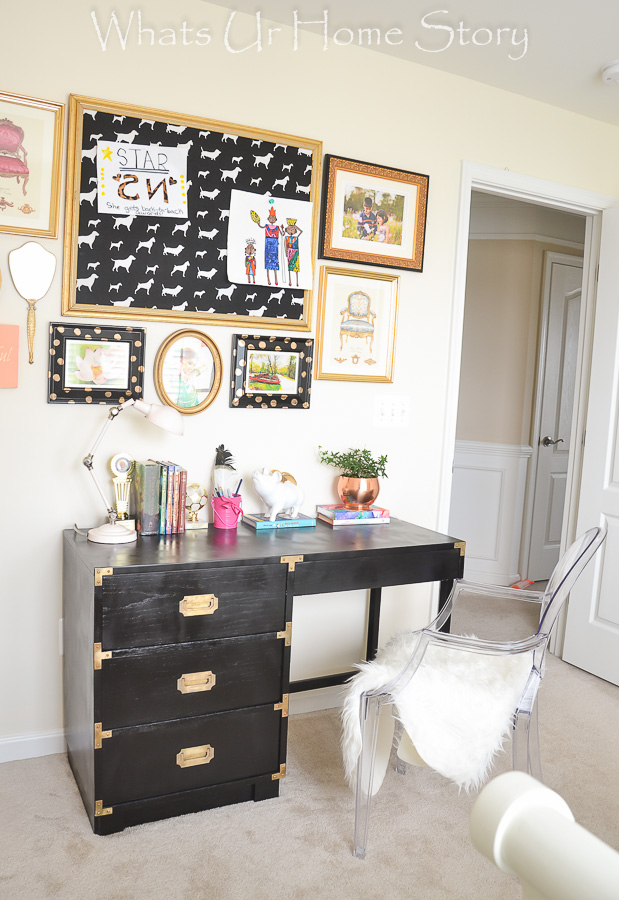 The PB Teen desk lamp was another yard sale find. The Ghost Chair
 is from Amazon*.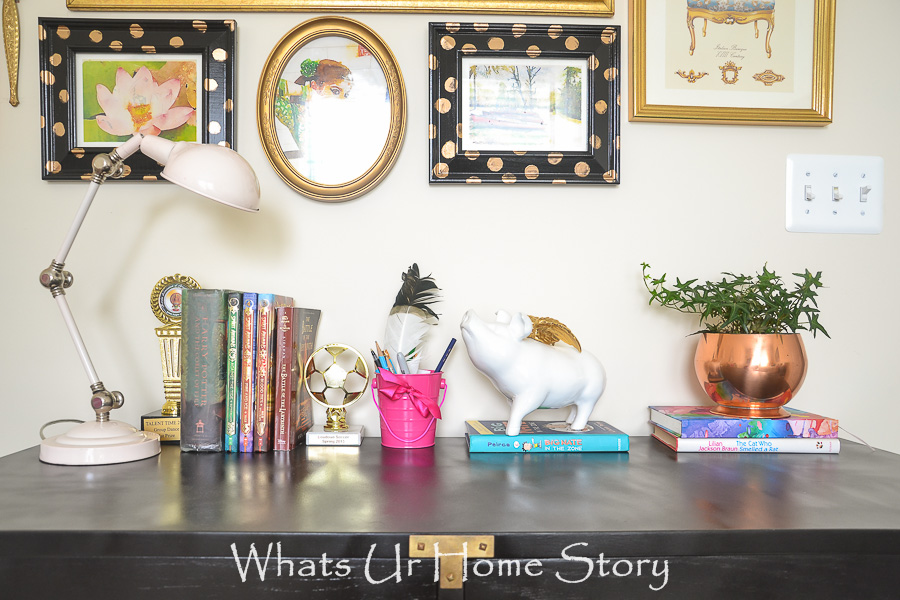 Almost all the frames are from Craigslist or thrift store. Those chairs prints, I have been hanging on to them since 2012! The oval frames and vintage mirror is from my friends Cassie & Sarah's store Sweet Clover.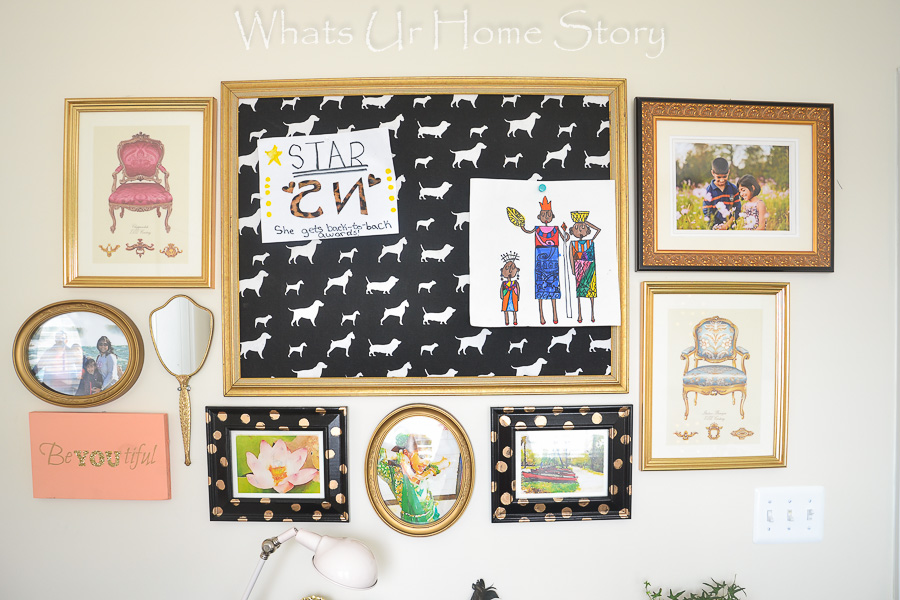 The polka dot frames (of course it is a DIY no thrift store frame would be that glam) sport Waterlogue art work from our photos. The cork board is another DIY/ Don't you love that Premier Prints dog fabric?
The toughest and most trying project in the room, the DIY Marquee lights…………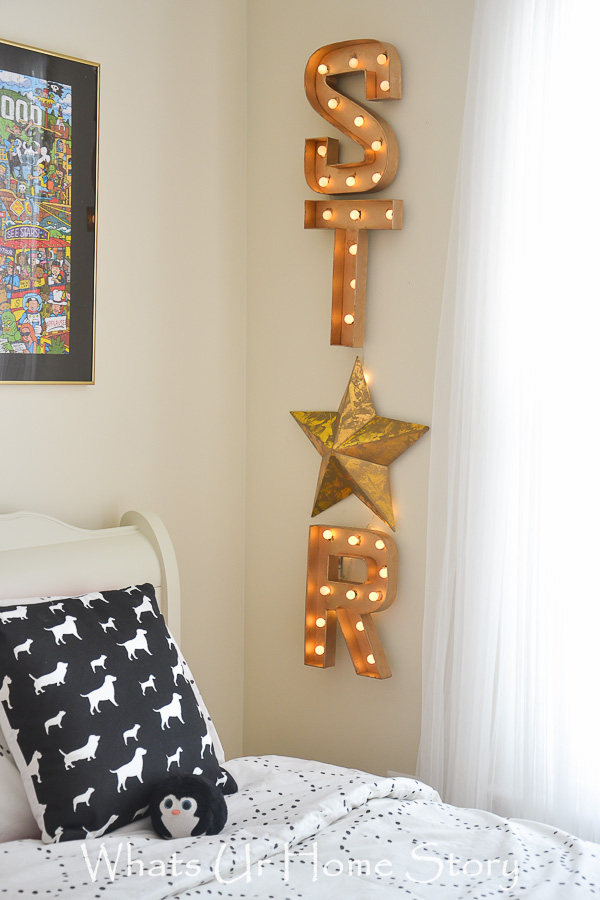 The sailor mirror from Michaels is intentionally hung high 'coz you know a certain someone is obsessed with checking herself in the mirror. 🙂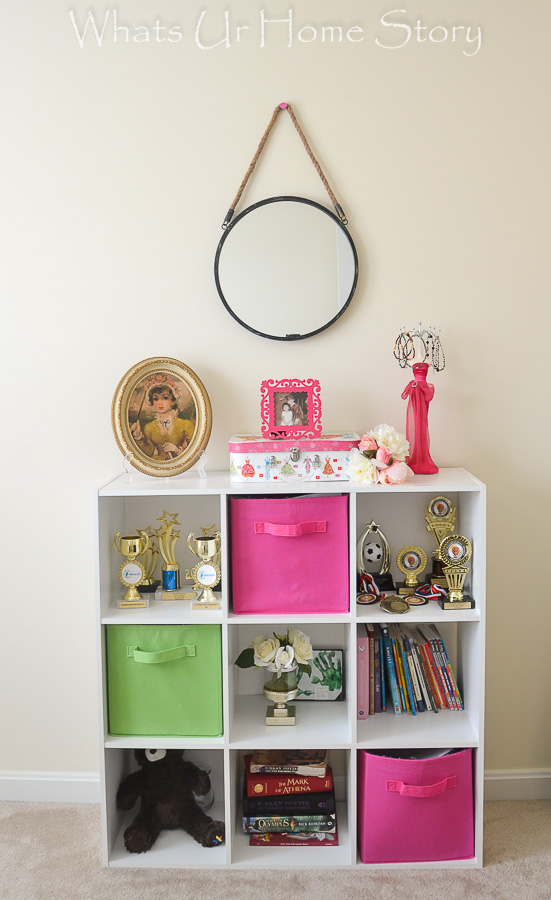 The curtains are IKEA LILL that got some tribal print ribbon love. Y'all already saw the DIY jewelry hanger.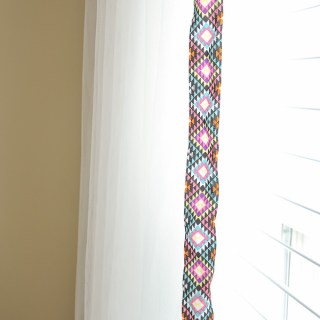 The side table makeover with chalk paint and acrylic knobs is a favorite of mine.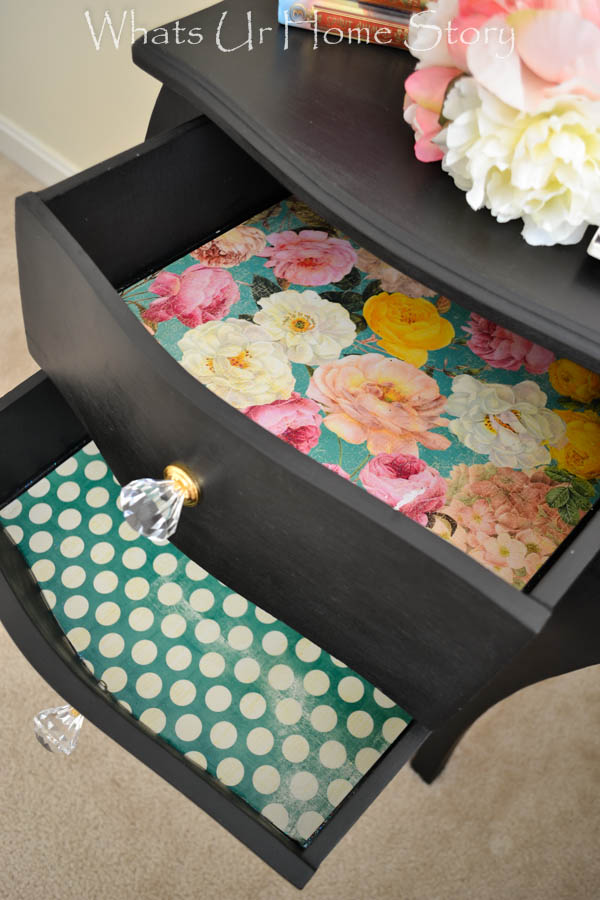 And last but not the least DIY puzzle art.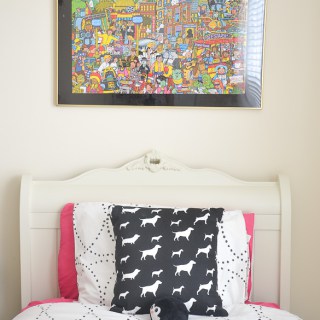 That's quite a bit of a change. What do you think? My acting, dancing, soccer playing super star loves it!
Source List
Paint Color: Benjamin Moore Navajo White matched to Behr
Bedding (no longer available) – Nile Duvet Cover & Sham from West Elm. Was on clearance when I got it in 2012 ($25).
Dog Pillow – DIY, Fabric.com
Curtains – IKEA LILL
Fuschia Ottoman – Ross
Sailor Mirror – Michaels – After the 40% off coupon think it was $24
Cubbies –Target
Ghost Chair – Amazon
*
Faux Sheepskin – Ikea
Desk – Craigslist
Chandelier –Yard Sale
Gold Basket – Ross
Desk Lamp – Yard sale –originally PB Teen
Flying Pig – Ross
Copper planter vase – Goodwill
Side table – HomeGoods (See makeover)
Sidetable Lamp – Marshalls
Animal print Coasters – Dollar store
Vintage Handheld Mirror – Sweet Clover
Frames – Goodwill, Salvation Army, Craigslist
* This post contains affiliate links