So where did we leave off? Ya, storage space issue. 5 yr olds nowadays have way too many toys. Our daughter is no exception. As soon as she started using the room, we faced two major issues; find a storage solution for her toys and a fast growing jewelry collection (thanks to two grandmas who absolutely adore her). Oops, how can I forget all the artwork by my two mini Picassos?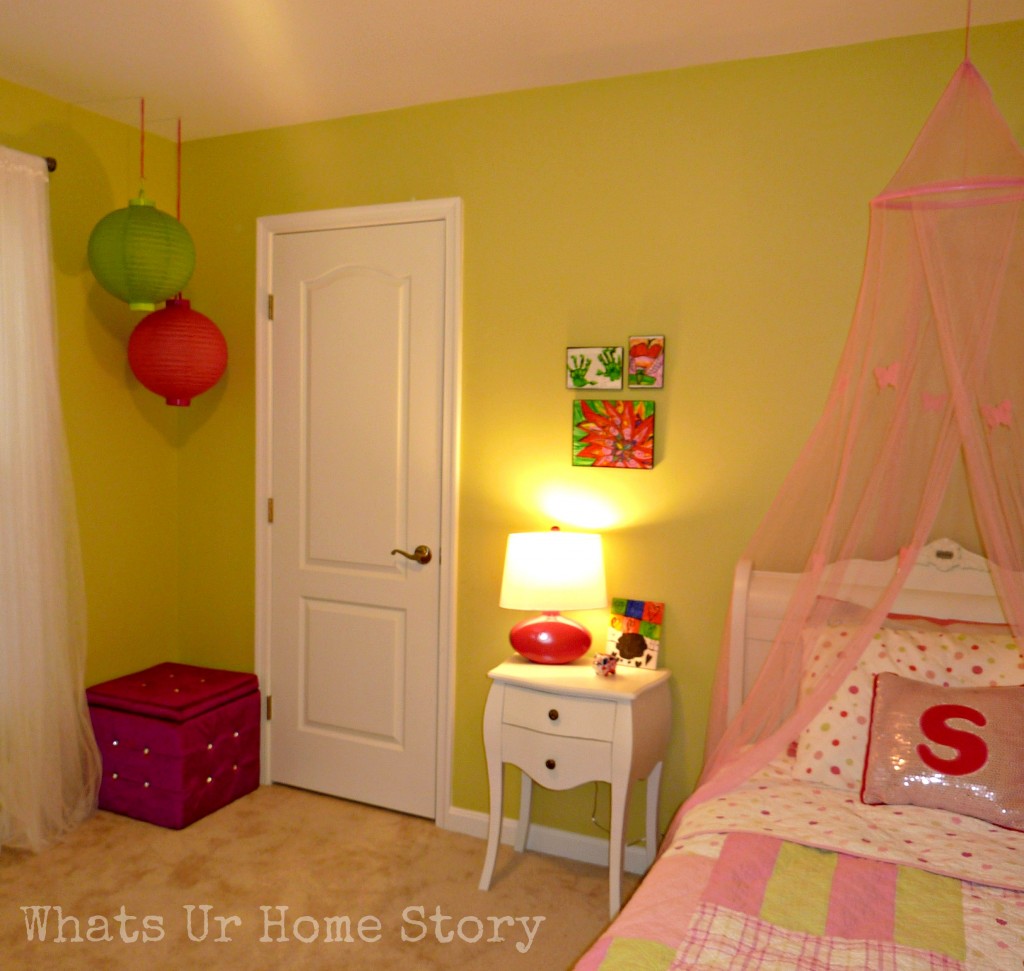 The right side of my brain (they say that's where all creativity is 🙂 ) went into overdrive and I managed to come up with this.
The fuchsia ottoman doubles as a cozy resting corner and storage. The end table drawers are for her precious collectibles….mostly rocks, stickers, and an endless supply of cards (with pics of a girl or hearts) for friends.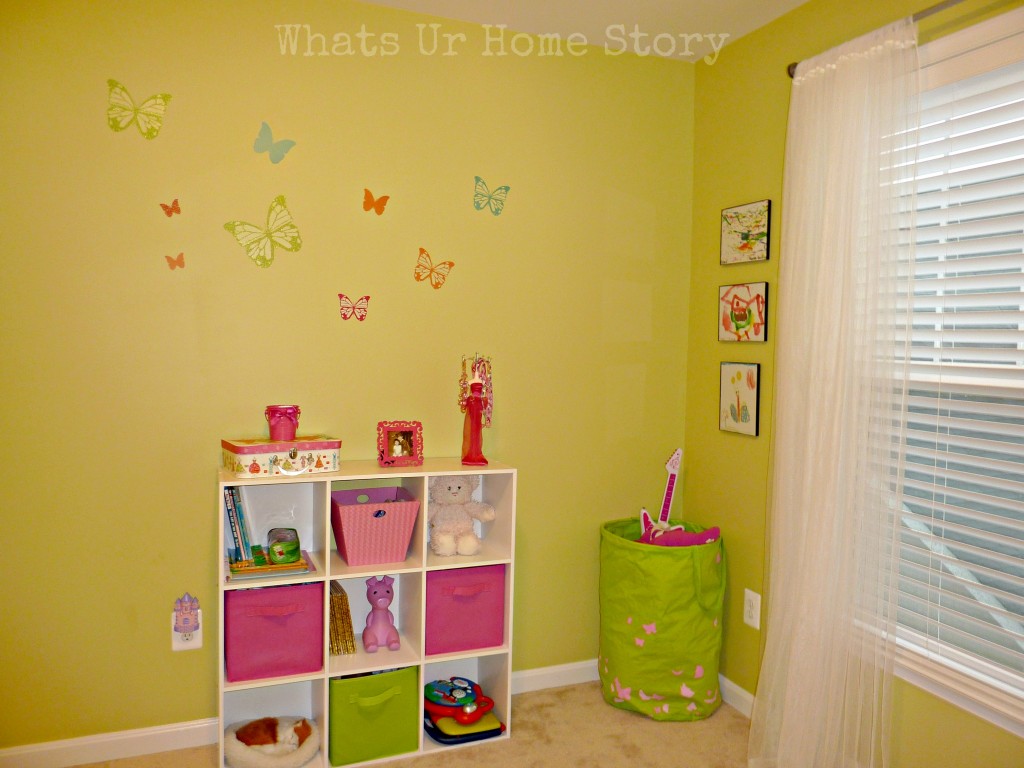 The storage unit has bins for Barbies, babies, headbands etc. The box on top of the unit and the jewelry tree stores all her jewelry and hair pins/bands. The large green bin in the corner provides more room for favorite stuff toys. Under the bed; more bins for dress up and pretend play toys, extra floor pillows for friends when they come over for a play date. The kids' art work is framed using inexpensive frames from Walmart.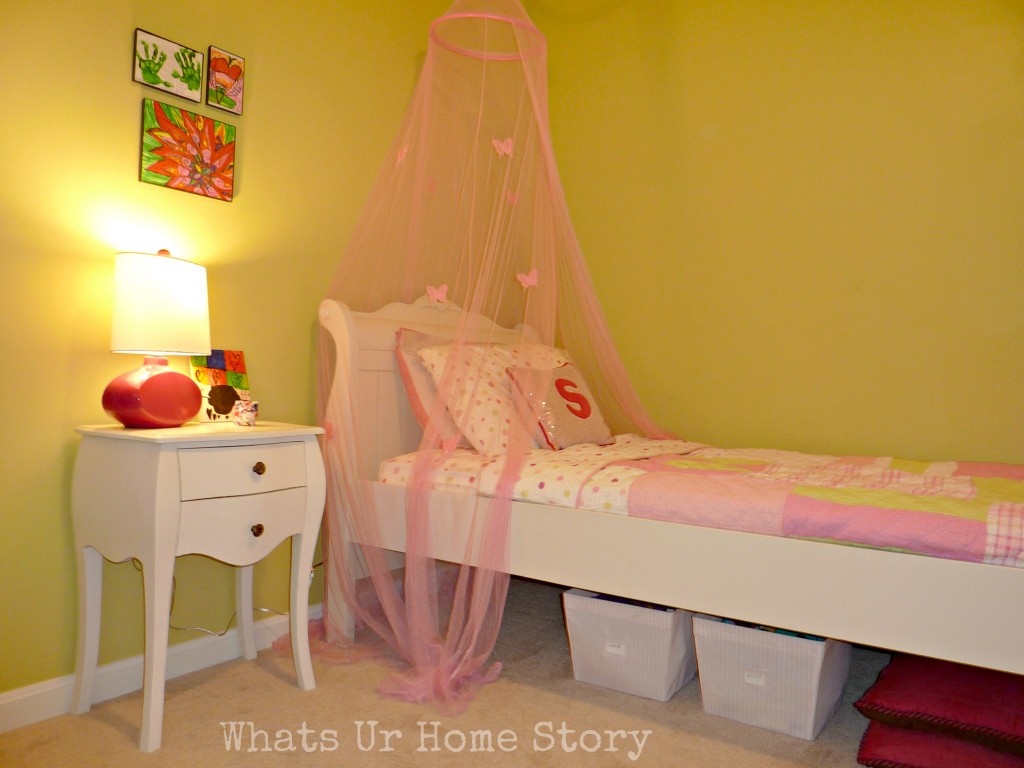 Verdict? She loooves it………..
The funniest thing about this makeover: we had so much trouble hanging those battery operated paper lanterns. Luckily I had some fuchsia raffia (the lanterns are pretty light, so that worked) to hang them. Now, for the hooks. After rummaging through our tool box and around the house for over an hour we couldn't find a single one. All we had were bulky ones that would stick out like a sore thumb. How do we know? We were dumb enough to actually try it.
Call me crazy, but I wanted to finish it that very night as B was leaving on a 2 week long business trip the next day. So we turned to our next option, picture hooks, the ones you use to attach the wire to a large painting frame.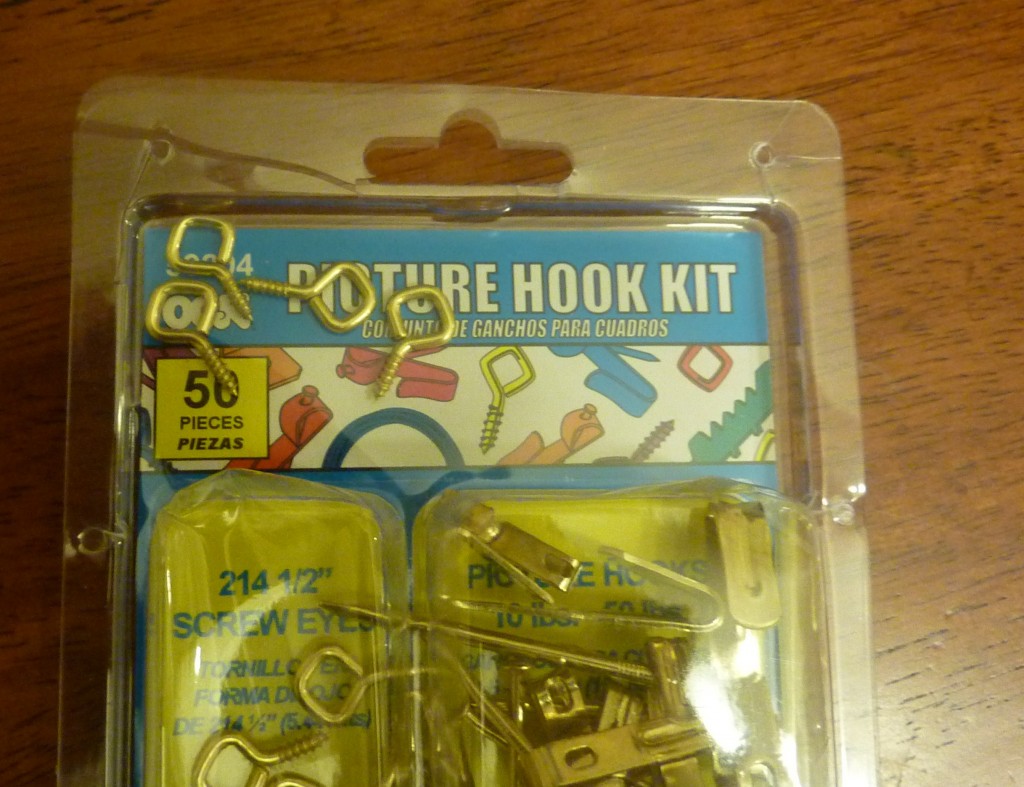 They were small enough and worked great until the kids stormed in to check on the progress. They were so fascinated by the lanterns that they kept playing with the switch and oops…the whole thing came down. I so…didn't have the time or patience to spackle the hook hole and start over. Guess what came to our rescue? Trusty old white glue. After an overnight of curing, we were good to go. It's been a few months now and we are super happy that our cheapo tacky fix worked.
One last look…..
As usual here is the breakdown; we spent a total of $820.17.
Source List
Paint – $26.99 (1 gallon, SW Hearts of Palm matched to Behr Flat at Home Depot)
Twin Bed – $299.99 – JCPenny (free shipping for ship to store)
Canopy – $16.63 – Amazon
Quilt – $29.99 – TJMAXX
Bedding – $20.99 – TJMAXX
S Pillow – $9.99 – HomeGoods
Mattress -$149 -Costco
S Pillow – $9.99 – HomeGoods
Bins under the bed – $15.99 – HomeGoods ($7.99 each)
Fuchsia Pillows – Already had -Marshalls
Side Table – $69.99 – HomeGoods
Table Lamp – $14.99 – HomeGoods
Picture Frames – Already had -Walmart
Wall Stickers – $6.99 – Kohl's (on clearance)
Storage unit – $39.99 -Target
Storage Bins – $20.97 – Target ($6.99 each)
Small Pink storage bin – Already had – Target
Fuchsia Raffia – Already had – Target
Curtain Rod – $9.99 – Ikea Vagen curtain rod set
Curtains – $4.99 – Ikea Lill, a pair for $4.99; used 2 pairs already had one pair
* Post contains affiliate links