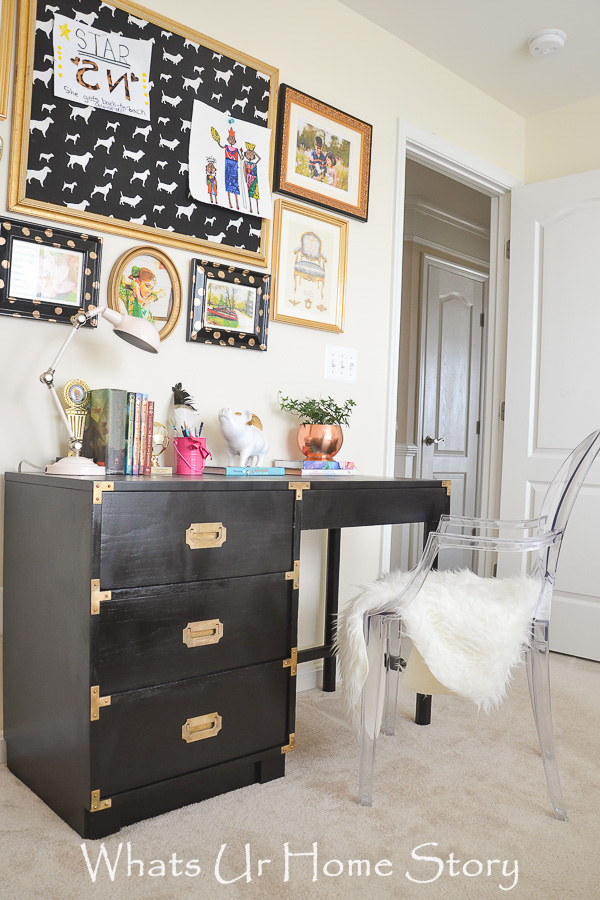 Would you believe that this beautiful shiny black desk with spanking new Campaign hardware started out as a chipped at the ends very orangey looking Craigslist find?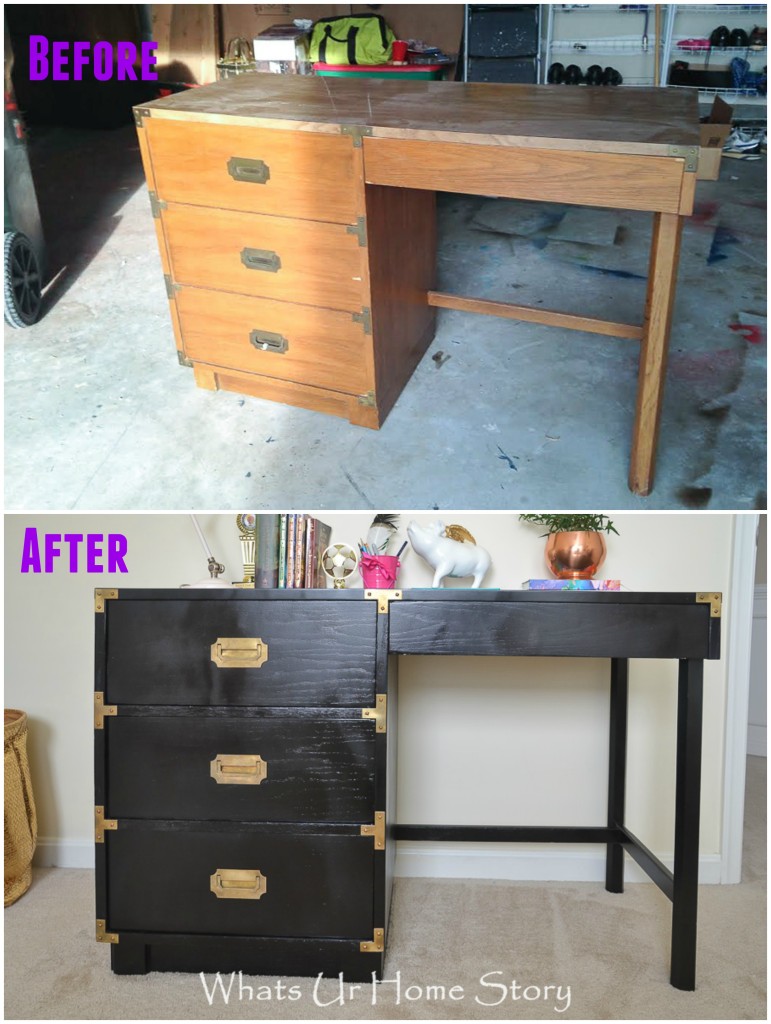 Frankly this Campaign desk makeover and all the work that went in was nothing compared to the effort of finding the right desk at the right price. Though this Campaign trail did not have as edgy a tale behind it as the dresser it did have a funny story tied to it.
I found this desk on Craigslist a couple of weeks after the dresser but after the (kinda scary) experience of picking up the dresser B was not thrilled about another pickup so soon. Campaign furniture in our area is prized; you can hardly find anything under $100. The seller was willing to part with this Drexel desk for $50 but I had to pick it up from her home in DC. B was very adamant that he was not gonna pick up any big piece of furniture from Craigslist for me anymore. I think he was secretly hoping that I'd finally see how tough and risky it can be and would give up on making any more Craigslist deals. But was he in for a surprise!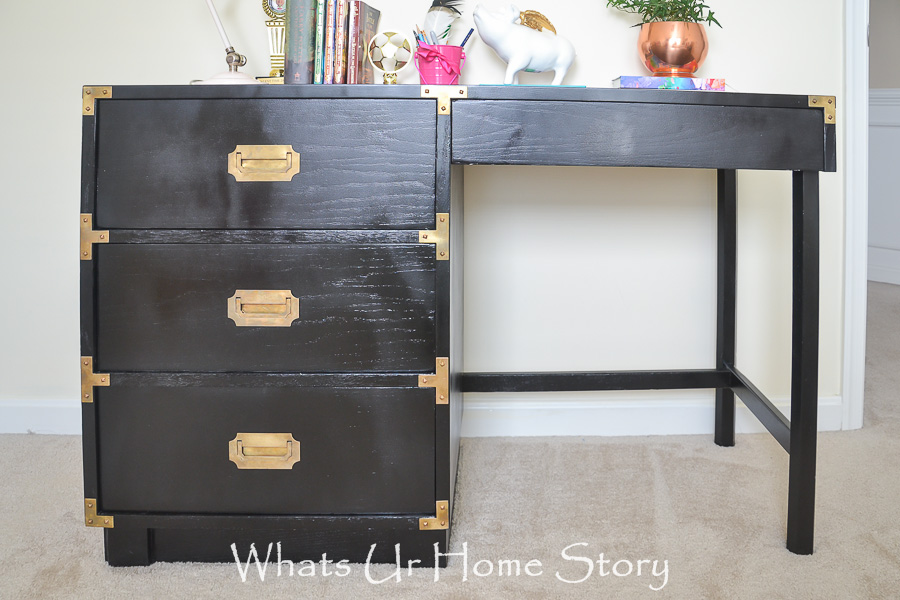 After waiting for over a year for a deal like this I was not one to give up. I had already started working in DC by then and knew where to go so I took it on myself to close the deal. Then in true Vidya fashion I forgot about it on pick up day…like totally forgot about it. I remembered about the pick up on the Sunday after (I was supposed to pick up on Saturday) and emailed the seller ASAP saying how sorry I was and that I could pick up the next weekend. Thankfully the seller was a very nice lady and agreed on the new date.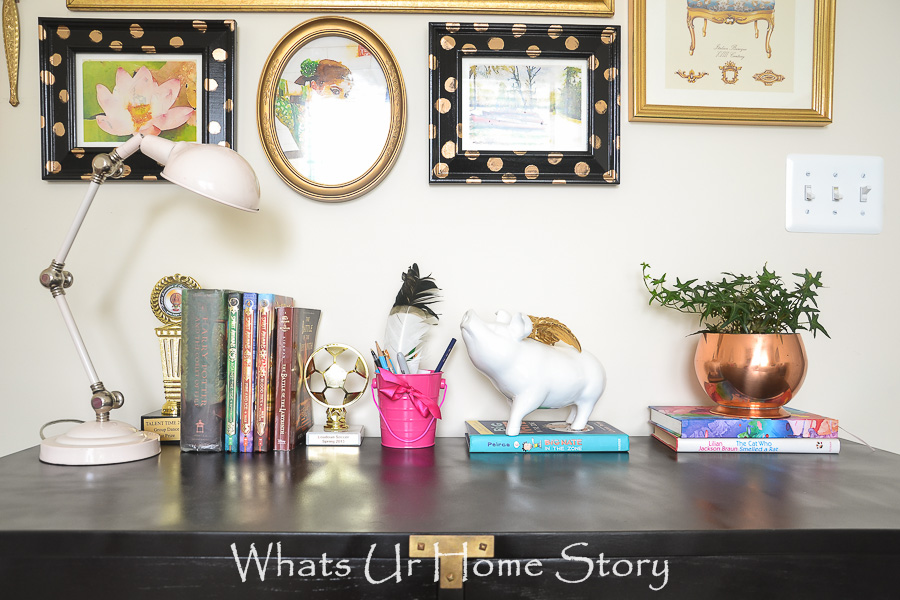 So off I went in B's big SUV, which I hate to drive and park, to pick this baby up. The seller said she was not going be home and gave me a phone number of a contact who would meet me at her place and help me move the piece. As I drove by her condo I was greeted by the contact who showed me where to park. As I looked up at the tall condo building all sorts of thoughts came racing in my head, "Which floor is her home in? Do I really have to carry this heavy desk all those floors down? Should I go inside the apartment with this stranger especially when I knew the seller was not home?" As we walked inside the condo building together I noticed that it was actually a very posh place with security in the lobby. I realized that my helper was in fact one of the folks who worked for the building. To add to my relief her apartment was on the main floor.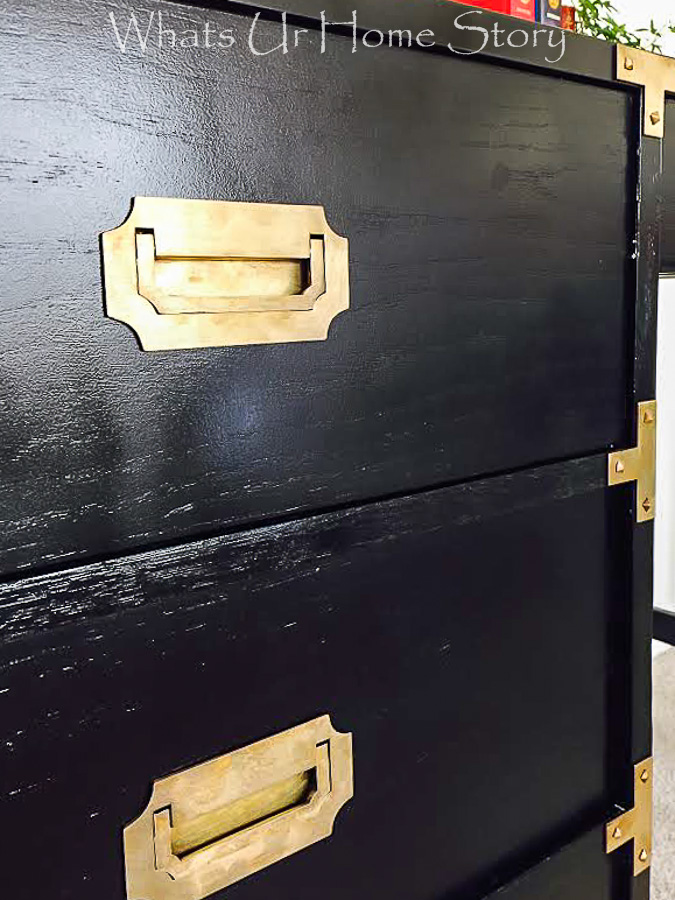 After I gave the thumbs up my helper wheeled in a trolley, proceeded to lift the desk onto the trolley, wheeled it out, and even loaded it into my car! All I had to do was help him maneuver it at times! That was the easiest Craigslist furniture pick up ever! Man…you should have seen my grin when I recounted the story to B. So much for the lesson he wanted to teach me!!!! 😉
Coming back to the makeover here's what I did;
Gently removed all the hardware, labeled and stored in a Ziploc bag for later.
Gave the desk a through sanding. All the sides except the top, which was veneer, were real wood. So the desk took the sanding well.
Followed by a coat of primer. I used left over Kiltz from the cane chair and laundry room shelf projects.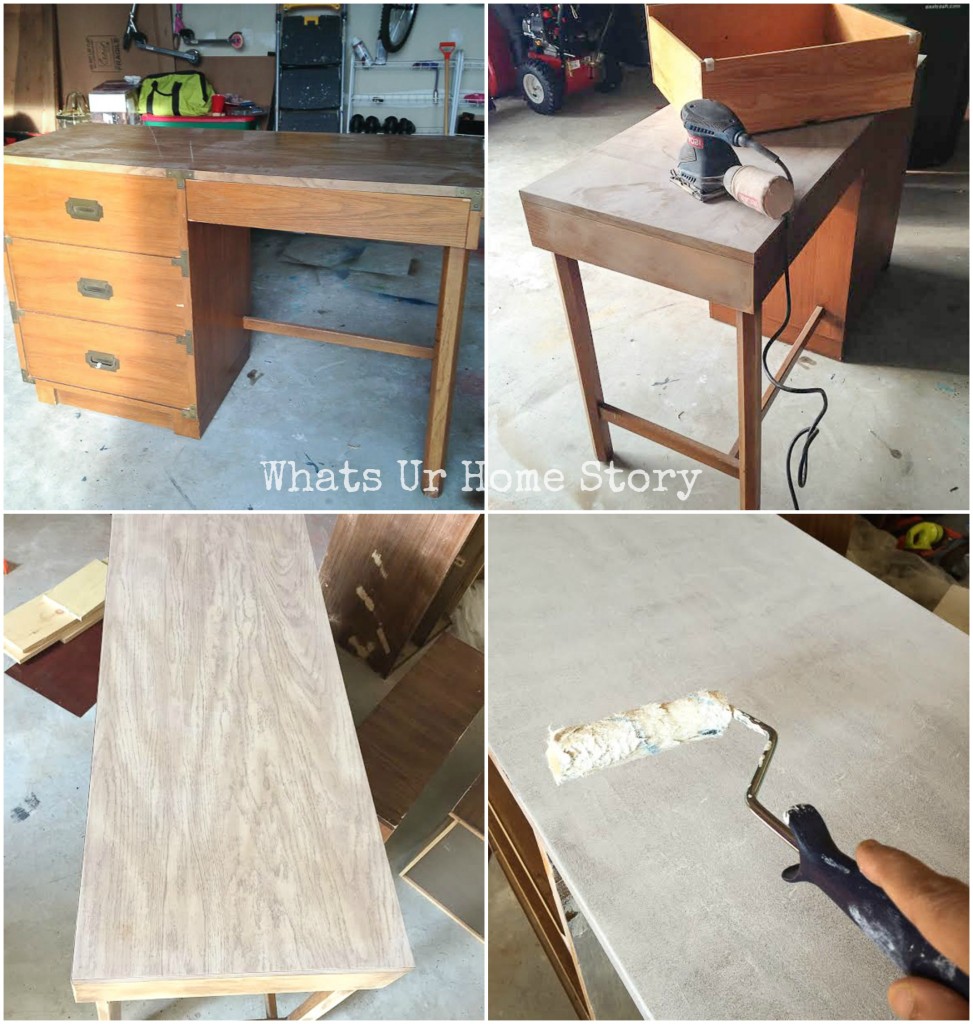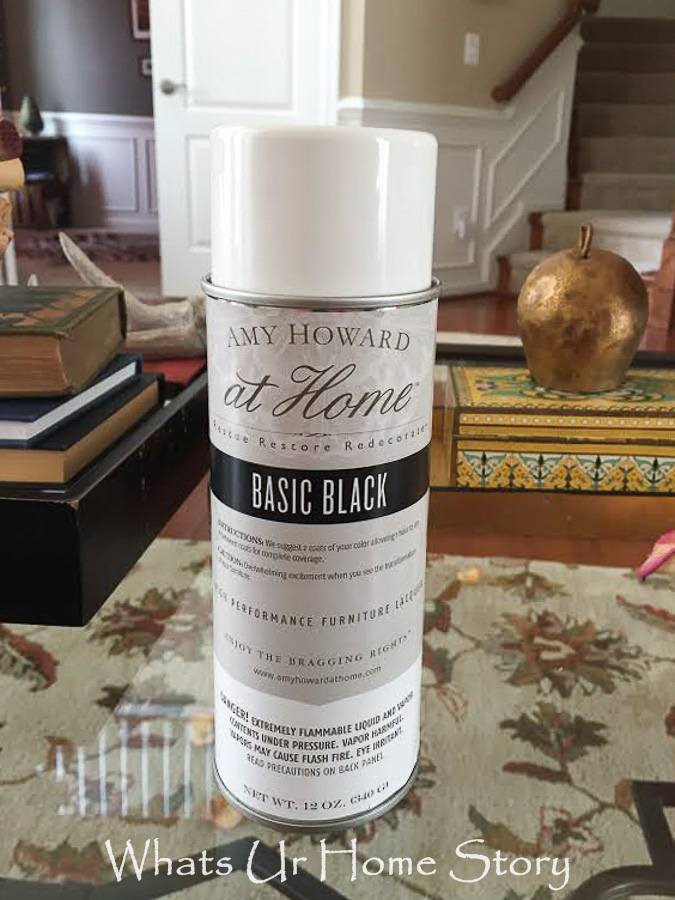 The instructions on the can and videos on the site are very clear and tell you how to spray paint to get the best thick, rich, and high-gloss finish! I needed about 3 cans to cover the outside and inside of the drawers and the outside of the desk.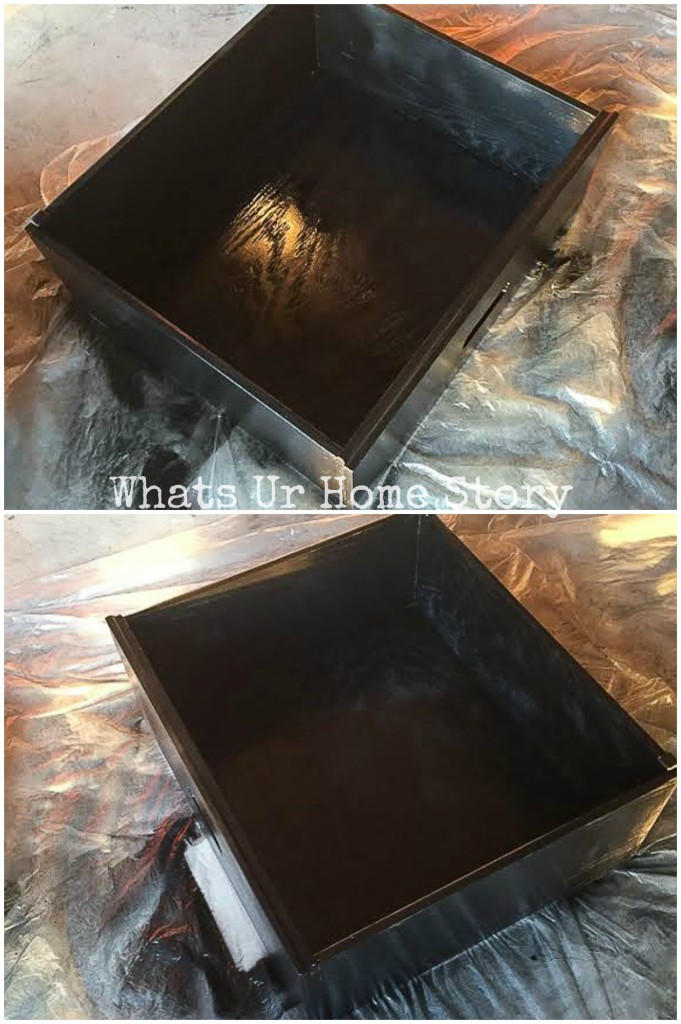 To bring the tarnished hardware back to life I used another magic product, BarKeeper's Friend, and of course some elbow grease.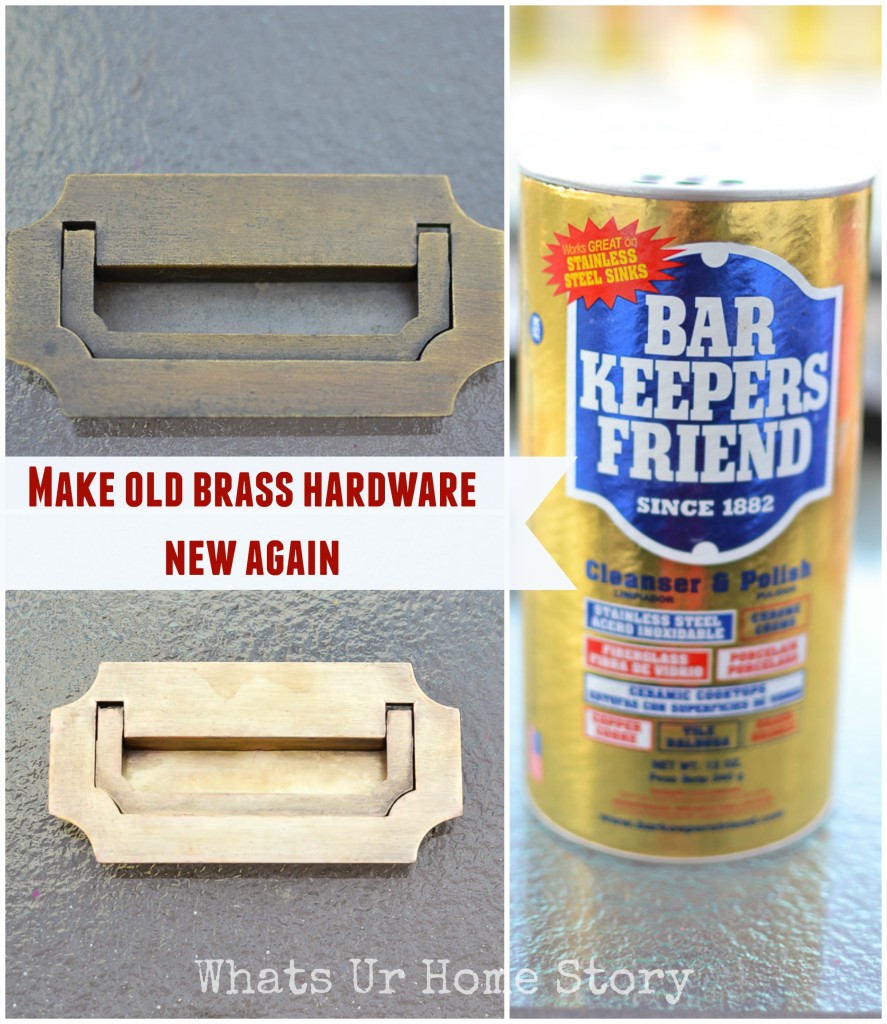 That thing is pretty powerful so definitely use thick gloves when using it.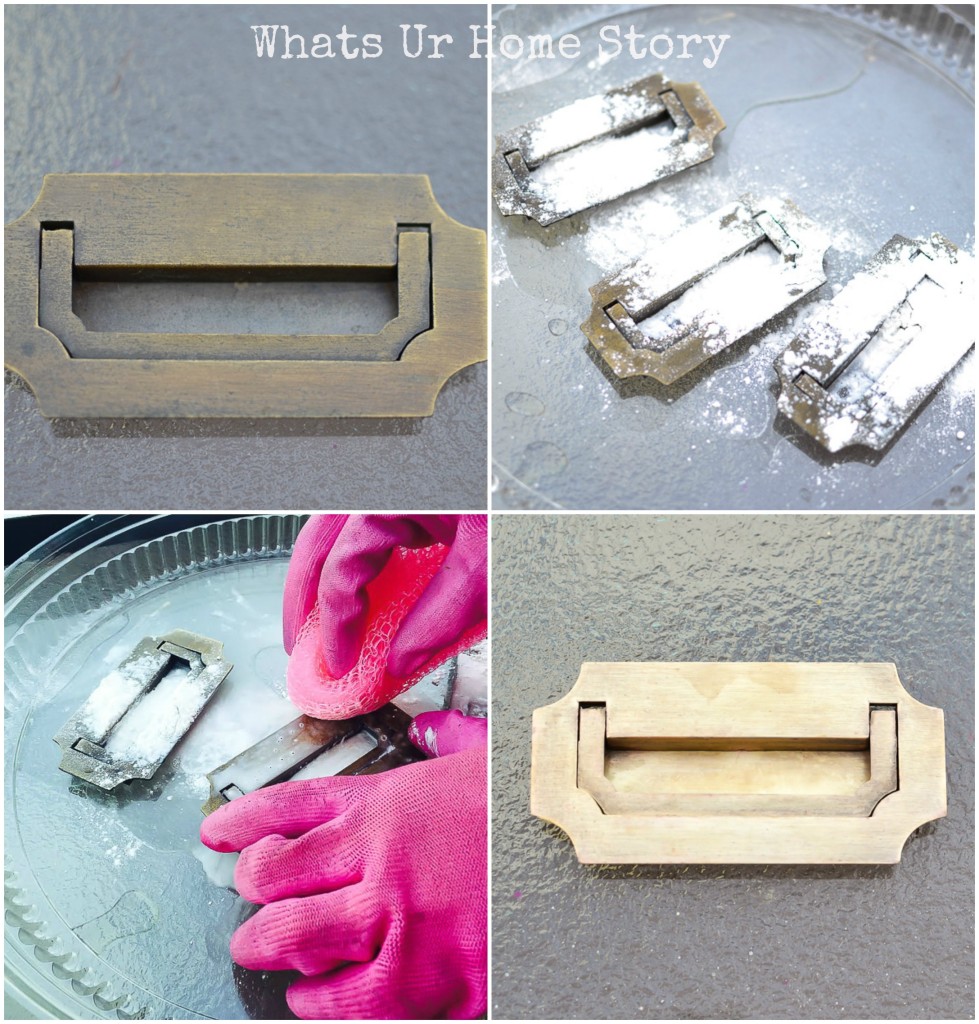 Once the paint was cured (per the paint can instructions) I screwed the hardware back on.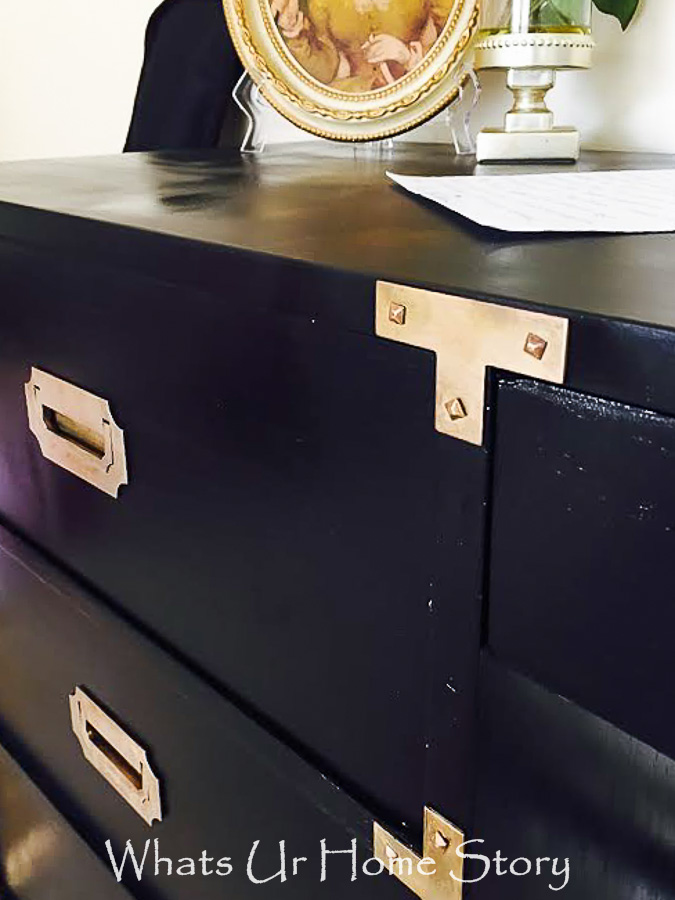 And that is it! Love how shiny and high end the paint finish is!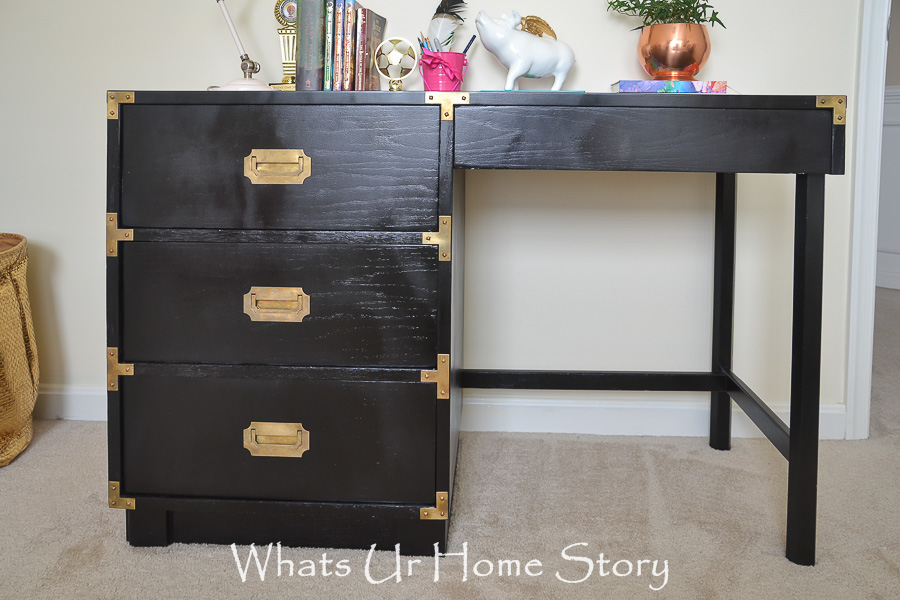 Perfect for my glamor loving Hollywood aspiring girl and her eclectic glam room!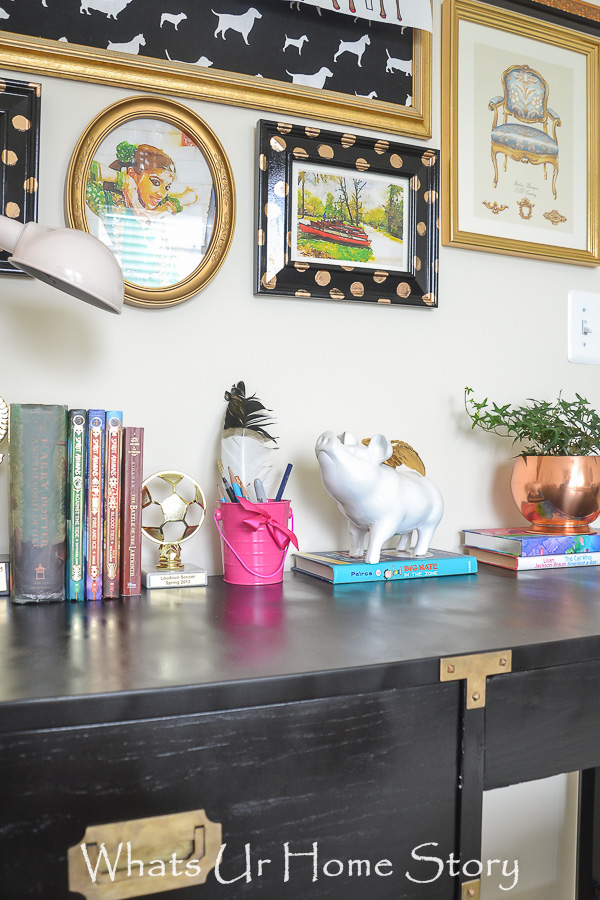 Do you have any interesting Craigslist stories too?
*Amy Howard at Home provided me with the paint to review but as always all the opinions are mine.