We all love a beautifully decorated home but most often instead of cohesive look we end up with an "in progress" version. Usually the budget is the culprit. Take my case for example. We moved into this home 4.5 years ago yet there are rooms that haven't even been touched. I'm only slowly getting to the others. In the ideal world I would have an unlimited budget and could go on a shopping spree at Restoration Hardware, Ballard Designs, Pottery Barn….you name it. Instead here I am slowly piecing our home together one story at a time (sorry couldn't resist squeezing that in 😉 ). If there is anything blogging has taught me then it is that you can still have a beautiful home while staying within your means provided you follow some tricks on how to decorate on a budget.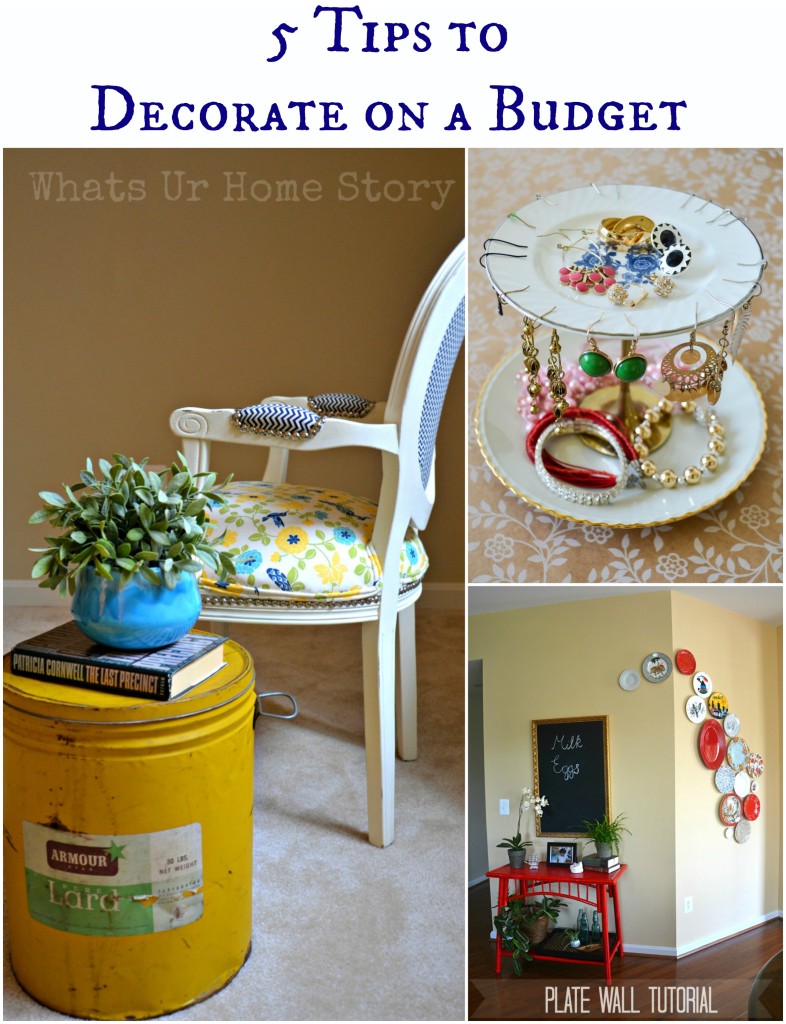 Here are some ways that has worked for us over the years.
Take it Slow
This tip is for all you new home owners out there. I'm sure all of us go through this emotion when we get those keys in our hands. Heck, I started my decorating plans when we put in an offer! Naturally your first instinct would be to furnish and decorate the whole house at one go but taking the slow and steady wins the race approach has many advantages.
Of course your wallet doesn't take a big hit all at once.
When you take your own time to research and decide on the style you not only have a better chance at getting a good deal but also end up buying things you'll love now and forever. When you are trying to buy many things at once most often you'll end up compromising quality and even style to fit them into your budget. I have first hand experience of this when we bought our first home. In a rush to get the home ready for guests among other pieces of furniture we also bought a pair of couches that we soon outgrew and were trying desperately to get rid of in a couple of years.
Buy Used
True to the saying Old is Gold, usually things from the past are made with much better quality materials and superior workmanship. This is especially true when it comes to furniture. You simply cannot find the precise skill level and workmanship in the present day mass producing machinery. Websites like Craigslist, yard sales, thrift stores, flea markets, even yard sale groups on Facebook (they are huge nowadays by the way, I find more stuff on there than on Craigslist) are all great places to scour for second hand stuff. Granted, the styles or condition might not be up to the mark but these gems can easily be updated with some creativity and elbow grease. I found this breakfast table on Craigslist for $80, a bargain considering the quality of the wood and size. Some refinishing and paint later, she is the limelight of our breakfast nook.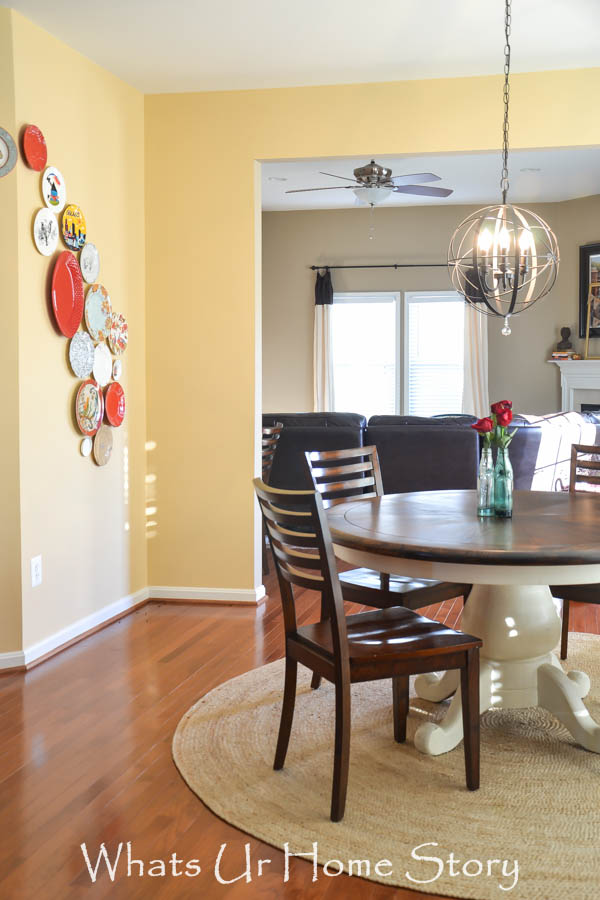 Would you have guessed that this pretty lamp started out as a pair of $5 lamp bases from Craigslist? All I did to give it a new life was polished with Brasso, added shades, and some Gold gilding to jazz up the shade.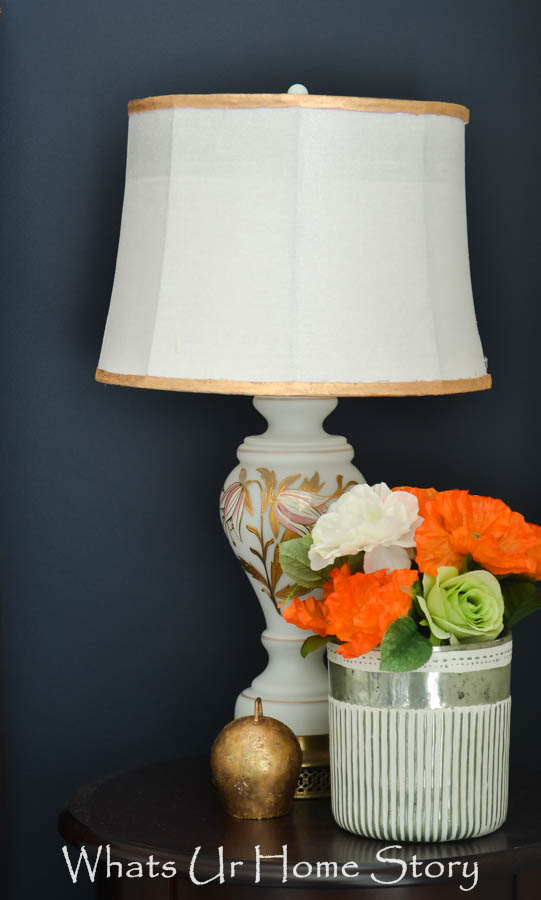 Up-cycle, Re-purpose
You hear these words used everywhere nowadays but how exactly do you re-purpose something when it comes to decor? Take this $15 vintage lard can I found at a flea market for example. Its original purpose was of course to store lard but in my home it is a side table!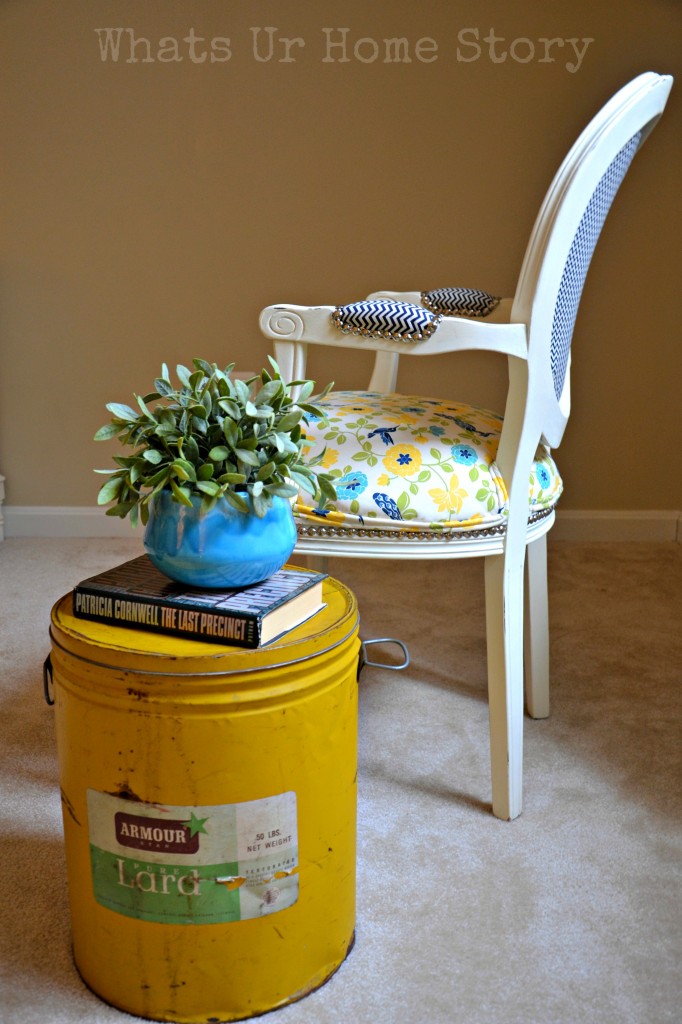 Upcycling doesn't have to stop with furniture. This beautiful candle holder was created with clam shells left over from lunch.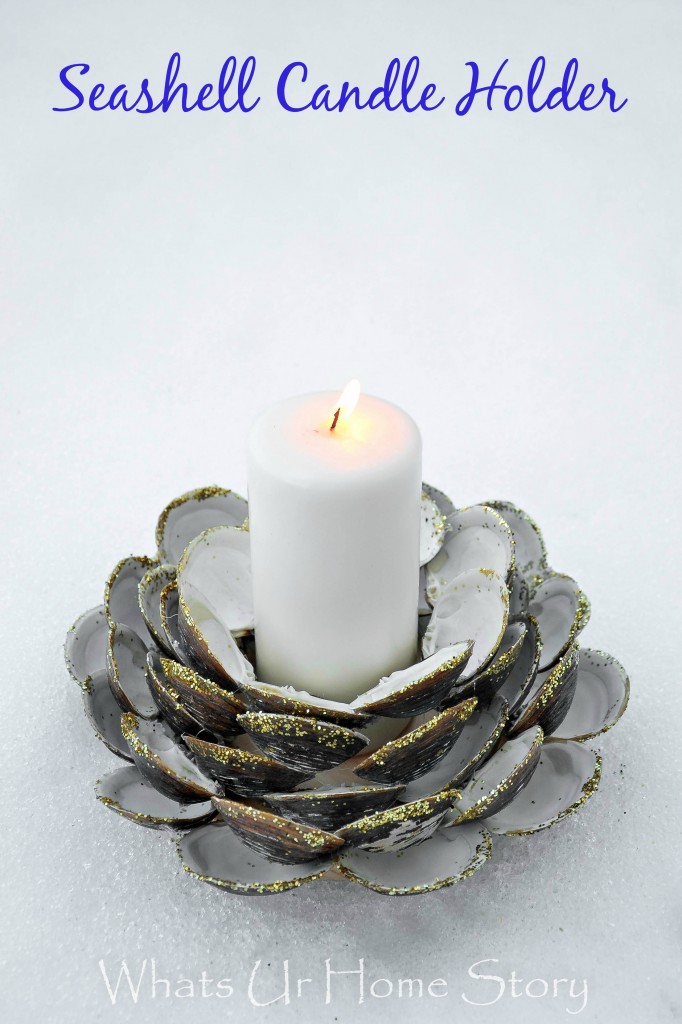 By choosing this alternative you are not only going green but also saving your hard earned moolah. As they say "Someone's trash is another's treasure".
DIY
When I say DIY I'm not talking about hard core building and breaking down stuff rather Do-it-yourself art, throw pillows, or accessories. Abstracts are the easiest painting you can do, even my kids have tried their hands at it successfully.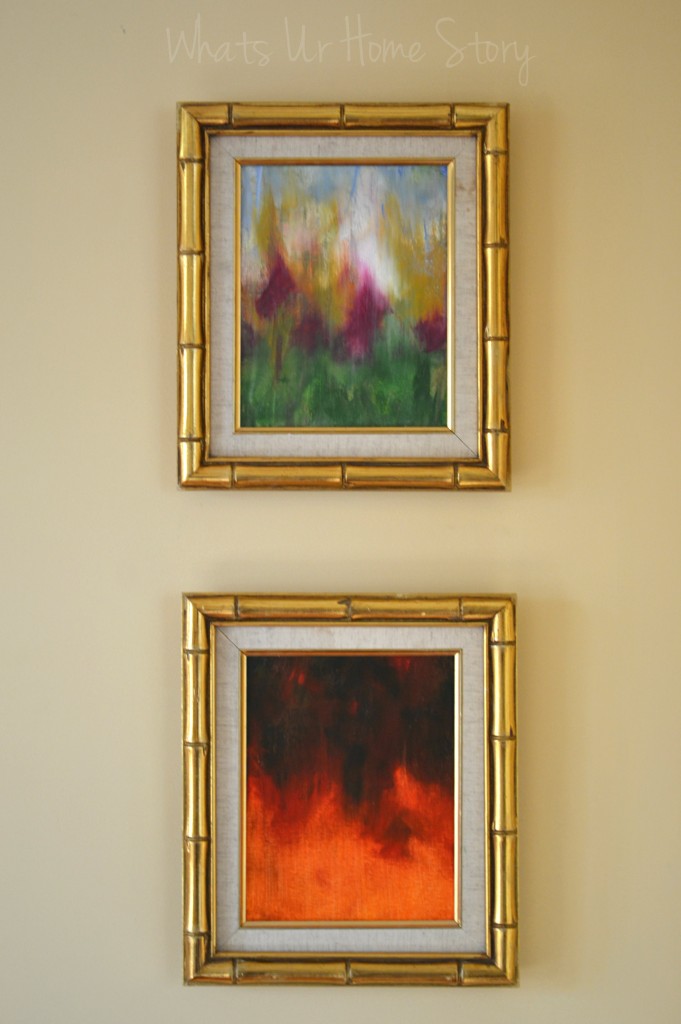 You could also frame some pretty fabric or gift wrap to create instant and cheap art.
If you are looking for an easy way to organize your jewelry you could create this simple stand with 2 plates and a candle stick, all of which came from the thrift store and were under a dollar.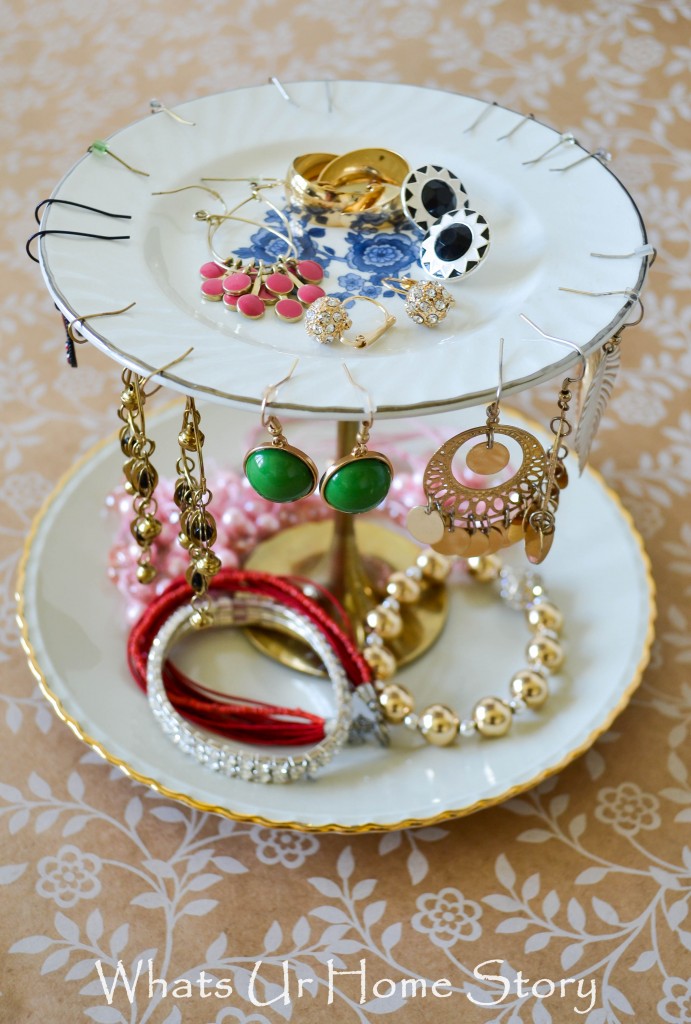 Shop Your House
This is my go to option when I want to update the look of a room. Our eyes do get tired of seeing the same things in the same room so a little bit of mixing things up freshens up the ambiance. This felt pillow usually stays in our guest bedroom but when Spring came knocking last year it found a new home in our family room.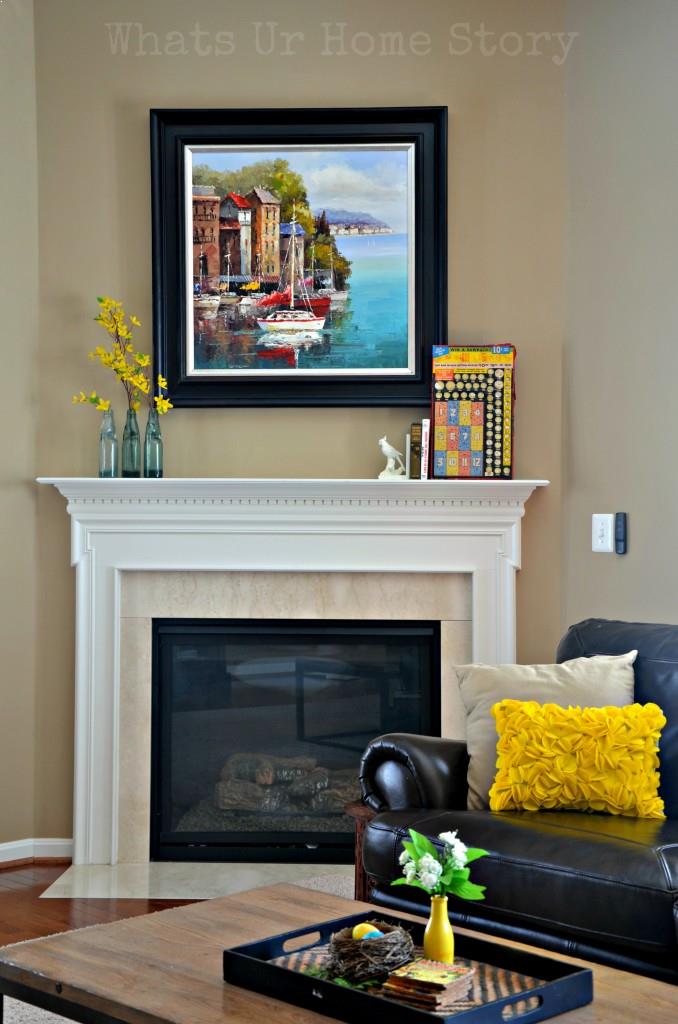 When I was setting up my plate wall it felt like the wall needed a bigger solid red plate to balance the rest of the smaller plates. A quick look into my pantry was all it took to find the right candidate to fill the void, our Thanksgiving Turkey platter (the oval red one over there).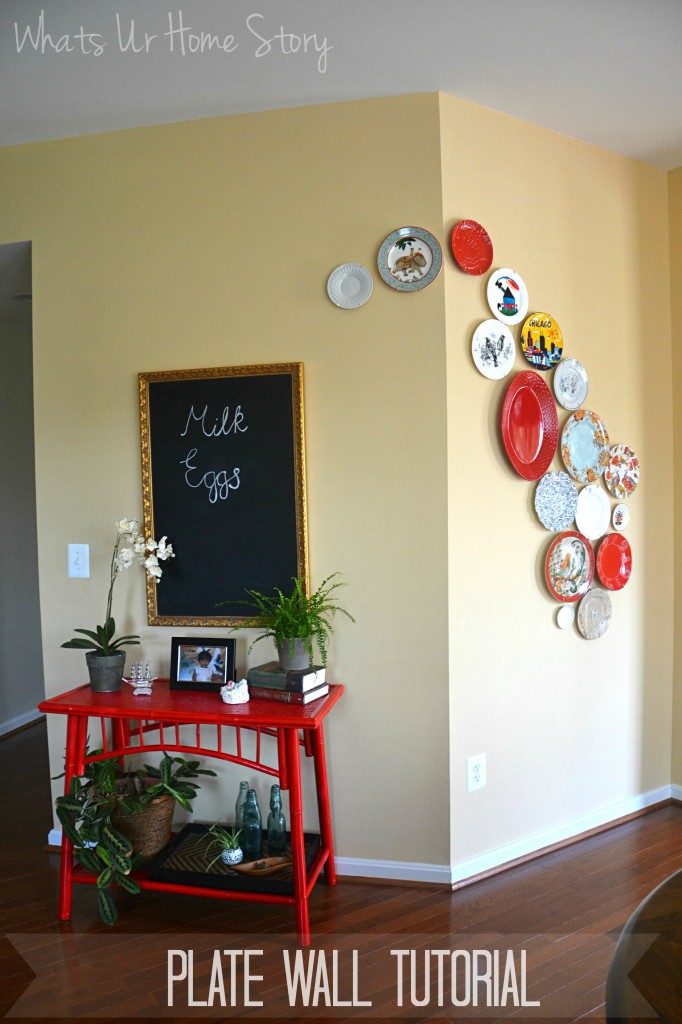 See, when you break things down decorating on a budget is not that nerve wracking? In fact it is fun and I guarantee you your home will be as unique as you. To me that is the best part, a home that is decorated on a budget will have loads of stories associated with each and every object and will have your stamp all over it. Isn't that what we all want, our homes to tell our story?