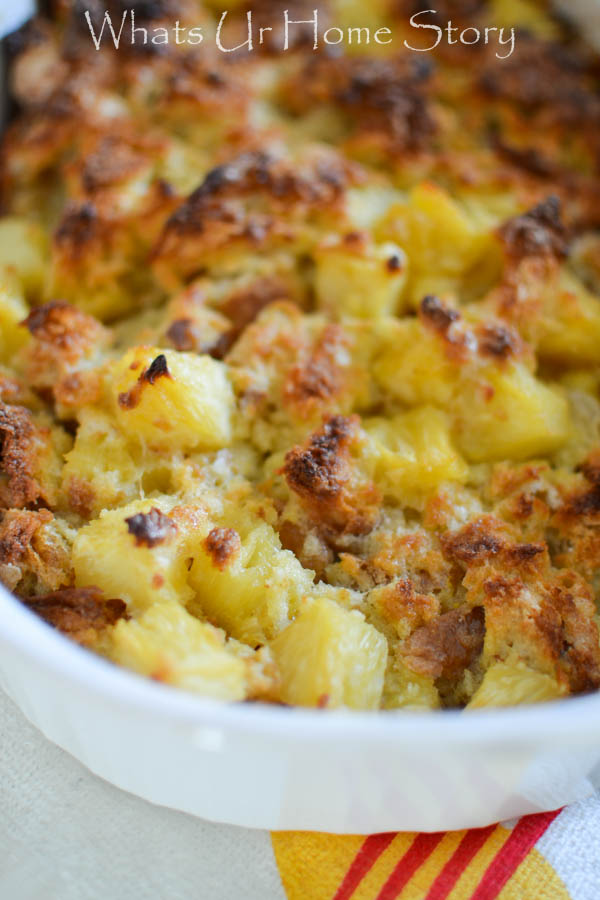 What do you get when you send a pre-schooler to a cooking class? I mean other than a cute fuchsia kids' apron complete with a chef hat and a kiddie rolling pin? A recipe that's a keepsake, one that has been asked for by everyone that has tasted it, and one that you crave for when you want something comforting. Yes, folks this out of the world dish and recipe came home with our then 4 yr old daughter after one of her "cooking classes" at her pre-school. Frankly when we enrolled her on the class I thought they'll be making some sandwiches with animal faces with veggies etc but this was the real thing!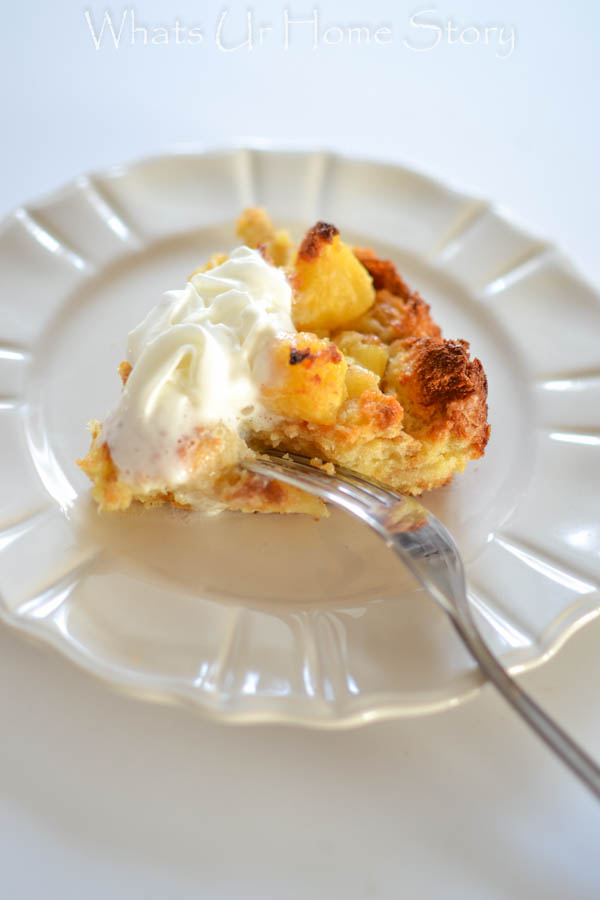 In that bite folks is pure deliciousness of simple pineapple and butter goodness. The recipe that her teacher handed to me on a sheet of paper is called "Landis Pineapple Bread Pudding". I have tried to look it up online but have never found an exact match.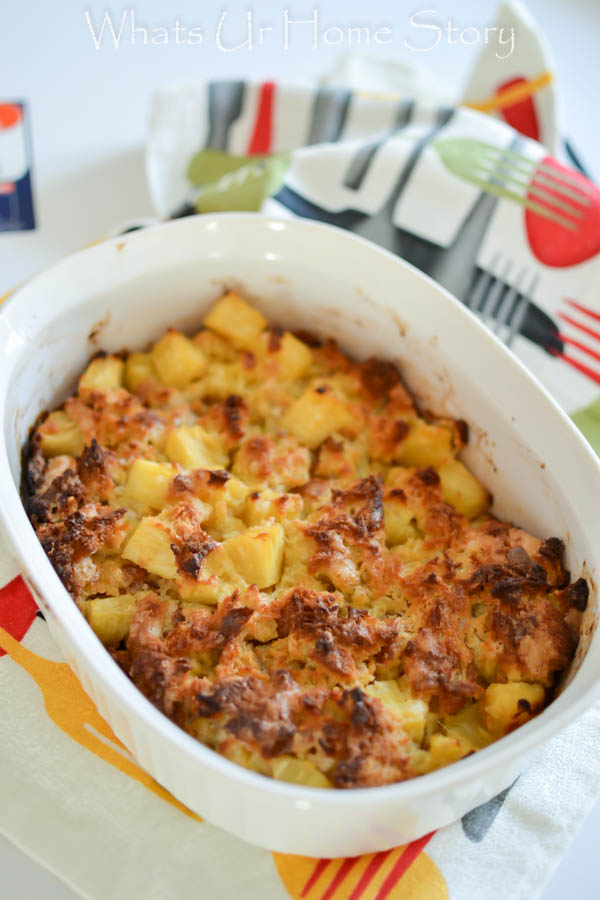 If you ask me those browned caramelized edges are the best! Yum! I can scoop them out of that dish right now right here.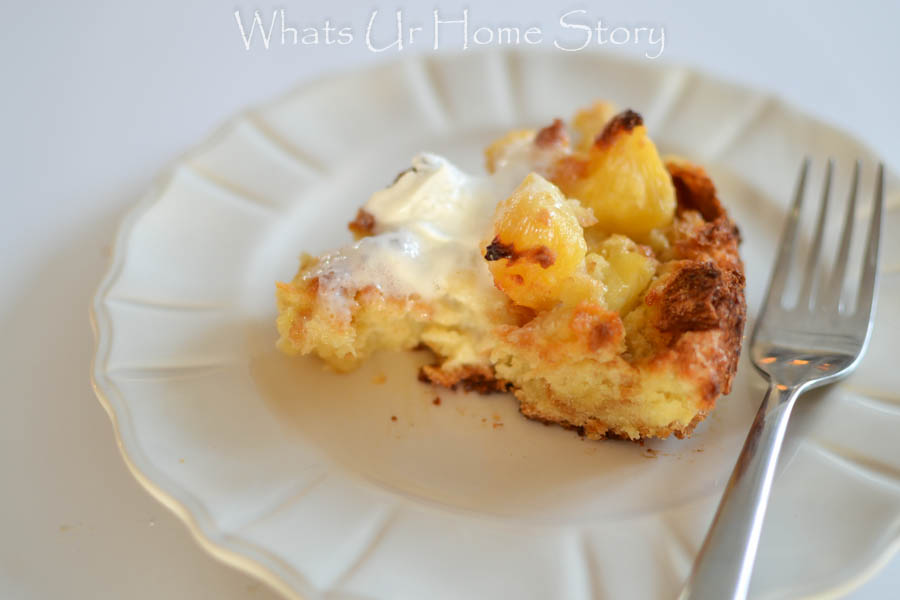 It is one of the easiest, most hassle free desserts there is. Seriously, there is no way you can mess this one up.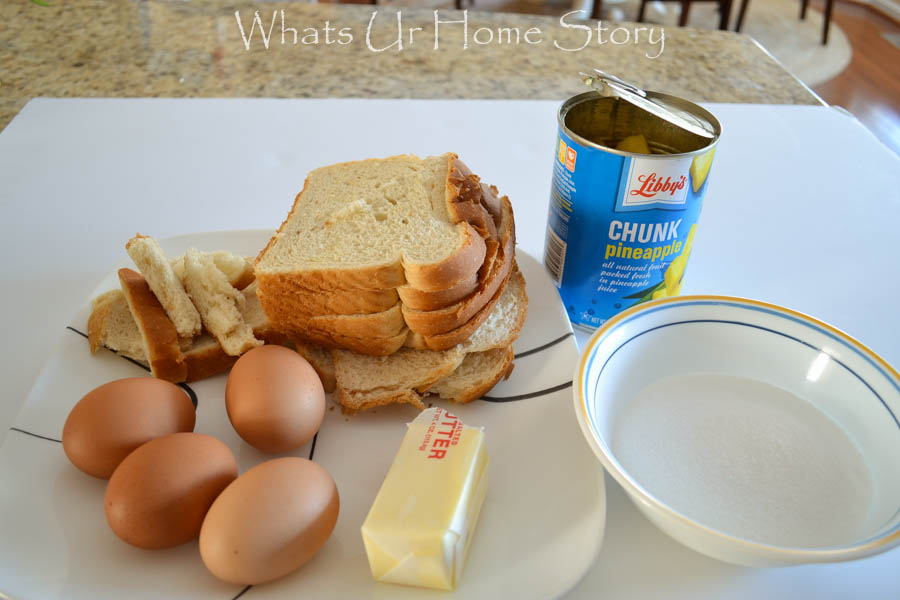 Over the years we've found the original version to be too sweet and buttery. So we've cut down the no.of eggs, amount of butter and sugar, used white bread etc….yet every single time it comes out AWESOME!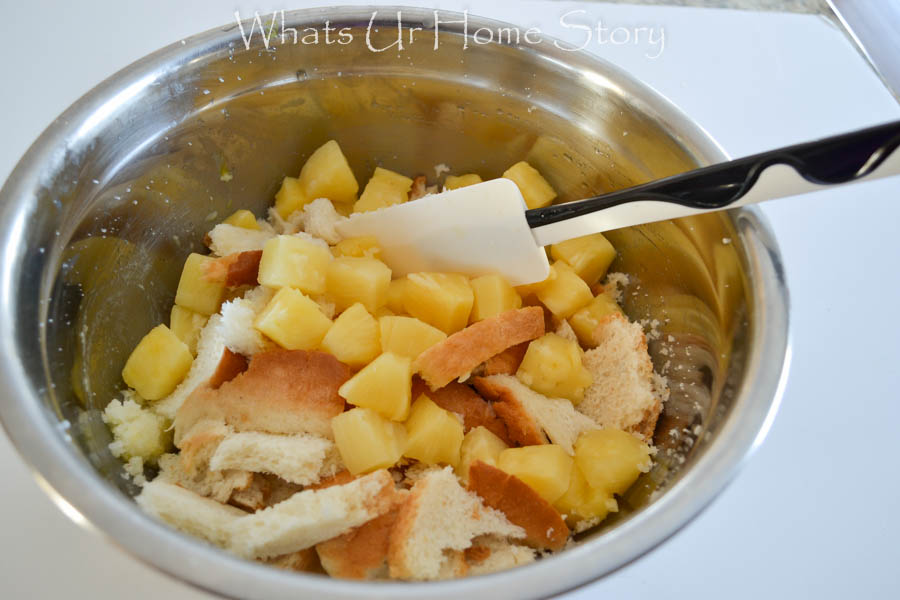 After you've creamed the butter and sugar you mix in rest of the ingredients and bake.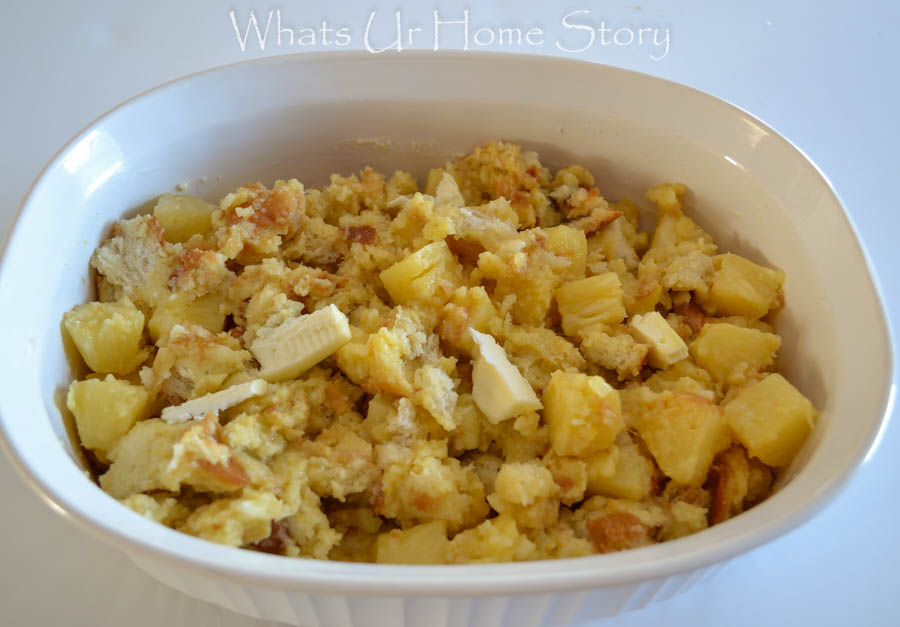 And be ready to be surprised by this humble looking bowl of ingredients!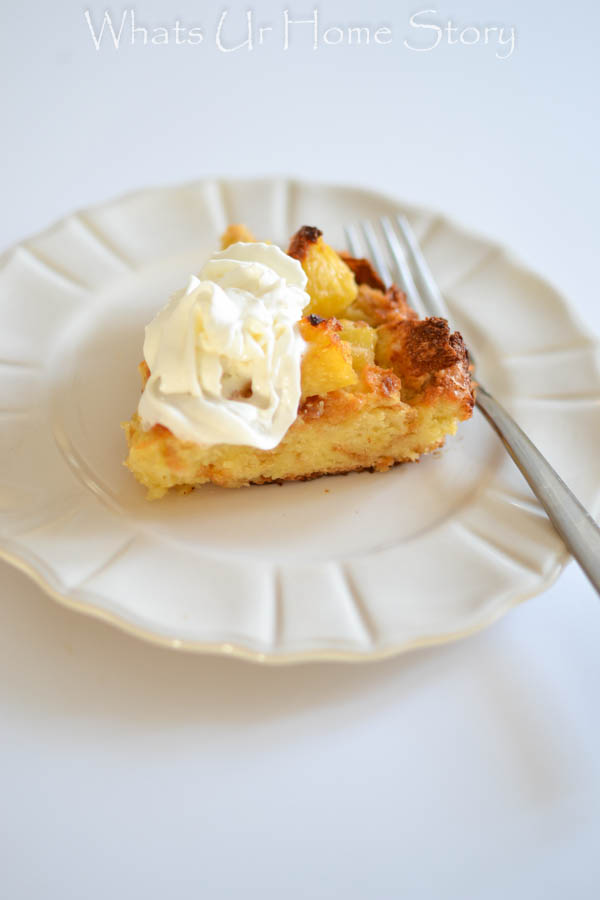 Monkey #1 likes to have it warm with a dollop of whipped cream but I think it is as good plain. You know what's the other plus of this recipe? It is a great way to use up those end slices of bread which no one seems to like in our house. Did anyone say crusts of the bread? Yup those too, we are 2 on 2 when it comes to bread crusts. So yes a great use for those crusts that daddy and daughter refuse to eat.

Pineapple Bread Pudding
Ingredients
½ - ¾ Stick Butter (6 tbsp), softened and divided*
¾ - 1 Cup Sugar*
4 Eggs
7 Slices Sturdy Bread ( a few day old White bread works great too)
20 oz can Pineapple chunks drained
* Original recipe calls for the higher amount. We prefer to go lighter with the butter and sugar so we use the smaller quantity.
Instructions
Preheat oven to 350 degrees F.
In a large mixing bowl cream together butter and sugar.
Slightly beat eggs and stir into the creamed mixture.
Tear or cut bread into cubes.
Fold the bread cubes and drained pineapple chunks into the creamy mixture.
Pour into a buttered 2 qt casserole.
Add a few dollops of butter on top. This step is purely optional. I love how the butter bubbles up on top when you pull it out of the oven.
Bake at 350 degrees F for 1 hour.
Allow to stand for 10 minutes before serving.
Serve with a dollop of whipped cream on top of each serving.