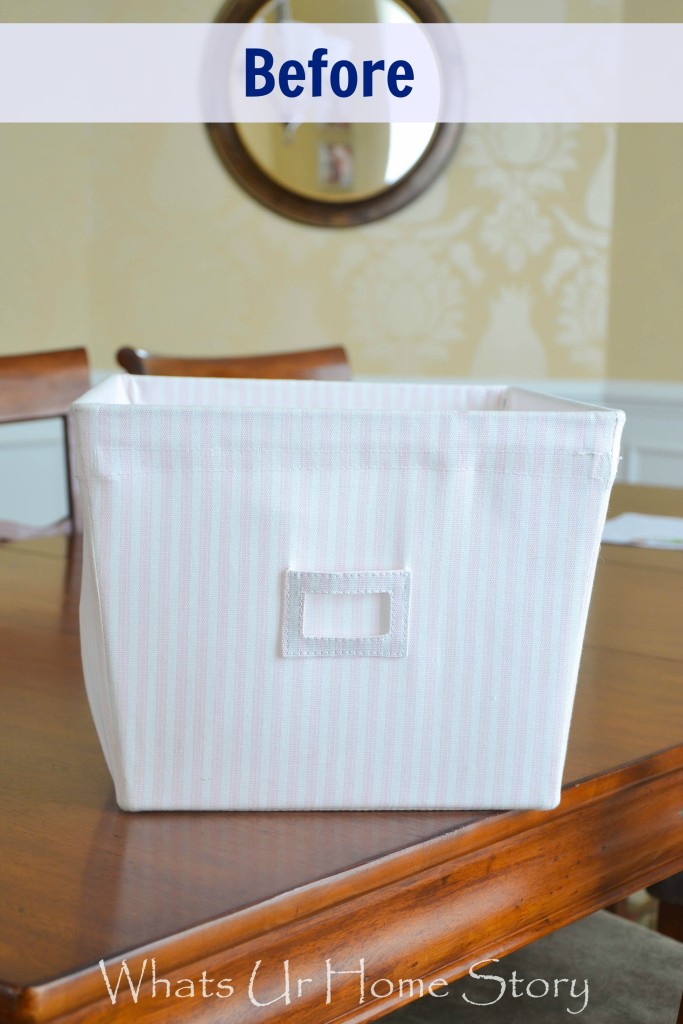 If you have got tired and dated looking fabric storage bins, you know like the ones above from your kids' baby room days, then you are going to love this project. This bin and its twin had still has great bones despite years of well loved usage. All they needed were some freshening up. There are many options available for a project like this for e.g. recovering the fabric, Mod Podging fabric/ paper or just plain fabric paint but I went with the easiest one, paint the fabric with chalk paint. 'Coz as y'all know I'm a chalk paint junkie (here, here, here, and my latest side table and art). Oh, by the way this project is from last year when I redid the laundry room but only today did I realize that I never shared it with y'all! 🙂 Talk about falling through the cracks! That also means that we have been using them for over a year now and have no paint chipping issues; they are as pretty and useful as the first day.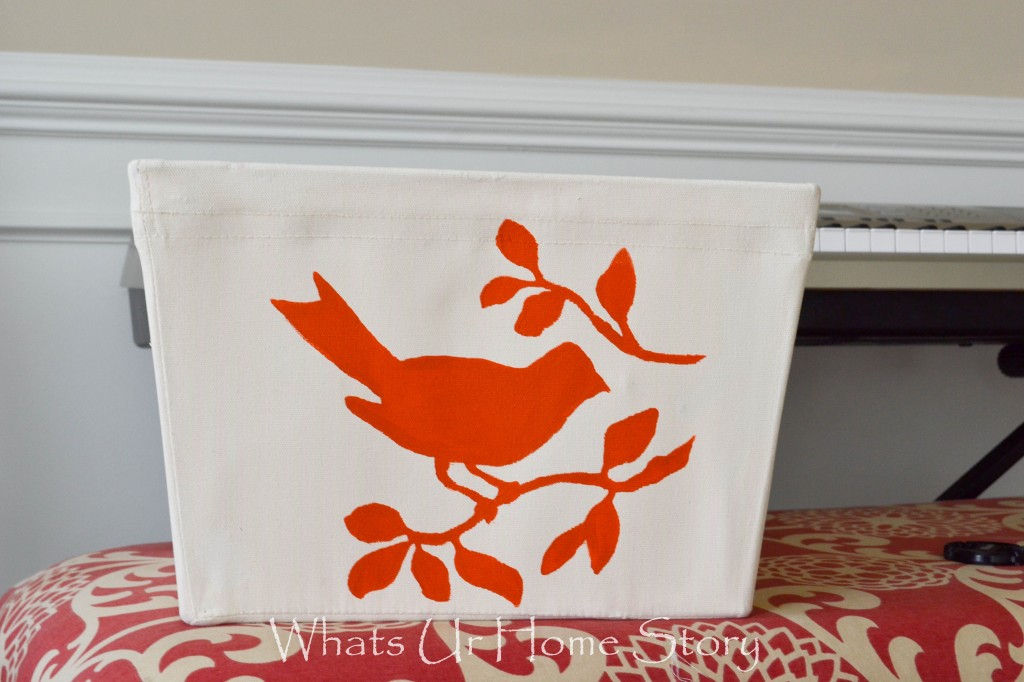 So these bins in their past life used to be "under the bed toy storage" in my daughter's room. Yes, complete with pink and white stripes that my daughter used to love when she was 5. Not any more! As she has grown so has her tastes in decor. She is also at a stage where she doesn't play with her old toys much; most of which we already donated. This freed up the bins for using in the laundry room. With the help from some left over chalk paint from a chair makeover and a stencil that I used for a throw pillow project I gave them a new lease of life!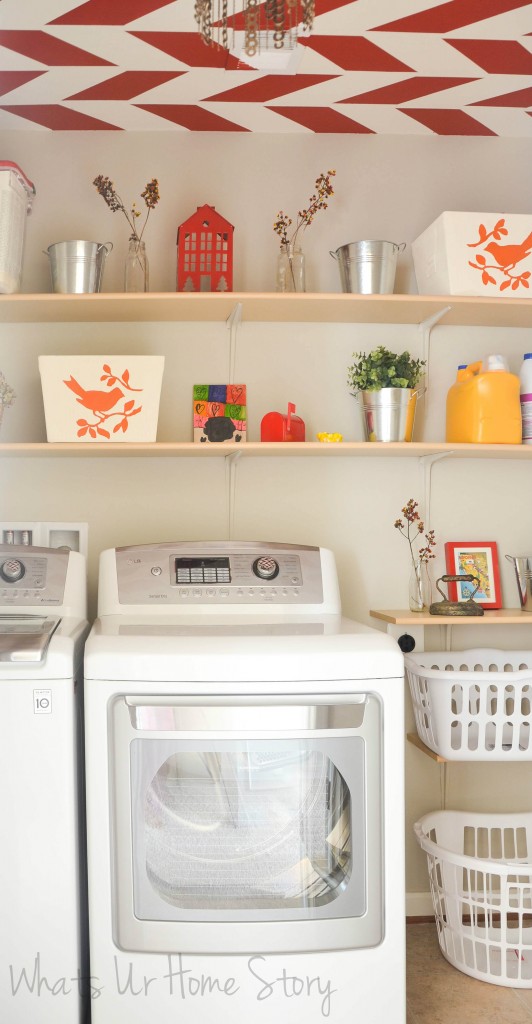 I get asked often how to paint fabric with chalk paint; whether it is tough to paint on or if the painted fabric would be too rough to touch or end up cakey looking. The paint goes on pretty smooth not cakey at all but I do have to admit the chalk painted fabric is not the smoothest to touch. I'm not sure if I would want to sit on a chair covered in it for long. That said for a project like this it is perfect.
Tutorial
The most important step in prepping the fabric for chalk paint is to first mist the fabric thoroughly with water using a sprayer. The fabric should be damp but not completely wet.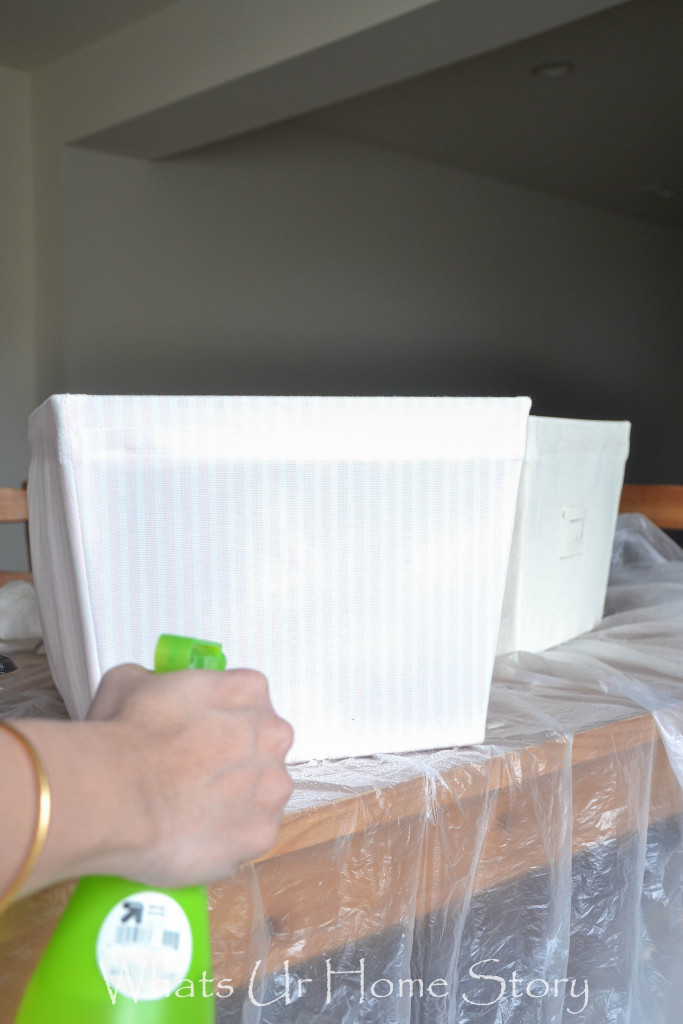 You could either use a brush or a roller to paint. I found using a roller a lot faster and the coverage more even. The fabric does soak up paint so you'd end up doing at least 3 coats.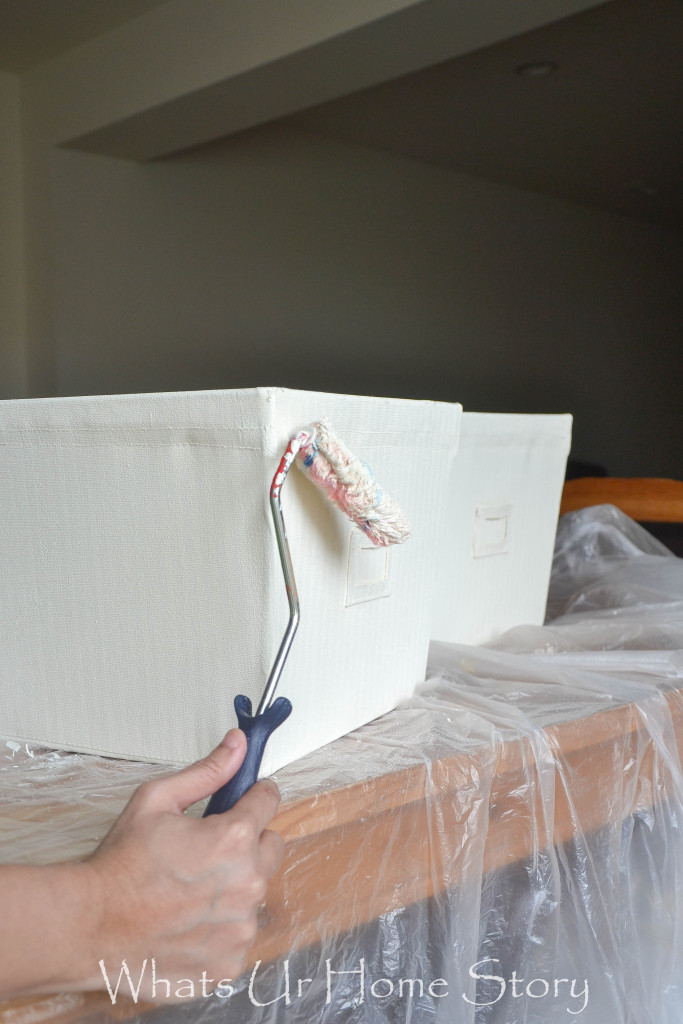 Let dry for a couple of hours. Depending on how much paint the fabric has soaked in it might take longer to dry.
With a stencil adhesive position the stencil on the flat side of the bin. Using a sponge gently stencil with fabric paint. See detailed instructions in my stenciled pillow post.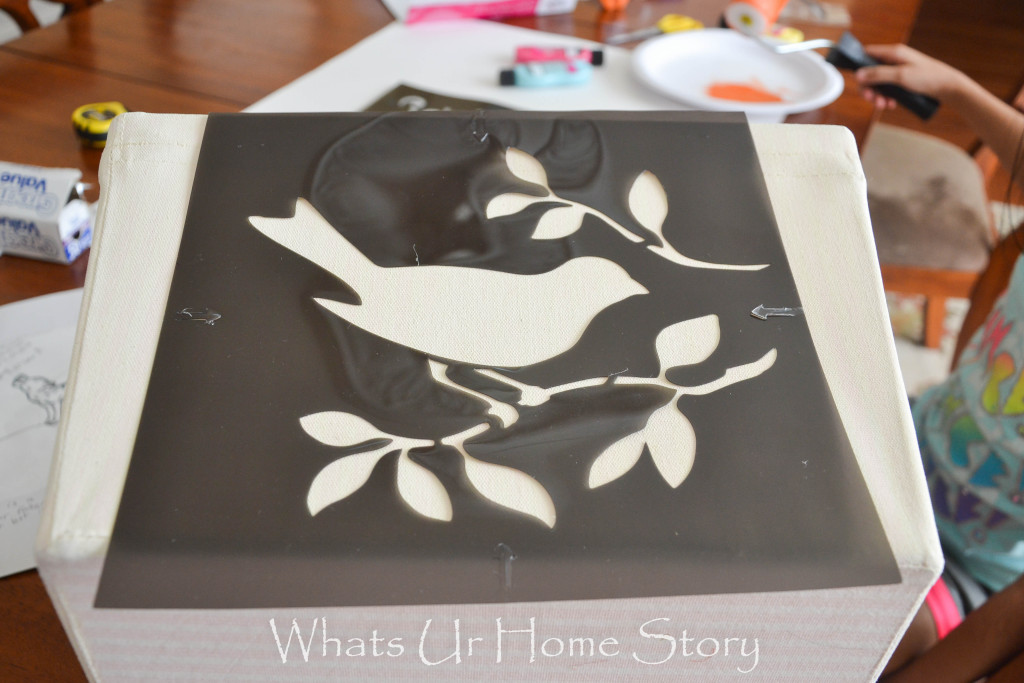 If you happen to be careless and manage to get paint smudges all over like a certain someone, no worries you can easily go back and paint over. See the orange paint smudges next to the bird? Not a trace of that in the first pic. 😉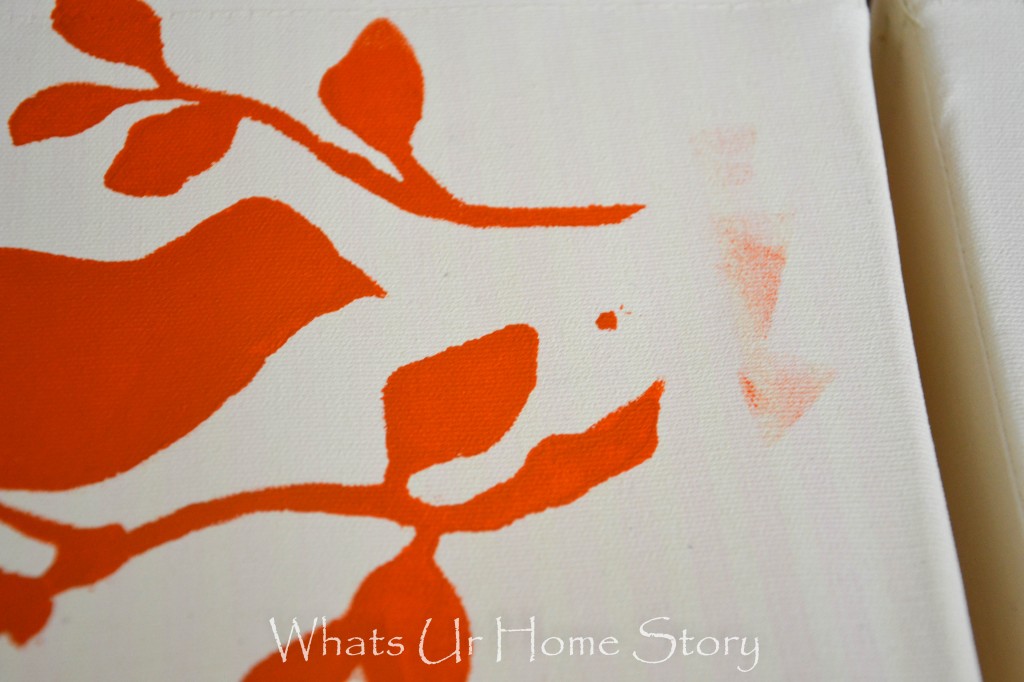 The magic of chalk paint and poof they were gone!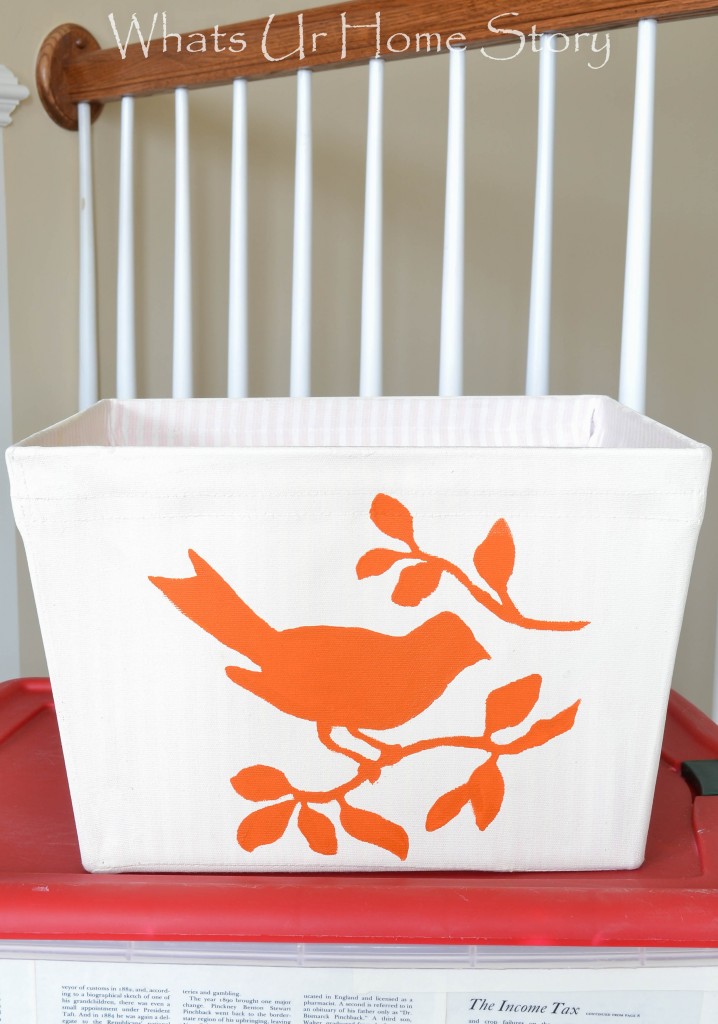 I'm so glad I could work with what I had and didn't have to shell out extra dough for new bins. Hmm….now this has got me thinking…maybe it is time to update the other bins in her room.
Have you used chalk paint on fabric before? How did it go?