Continuing from last week………..I'm knee deep in chair reno and I'm loving it. First of all let me say it out loud and clear. All this hoopla over Annie Sloan Chalk Paint (ASCP)! I get it…..now I get it! And you know what? It is one hundred percent true! It is sheer magic in a can! And the best part is you don't need to be rocket scientist to figure out how to use chalk paint! Really this is coming from someone who has ZERO prior experience in painting furniture. Painting this chair with ASCP was one of the easiest paint jobs I've ever done.
Don't let the name fool you, it is not chalk board paint. The 'chalk' in the name refers to the feel of the paint and the very fine dust that it forms if you sand it after painting. So here she is waiting for new fabric.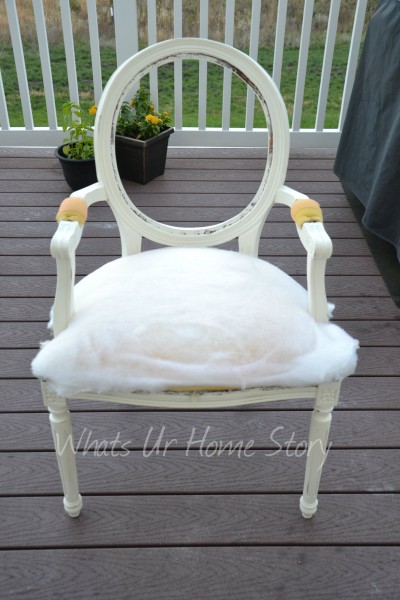 I think I've mentioned this earlier, with ASCP you don't have to sand or prime before painting. But all that (sometimes hurried / frustrated) staple pulling left its mark on the chair, uneven finishes and scruff marks. I was leaning towards sanding the chair to even out the scruffs when an ACSP veteran neighbor confirmed that she would also do the same. I just cut a 6×6 square out of 150 grit sandpaper sheet and gently sanded the uneven areas.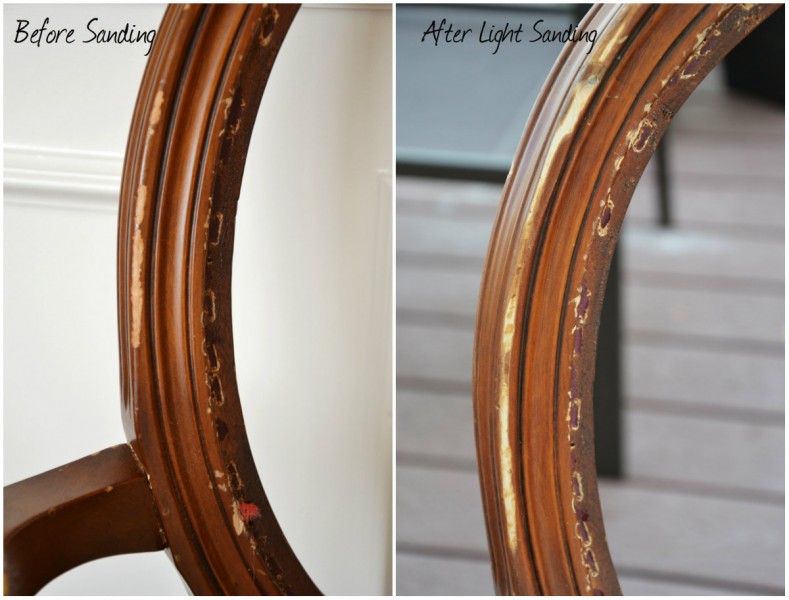 Wiped it down with a wet tissue, let it dry for half an hour, and started painting. I used a paintbrush from Home Depot.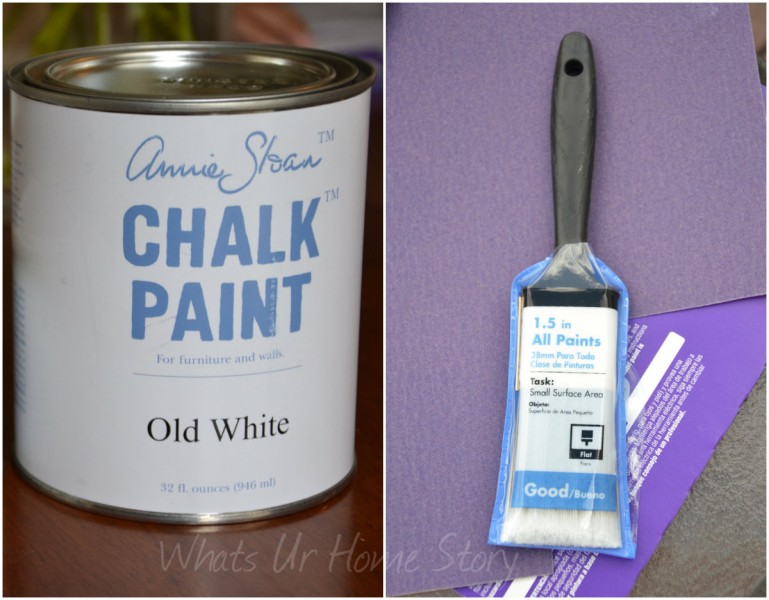 The paint is quite thick and goes on like a dream. The coverage is amazing.  If you are going for a rustic feel and like the look of brush strokes then you can stop with one coat.  This is how it will look after a coat.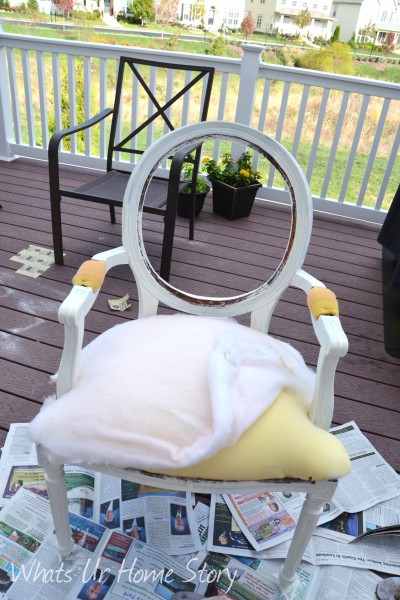 I wanted a more smoother look so went for a second round. You can see the difference in the two shots below. The paint dries super fast. So by the time I was done with the first coat I could go back and start the second one. In all took me half an hour to do the chair.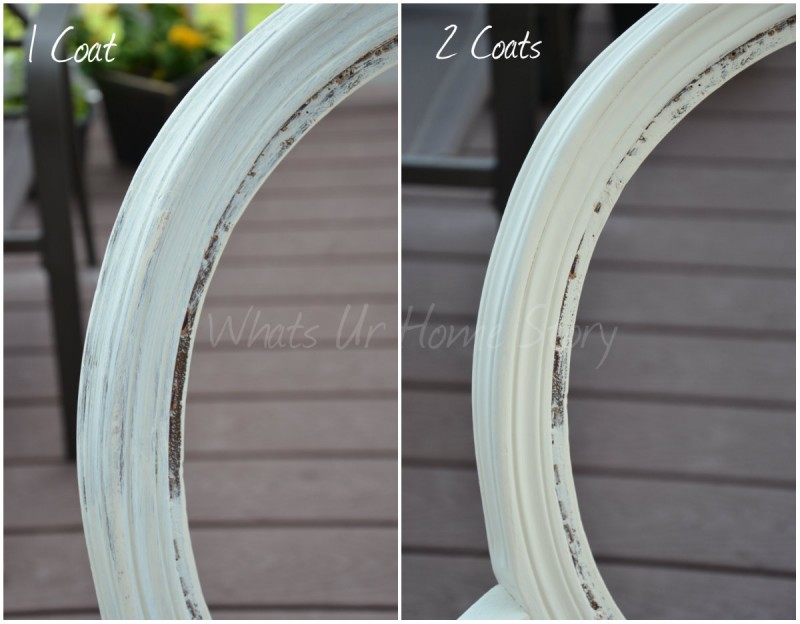 At this point the paint felt like a freshly painted chalkboard to touch. I let it dry for a day and moved on to the antiquing part.  I sanded it lightly using again a small square of 220 grit sand paper in places that would show some wear, like the handles, legs, the curves of the back etc.
True to its name the chalk dust flew like crazy. Kinda like when we had to use old fashioned dusters to wipe clean the chalkboard in school. I also sanded down a few areas where the paint had gone on quite thickly. Thankfully the chair didn't need much sanding so the dust was manageable. Again I wiped it down with a wet tissue and waited for it dry completely.
Time for the wax! This is one step that I was unsure of. Let me tell ya, you should not skip this one. Yes, the wax is expensive. I've seen bloggers use cheaper non Annie Sloan waxes and it seem to work. I did not want to take a chance so I went with Annie Sloan clear wax. The consistency of the wax is like Crisco, maybe a bit more thicker.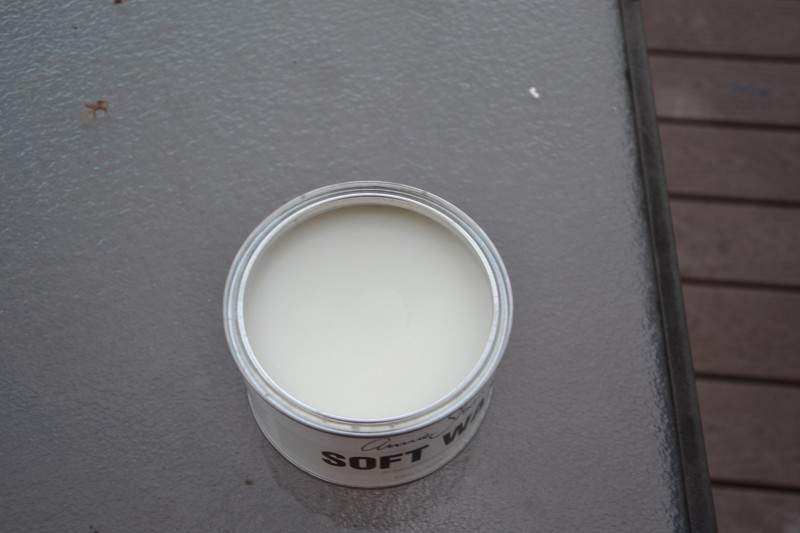 With waxing, always remember a little goes a long way. I read in one of the blogs (can't remember which one now) that the way you apply wax is like you would a moisturizing lotion. You apply a little and rub it into your skin.
Because of the small area, the curves, and the detail I used a microfiber rag to apply the wax. I applied a thin layer making sure to get it into all the nooks and crannies,  wiped off the excess, and after sometime buffed it in. The wax even made the antiquing details pop by lending them a richer color.
The paint soaked in the wax exactly like how the skin does a moisturizing lotion. The paint no longer felt like chalk. It felt really smooth to touch.
A close up of the antiquing details;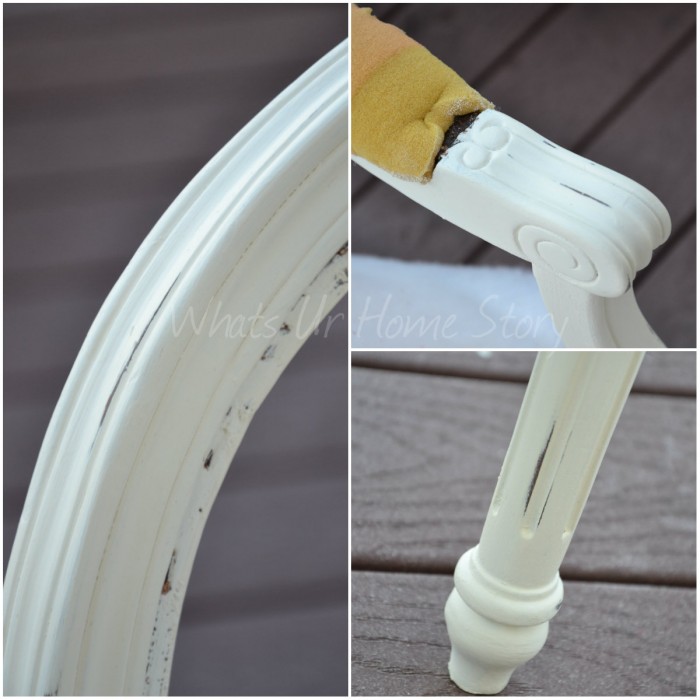 So that's how my ASCP adventure ended. Now gotta order the fabric.
Have you tried repainting furniture? How did it go?
PS: More updates on the chair story here: Part I, Part III, Finale