Today I would love to show you my friend Kalyani's WUHS inspired water garden. Before that let me tell you a bit more about her.
You know, we've never met! We got to know each other through an online parenting forum for '2003 borns' on the website, Indiaparenting. We were a group of young mommy-to-bes who were all expecting their babies around the same time. Got to admit, I was just a lurker for the first year or two. But then slowly started becoming active and I'm glad I did. Sitting in different corners of the world we went through our years as first time parents, sharing our doubts, fears, and triumphs in child rearing. I think around 2009 or so the group disbanded. I guess growing kids and family responsibilities do a take a toll! Most of us still try to keep in touch via a Facebook group.
Back to Kalyani. She has a blog, Sassy's Boutique where she shares the jewelry she makes in her free time. After seeing how easy it was to make a water garden she set out to make one in her screened in patio in Florida.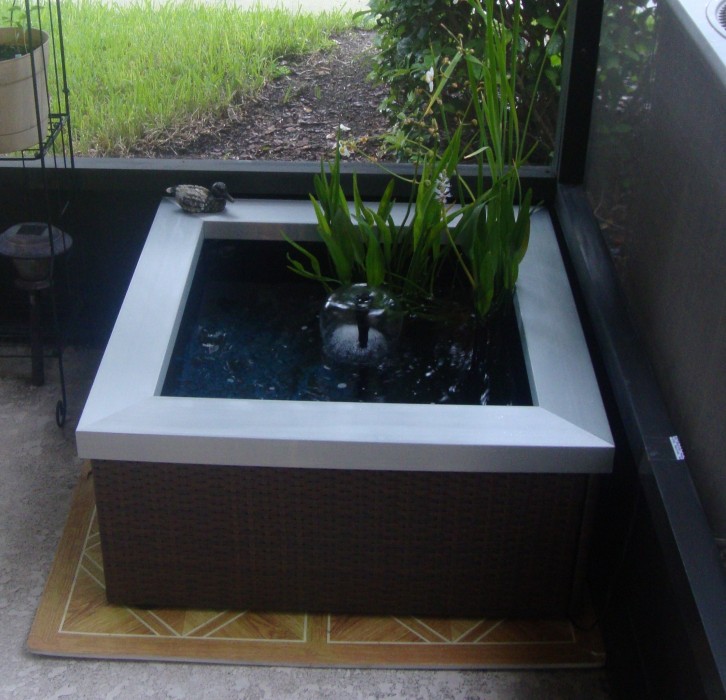 She bought the container from Lowes on sale for $79 (reg price $149, by the way it is still on sale).  With the help of her aquarium expert brother she set it up with a water fountain. According to her, "The fountain has a sponge inside which filters the dirt. Cleaning the pond is easy. There is a plug inside near the bottom of the pond liner. You just have to open the plug and all the water drains out. You then have to fill it again."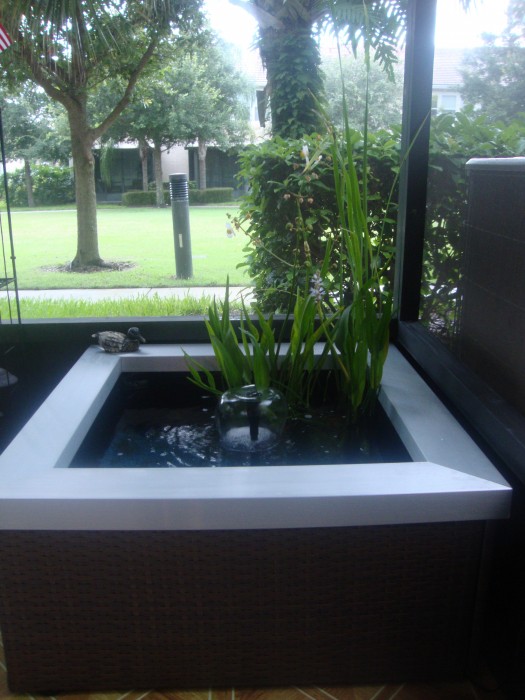 She also added plants like the arrowhead and Pontederia cordata or pickerel weed to the garden.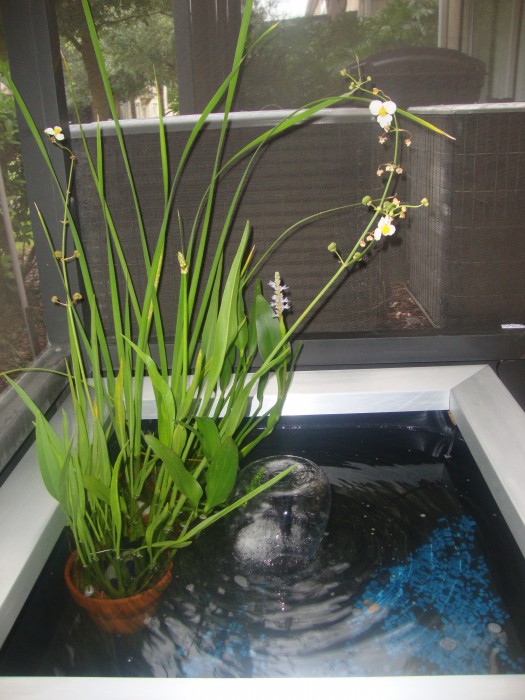 It seems after a month or so both the plants died. So for now she has a water lily and some artificial plants in there along with 3 goldfishes.
She plans to add floaters and other water plants soon. Ah, the joy of living in Florida! She can have a water garden all year round!
So what do you think? I'm totally digging the container. What a find! Really like the style and the price tag though is on the higher end makes sense for someone who can have the water garden year round. I love it when you guys add your own touches to a project and when it turns to be way cooler than inspiration one.
Do you have a project/room makeover/ decorating ideas to share? Please send in the pics to [email protected].