Yay! She is all done!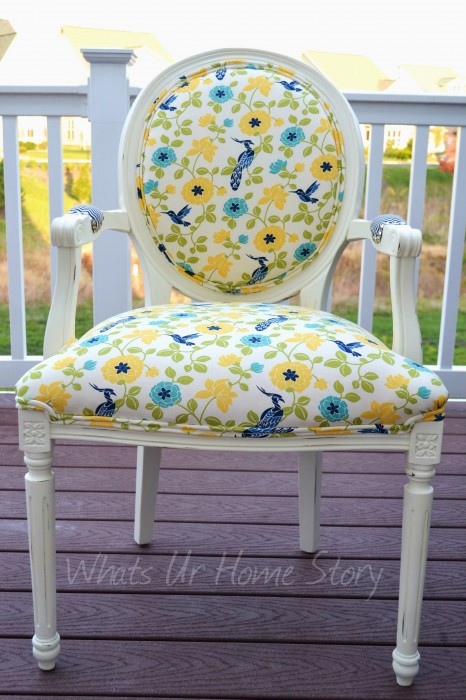 The back view;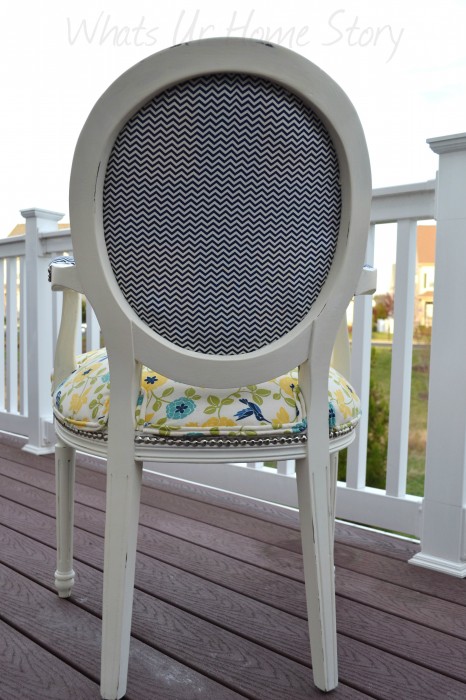 Just to refresh your memory, she was a $20 Craigslist find and this what she looked like.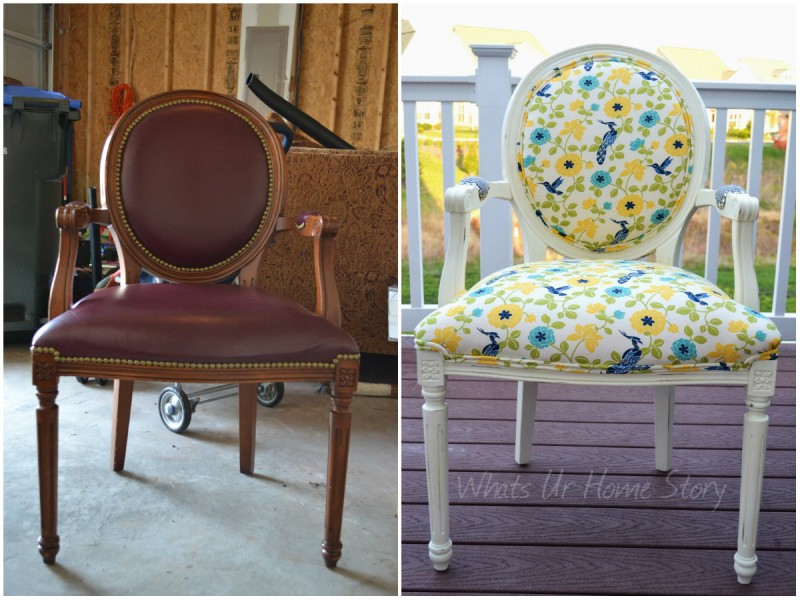 First I prepped the chair for the makeover aka. removed the nail head trim, the staples, and the upholstery. Then I gave it an antique paint finish with Annie Sloan chalk paint. Last week I showed you how I re-upholstered the back rest.
For the seat cushion, I followed this tutorial from Design Intervention. The only thing I would like to add is don't cut the triangles for the corners of the seat cushion ahead of time (from the template). Lay the fabric on the chair and then cut the triangles. I cut the triangles ahead of time and when I laid it on the seat the corners did not match. I had such a hard time trying to align them. There were even some gaps which were luckily covered by the double welt cording (I'll show you how to make the cord in the next post or so).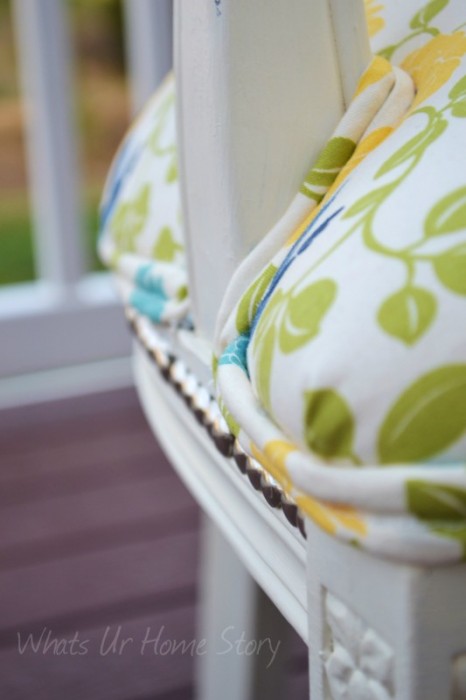 I had planned on using nail head trim throughout like in the original version. But soon realized that it wouldn't work! Whoever had upholstered the chair earlier had no clue of what they were doing! On the sides and the back they had stapled the upholstery all the way down into the wood (where the nail head trim is now)! You can see it better in this shot.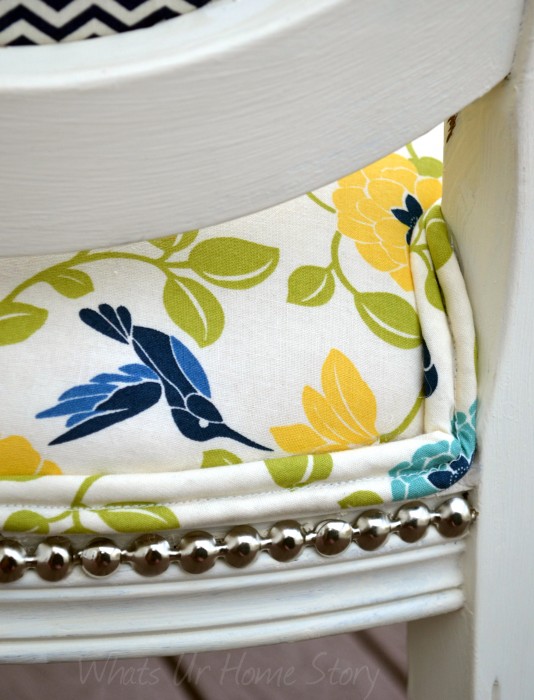 The staples should have ended where the raw wood was (where the cording is) instead they were where the nail head trim is now. There was no way I could have used two layers of nail head trim! Why did I even think that this would be an easy project? Don't I have a history of running into issues midway? Anyways Plan B was to make the double welt cord (tutorial coming up soon). I would need a better sewing machine for that! Long story short I got a new sewing machine, a Brother XL2600I
! And I love it! 🙂
So I used the welt cord to cover up the staples and the nail head trim (which by the way is super easy, you have to hammer in only every fourth one) to hide their mess.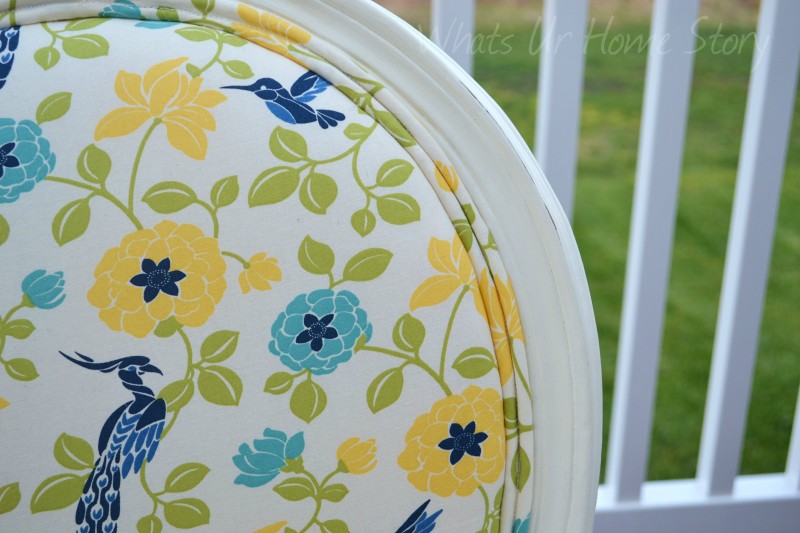 For a sewing novice, nailing that double welt cord was such a huge 'Eureka moment'!
For my first chair makeover, I'm totally happy with how it turned out!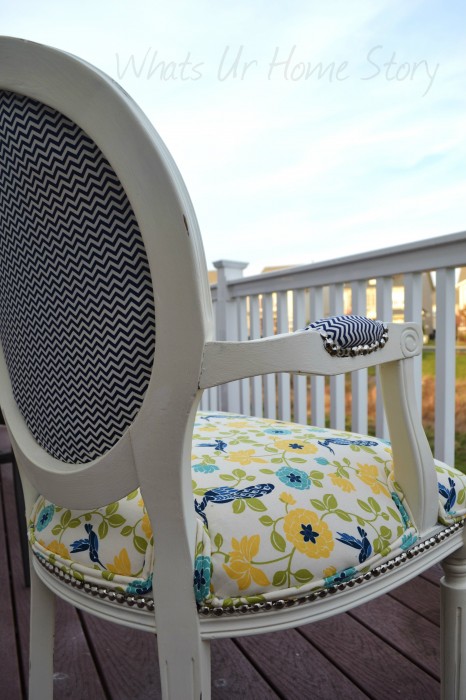 What do you think?
Source Details
Annie Sloan Paint & wax
– $10
(I might have used an eight of the paint and a smidge of the wax. So I'm guessing $10 worth of those.)
Nail head trim – $9.99 – JoAnn's (was $19.99, used a 50% off coupon) Cording – $3.59 – JoAnn's Bird Fabric -$13.98 for 2 yards on sale- JoAnn's Chevron Fabric – $2.99 for 0.5 yards on sale -JoAnn's Chair -$20 – Craigslist  
Total :$61
PS: Want to read more about the chair story? Here: Part I, Part II, Part III