A big shout out to all of you who chimed in on the chair survey. Man, do we have a divided house or what? Will give it a few more days so that the rest of the readers can catch up but the majority is leaning towards navy. A close second, "keep it as it is", which took me by surprise! A lot of you also commented, actually literally everyone one who commented here, on Facebook, and Instagram suggested white. I know, that would have been my first instinct too but after 3 furniture makeovers in white (chair, dresser, breakfast table) I'm ready for a change. Plus with the cream shag rug in the family room I'm not sure how adding more white will look in that space. I think I might end up getting quite a few sample bottles!
Now onto Mala's DIY Tufted Headboard.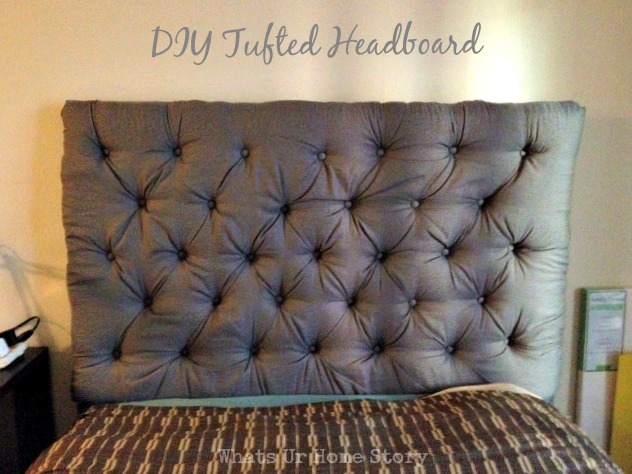 Isn't she quite a talented lady? Of all the projects that she has shared here (bamboo skewer mirror, IKEA planter hacks, water garden) I like this one the best!
Sorry no mid project pictures or detailed how to but she did say that she relied on these tutorials from Little Green Notebook & Schue Love. In her own words, "I used mattress toppers for the foam and the zip tie method to hold the tufts. My borrowed staple gun was not very easy to use as you can see from my corners ;)). I added two wooden posts from old crates to the back of the headboard to serve as legs and leaned it against the wall or jammed it between the wall and mattress. I did not take any in process pictures and I have to say it was not an easy one person job."
You did a great job, Mala! Don't you think all that effort was totally worth it? Have you DIY'd headboards before? Was it hard?