Recently every pic that I've shown you of our family room has been of the fireplace and the sectional. The last time I posted pics of the floating shelves was in Feb. Now when I go back to that post or for that matter any pre-DSLR post, I kinda cringe at the quality of the pics. The point and shoot did work for me back then but now all the pics kinda look cloudy and unfocused.
So when I took updated pics of the living and family room I took a few shots of the floating shelves too. Plus I just now realized that I never gave you the scoop on the accessories.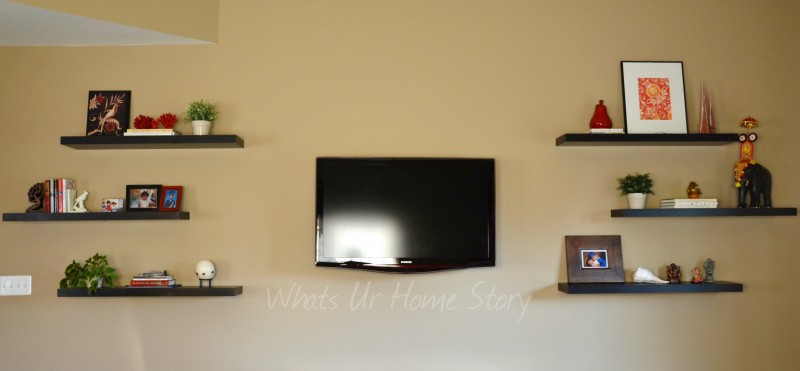 A close up of the right side. Here's how you hang the IKEA LACK floating shelves.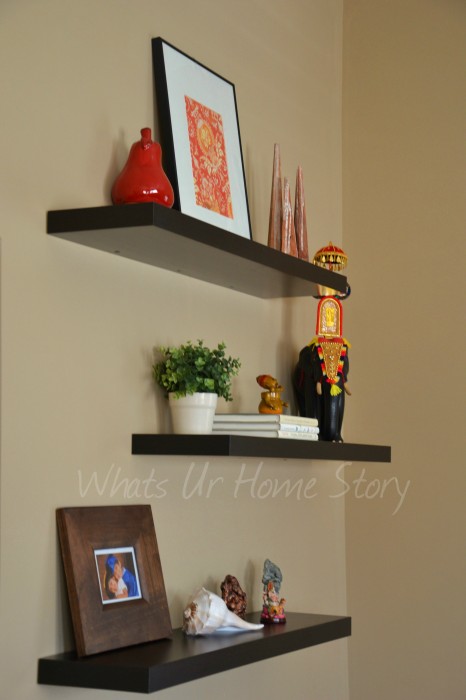 The red pear is from Home Goods. The orange art was my very first thrift store project. Next to it are the Thrikkakara appans that we use for our traditional festivities for Onam.
On the second row  is a fake IKEA plant, some books, a Ganesha from my collection, and a Kerala elephant figurine adorned with all the traditional finery. My home state in India, Kerala, is one of the few places in the world where elephants are kept as pets. Yes, you heard that right as pets. They are equally revered and prized by the whole population. You could compare them to how the West thinks of well bred horses. Elephants enjoy the same stature back home. As you may have guessed yes, I do have  a thing for elephants but I'm gonna keep that for another post.
On the last shelf is of course a pic of the kids, a sea shell from my parents' vacation which I've used here, and more Ganeshas.
Now for the left.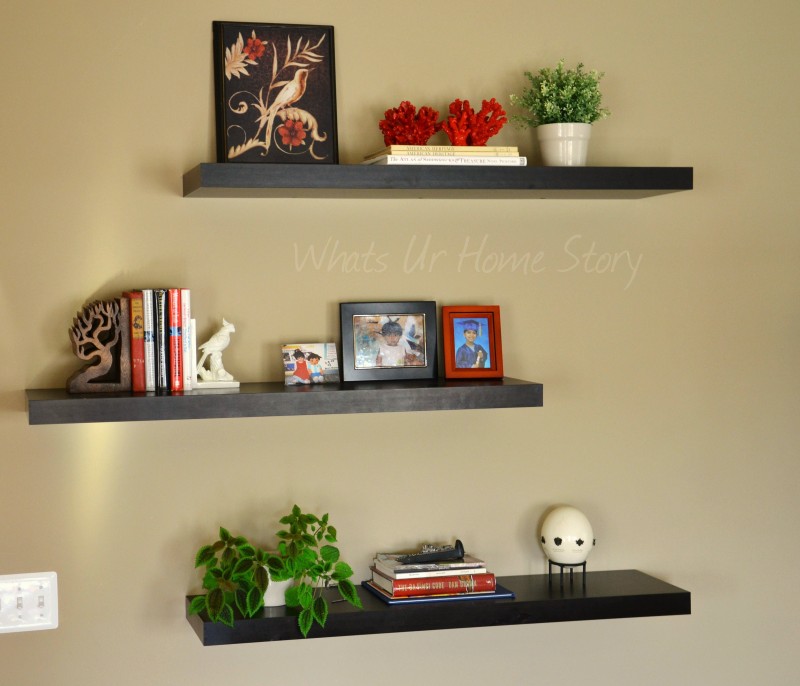 The bird pic is from Marshalls and might be a good 6-7 yrs old. My faux corals made with polymer clay and Walmart aquarium coral bring in the red punch to this side. They sit on thrift store hardcovers. More fake greenery from IKEA. On the middle shelf are bookends from Home Goods, some old books, and photos. I intentionally didn't pick matching bookends. I feel that this gives it a more eclectic feel. On the lowest shelf is a friendship plant (which by the way is real) from Home Depot, more books, a railroad nail that we got at Cracker Barrel back in 2000, and an ostrich egg, my aunt's vacation find from South Africa.
Another zoomed out view from the side;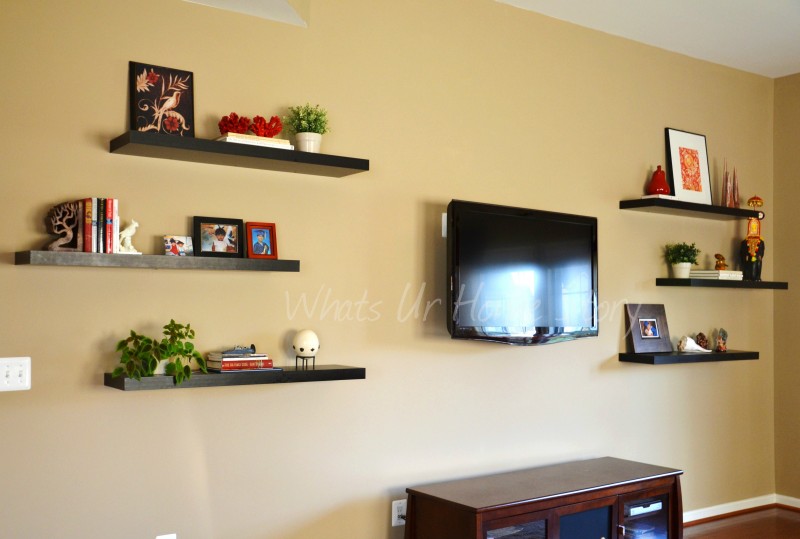 Ok, notice something odd? I haven't used a single shot where you get the full view of our TV console. 🙂 It is way too small for the space. It is from our days in the apartment after the move. We badly want to replace it but can't seem to find the right one. Do you have any recommendations in mind? We need something bigger, i.e. taller and wider, more substantial. Maybe Restoration Hardware-ish? Please please let me know if you come across one.
I guess you need to see how to looks to know what might work in the space. Please ignore the messy insides of the console. We totally believe in keeping it real around here. 😉 You can also get a peek at our hallway, a space that I have yet to share here.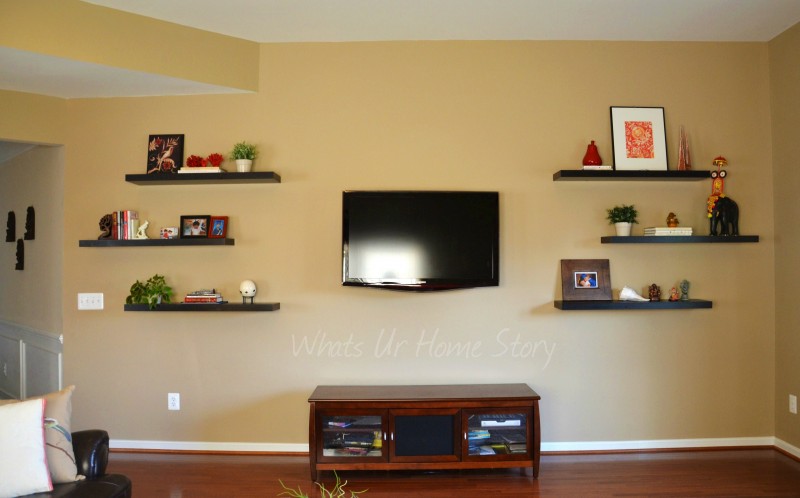 Way too small for the space! Don't you agree? We've since changed that media console out for this reclaimed wood buffet.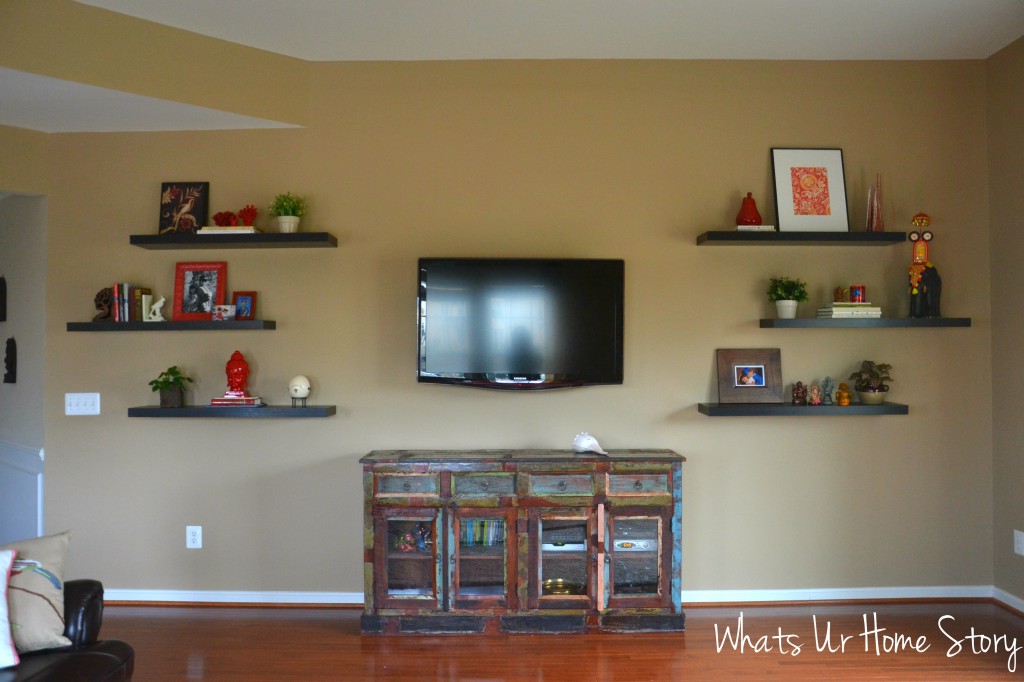 Also we loved the look so much that we ended up using them for our son's room.