How have y'all been doing? Schools are back in session for us and we are slowly getting back on track with our schedule. In the meantime I managed to squeeze in a few updates to our upstairs guest bedroom. With this new addition I can now heave a sigh of relief that the room is 80% done (nothing is 100% done around here so this is great)! Come on in, let me show you what I'm talking about.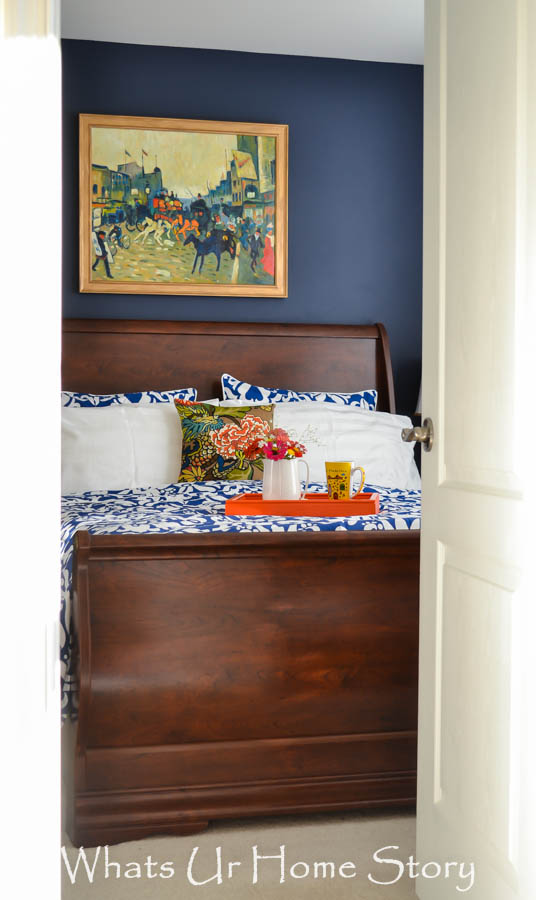 Did you spot my fabulous painting from Arts Heaven?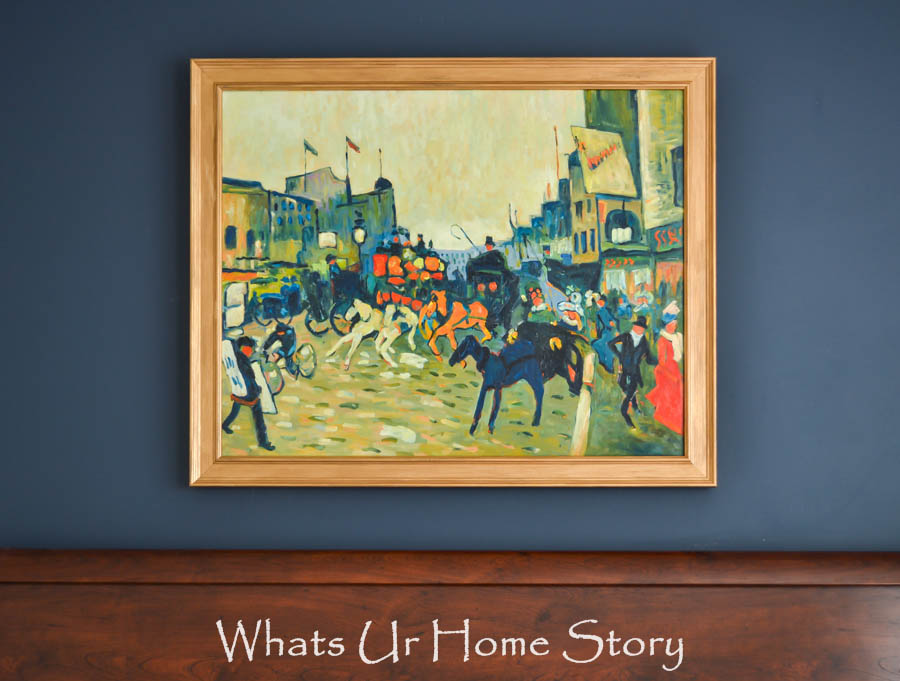 It is an oil painting reproduction of Andre Derain's Regency Street, London. Arts Heaven provides museum quality oil painting reproductions hand-painted by talented artists who showcase the same brilliance, attention to detail, and artistic movement as the originals. And the best part for me is their long list of products available for you to order.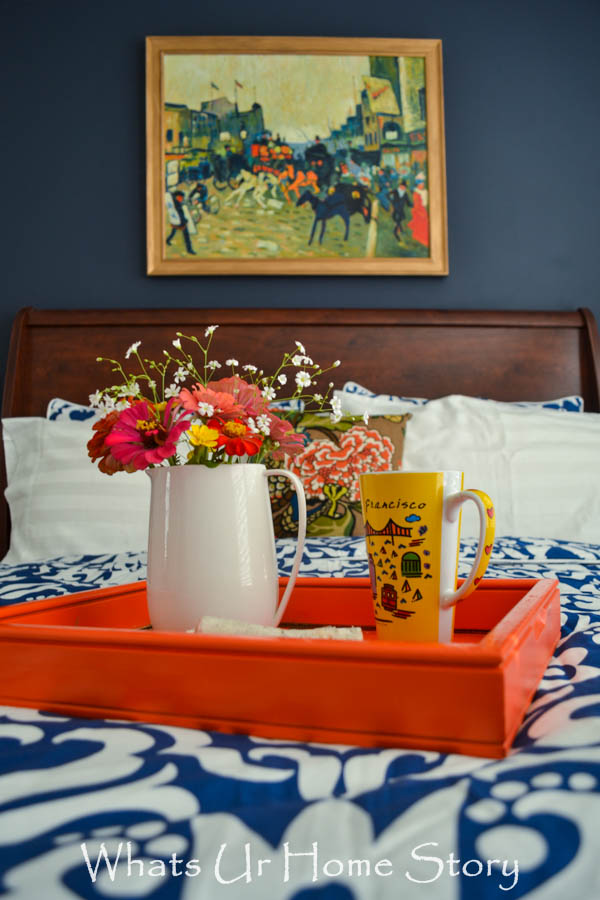 Have you ever seen the selection of available oil painting reproductions at your local home decor stores and wondered why they all carry the same paintings?  Yes, I do get that these are famous paintings by famous artists but most of them are also available as reprints and are so ubiquitous that they border on being generic. What is the fun in having the same painting as the one that you see at every doctor's office even if yours is an actual painting vs. print? I picked this particular painting 'coz I like Derain's style and it is not the usual stuff that you get to see everywhere. The fact that it mirrored my color scheme for the room was a big plus. Don't know how to frame a canvas painting? No worries here's my tutorial.
Can you spot another quickie update in the room?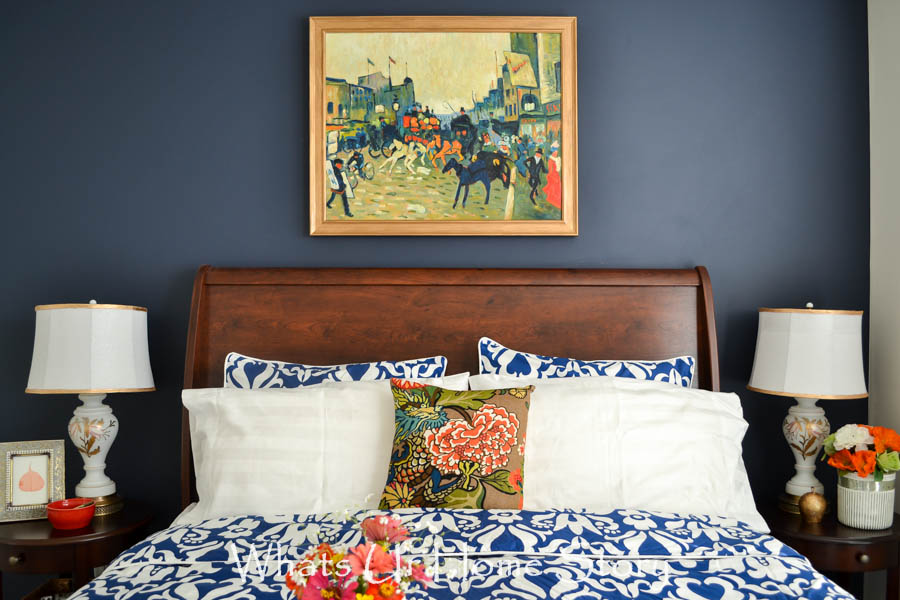 Yup, those lamp shades….they got some Gold gilding going on there. I also gilded the painting frame.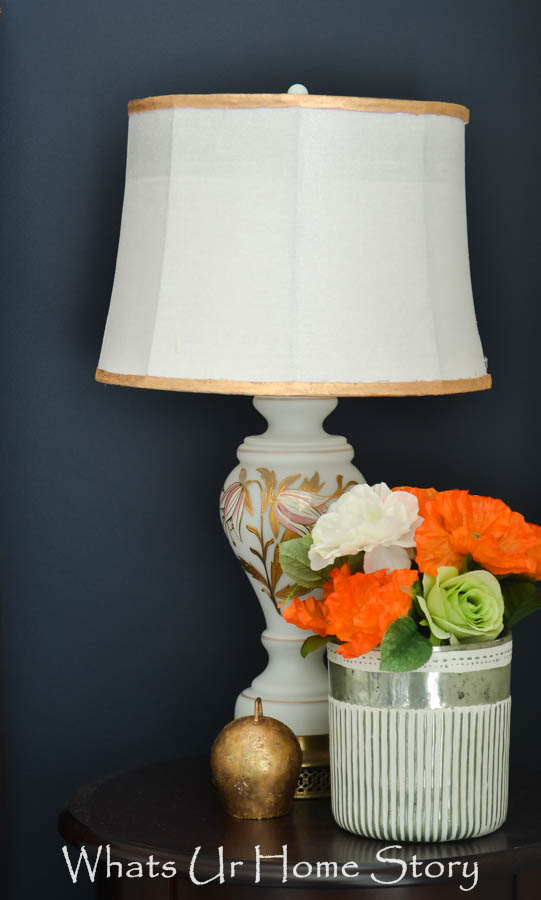 Forgot to tell  ya, the canvas came un-stretched rolled in a tube, by the way very well packed, and I stretched it myself. Oh yeah saved $$$ by DIYing it. Nope not gonna go to the framing store anymore. Here's the video tutorial on that one.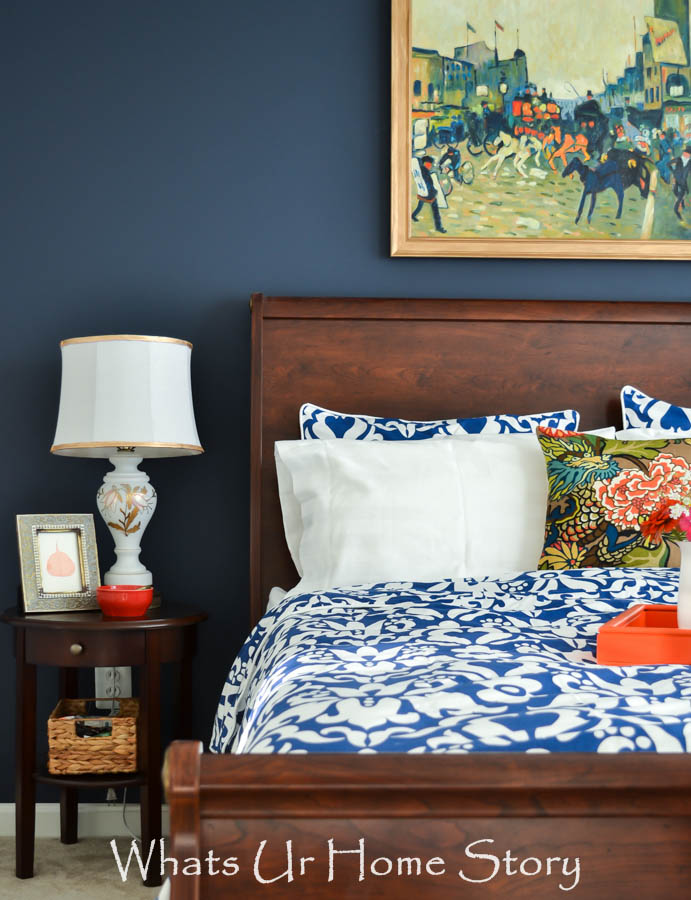 You may remember the coral tray from this wave tray post and the navy bedding from here. The flowers are from my garden.  Paint color-is Sherwin Williams Naval matched to Behr at Home Depot.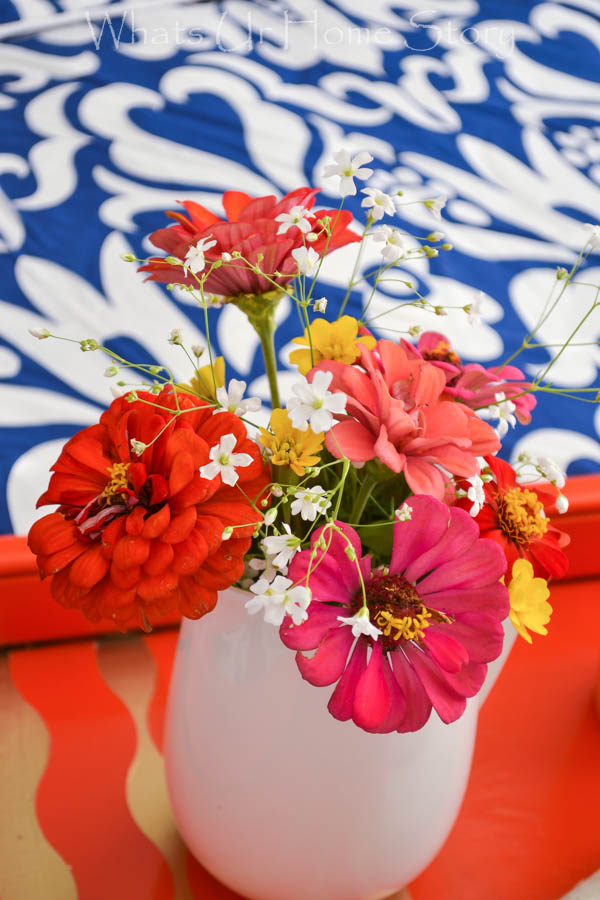 Oh and the frame for the painting that also involved some DIY. I'm so happy how this room turned out.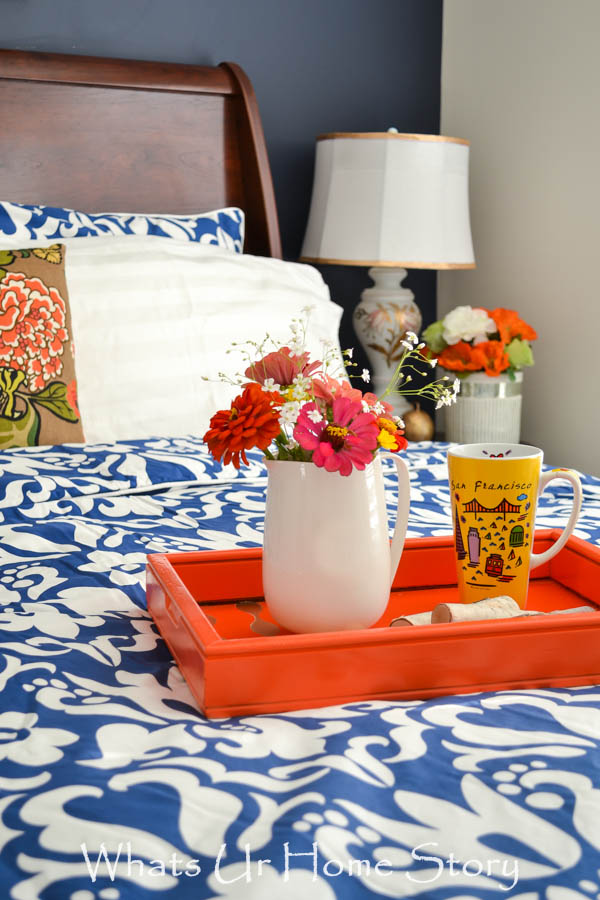 I've since updated the other side of the room adding a navy and coral dresser and pom pom curtains that I made from a bed sheet.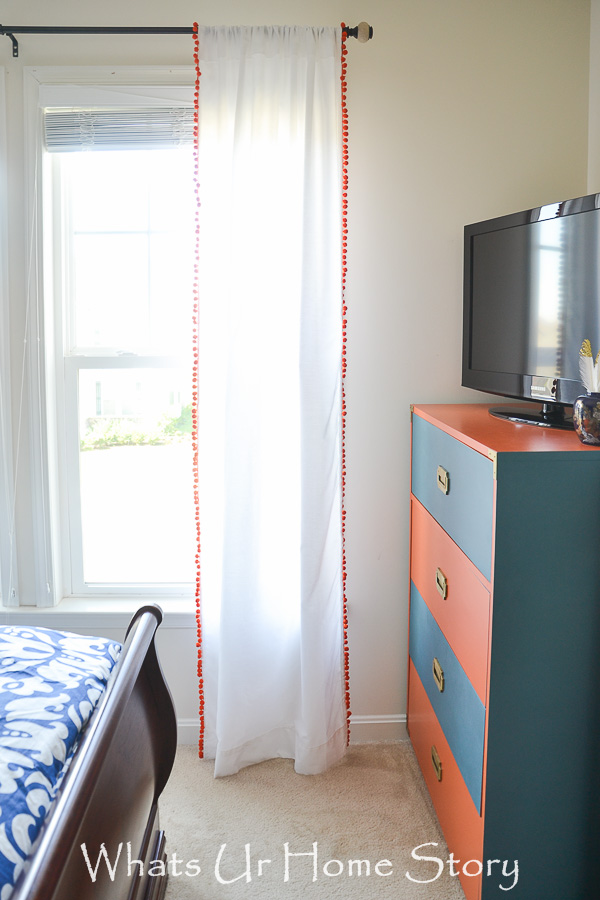 Got to sneak in one last shot of the room.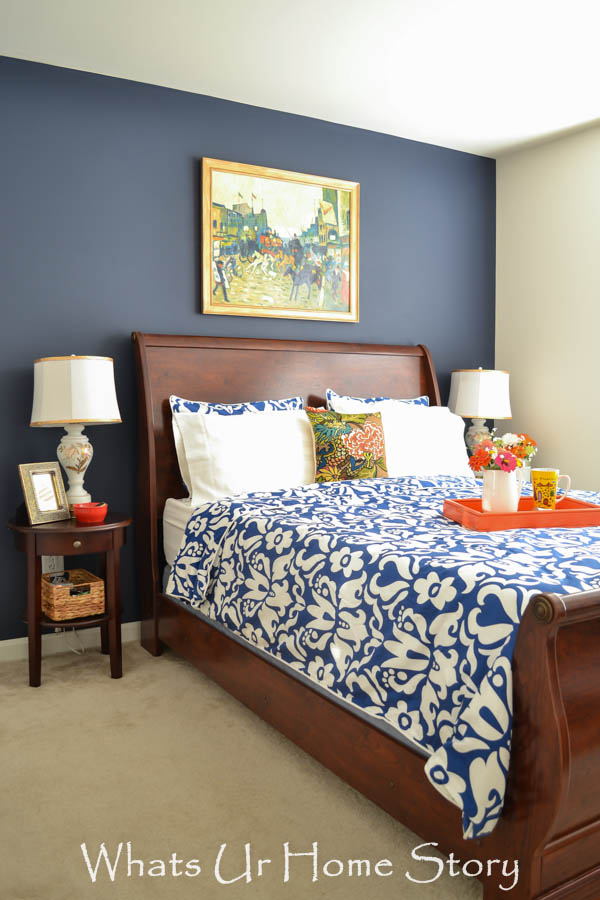 Wait one more through my tile mirror.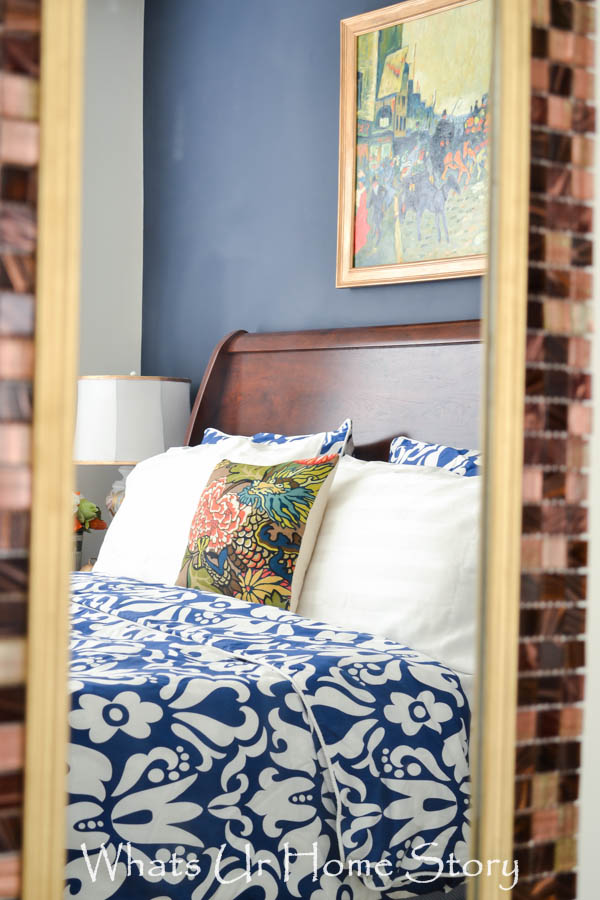 Can you say I'm obsessed with this color combo? 😉
Arts Heaven provided me with the painting you see in this post.  All opinions are my own.