Remember the Navy and Coral game plan for the upstairs guest bedroom? The room is gradually taking shape, piece by piece. The process has been so drawn out that I hadn't planned on doing a reveal until a few weeks down the line. But then I picked up my new Crane and Canopy bedding and things started to fall in place as if by magic. Really, the Montgomery Blue duvet set makes the room. Don't you agree?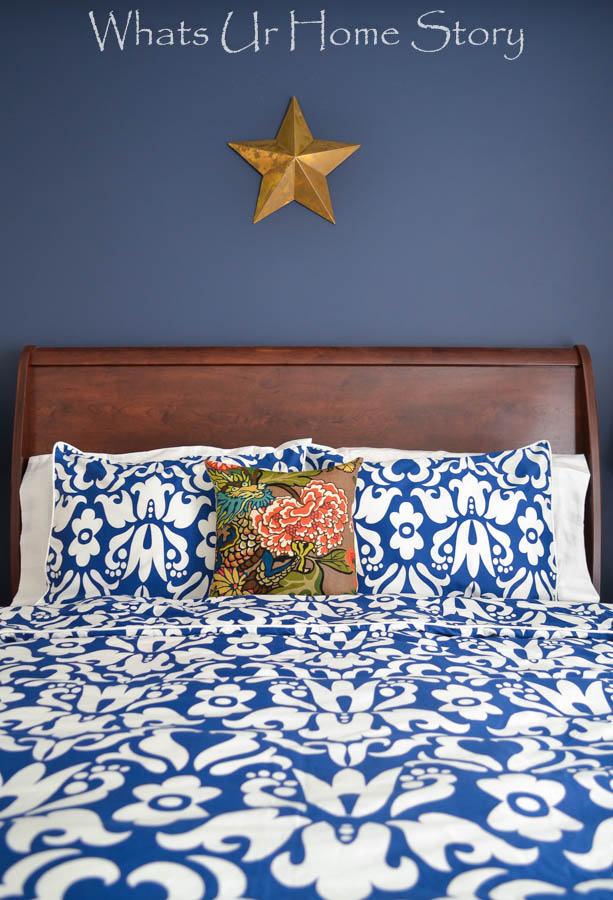 The room is still a work in progress by all means; especially that star over the bed. It is a placeholder for a really cool project that I'm working on. 😉 On a side note, I've been dying to use that star somewhere ever since I scored it at Walmart for $4 two Christmas' ago.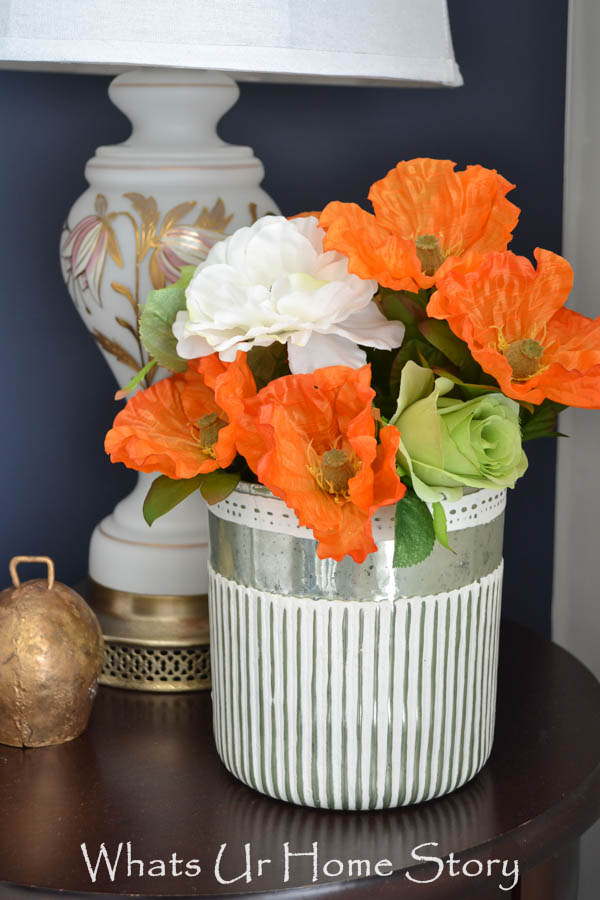 I've got to admit that I started using duvets only recently. I used to be the "get a comforter and be done" kinda girl but once I discovered how versatile duvets can be both in terms of style and usefulness (just take the cover out and throw in the washer instead of trying to fit the entire comforter in every single time) I was willing to try more. With this luxurious extra-long staple cotton 300 thread count set woven in a cotton sateen I was sold! Not just me the hard to impress hubby too.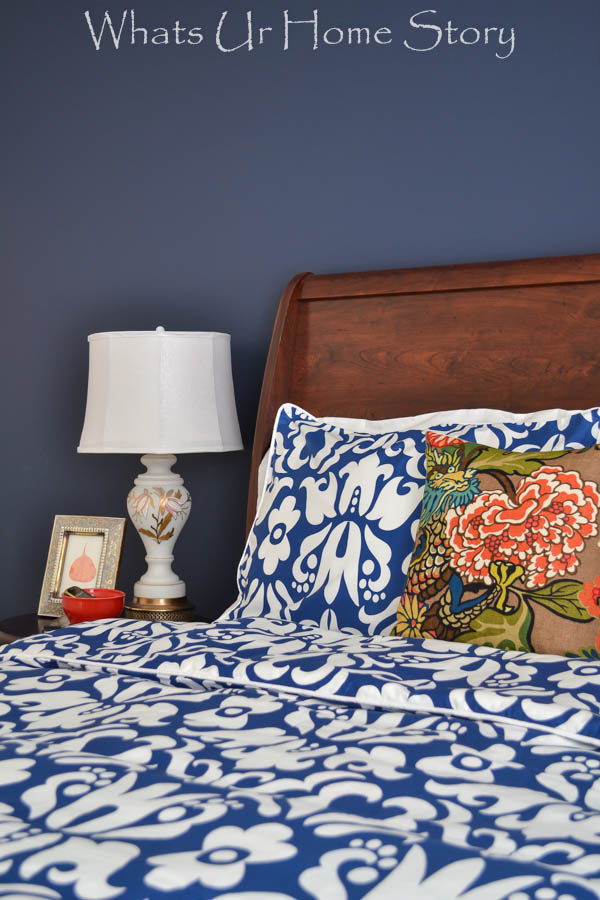 You can tell the difference in quality the moment you feel the fabric. The other duvet I have from a well known designer store doesn't even come close. I think it is because Crane & Canopy works differently from the traditional designer bedding brands in that they cut the middleman out of the process thereby delivering original designer bedding to the customer without the department store markup. Another great thing about them is that a portion of all proceeds go towards Crane & Canopy's cause initiative, "A Safe Night's Sleep," which benefits women and children affected by domestic violence. To me, what sealed the deal on the bedding and the eventual room decor was their design.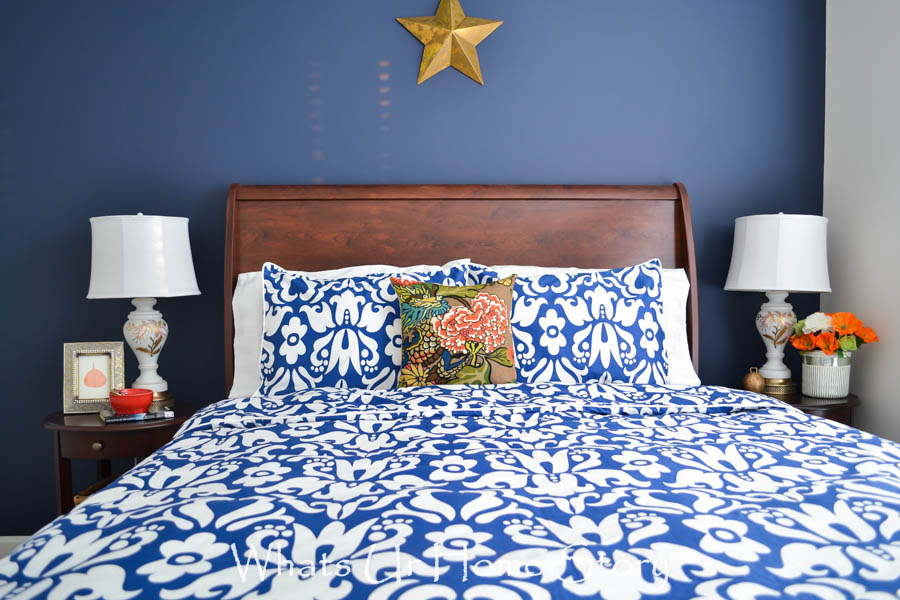 I had a tough time choosing between this one, the Piper Blue, and the Valencia Slate Blue Pintuck.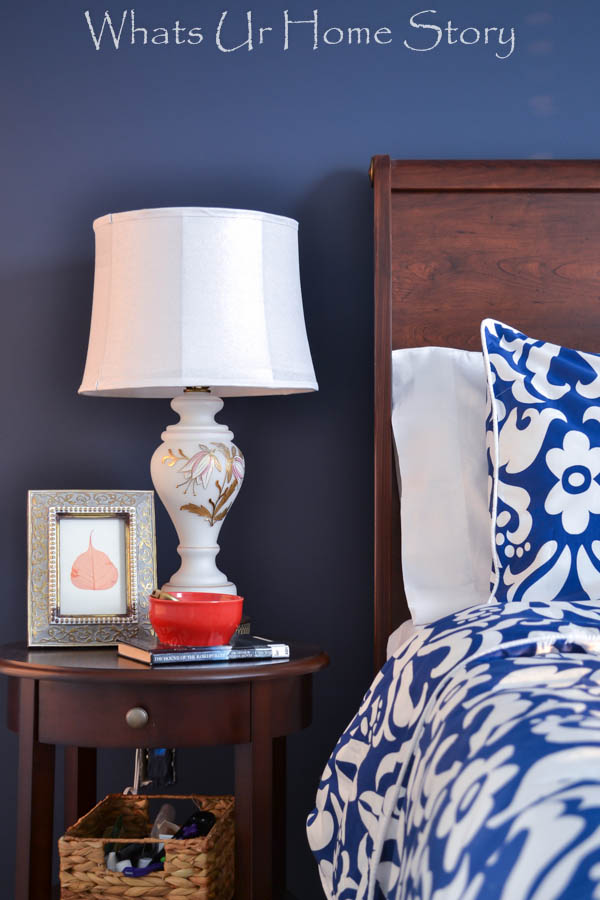 Oops, just realized that I forgot to put the switch plate back up (behind the side table) after painting!
In other news anyone noticed the Chiang Mai Dragon pillow? After reading my post about the fabric a dear friend ordered the swatch for me in Mocha! Thank you Anu! Did ya know, that is a DIY zipper pillow? Oh yes, I sewed a zipper on for the first time in my life! And it was so easy that I'm not going back to envelope pillows again, ever again. I sewed that pillow in 30 minutes.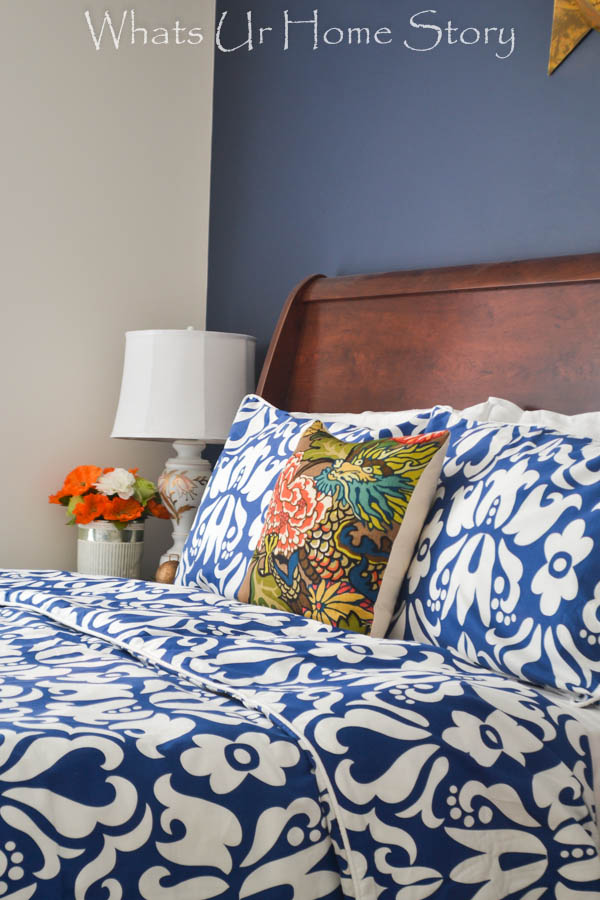 The above shot is a reflection of that side through my DIY tile mirror. Cool, huh?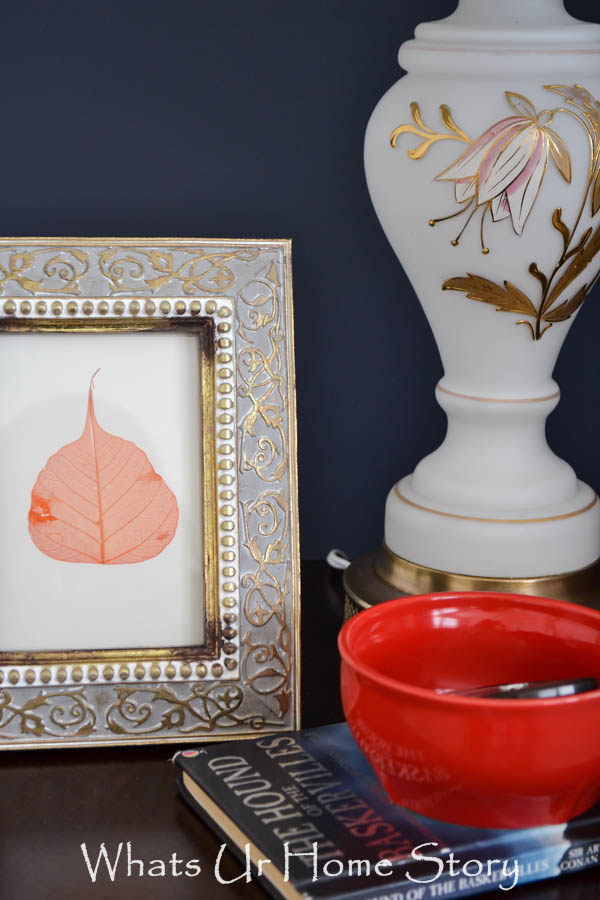 Oh, the lamps are a Craigslist score, will tell you more later. I want to do something to the shades but can't seem to decide what. What do you think? Don't they look plain? There is more coral coming to the room via "above the bed" decor and maybe a dresser.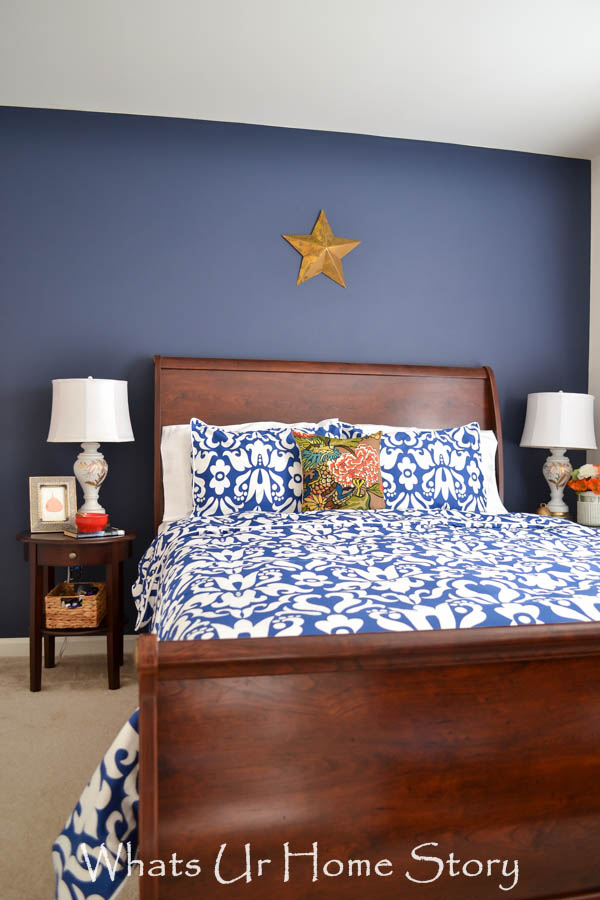 Stay tuned for more updates on the room. Wait, I totally forgot to tell you about the accent wall paint color- Sherwin Williams Naval matched to Behr at Home Depot. Yay, Navy my new favorite color!
Update: See the final look of the room here.
 Crane and Canopy provided me with the duvet and pillow shams you see in this post.  All opinions are my own.