Before we begin I have to say this post wouldn't have been possible if not for my friend Jennifer's, from the Brave New Home blog, excellent research skills. In fact she was the one who found this great source out and blogged about it first. Now, thanks to Jennifer I have my very own piece of Schumacher magic!
The Chiang Mai Dragon print from F. Schumacher has been doing the rounds of  the designing world for a few years now. It is even safe to assume that the pros might have become tired of it 'coz it was that popular. But for the rest of us, not so much. If this is the first time you are hearing about Schumacher (other than Formula 1 racer) or Chiang Mai Dragon then no worries, I was in the same boat till I got on Pinterest. Isn't that where we all go awry?
So, one day I was looking at all the pretty pictures on Pinterest ignoring the huge piles of laundry spilling out of the laundry room and I saw this little darling of a pillow pillows.
A quick image search and some Etsy pillow listings later I knew the fabric was called the Chiang Mai Dragon and that everyone was raving about it. No matter how messy my home was or how big the stack of dirty dishes were in the sink, I spent the next few hours on Google trying to find a way to buy this "had to have" print. Every search turned up results of pillows for $80, $90, all the way up to $200! By the yard for $165/yd and that too you had to buy at least 2 yards!
Enter the lady in shining armor, Jennifer! She found out this website, insidefabric.com, where you can order a swatch of the fabric for $5 with free shipping. Mind you this is not your average swatch, the size is a whopping 17 x 17! Perfect for a throw pillow! Yay!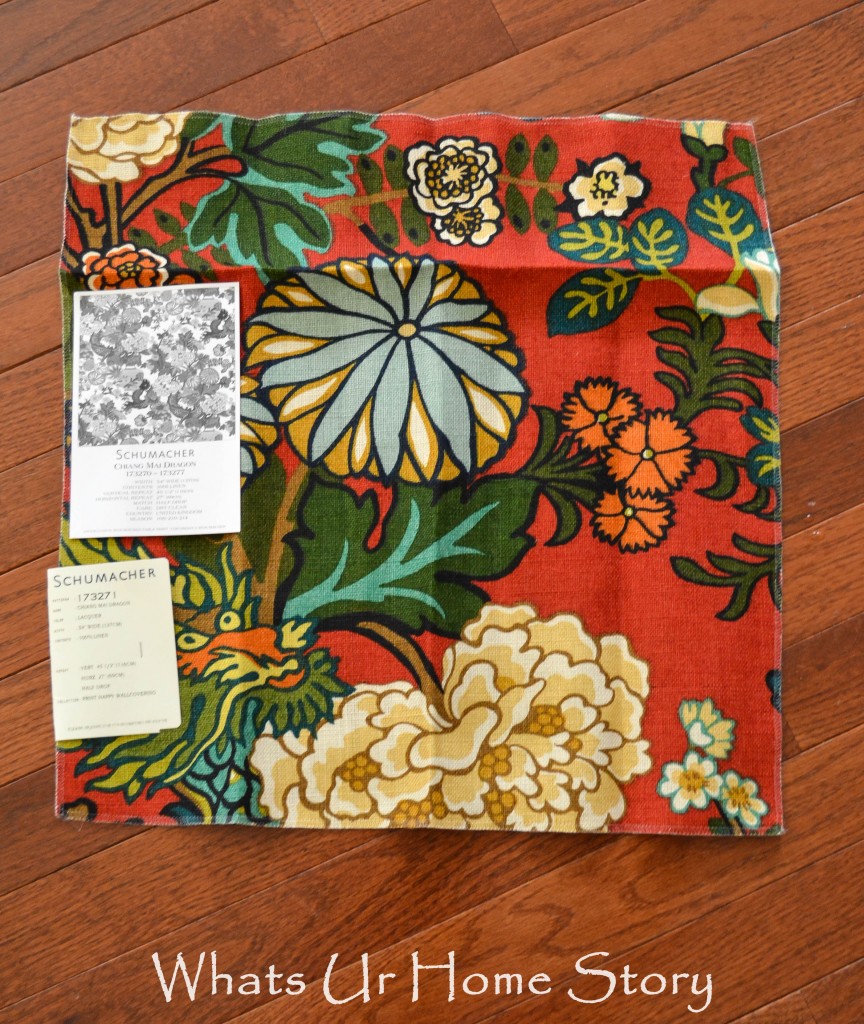 I even managed to snag the head of the dragon on my Lacquer colored swatch. When the print is so large most often (i.e. on many pillows available on Etsy for sale) it is very difficult to get the dragon either in whole or part on it. So I 'm really thrilled that I got at least his head on mine!
They do include a disclaimer that the swatch might not be perfect which was the case with Jennifer's (her's had 3 big grommets in them). The exact wording, "Our swatch is a memo sample ranging from 4 " x 6″ to 12″ x 18″ in size. The sizes are cut randomly.  We are unable to order specific sizes. " So in effect you are taking a risk but at $5 I thought I might as well. And it paid off! Now to make it into a throw pillow! Make that 2, I sooo…want the same print in Mocha! 😉
Now let's here your tips on finding expensive designer fabric on the cheap. Come on, spill the beans…….