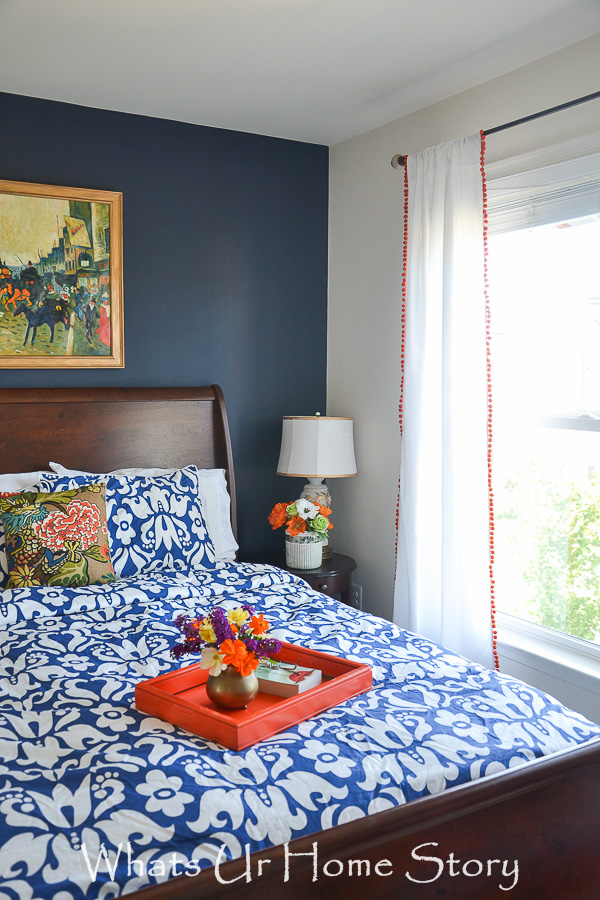 Yes, yes, yes I finally made them, DIY Pom pom curtains and that too in deep coral. To top it off I made them out of flat sheets!!! Now I can call the Navy & Coral guest room done!!! Woo hoo!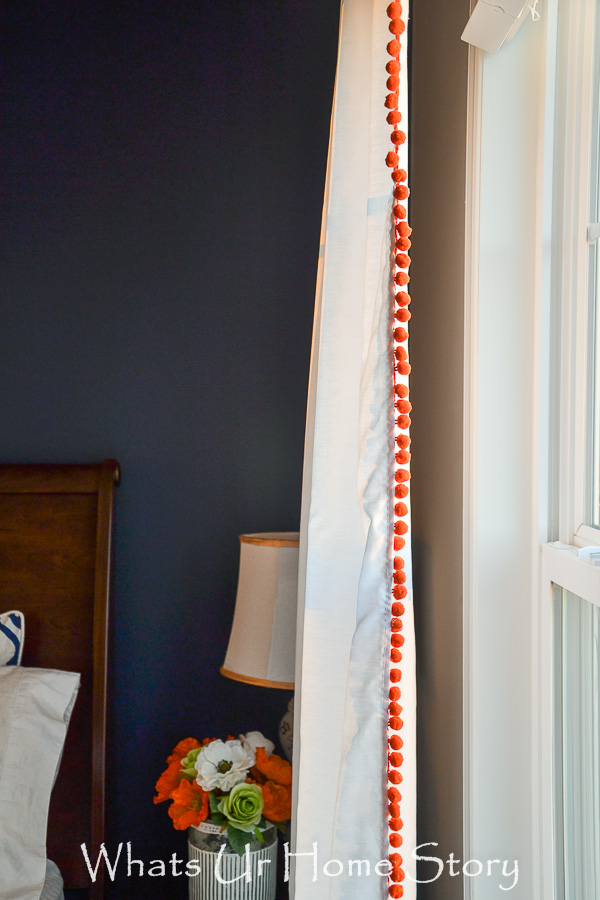 Though these curtains are super easy to make this little project had its fair share of troubles. By now you know to expect that whenever I'm working on something, right?
The plan was to finish these before I went on vacation to India in mid July. In the midst of all the trip shopping I managed to grab the supplies only to come home and realize that I had picked up 1 Twin Flat sheet and 1 Twin Fitted sheet! Off to the store I went to exchange my fitted sheet for a flat but to my surprise they were out of Twin white flat sheets!!! Finishing this project ASAP was on my list so I moved onto Plan B, a Full Flat sheet cut in half. That worked till I measured the ribbon out. And what do you know, my 3 rolls were not enough! I bought 2 more rolls in the hopes that it would be enough. You see, the original plan was to have only 1 pom pom fringe edge. But then again the clumsy brained moi glued the ribbon to the opposite end on one of the panels. Too late to rip it out now so I switched to Plan C. Pom pom fringe on either side. Thankfully third time was the charm!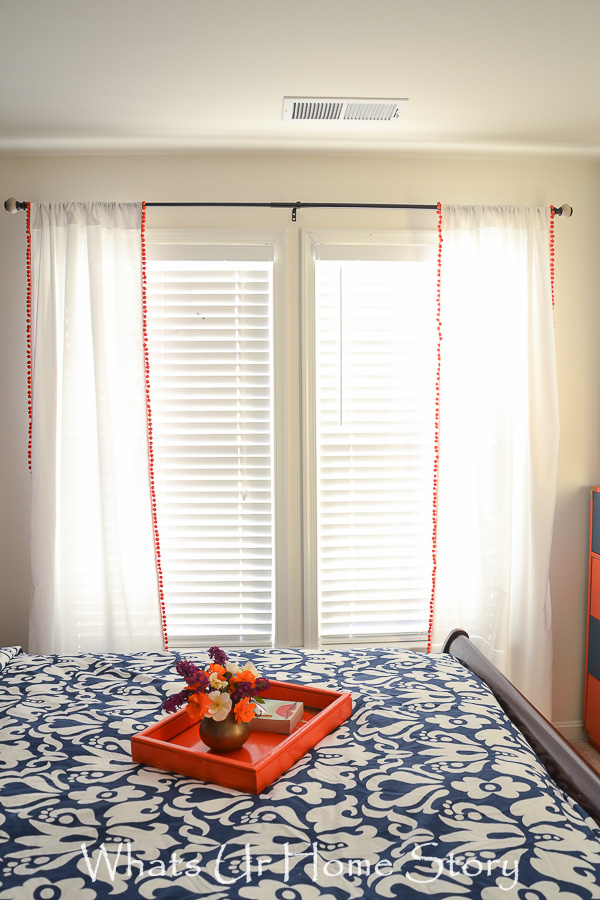 Frankly I like it so much better with the fringe on both sides as they tend to break up the white of the curtains and the wall. Happy accidents I tell ya.
These pom pom curtains usually range from $80 -$30 per panel. Mine turned out to be $16 per panel. To make these you need;
Materials
1 Full Flat sheet ($10) or if you'd like fuller curtains you can use 2 Twin flat sheets ($5 each at Walmart)
7 Pom Pom ribbon rolls – I found this coral color only at JoAnn's where I purchased 3 rolls at 40% off.
Hot glue gun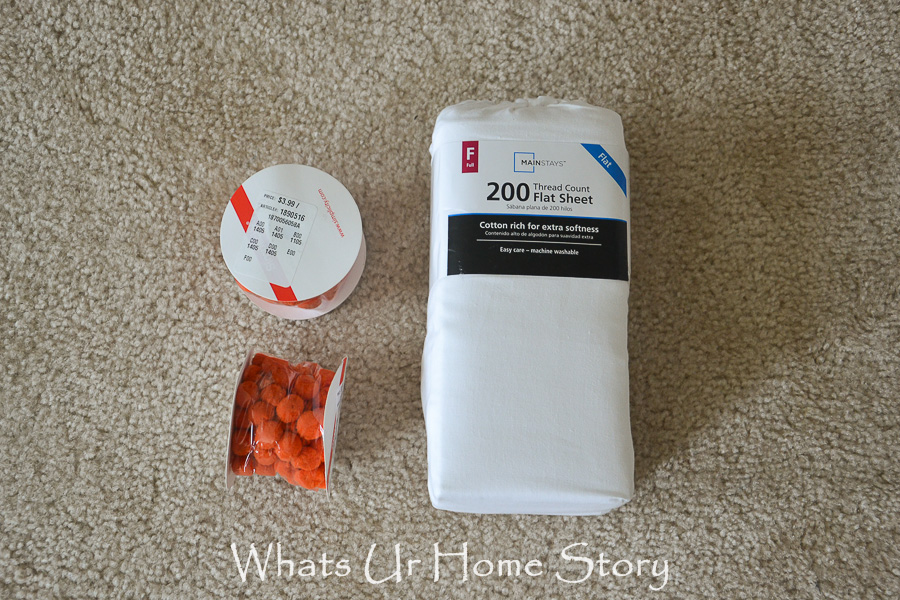 How to Make Curtains from a Flat Sheet Tutorial
I'm a big fan of rod pocket curtains as I like the clean and simple look. And when you use a flat sheet one end or the rod pocket is already hemmed for you. All you have to do is take care of the other end.
Measure the length of the window, mark how long the curtain needs to be.
Fold at the required length, pin, and hem.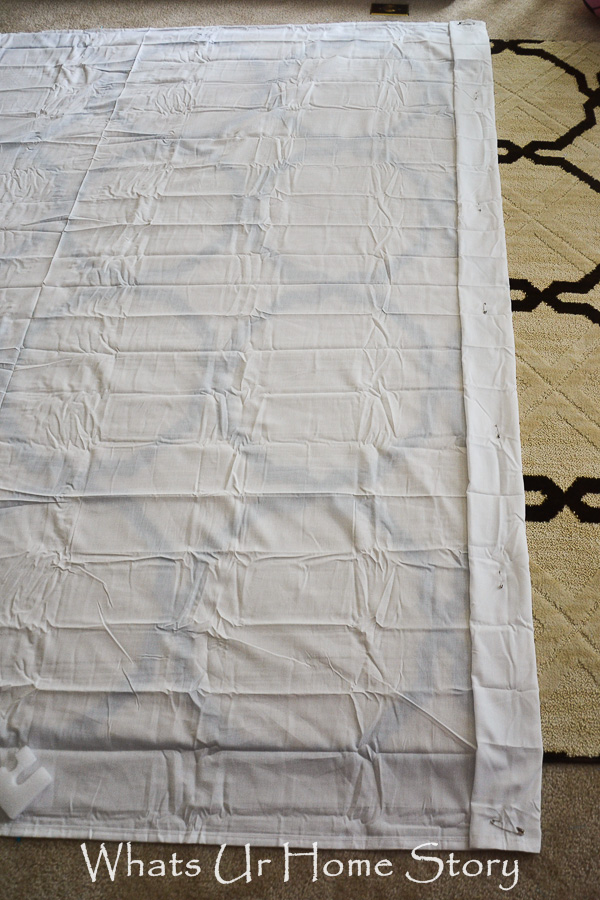 Cut the flat sheet in half length wise to make 2 curtains.
Hem the raw edge of the curtains making sure to keep your rod pocket end open. See the bottom right pic in the below collage.
Using a hot glue gun glue the ribbon on the inside edge of curtains starting at the back of the rod pocket.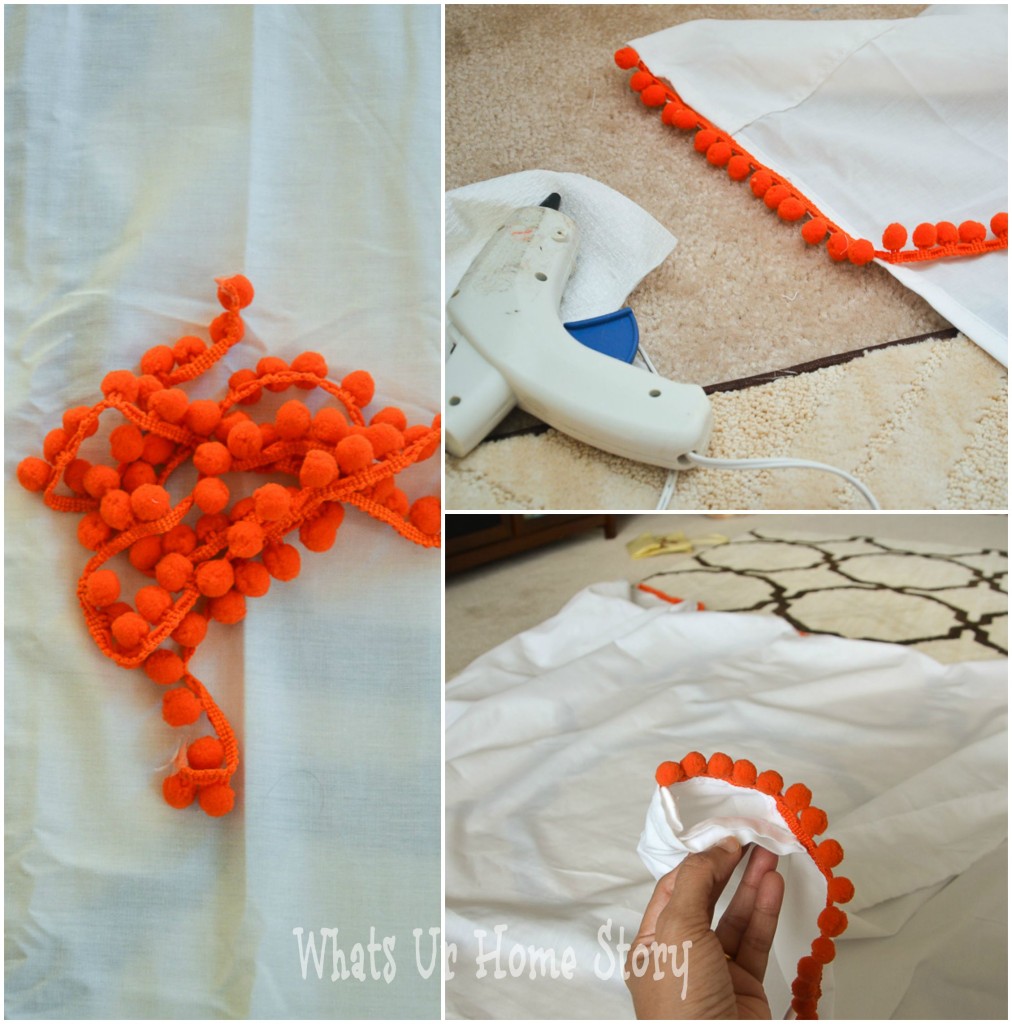 When the ribbon roll runs out continue on with a fresh roll making sure that you start pretty close to where the old roll ended.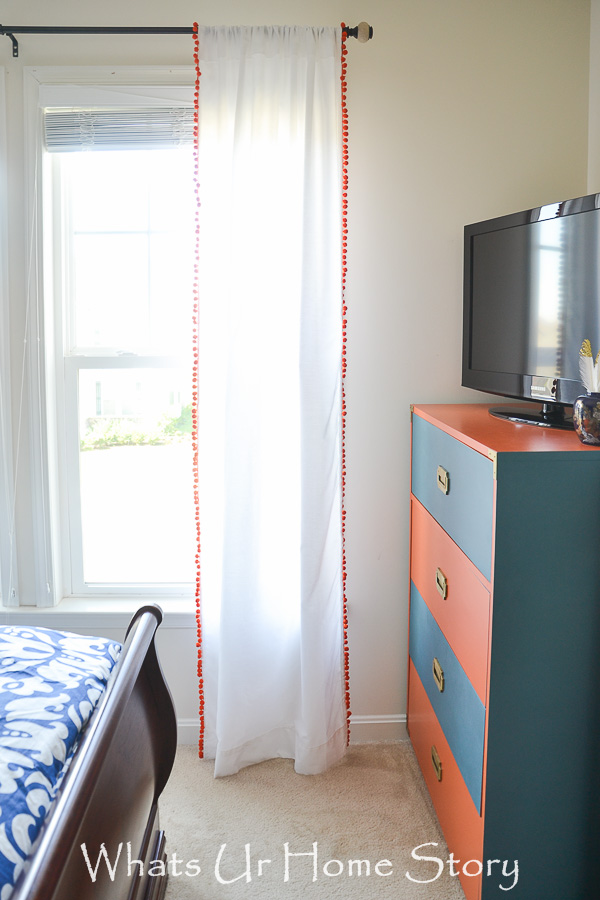 Repeat on all sides. Totally going off topic, don't you love that double color campaign dresser of mine? Another happy accident project. 🙂
Iron and hang using the rod pocket end.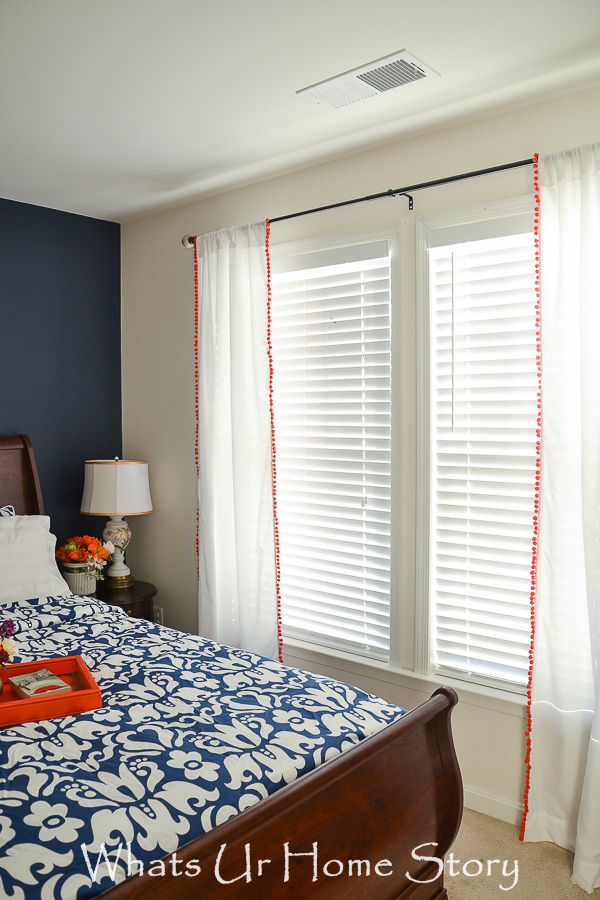 Pretty neat, huh?
If you are not the one to take short cuts then feel free to sew the pom pom ribbon to the curtain panel. I was short on time hence the hot glue gun. I know, I won't be able to put them in the dryer but given that these are in the guest bedroom I don't see them getting dirty as much. So once in a while hand wash should be ok.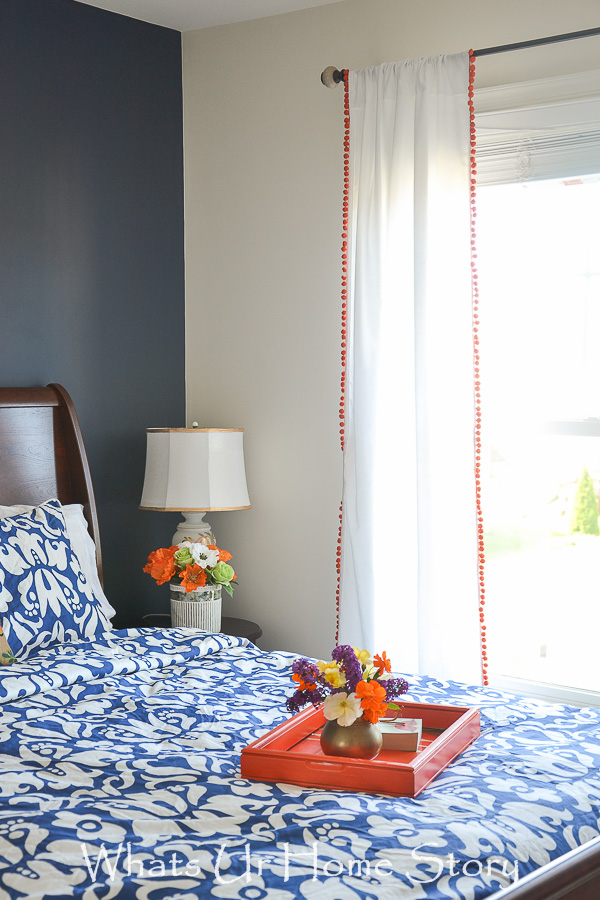 Have you DIY'd curtains? What did you use?