You know life is strange in so many ways. I for the most part go about my day checking things off my chore list moving on to the next. Other than the 30 mins I spend driving (thanks to taking public transport) I hardly find time to ponder on my day or activities. By pondering I don't mean planning the week ahead or how to handle the kids' after school activity schedule. My pondering is often on small seemingly irrelevant things that happened during the week, some from the past. Little do I realize then that most of these small occurrences or conversations that I dwell upon actually end up being my life's beautiful memories. By reminiscing them while sitting in traffic I'm actually starting the long process of filing them away in my mind's realms. If life has taught me anything then it is that small moments are the ones that we go back to most.
Like the week before when we were prepping for the final day of Onam; I soaked a handful of uncooked rice in water, ground it into a smooth paste, poured it in a bowl for the kids to dip their palms in to make impressions on the Pooja room (prayer room ) door.The white doors in our home don't lend themselves to the white rice batter palm prints well so many years back I devised an alternative solution; tape colored craft paper to the door and make the palm prints on those.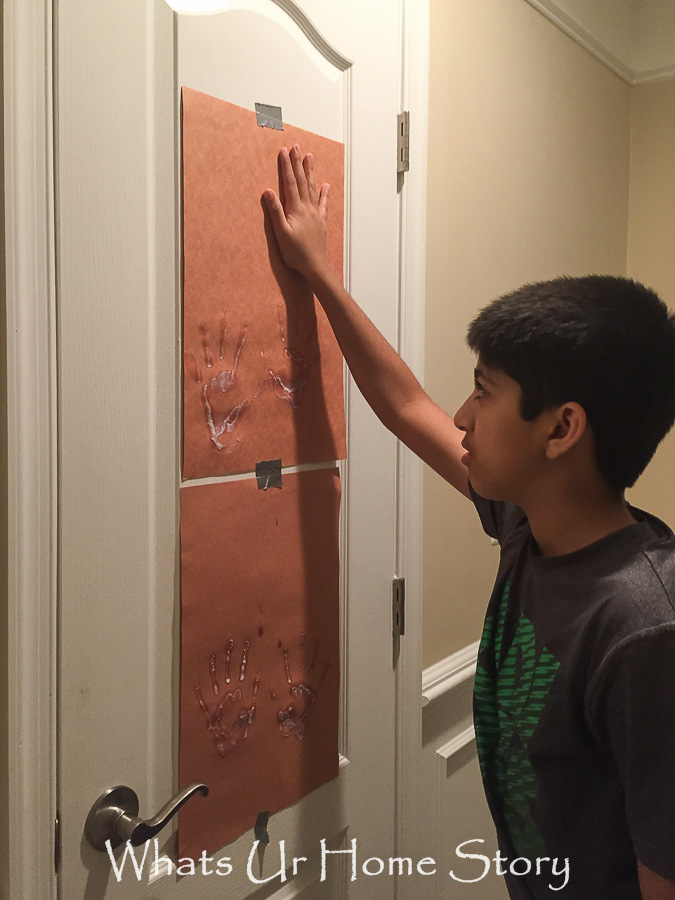 Even though it was not an important part of the Onam festivities there was no way I'd let our glossy white door take away this precious tradition from me. Actually it maybe the smallest most irrelevant step of the whole thing but to me it is so so important 'coz that moment when I place my hand over my son's or daughter's palms to guide them……..that very instant I'm transported back to the pooja room door in our ancestral home. In that split second I can actually feel the touch of my Ammumma's (that's what we call mom's mom) hand on my palm. Her steady hand guiding a wide eyed 7-8 year old scrawny overly enthusiastic girl's rice batter dipped palms. After finishing each palm print I'd look up to her for approval and she'd smile sweetly down at me. In the end we'd stand back, assess our work, fill in any empty spots, and move on to the next activity. For those couple of minutes I had her all to myself, standing right behind me close enough for me to smell her freshly starched set mundu (traditional attire worn my Malayali ladies), which by the way I've come to associate as her smell, her steady and comforting breath, her firm grip on my unsteady palm……………it was our special moment in the middle of all the hustle and bustle of the day. I'm almost certain that the main reason I carry on this rice batter palm print tradition with my kids is that I can relive that moment one more time.
You might remember my Ammumma from the picture frame post last year. She is one of the very few individuals who have helped shape me, my believes, personality, everything. She was the perfect combo; a little bit parent, a little bit teacher, and a little bit best friend. As the years passed, especially the last 5 years we saw her health slowly slipping away from her. Yet she tried to be her cheerful, funny, sassy, bossy self whenever she could. 🙂 That was her, all rolled into one. She left us this past week…….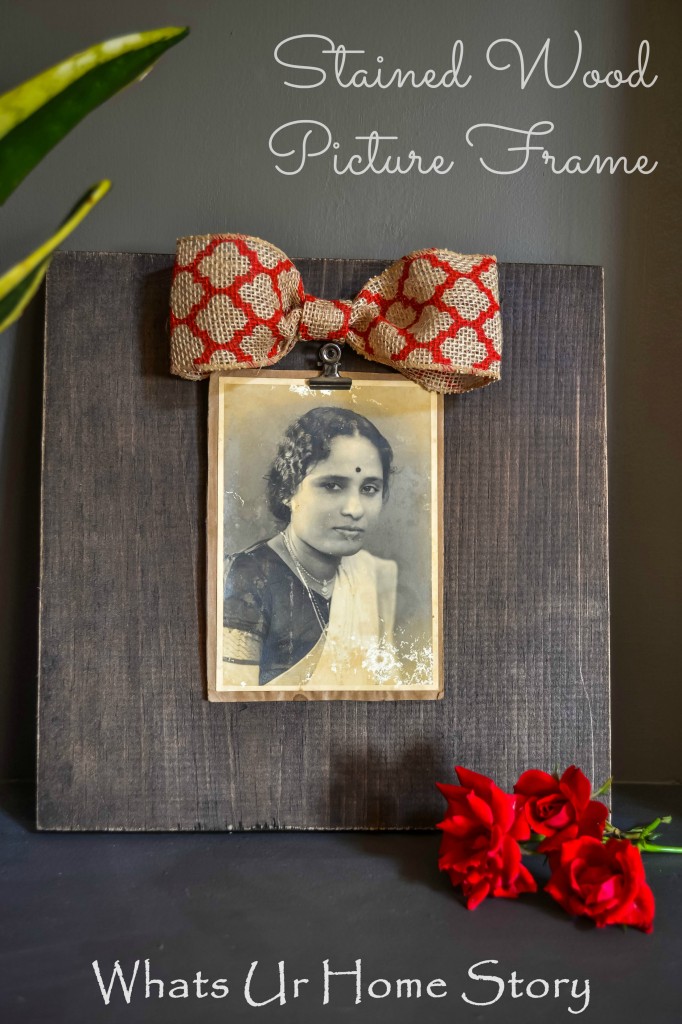 My mom started working pretty soon after I was born and my Ammumma was my baby sitter, my care taker so much so that I started referring to myself as her 4th child, which by the way pleased her immensely. I was her first grand child and she was blatantly partial in her affection towards me much to the chagrin of my sister and cousins. 🙂
We would split every vacation, every break from school with her and my Achachan & Achamma (dad's parents). I even stayed with her and my aunt for all of 5th and 6th grades. Every minute I spent with her I learned something new. There was this uncanny ability about her, the way she expalined things it never occured to me that I was learning something. It was always her going about her day explaining why she did certain things in a certain way. Come to think of it my mom too does the same thing, even for the simplest of chores like organizing a kitchen cabinet or adding spices to a dish there is always a certain order of doing things which is backed by solid reasoning and logic.
My Ammumma was not the usual 'let the kids run loose' grandma. She was pretty old school; was strict about following traditions (she and my Achamma are solely responsible for imparting the Onam spirit in me),  scolded us when we were unruly, showered us with affection and her special rava laddo (an Indian sweet made with semolina) often. She was a great mix of old and new; as much as she loved listening to Kathakali music she loved cheering on Steffi Graff during her grand slam finals. Same goes for enjoying Bollywood mass masalas, Sharukh Khan and Mammotty were her favorites. She was the quintessential family matriarch, a true mother hen always protecting her brood but that didn't stop her from joking around with us, playing caroms and cards, or rooting for the Indian cricket team like crazy. Oh man, she used to be so competitive and feisty when it came to playing cards often forgetting that she was playing with 12 or 10 year olds. 🙂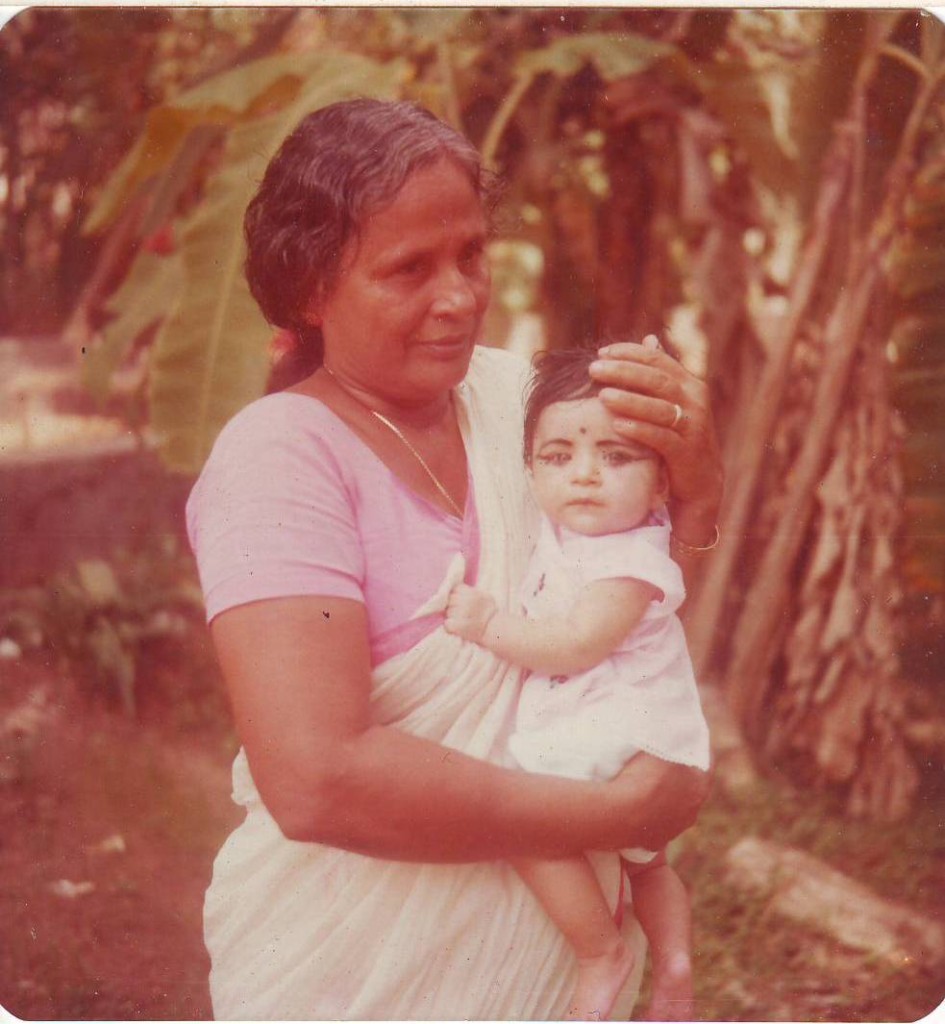 That's my first ever picture with her. I think right about the time this photograph was taken she had or was about to retire as the head pharmacist at the town's main hospital.
This time when we went to India, my daughter got to see a bit of my Ammumma's old personality and what do you know she too developed a special bond with her great grandma. I'm so so thankful that my Ms.S is old enough to understand and cherish the importance and special nature of the relationship. This is the last picture we have of her, a picture that Ms.S took on her tablet. True to her fun personality Ammumma was all game when Ms.S asked her if she could try on the Masquerade Mask. 🙂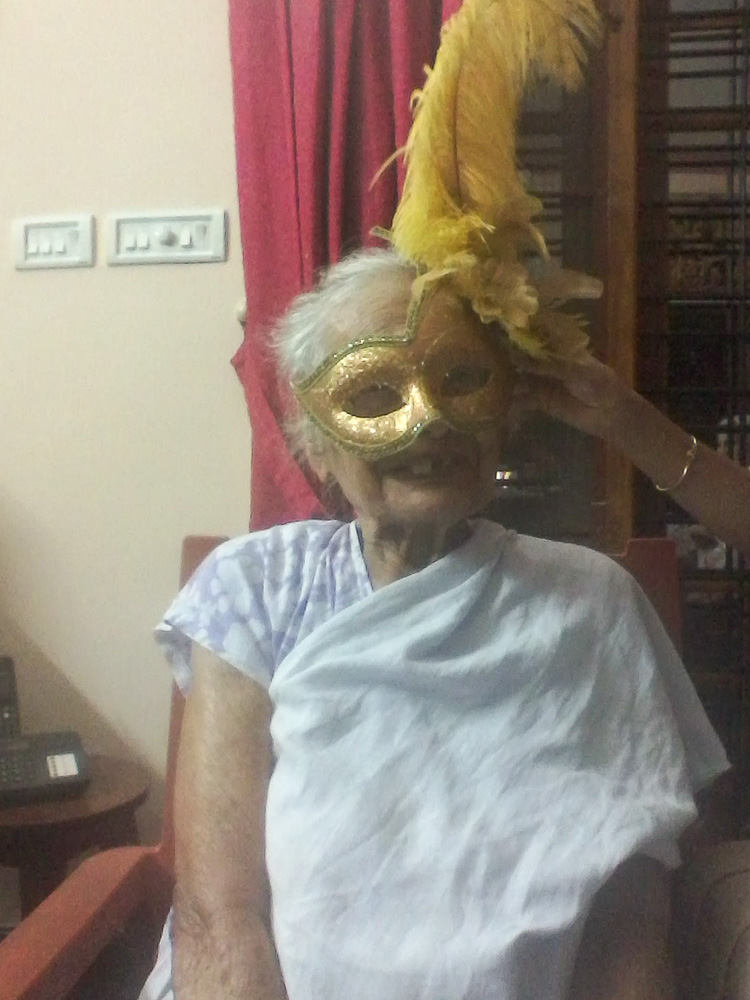 Love her so much……….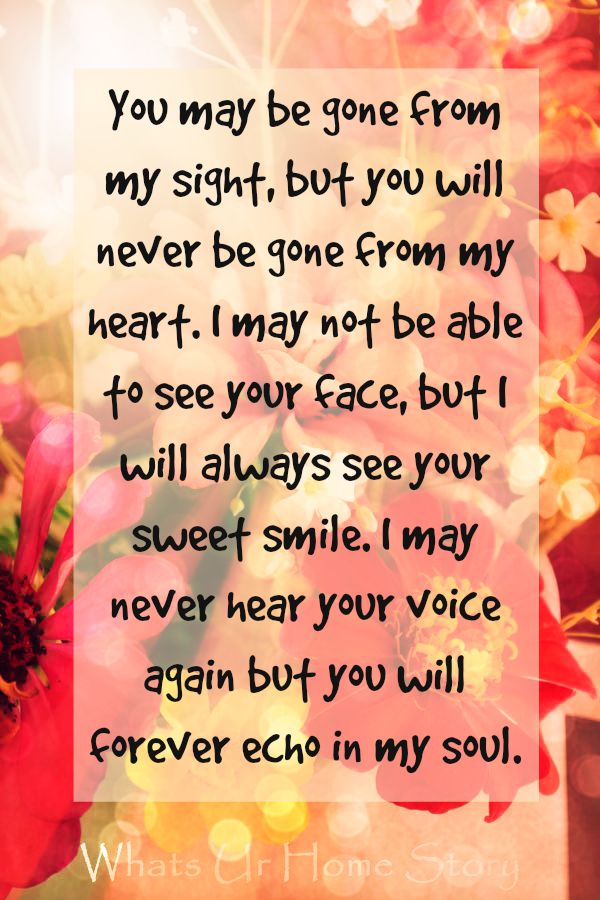 Grandmothers and roses are much the same. Each are God's masterpieces with different names.
— Author Unknown
PS: As I mourn and make a quick trip to visit family in India the posts are going to be a few and far between for the next 2 weeks.