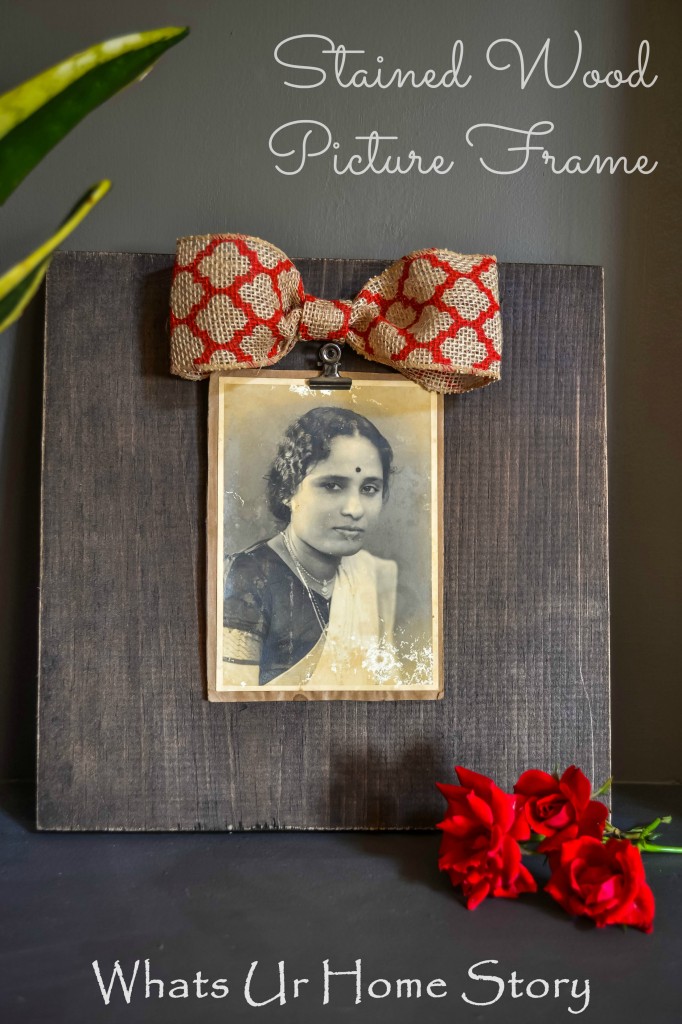 This stained wood picture frame is one of those "Why didn't I think of it?" projects. Mm…'coz someone smarter already thought of it, duh! And the smarter folks are the 2 blogging sisters from Shanty 2 Chic. But they were gracious enough to teach many of us how to make one for ourselves in the Staining class at Haven. And oh, that's my Ammumma (mom's mom) in the pic. Isn't she pretty?
These days she is not feeling all too well and needs a lot of help going about her day. As I was staging the shoot, I remembered how she used to love the Edward Rose bush in the front yard of her old home. It was a large unruly bush with Pink highly fragrant flowers that flowered on rare occasions in our hot and humid tropical climate. But when it bloomed the fragrance, beauty, and size of the flowers more than enough made up for its erratic flowering schedule. My grandma was no gardener but took immense pride in this plant whenever it flowered. I've often wondered if it was 'coz that was the only plant that survived her not so green thumb?
Unfortunately when we sold the home none of us remembered to take a cutting. 🙁 Why is it that it is always the small things that get lost in life's hustle and bustle? And almost always it is those small things that are tied to fond memories! Whenever we make a trip to India I always plan to bring back the Cadbury Gems aka. Indian M &Ms  wrapper /box back to frame but forget. My Achacha (dad's dad) always greeted us kids with a box of Gems in hand! Every break from school we got, we would visit them and when we get off the train there he would be standing on the railway platform with boxes of Gems for my sister and I in hand waiting to hug us. Ahh….I miss him so much. It has been years since he's gone……….Gosh, I'm a bawling like a baby now.
Anyways back to the post. Where were we? Roses… yes roses. Of all the 8-9 knockout bushes we have the only roses I could salvage from the mean mean Japanese Beetles were these 3!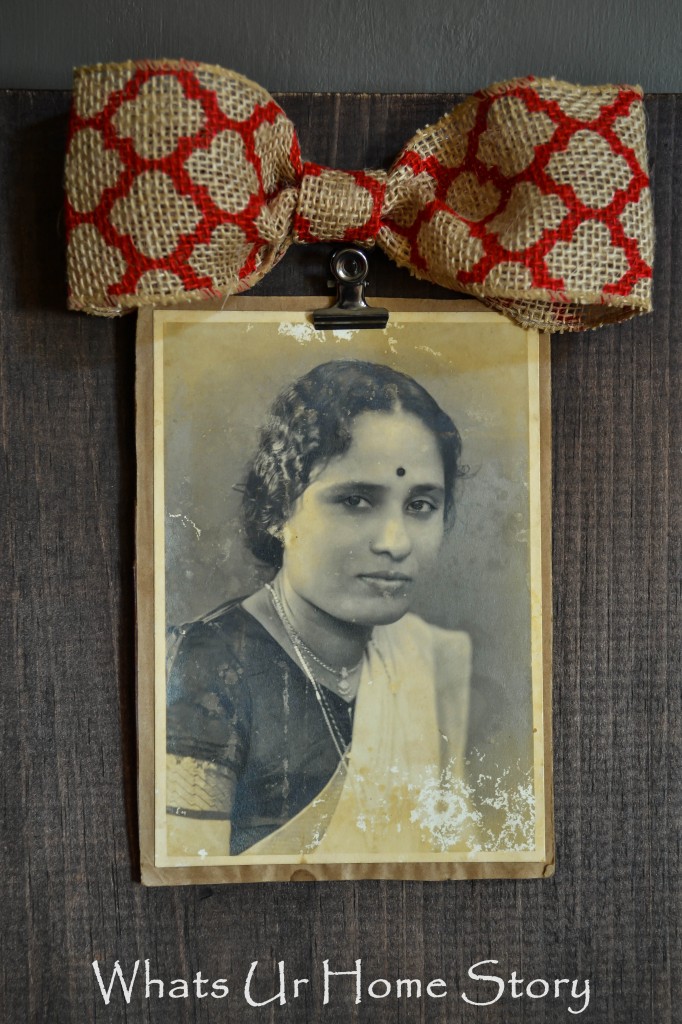 So to make this super simple frame you need;
Materials
11 x 11 piece of pine board, any piece of scrap wood do Rustoleum 
Varathane Fast Drying Wood Stain
– I used Kona Fine Grit Sand Paper Gorilla Super Glue Gel Wired Burlap Ribbon & Hot Glue to make the bow Metal Clip
Rag
Gloves  
Method
Since we did this in class I really don't have many in process pics but I'll try to break it down as easily as I can.
Put on the gloves, using the rag 

brush the stain on (in the front and sides), and wipe it off a few minutes later. Repeat if you need a darker color. My frame is a nice rich brown, don't know why it looks dull in the above pics. Working on an Easel helps but it is not necessary.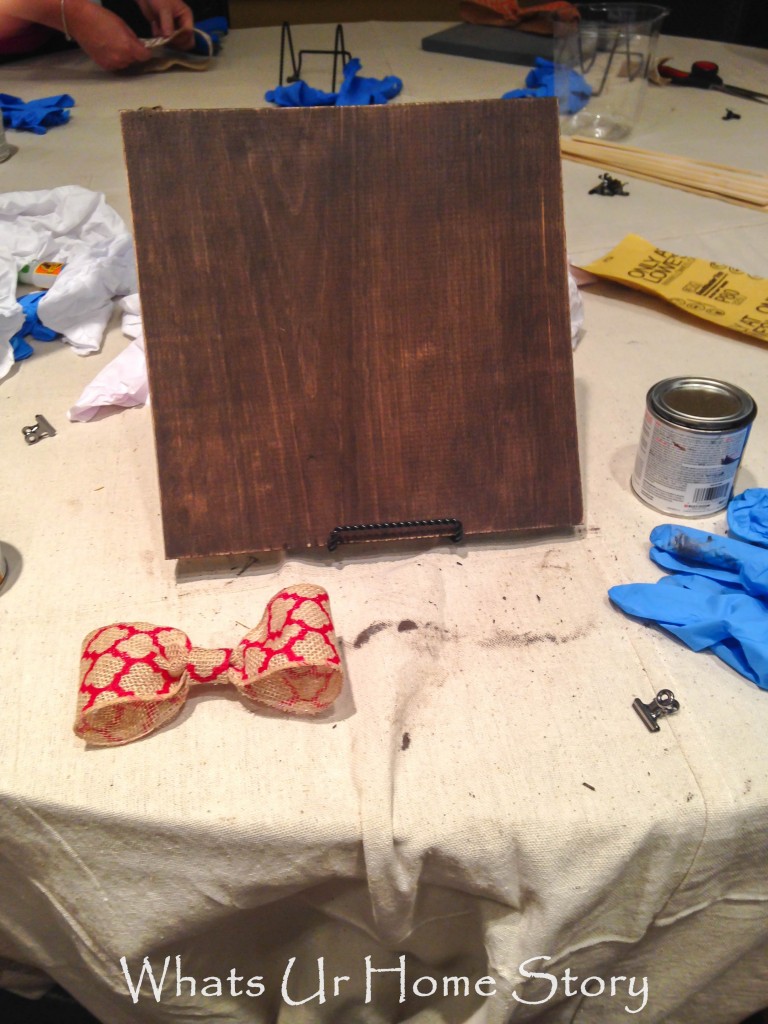 While you let the stain dry make the Faux burlap ribbon bow.
To make the bow cut 2 pieces of wired ribbon (wired works better as it can hold its shape), 

17″ and 2.5 -3″ long.

Fold the ends of the long piece towards the center so that there is an overlap. Hot glue both the ends.
Scrunch it in the middle to form a bow and hot glue the "scrunch" on the back side.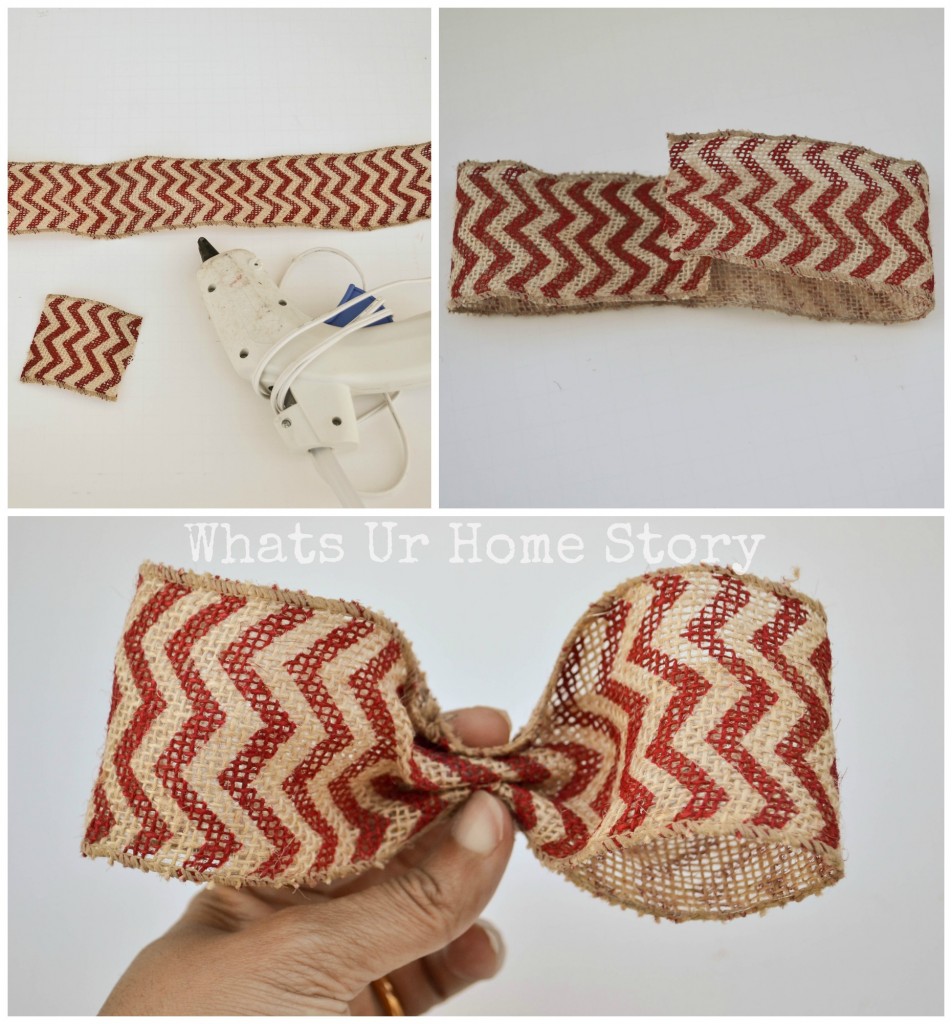 Fold the smaller piece along the wired side (not as shown I did it the not so ideal way, the opposite way), again with an overlap. Actually this works too but you will have just enough ribbon to work with when you are wrapping the piece around the bow. If you fold along the longer wired side your piece will be longer and easier to work with.
Wrap the smaller piece over the center of the bow to finish off the  "scrunch" and hot glue on the back side. Trim any excess ribbon.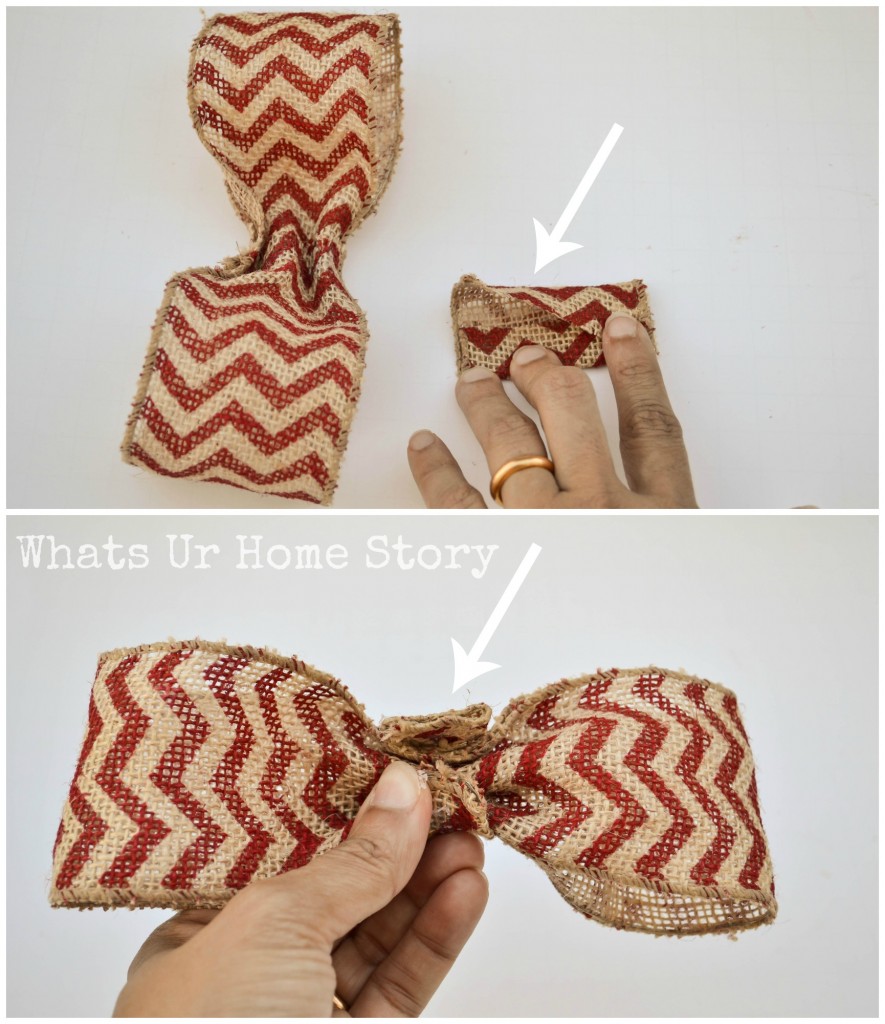 Fluff up the bow to your heart's content.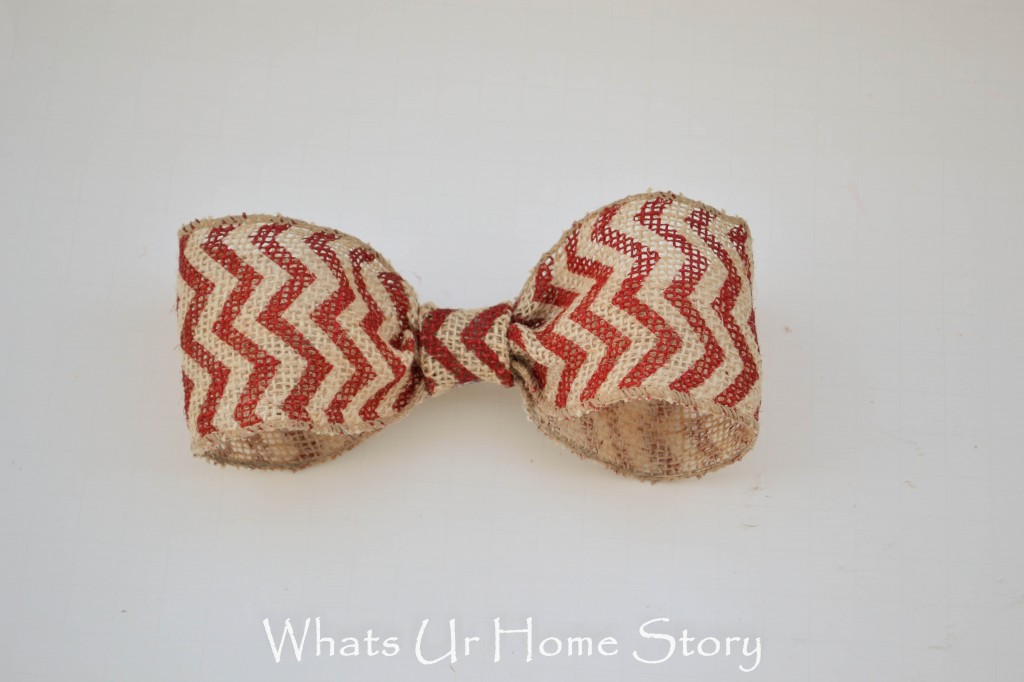 When the stain is dry, lightly sand the edges of the wooden piece to give it a roughened up look (not needed if you are not a fan of the look).
Wipe the dust away with a rag and glue the bow in place on the board with the Gorilla glue. Be careful with the glue, it is pretty much hard to move once it is on there, which happens in a few seconds.
Glue the metal clip just below the center of the bow, again with Gorilla glue.
Attach hanging hardware in the back if you like.
And you are done!
Ok, just 'coz I had nothing else to do I propped the bow on our Buddha candle. 🙂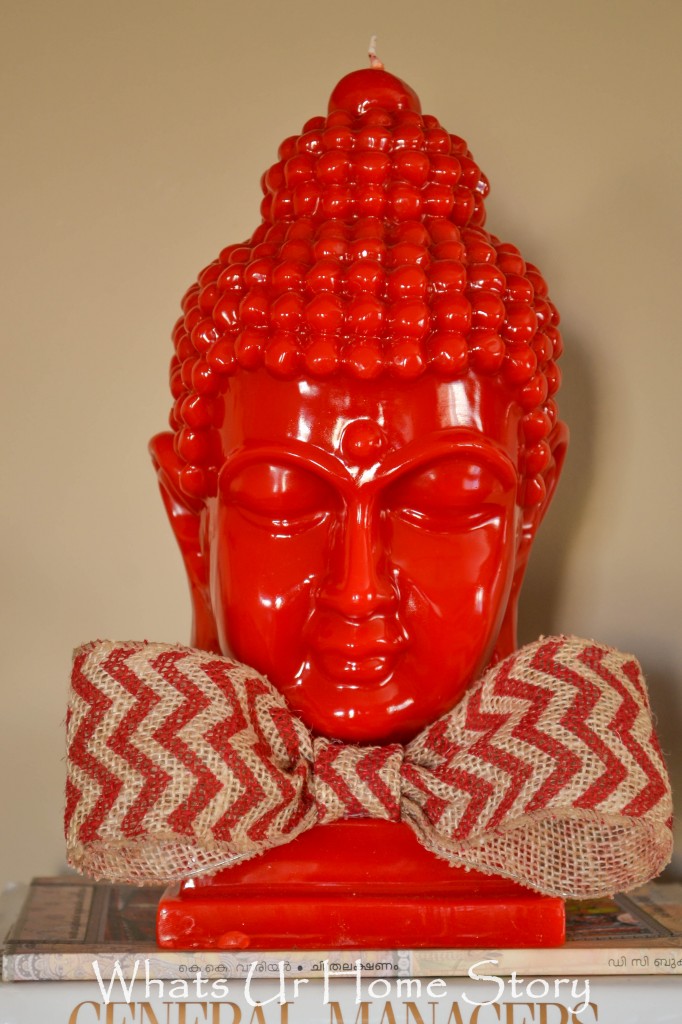 You can get as fancy as you want with this. Shanty 2 Chic made a stand for their frame so that it would stand by itself. You could also layer the bow or even the wood piece with thinner wood pieces as some of the folks in our class did.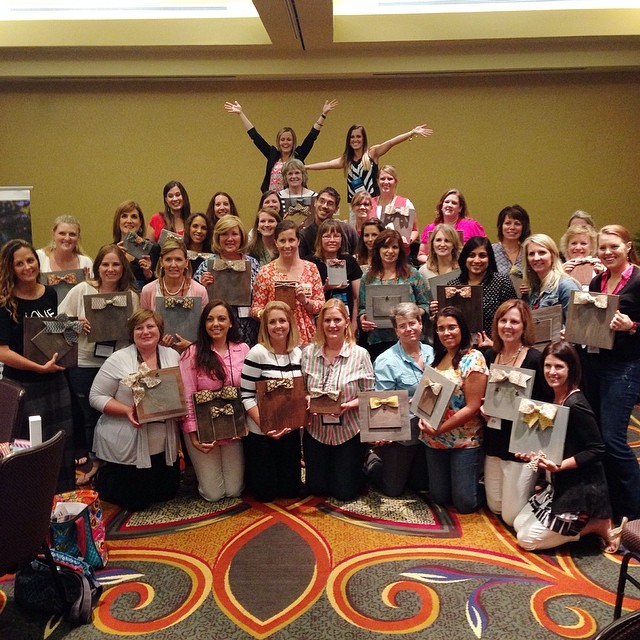 Whatever you do it is hard to mess up this one. It will be classy anyway you do it.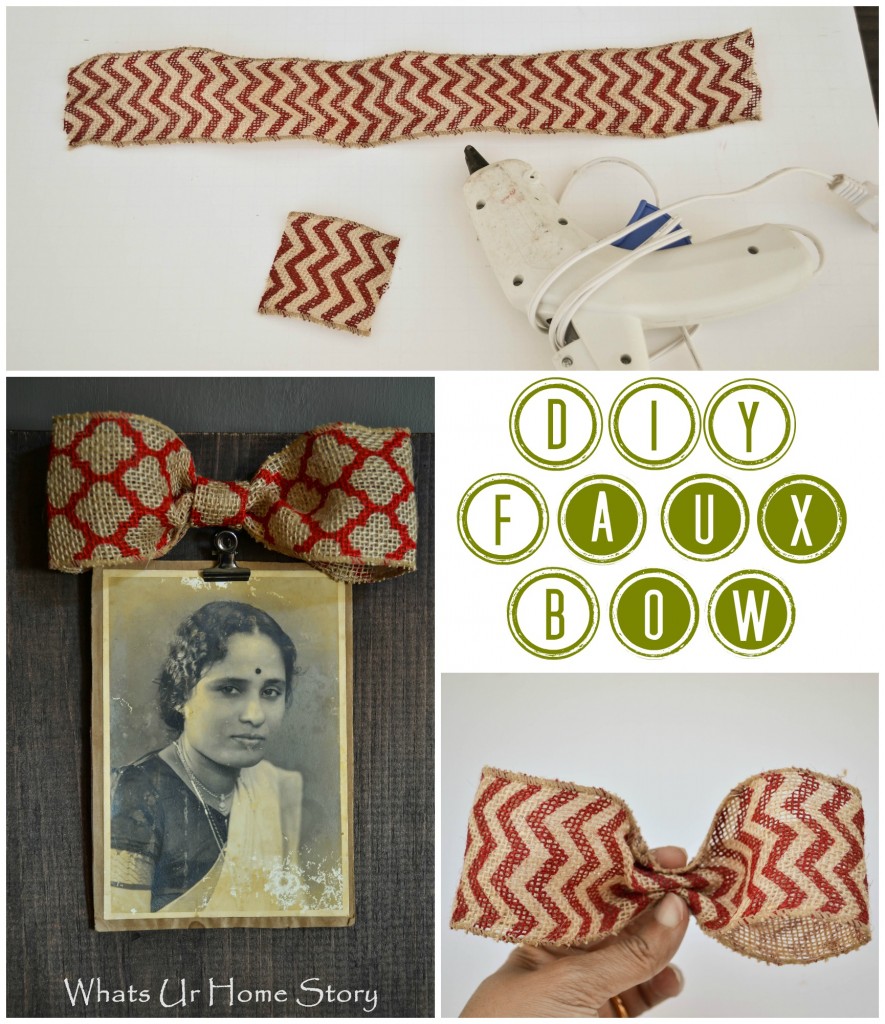 Have you DIY'd picture frames?