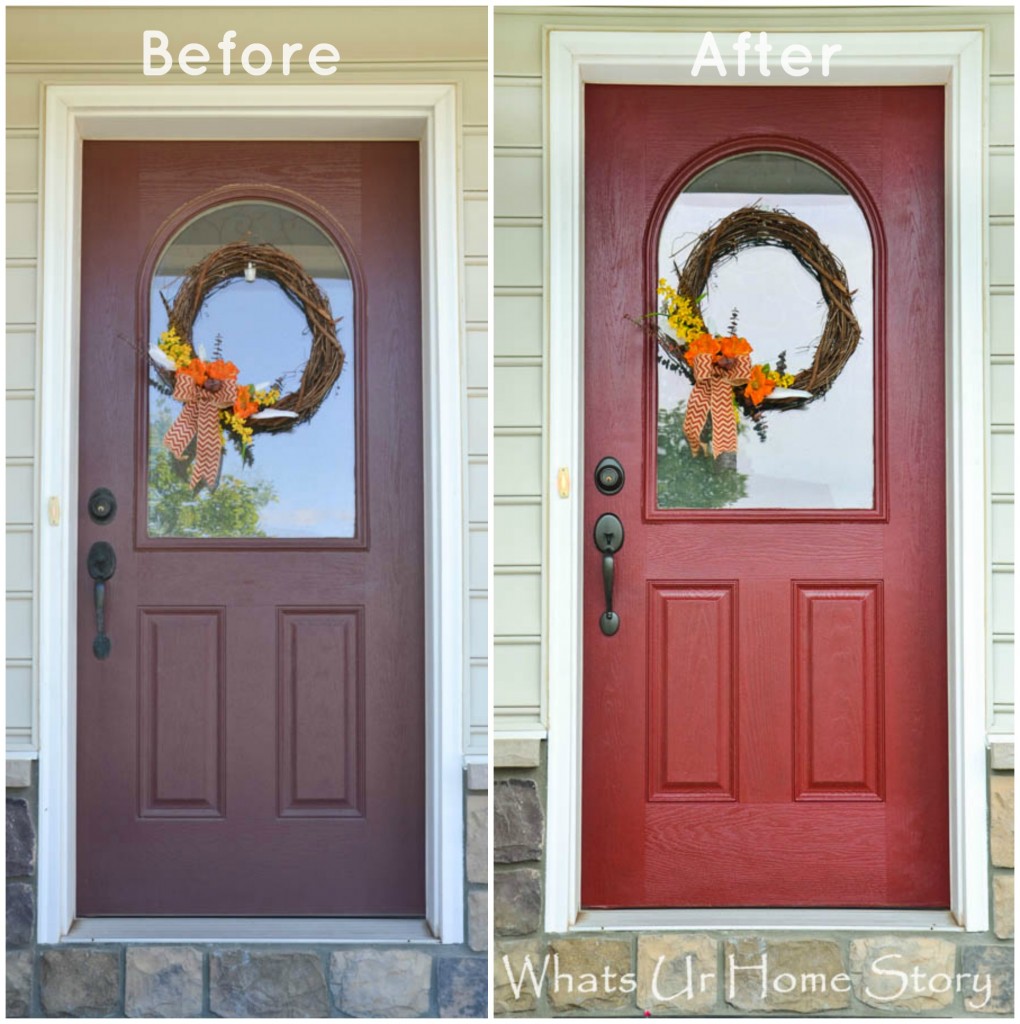 I have used all kinds of paint, the thick one, the watery kind, the one that needs sanding & priming, the one that doesn't need any pre-prep work. You name it I've tried it. Still with all this experience dealing with paint I've shied away from painting a door, especially a front door. The deterrents; priming and the many coats of paint to get the rich color and the right level of glossiness. And of course the biggest question of all how long will it last? For our poor front door there was no escaping the blaring hot afternoon sun as our home faces West. So even if I put in the effort to paint I was sure that the color would start fading in a matter of months.
When we moved into our home 4 yrs ago the paint was a nice deep Red that I loved but the huge toll from all those long afternoon hours of sun literally zapped any life out of that paint. It was so bad that I used to dread taking any wreath pics for the blog and would crop the heck out of them (here, here, here…etc.).  To give you an idea this is what we were dealing with; peeling chipped worn out paint;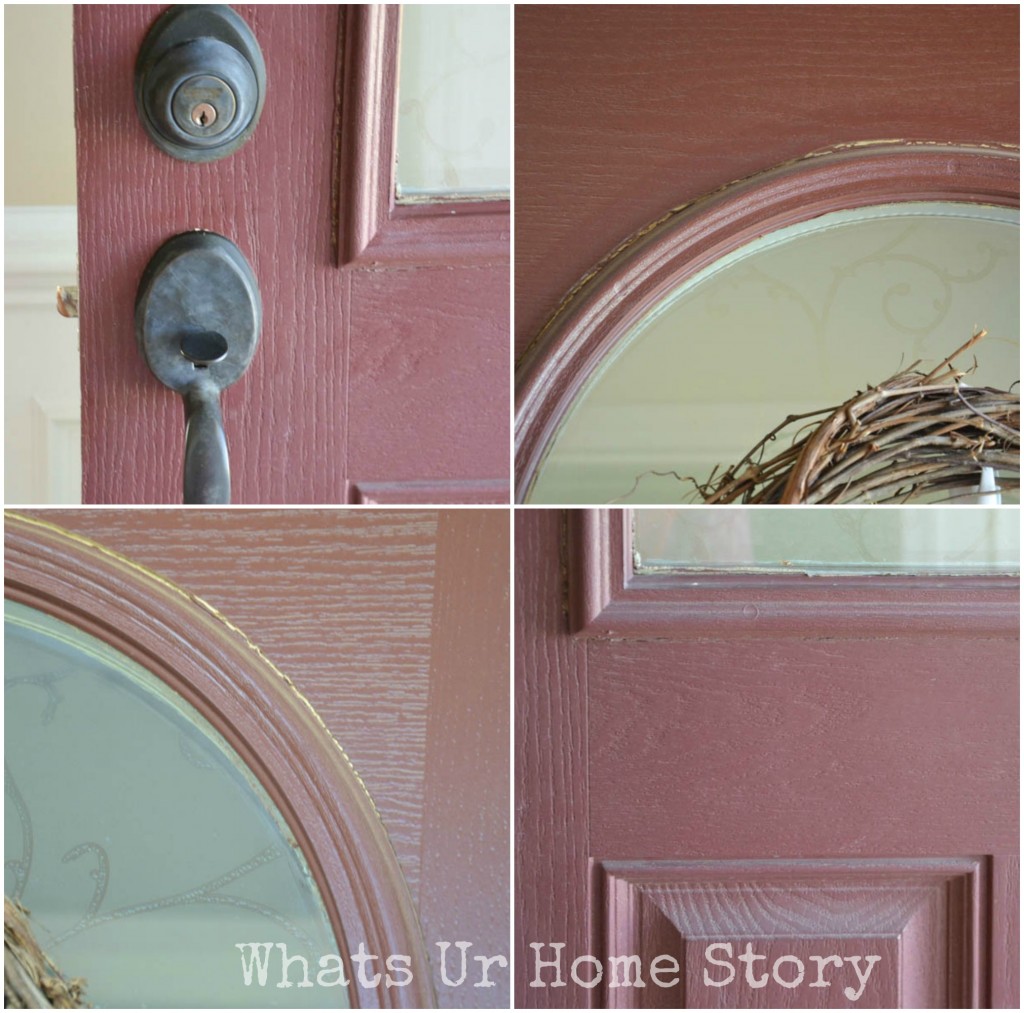 I've long known that it needed a refresh but the fear of the unknown just kept me from even researching up on paint. At Haven when I came across Modern Masters booth and realized that they offered Front Door Paint a light bulb went on. Apart from being a water base paint (means easy clean up) that also was quick drying it was touted to "Never Fade". Sounded too good to be true so I decided to do some digging. I was delighted to learn that Regina, who I had previously worked with for Royal Design Studio was also representing Modern Masters. She assured me that the paint was indeed all what it claimed to be. And thus my front door painting adventure began.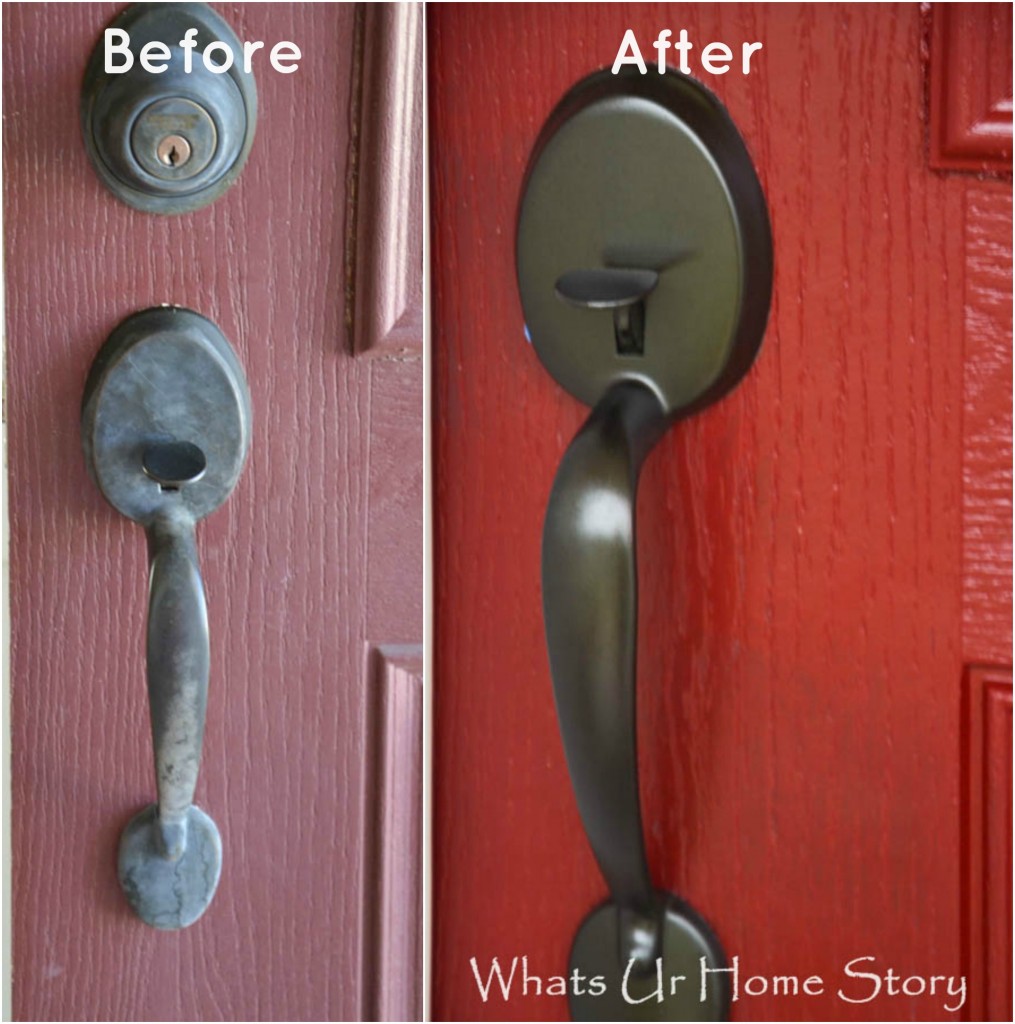 Oh boy, I had no idea how fun this was going to be. They offer so many colors as part of their extensive color palette that it was hard to choose one. They even have an App to simulate how the new color will look on your door. But in the end my love for Red and practicality (I didn't want to jump through all the hoops with my HOA, so we just went with the color that was the closest match to our old one) won out. Passionate, a rich deep Red was it!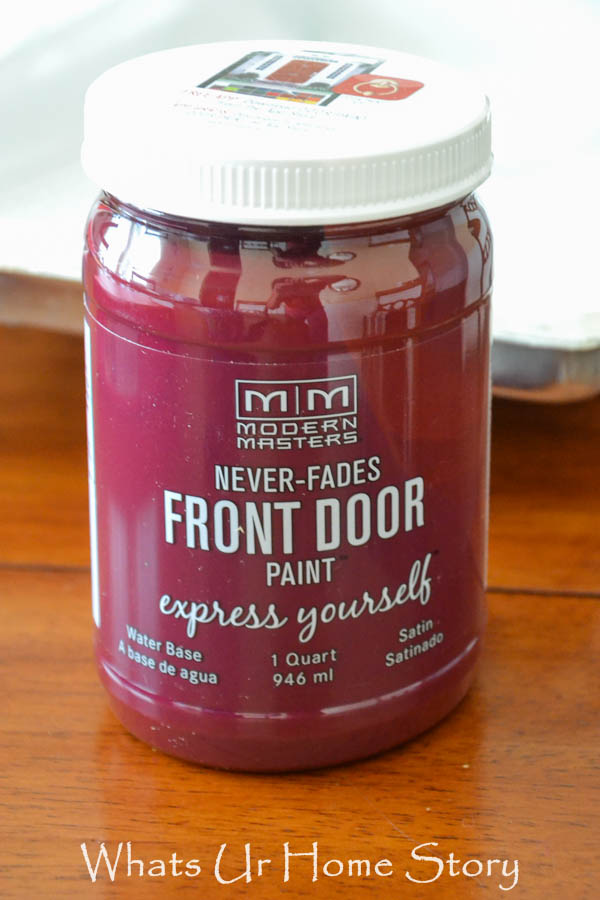 Another reason to sticking with a safe color is that I have no intention of painting all my shutters (we have 8 in total with 4 on the 2nd floor) any time soon even though I should.
Anyways here's how we my dad (he was so excited about how easy it was to apply that he couldn't resist hijacking my project 😉 ) went about it.
Power wash the door with a hose.
When dry, do a second round of cleaning by scrubbing with a damp rag. Make sure to get all the dust stuck in the nooks and crannies.
Tape the edges and any hardware as you would do for any painting job.
With a soft bristle brush paint on.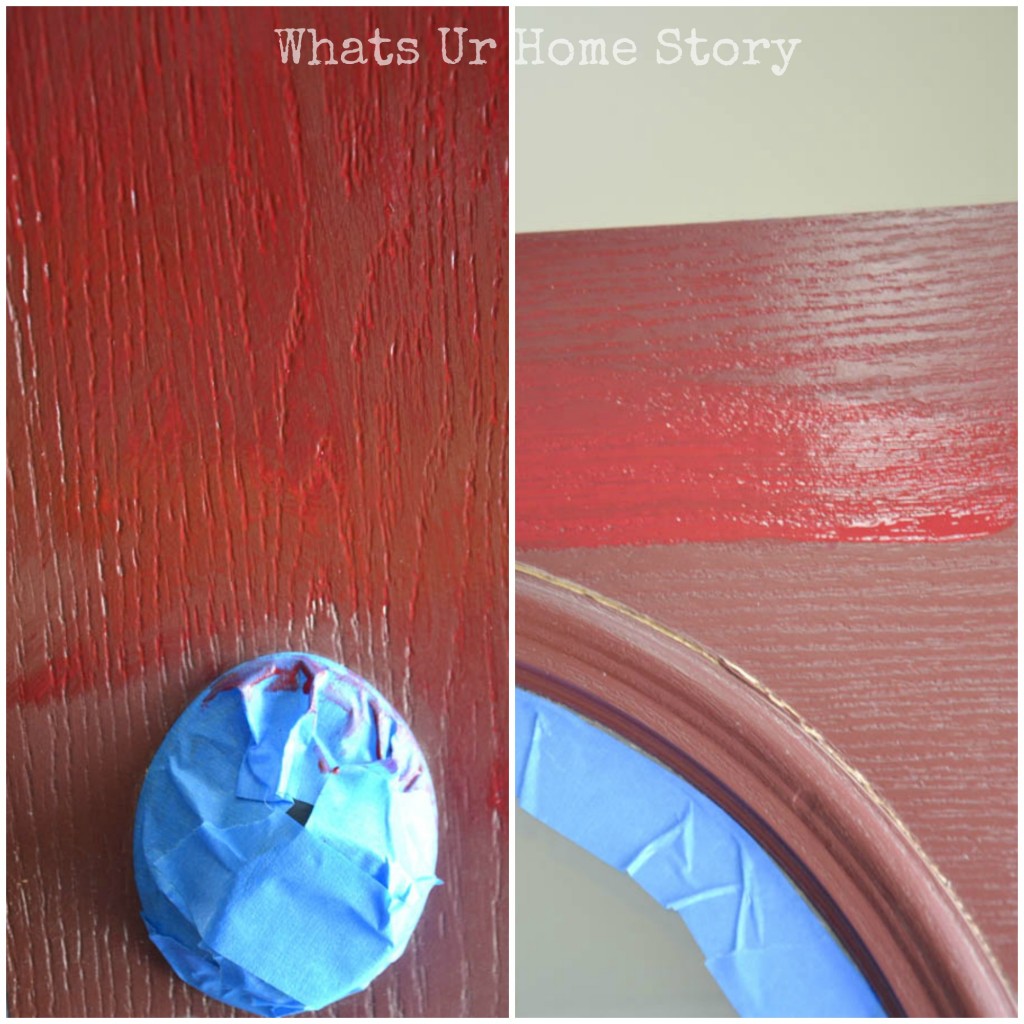 The first coat goes on streaky (they recommend 2 coats) but is a definite improvement over the old one. Oh and it took us 30 mins max. After the first coat;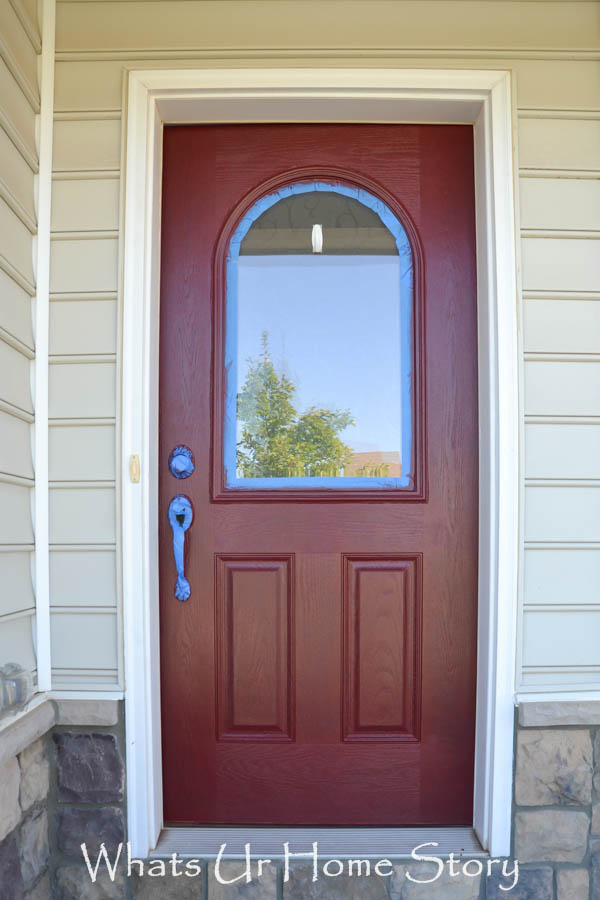 Unlike other paints it takes only an hour for the first coat to dry!
Once the paint is completely dry apply the second coat. This time you've got to wait for 2 hrs but I tell ya the difference will blow you away.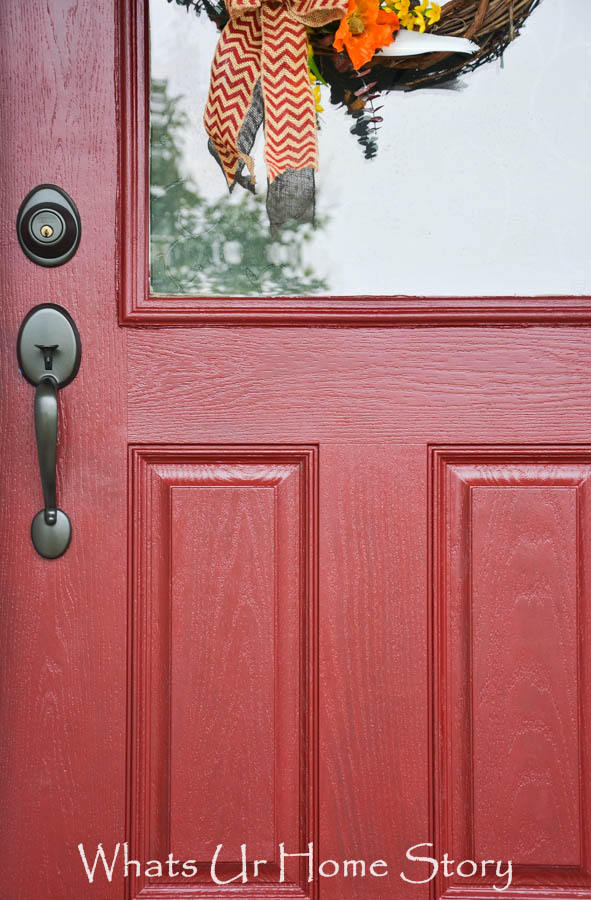 And yes, there is more than enough paint left over to cover all 8 of my shutters but that is a project for another day.
While I was it I thought I might as well update the miserable looking hardware. I had some left over Oil Rubbed Bronze spray paint from one of my frame update projects and used it to freshen up the handle.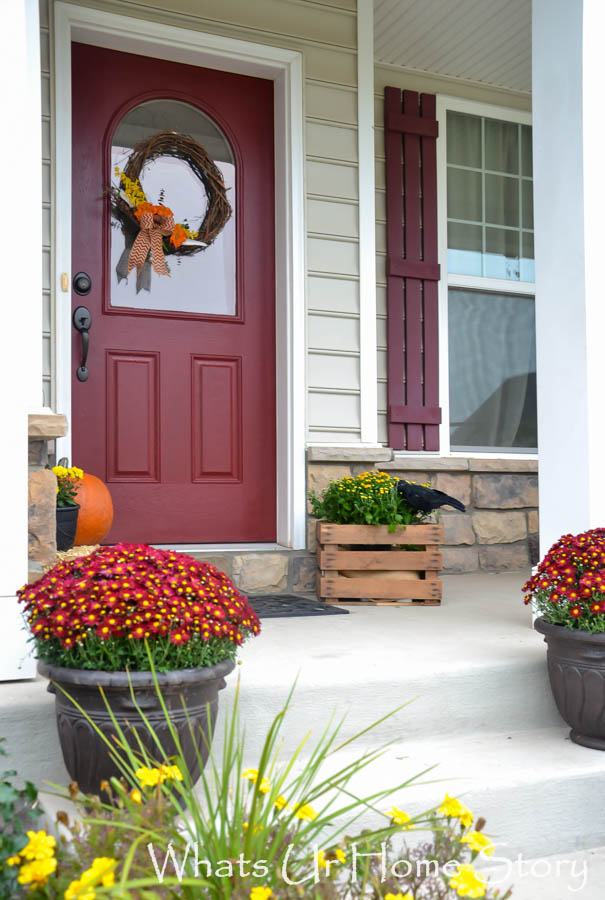 The new paint job is the icing on the cake that is our Fall porch, don't you think? I seriously can't get over how good the updated hardware looks against the fresh paint.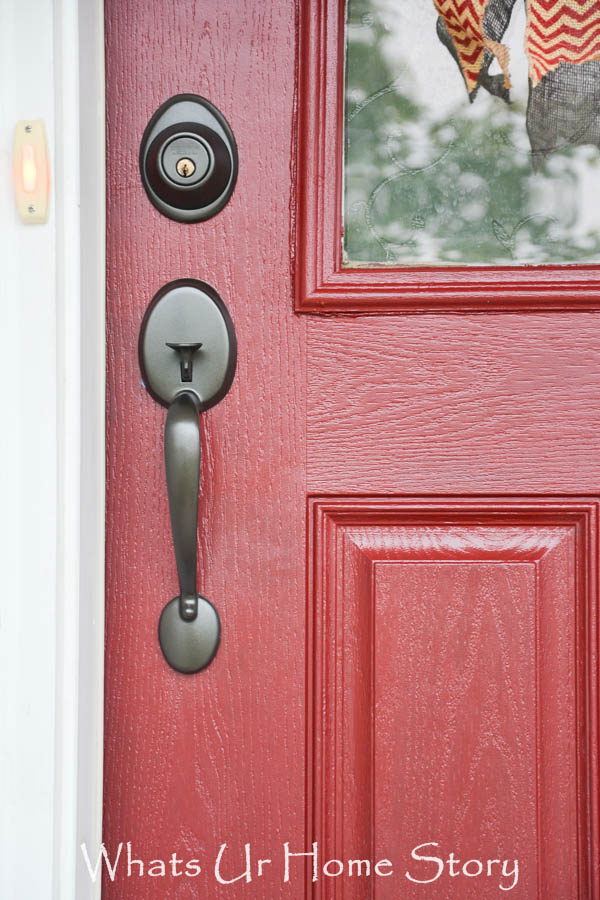 Now you too can win a quart of Modern Masters Front Door Paint in your favorite color! Click away to enter the giveaway! Winner will be announced 10/27/14.
a Rafflecopter giveaway

PS: Front Door Paint is available at selected Lowe's and Ace Hardwares as well as online via Amazon or the Modern Masters online shop.
I was provided the product for this project but the ideas, tips, and thoughts are all mine!