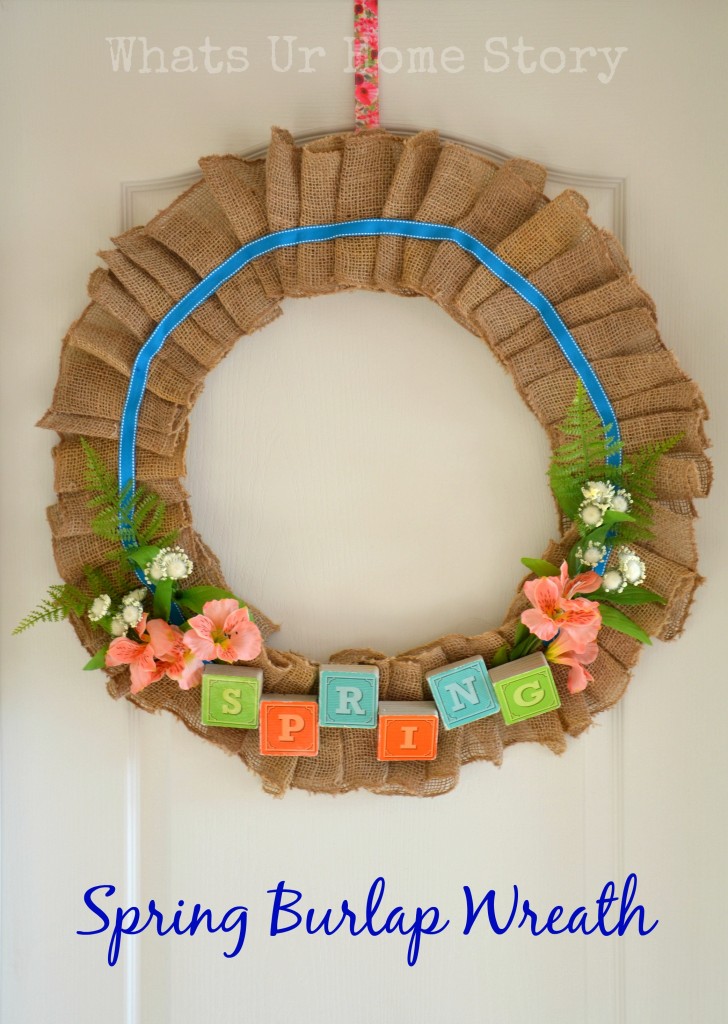 How y'all doing? We had a crazy busy weekend driving all the way up to Saylorsburg, PA and back for a get together with friends. So glad we made it back home before the snow storm started! Are you affected by this one at all? Heard it is pretty bad up north. For us about 5-9 inches is predicted, enough for a snow day for the schools here!
How about if we skip all this snow talk and head over to Spring? I'm so ready for it even if that means I've to battle the allergy monster everyday. Have you started any Spring projects yet? Here's one for your list, another easy Burlap wreath. 🙂  Yes you heard that right, burlap. And you are thinking, "Isn't that more apt for Fall"? Not really, burlap also works as the perfect backdrop for bright or pastel flowers and greenery; don't you agree?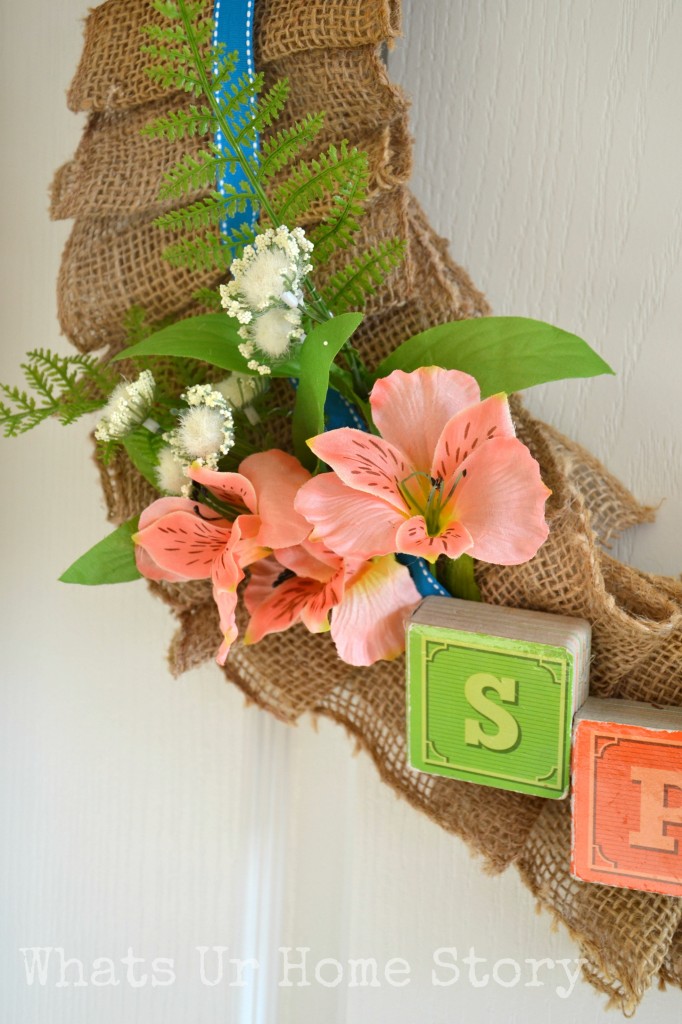 So how do you make this pastel Spring beauty?
Materials
Wire frame – Already had Burlap Ribbon – I used about a roll and a half for my 12″ frame Fake flowers & greenery – From
Micheals
; Hurry and get yours before their 50% off floral stems sale ends! Accent Ribbon – Again 
Micheals
, I keep buying interesting ribbon from their clearance bin every time I'm in. So this one I had on hand. Alphabet books – These are the ones my kids used as babies Floral Wire Hot Glue Gun Pipe Cleaners Poster board – for a working surface  
Tutorial
Start by making pleats with the  burlap ribbon. I made my pleats about an inch and a half wide and overlapped them by half an inch. Mist the ribbon with some water and iron so that the pleats hold their shape.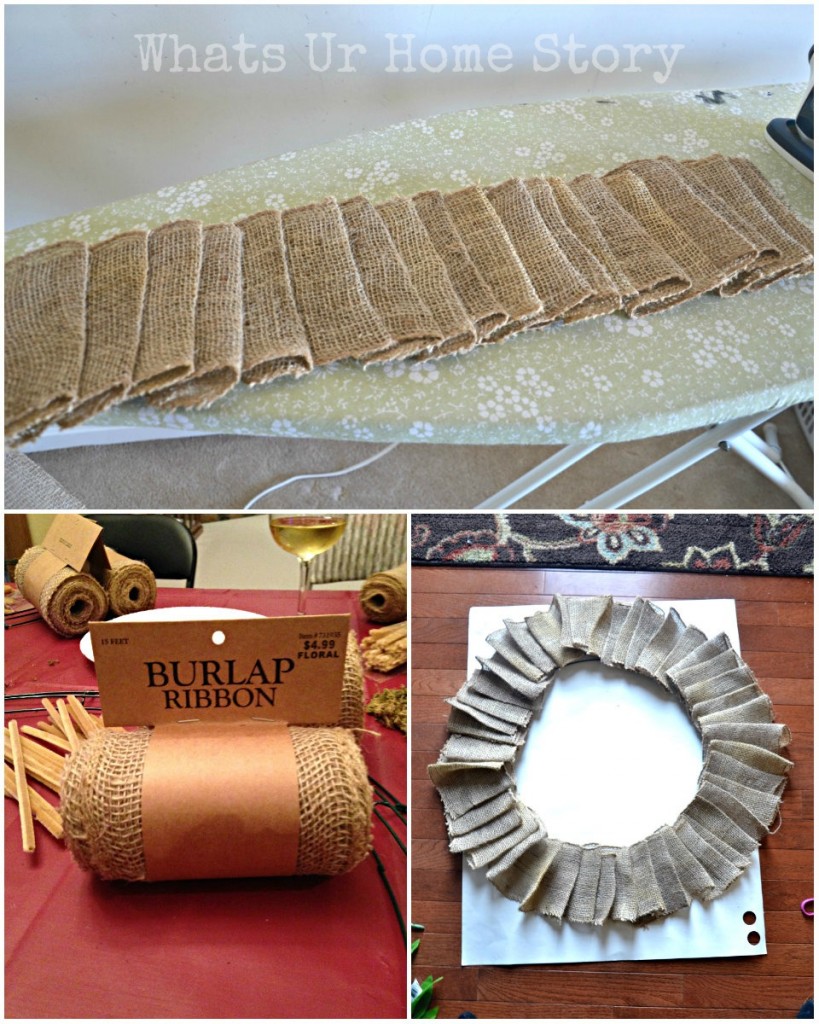 Once you have your pleats carefully lay them over the wreath frame to get an idea of how much more ribbon you need. Some pleats may need some more ironing to hold their shape.
Hot glue each pleat to the next one as shown below.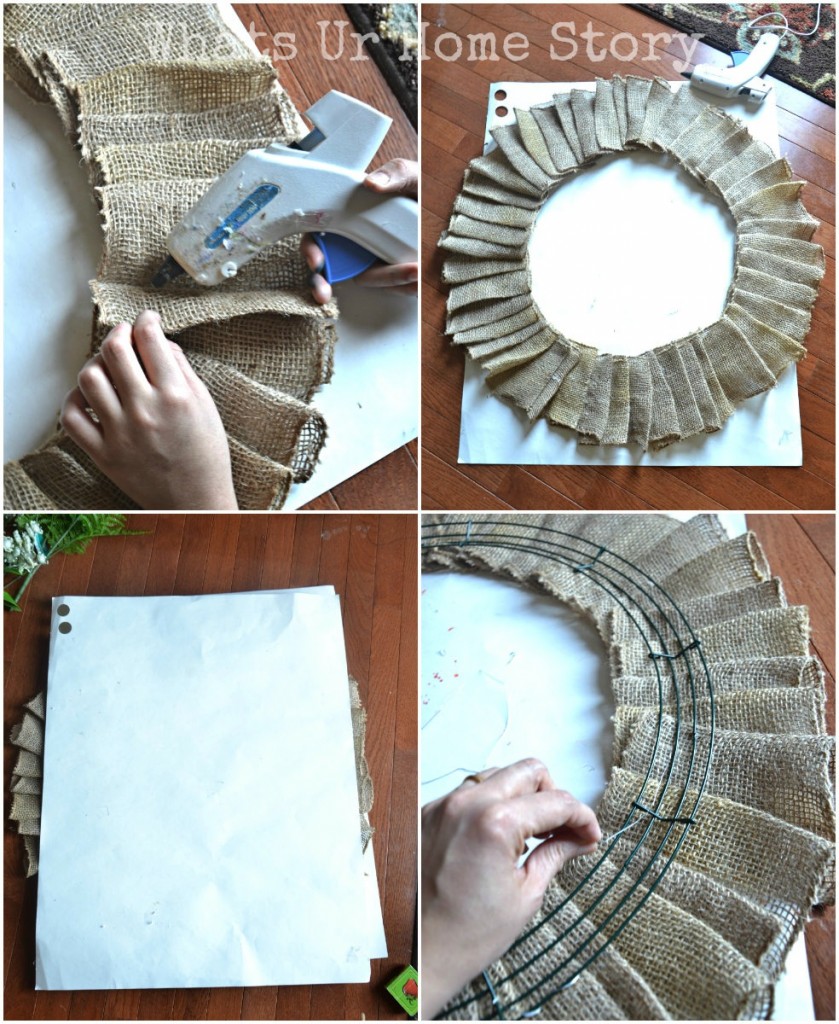 After you hot glue all the pleats, place a poster board on top of the wreath and flip it so that the backside (wire frame) will be on the top now.

Secure the pleated burlap ribbon to the wire frame at the cross bars with a piece of floral wire. Repeat for all 

the

 cross bars. If you feel that your pleats are sloppy and do not hold shape at some places feel free to secure those areas too to the frame with floral wire.

Now flip the wreath back so that you can work on the front side.
Arrange the accent ribbon, "Spring" letters, and flowers on the wreath until you can decide on the design that works for you.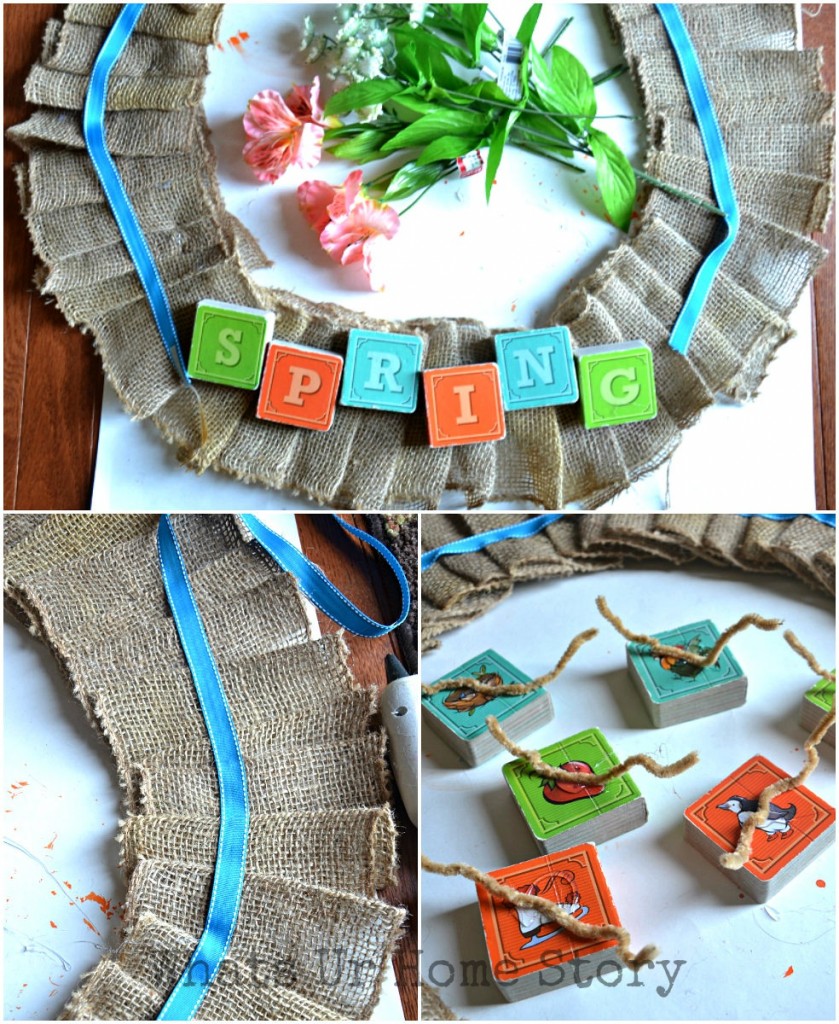 Hot glue the accent ribbon to the pleated burlap ribbon. I liked how the ribbon looked maybe an inch away from the inside edge of the wreath. Again it is up to you where you keep the ribbon or even if you want the ribbon. B is in the "shouldn't have used the blue ribbon" camp.
More hot gluing needed, this time for attaching the pipe cleaners to the back of the alphabet books. I ended up hot gluing the pages of the books too to stop them from flipping open when they were hung. These books were used to the fullest back in the day and have definitely seen better days so I didn't have any qualms about gluing the pages together. You might want to rethink that if your books aren't that worn out. Another option would be to use wooden letter blocks. I had saved ours but the set was missing many letters.
Tie the books to the frame using the pipe cleaners. If they move around a lot, you could hot glue the letters to each other.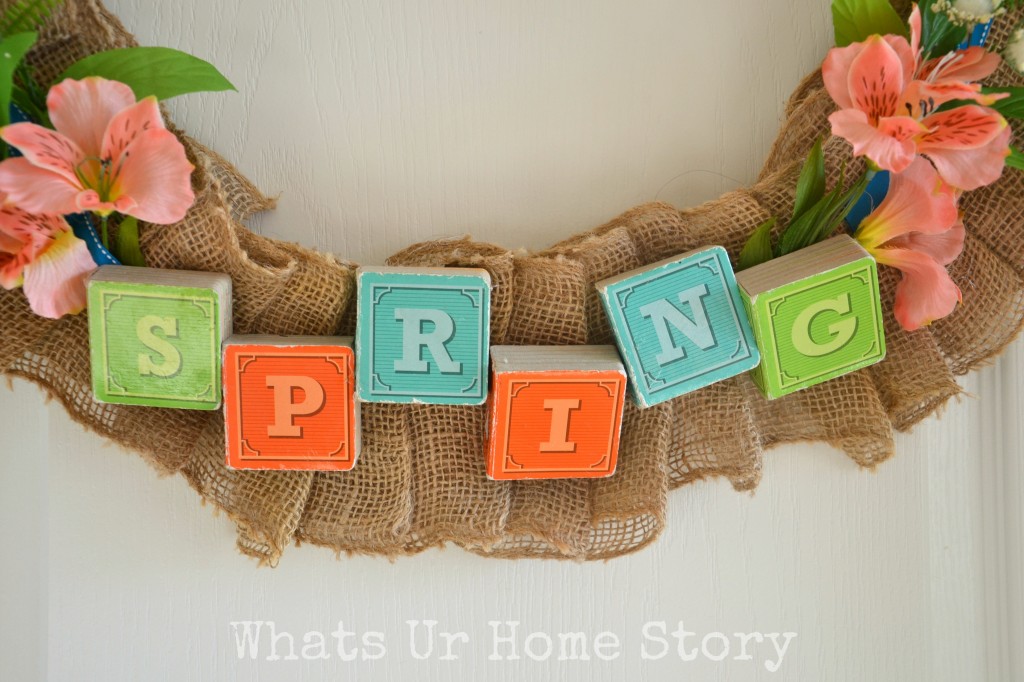 Add floral wire to the flowers and greenery so that you can tuck them into the frame easily, twist the wire to hold them in place.

Hang the wreath with more ribbon.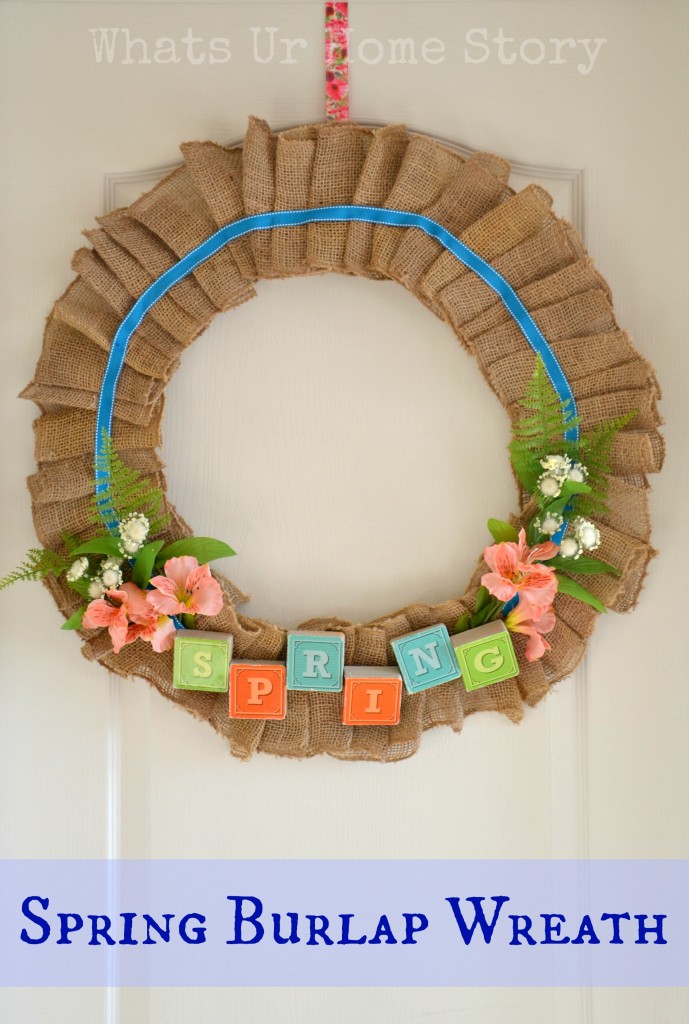 I'm super excited to be hosting my first linky party ever, The SCOOP's Spring Mega Linky Party hosted by 35+ blogs! And to be linking up my wreath. Every post that is linked will be seen on all the 35+ blogs! Isn't that going to be some great exposure? Don't forget to link up your Spring projects at the link below (the Link will go live at 5PM CST 3/3/14).