My birthday is still a week away but yesterday I got myself an early birthday present, a Tillandsia or an air plant. I've been eyeing it on Etsy, Amazon
, and West Elm for a very long time. The only thing that kept me from ordering it online was the shipping cost and the ambiguity on the size. So when I spotted them at our local Wegmans it was Seventh Heaven! Air plants are so versatile that they can fit into any decor easily. Here are 5 ways of decorating with air plants.
Perched on a crack in a block of wood with a mini Armadillo for company. You may remember the wood chunk from my Fall mantel post.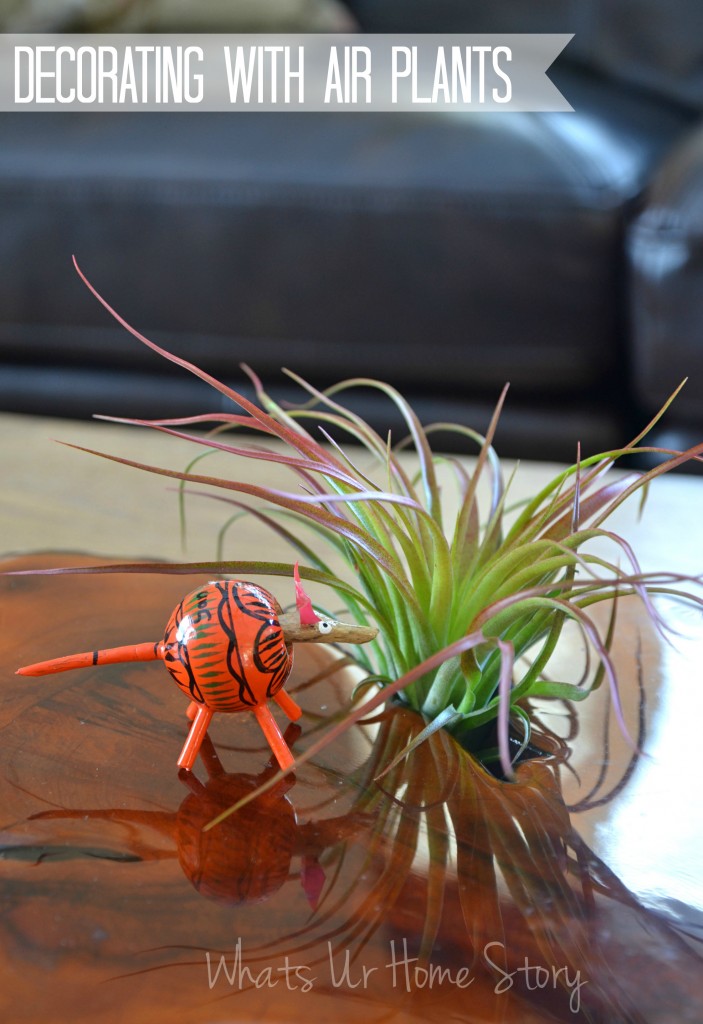 By the way in 2 years of blogging this is my first post where I've shot all the pictures in manual mode! Yay! A zoomed out shot of the same thing.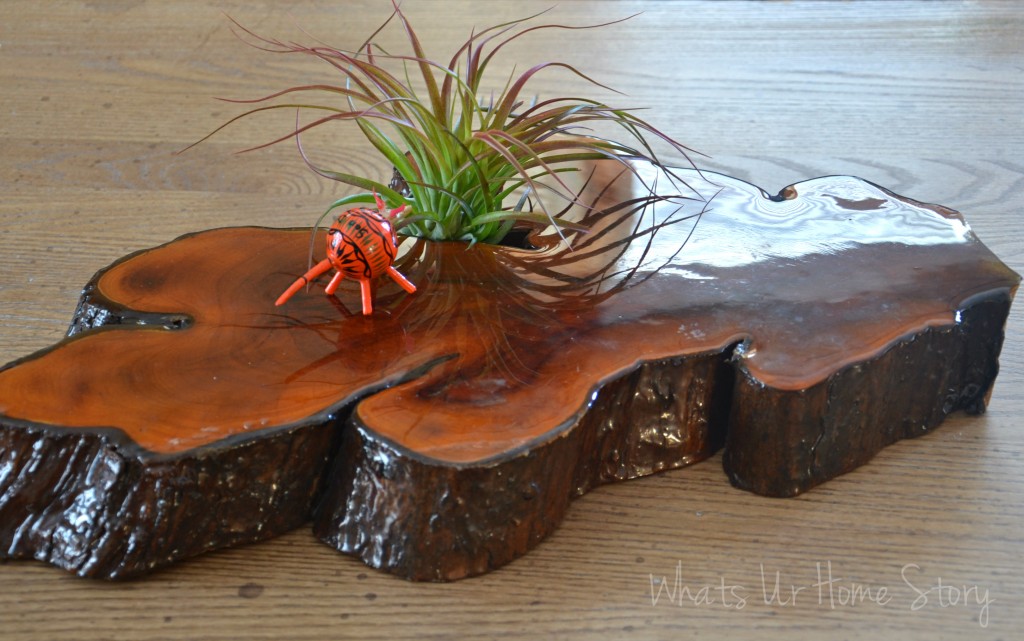 I guess by the time I got around to taking this picture Mr.Armadillo was so pissed that he was showing me his !@$&#! 🙂 Air plants are the answer to the black thumb in gardening. All they need is indirect sunlight and a 40 min – 1 hr of deep soak in luke warm water once a week. You can see how I take care of my plant in this post.
Ready for a Tillandsia head? Now my IMM Living napkin holder's got a life of its own! Doesn't she look all bossy?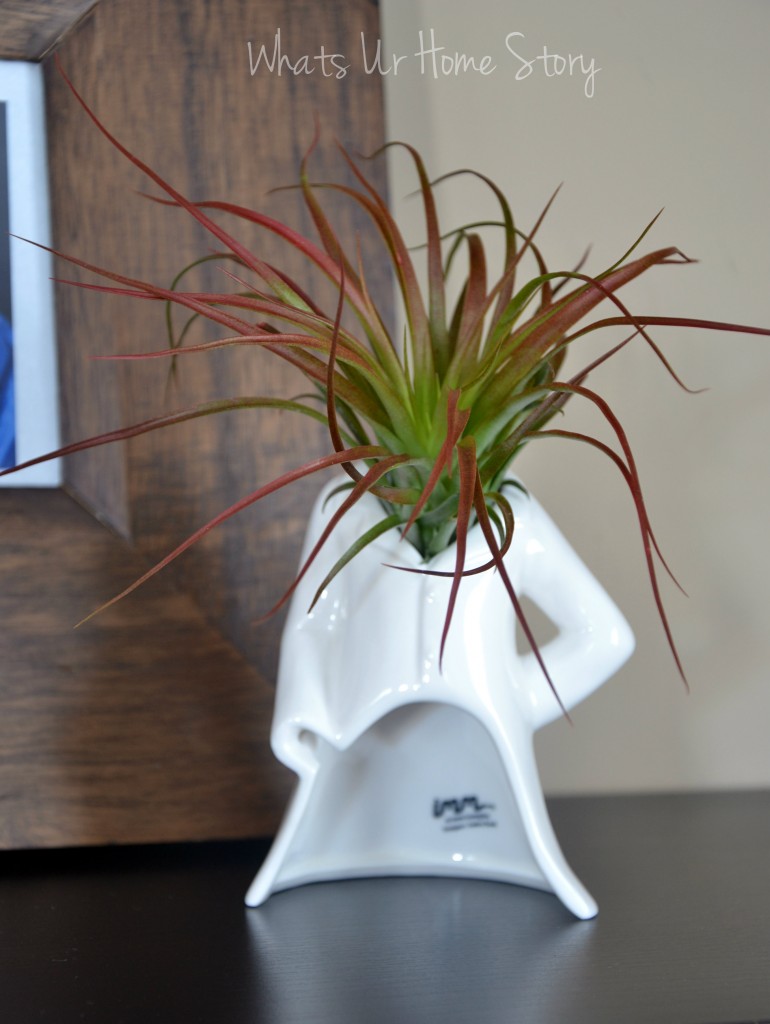 Can't leave out the usual air plant money shot, can I? Yes, it is an air plant cliché but still looks breathtakingly beautiful! And do check out that cool reclaimed wood veins of our TV console.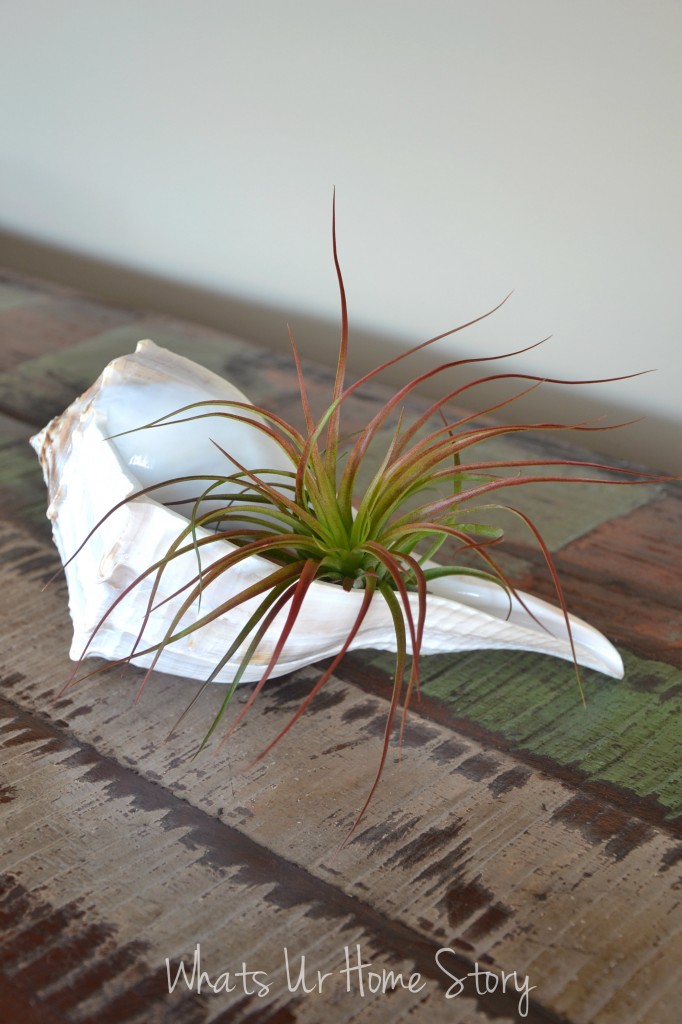 My take on yet another expected decorating idea with air plants, the terrarium. I bet you haven't seen an air plant in a bed of corks.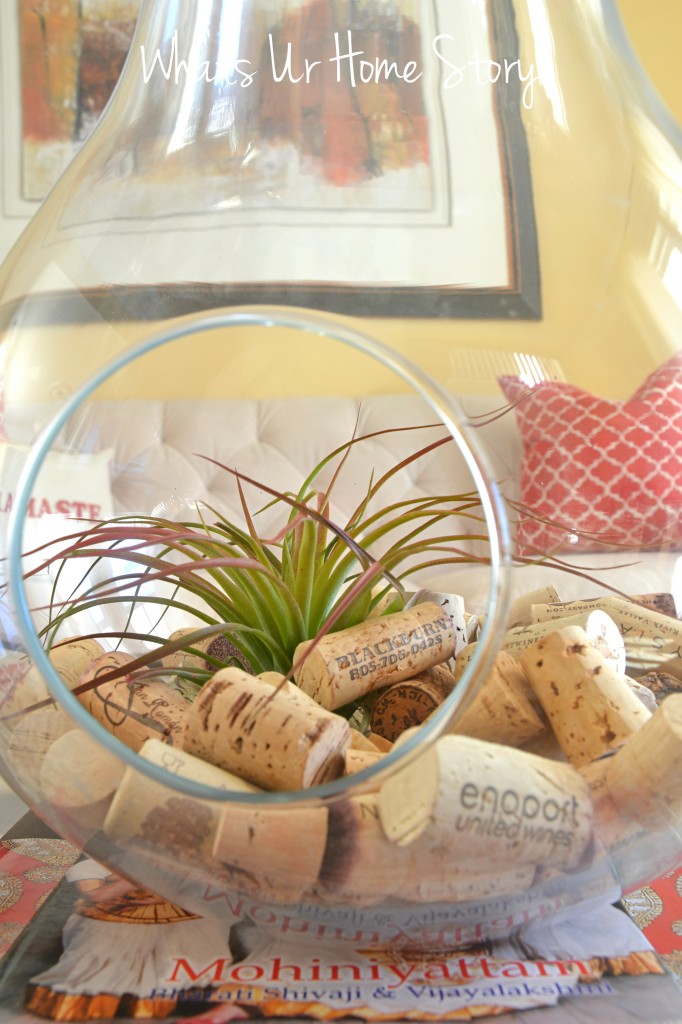 The full view of my glass pear terrarium. I used the glass pear on my Christmas mantel too.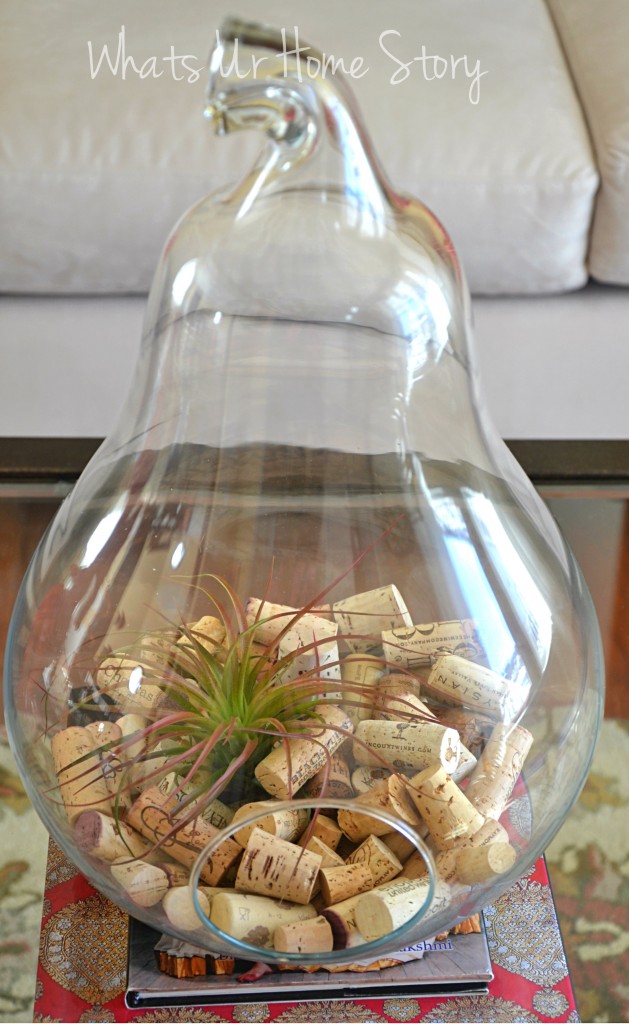 I loved every one of them for their rustic touches but you know which one got B's and my DD's vote? My DS as usual didn't care for any of it as he was busy devouring his library books. This gem….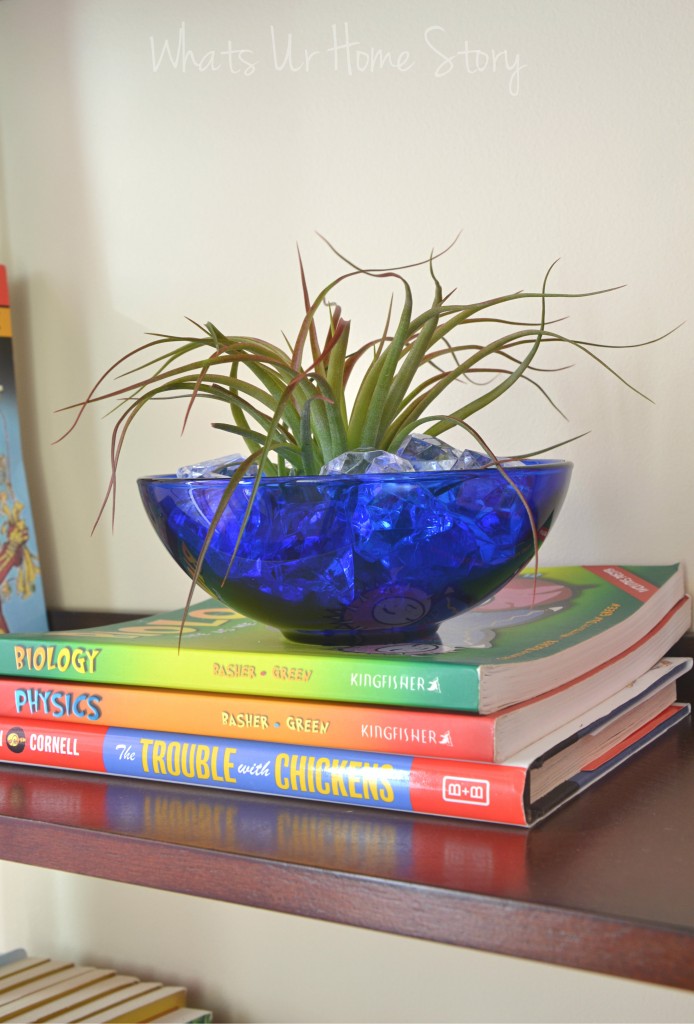 I can see why they fell for it, the blue bowl and the fake crystals!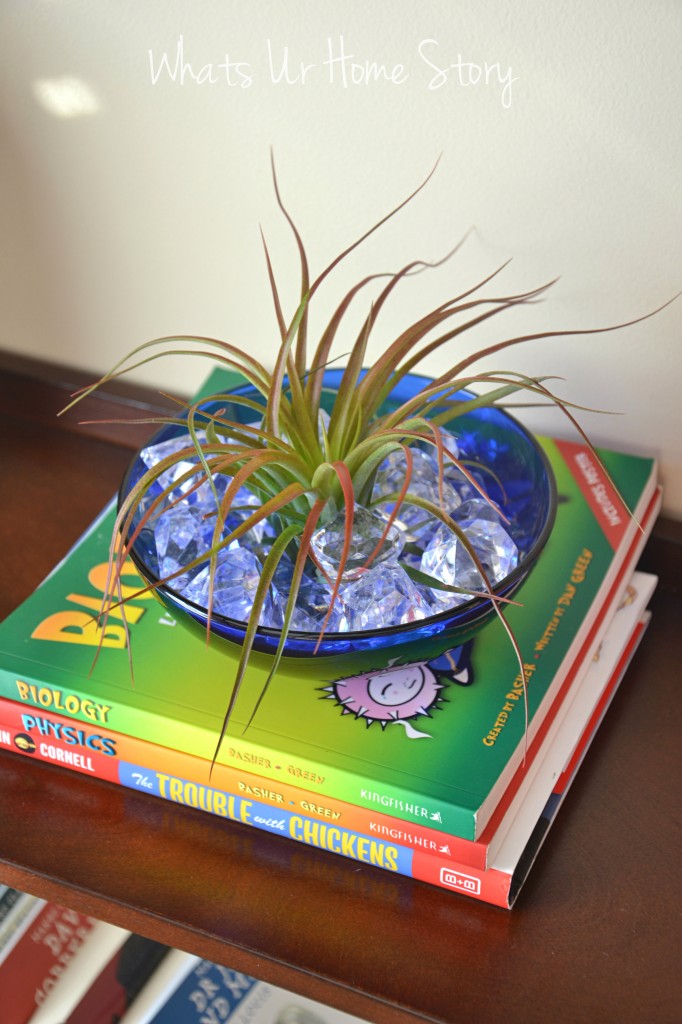 Wasn't that quite a statement for $5.99? Wegmans even had smaller ones for $1.99.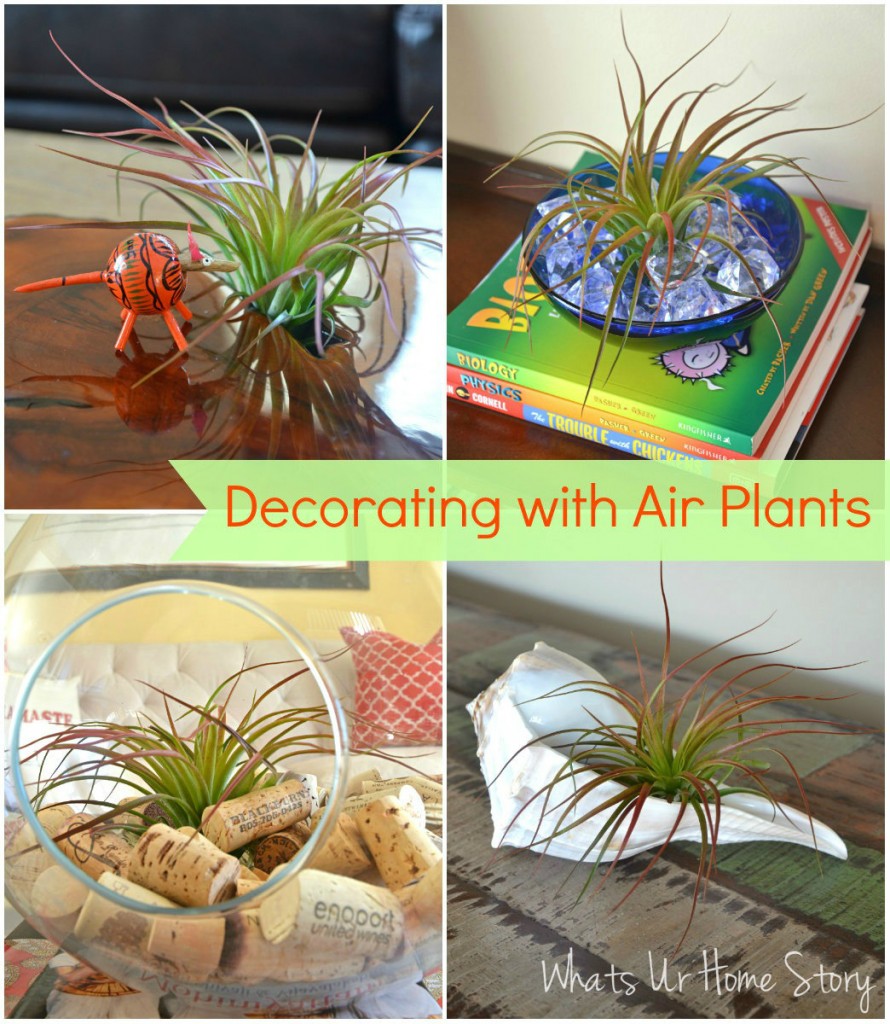 Which one do you vote for? Do you own air plants? How have they fared?
For more terrarium ideas;