Presenting my nature inspired (you are gonna hear that term a lot from me this holiday season) fall mantel.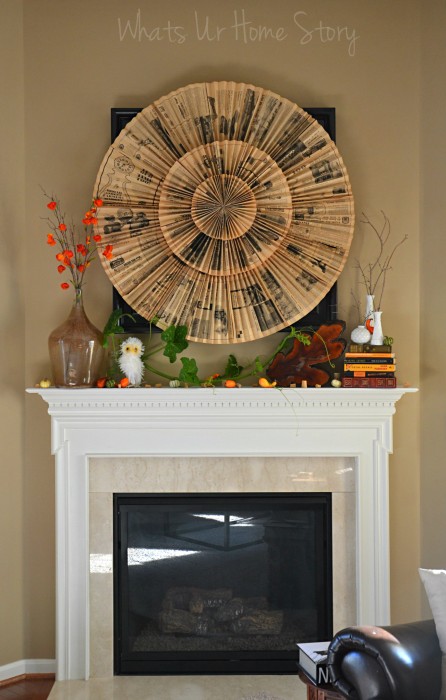 A closer look…..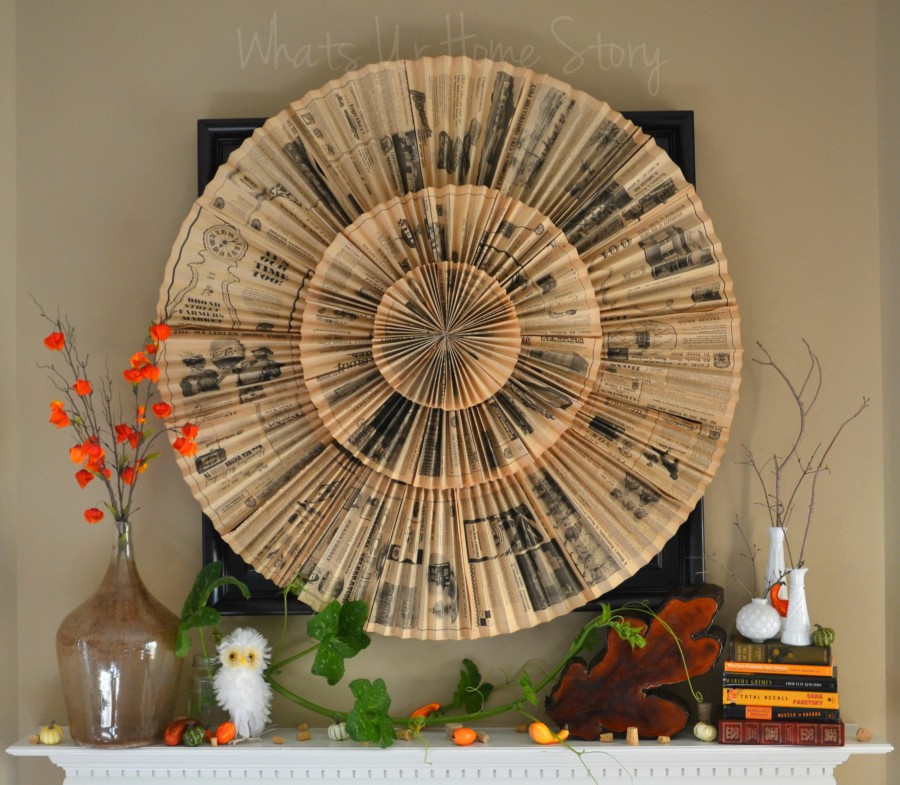 The vintage newspaper medallion is totally inspired by the one I saw at  The Old Lucketts Store (more on that here). The  vintage newspaper was a find from my trip to Old Lucketts Store Spring Market last year. You might remember it from this ginkgo leaf art project.
On the right are the $3 (each) milk glass vases that I found at  Sweet Clover Barn during the Hometalk Halloween Hunt. The small round one is not exactly a vase, has a hole in the bottom. Most likely might have been an attachment to a bigger vase or light fixture. Since I used dried twigs from the yard it worked fine.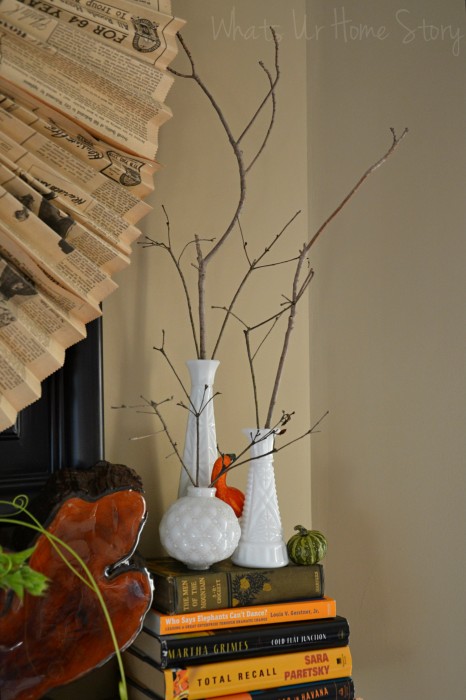 That big coral like piece of wood is for real folks! My find of the day at  Chartreuse & Co, again from the Hometalk Halloween Hunt. It looks like one side was stained and lacquered while the other side (back) was left in its original state. Guess how much that was?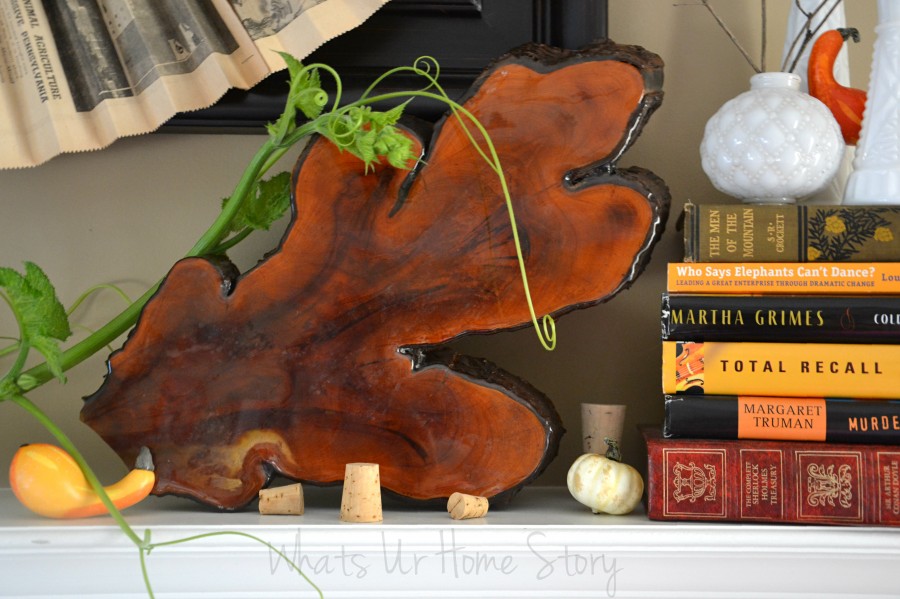 Yup, $3!!! The lady at the counter couldn't believe her eyes. She might have said the same thing exclaiming what a deal it was so many times. She even called her friend at the counter and showed her the tag. In a hurry I chimed in, "Ya, even I was surprised…there were bigger pieces for the same price" lest she said the tag was some big mistake and it should have a few zeros added to the end.
I found the owl, my kids' favorite part of the mantel, on the after Halloween clearance aisle at Micheals last year. Think it was $1.50.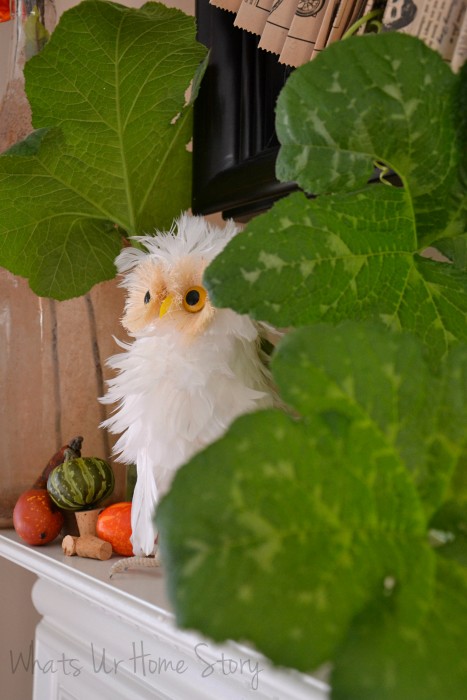 A close up of the medallion. Proof that it is an easy project: I got some serious help from my kiddos. Will share the tutorial tomorrow. Wondering why I didn't bother to take the art down before I hung it up? The answer is here.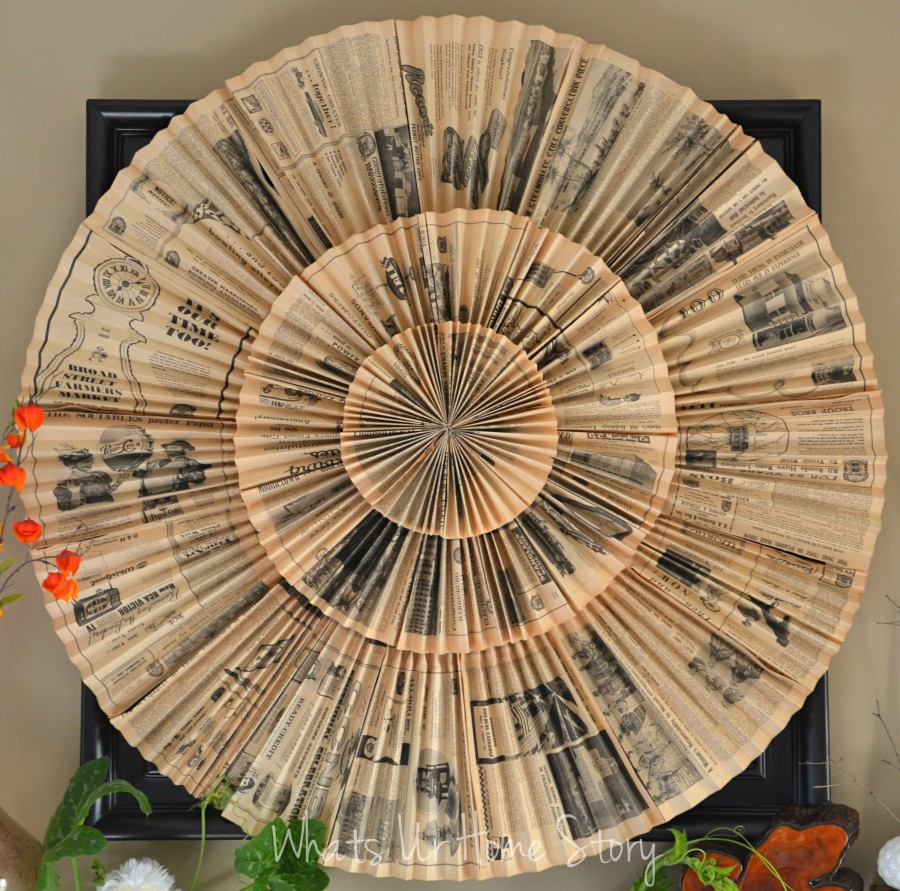 Already had the vintage wine bottle or demijohn, the fake pumpkins/ gourds, and the fall foliage. Used them for my Thanksgiving Mantel too last year. The pumpkin vine is from the backyard. We have a dud vine this year so I thought why not use it at least this way. I filled an old pasta sauce jar with water and dropped it in. Not sure how long that is gonna last.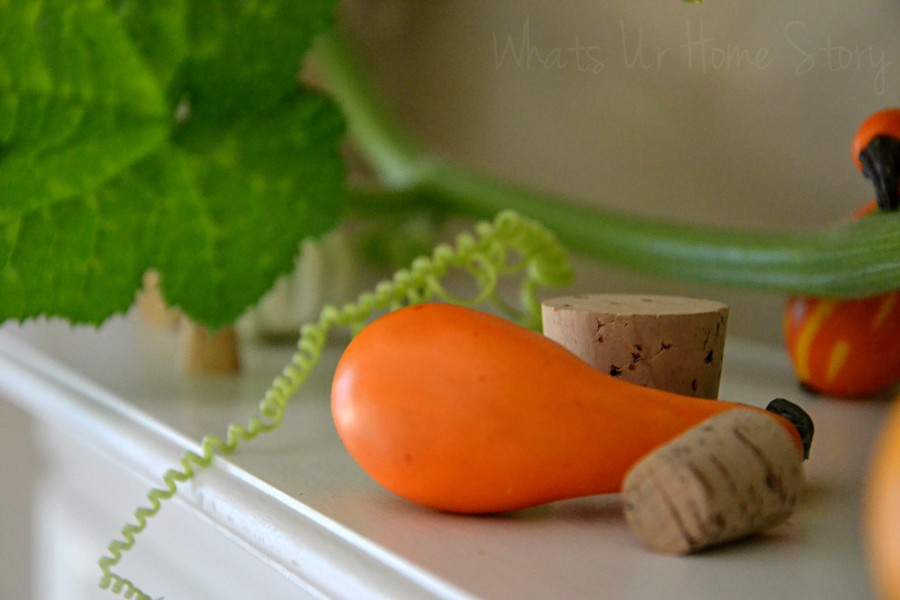 One more shot 'coz I just love side angles. 🙂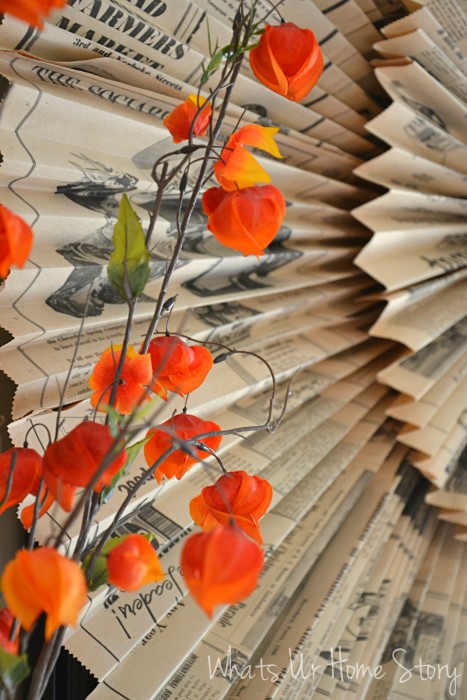 Is your home all fall ready? Do you dress up your mantel for each season?
Linking up to the Hometalk Halloween Hunt Link Up