Hope you all had a fun weekend. We are back from an almost week long trip to LA and San Diego and headed straight to back to school week. Even the long weekend at EST is not getting us out of our PST jet lag.
I'd never been to the West Coast, so this was a very interesting trip. Even though we had read and heard about the landscape from friends and family  it took us by surprise to say the least. The beaches were gorgeous of course but we were really really surprised at how dry the rest of the place was (I'm talking only about SoCal here). We stayed for a day at LA visiting all the touristy places and then headed on to San Diego. As expected from a family with kids, we did the theme park rounds n all but our favorite part of the trip was the La Jolla cove.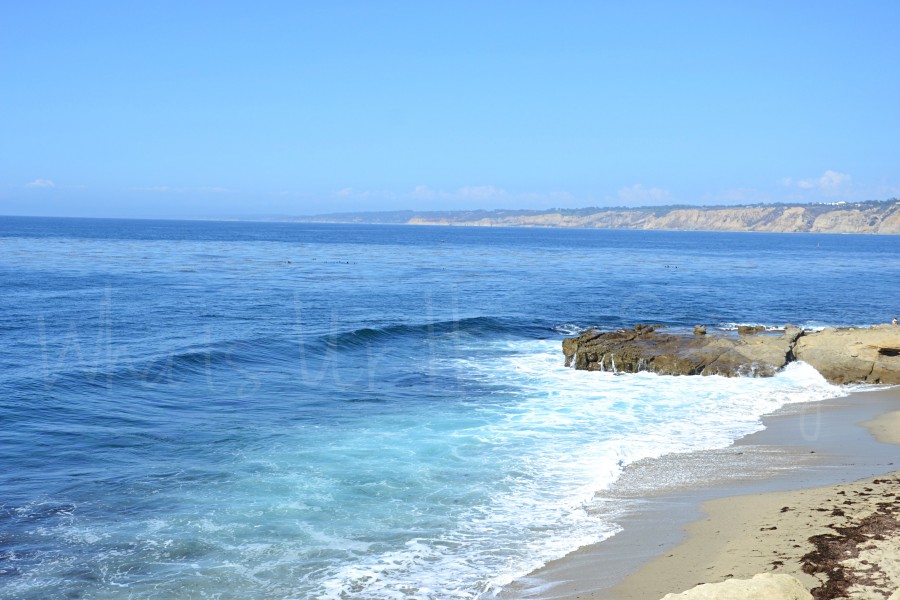 The rugged beauty of the cliffs and the blue waters of the Pacific were a sight to behold. To top it off there were lots of seals in the bay and on the surrounding rocks.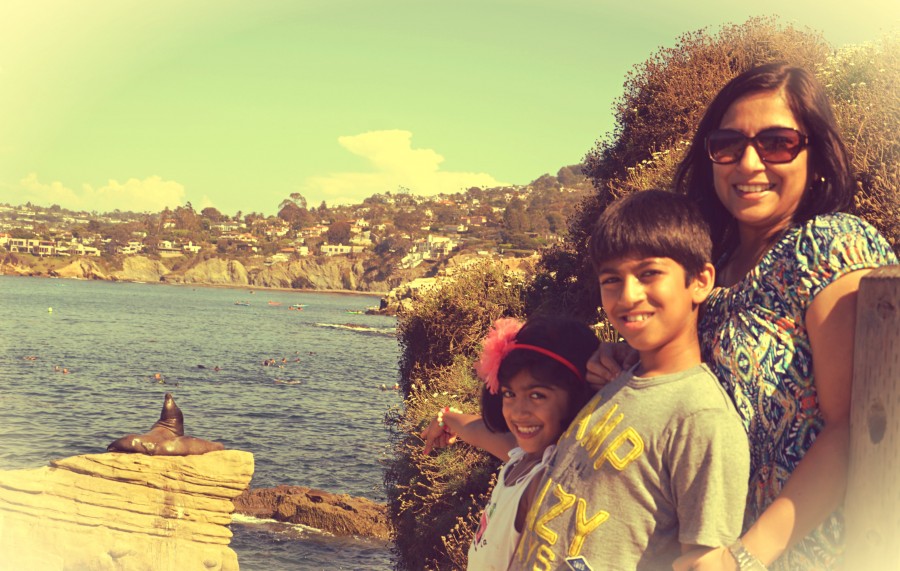 Our only regret was that we didn't allot enough time for kayaking. It along with snorkeling seemed like the thing to do. Though I'm not sure how I would've fared at the latter activity given the fact that there was a high chance of coming face to face with a seal or dolphin, many of which were swimming right by the kayakers/swimmers/and snorkelers).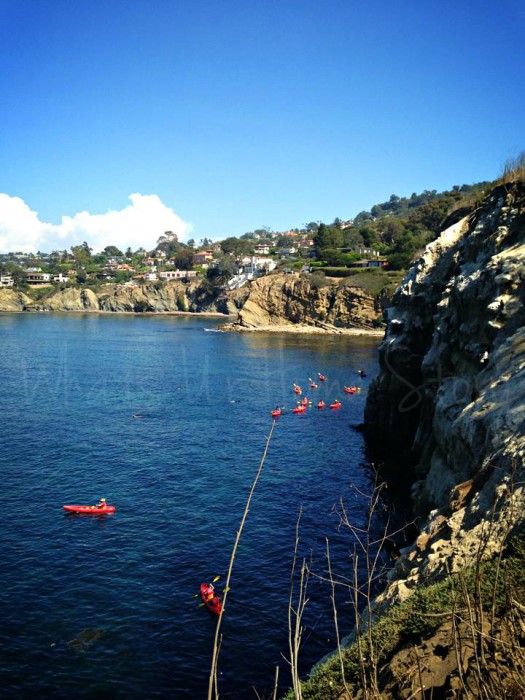 Food wise, other than crappy theme park food we got only a few chances to try out the local restaurants. La Jolla is full of seafood restaurants but we happened to go there at the most odd time of the day. But we did make it to Old Town Mexico, which by the way is an awesome place for a foodie and pigged out on cheap authentic Mexican fare (seriously $2 a taco) at the Old Town Mexican Cafe. Their salsa was the best I've ever had. B, who is not a big fan of Mexican loved his Molcajete. I thought my tacos needed some spice, this coming from a gal who doesn't like her food too spicy. Sorry, no pics. In all the restaurants we were so hungry that we couldn't even wait for Iphone pics. 🙂 Being a home decor blogger can I get away with a pic of the old chandelier in the hall we sat?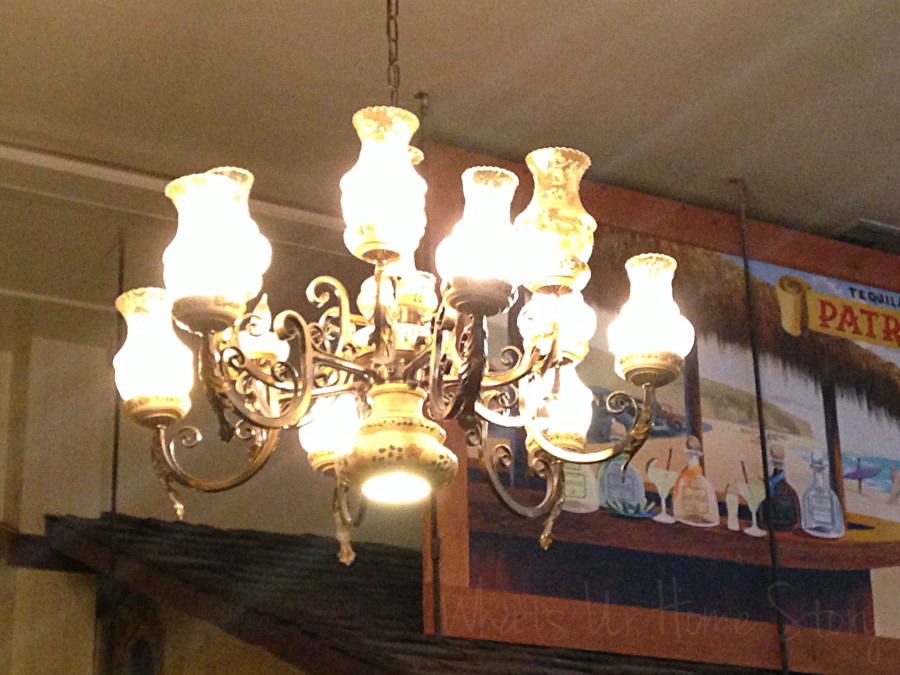 The other restaurant that we absolutely loved was The Bringantine Seafood on the Coronado Island (another awesome place, a separate blog post on this one coming soon). My mouth still waters thinking of the crab cake I had.  Hands down the best crab cake I've had in my entire life, again coming from a huge anything crab person. B too loved every bite of his sword fish and shark tacos. No pics of the food on this one either. 🙁 I told ya, we were really hungry.
Unlike other folks who return from a vacation content I come back from each vacation with a serious yearning for a plant or tree that I've spotted during the time. Usually it is something tropical that reminds me of home that I keep wishing I could grow in my home. After our Florida trip it was the crepe myrtle, the VA beach was the oleander, now it is the bougainvillea.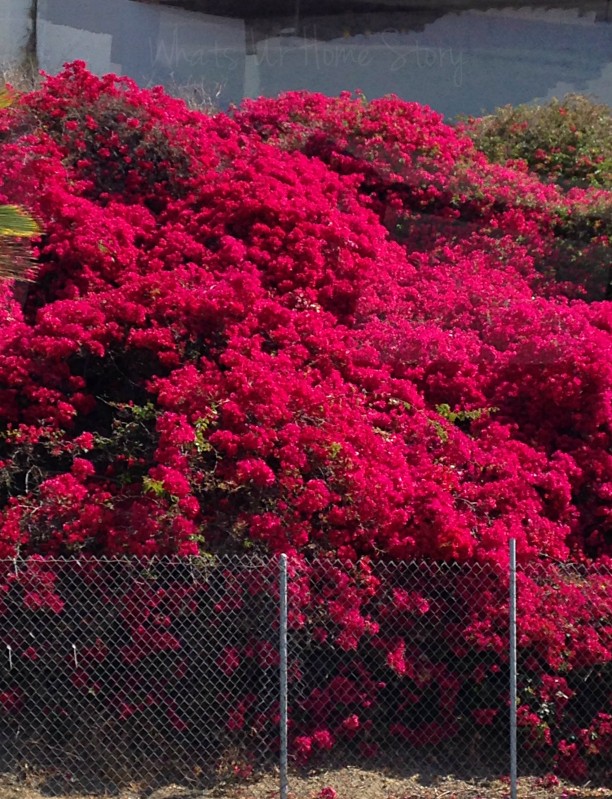 This was taken somewhere near LAX. There was not one place that I did not find this beautiful flower. Even in the hot and dry San Pasqual Valley I found it in the San Diego Safari park. I know, it is what you'd call a landscape staple in those parts still it felt good to see this plant I grew up with. Our old neighbor back home used to have two humongous (peach and white) bougainvilleas in her front yard.
Any So Cal residents or bougainvillea fans out here? Or even better do you have it in your home/garden?
Ooops…almost forgot. The souvenirs; a postcard (my first one, Thank you Clay for being the inspiration 🙂 ), a tiny wood Armadillo, and a 4 inch Tiger Cowry shell (my fascination with these will need a post all by itself).
Will be back with our usual first of the month Craigslist  post tomorrow.