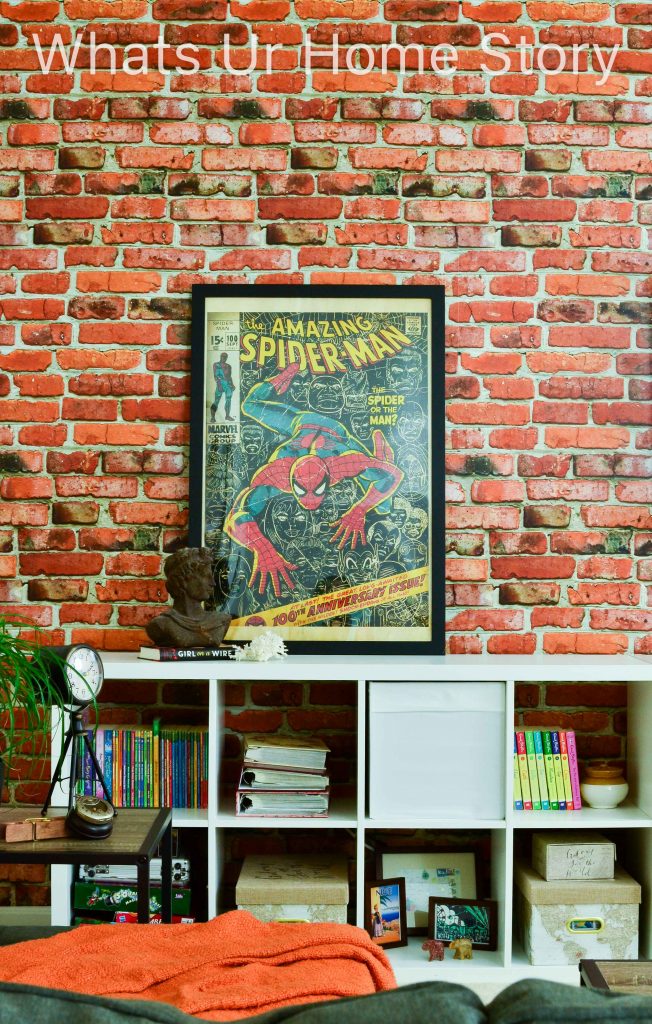 Finally the reveal of the mega project that I was working on is here! Our family room in the basement got a loft style makeover complete with a brick accent wall! Took almost a year in the making! Phew, worth the wait don't you think?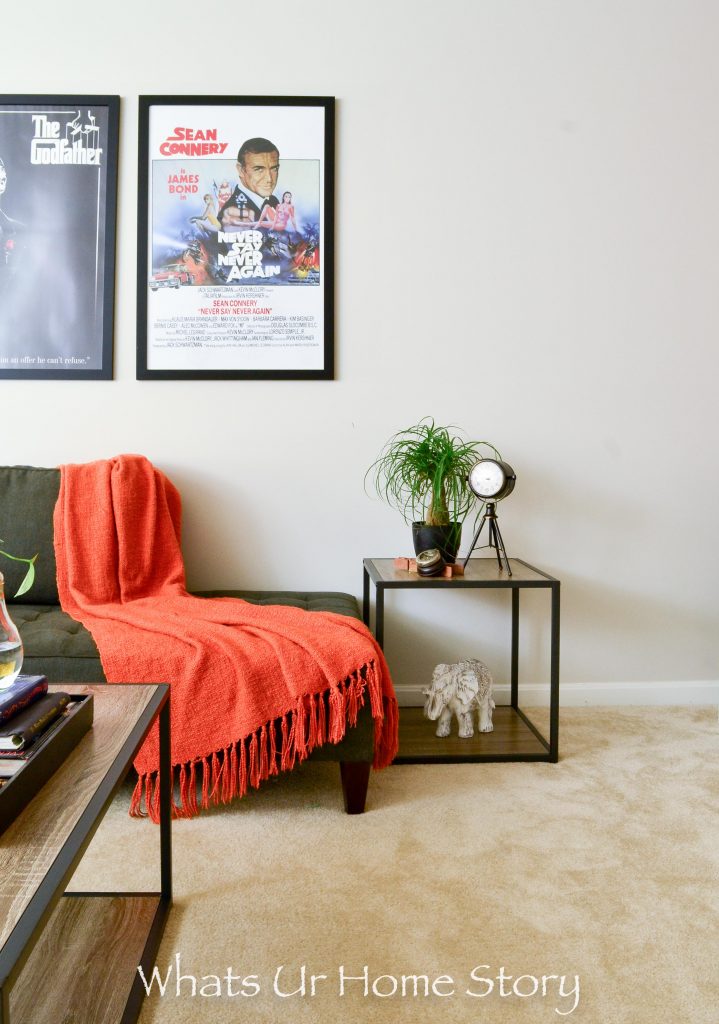 The basement room had a large dated media cabinet that I got rid of (did you know large pieces of furniture are so hard to dispose off?), a leather couch that we reused, and a traditional coffee table that is now being used elsewhere. So you could say we started out with pretty much a clean slate or a dumping ground of sorts as seen below. 😛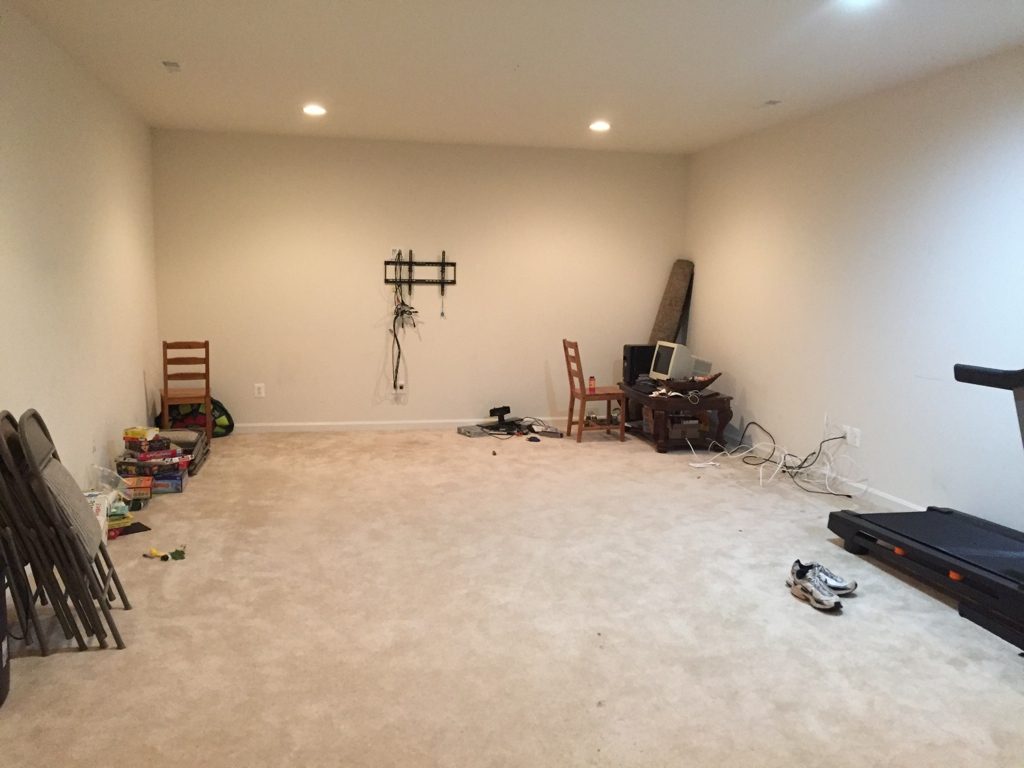 We don't have a home theater per se so this family room doubles as game room, movie room, and just plain old hang out spot for playing video games.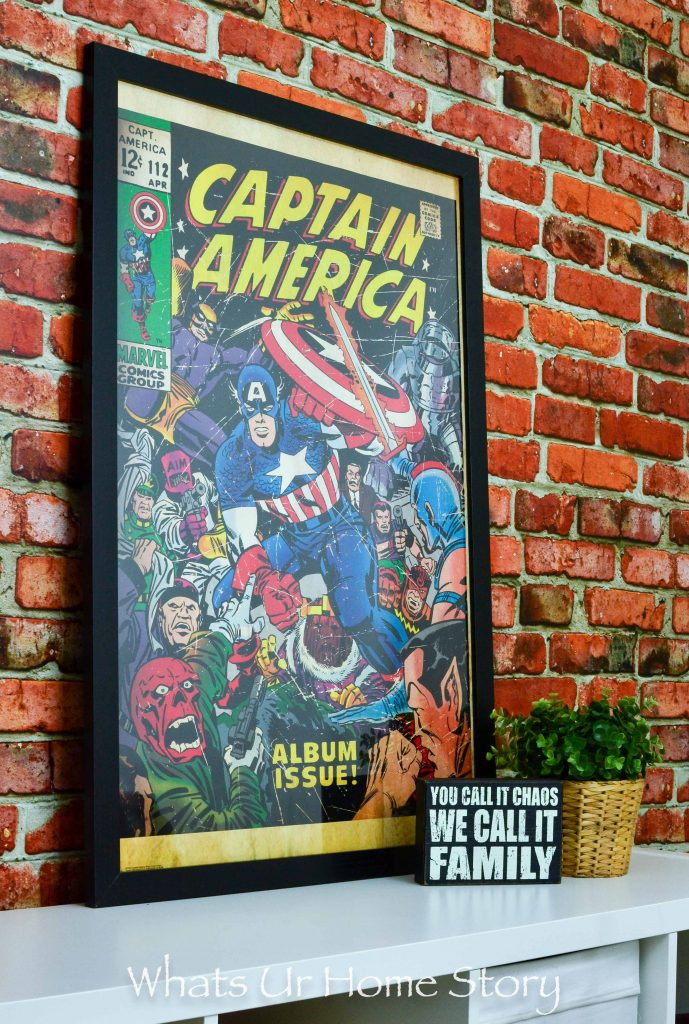 *Milton & King and AmeriWood provided me with the products for this project but as always the ideas, tips, and thoughts are all mine!
Now for the biggest surprise. That is not real brick y'all, it is wallpaper from Milton & King! Can you believe that? Check out those grout lines in the picture below.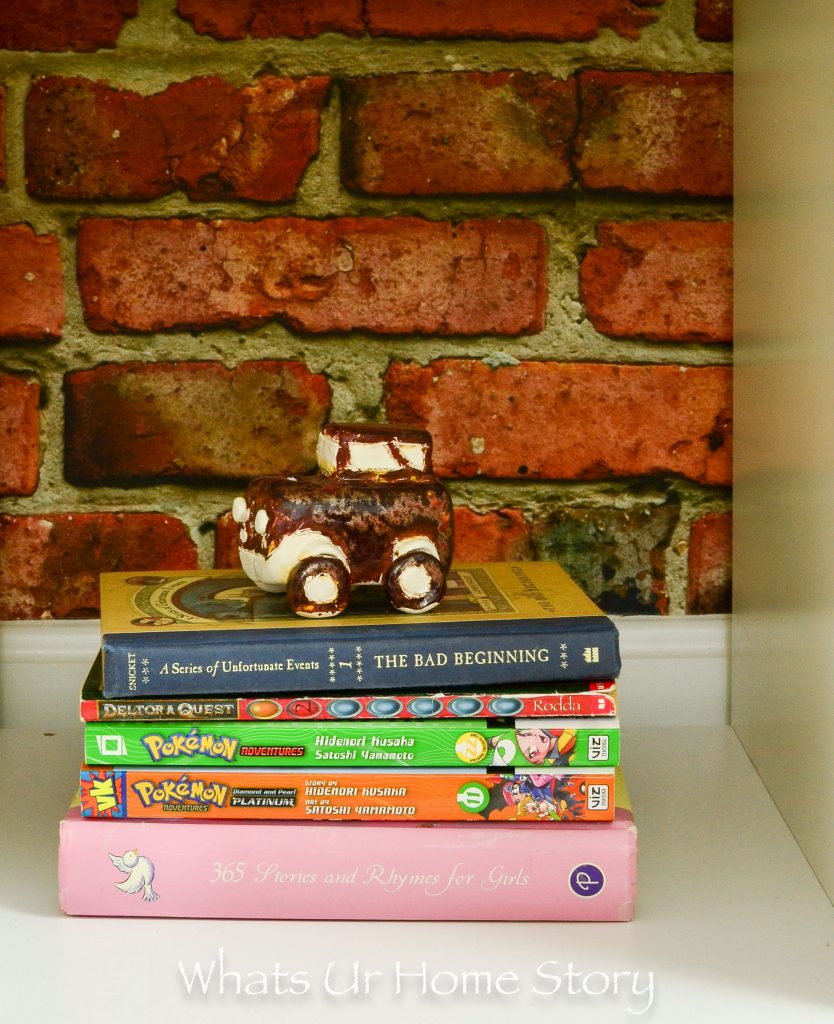 The industrial Canton coffee and accent tables in distressed oak finish from Ameriwood add to the clean and sleek loft look.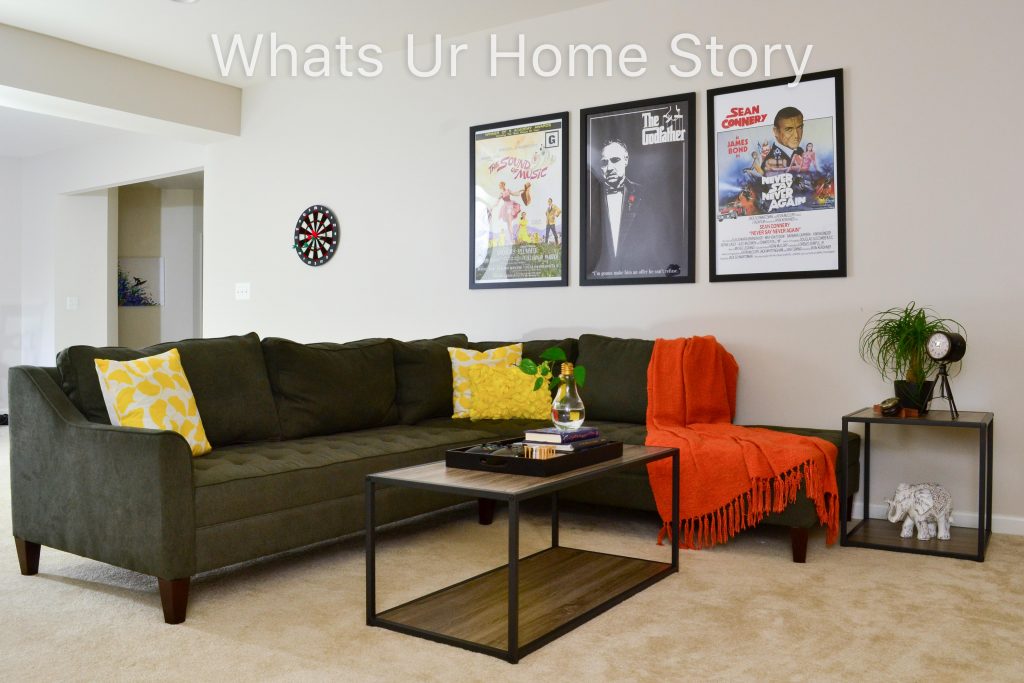 They were so easy to put together that my 14 year old set them up all by himself!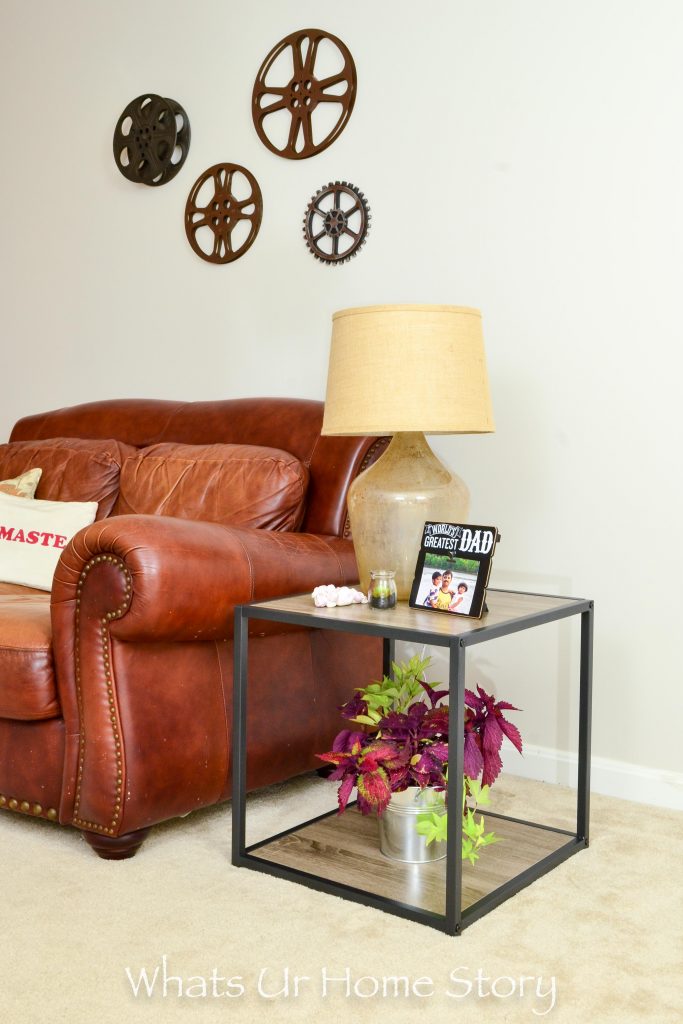 I love that these tables have a bottom shelf for extra storage or to display knickknacks. The gun metal gray finish works really well with the room's vibe and continues the modern tone set by the exposed brick accent wall.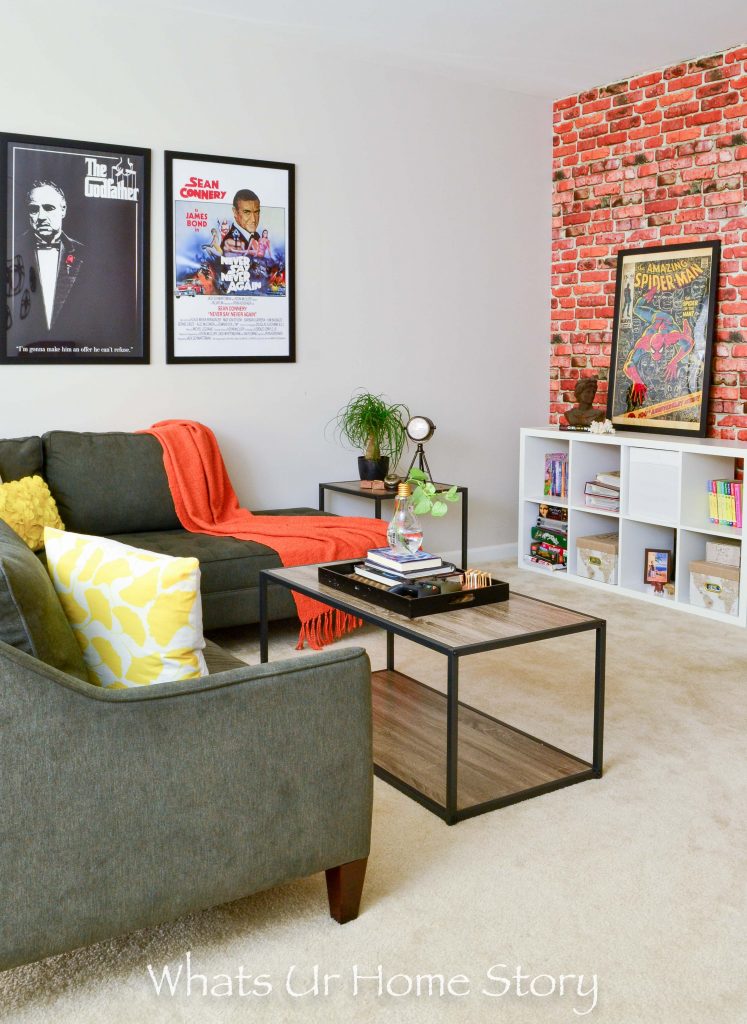 Coming back to the brick wall, I cannot tell you how many of our friends and family have actually walked up to it to touch and feel it. It looks that real. I had searched high and low for the most authentic looking brick wall paper but everything fell short until I saw the Camden Factory Bricks wallpaper on the Milton & King website.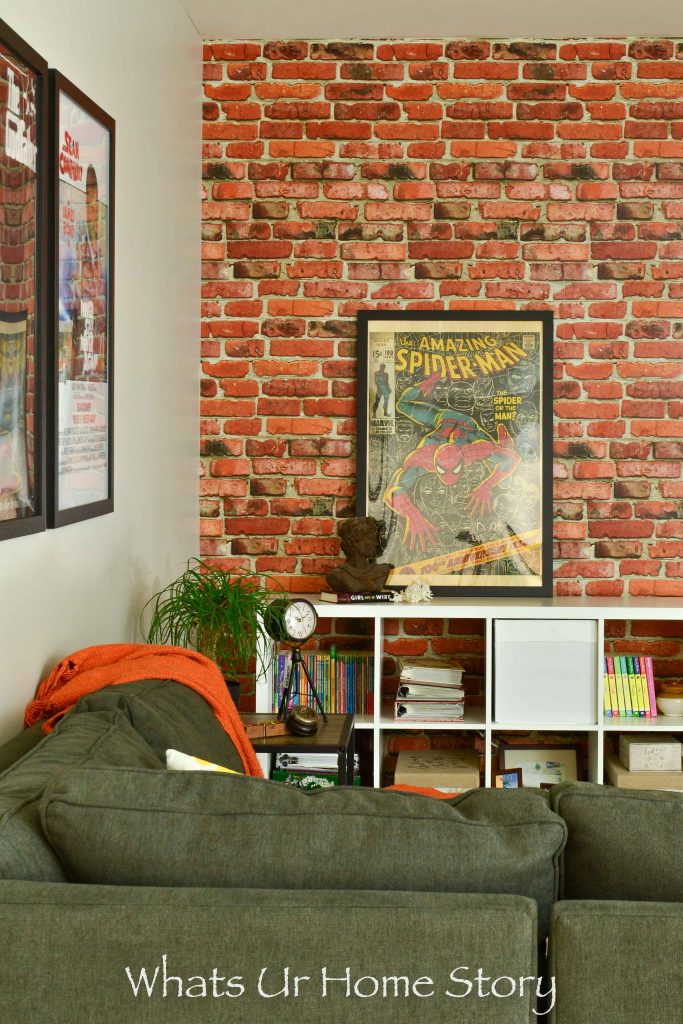 3 IKEA Kallax shelves laid horizontally act as the entertainment center providing lots of storage for books, video games, board games, photo albums, and souvenirs.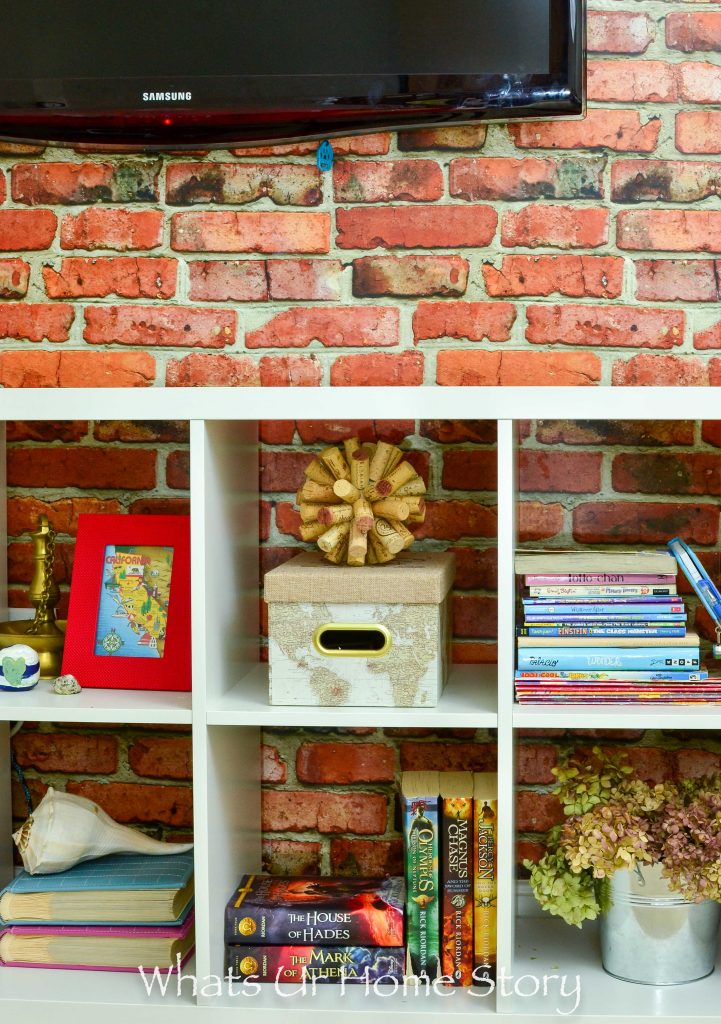 The movie and cartoon character posters are a nod to our family's favorite films.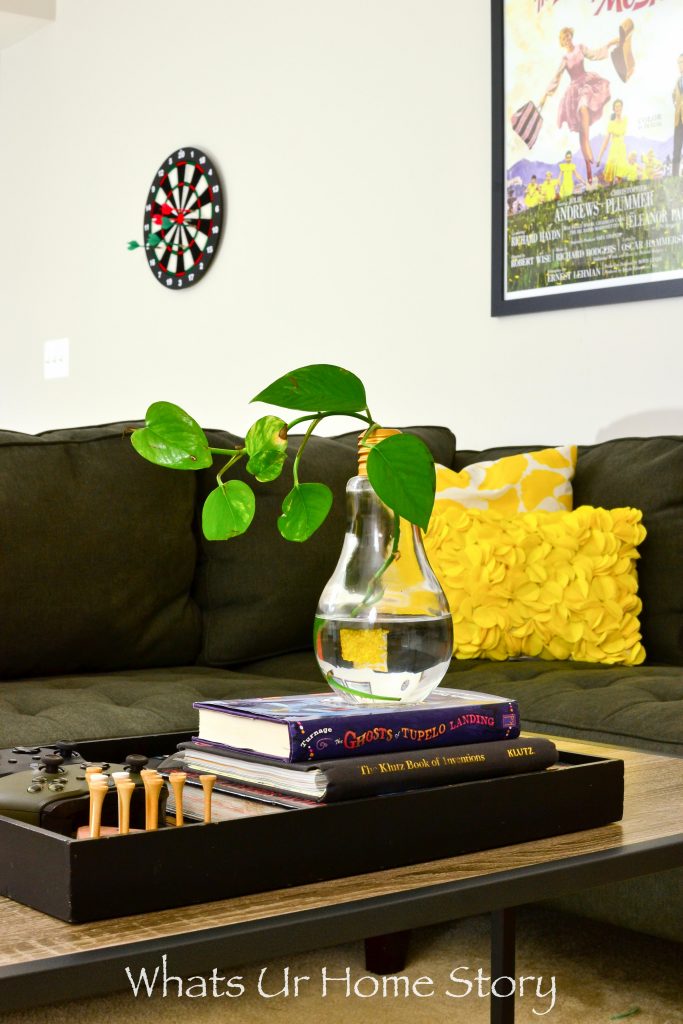 The detail on that wall paper is so amazing, I tell ya these pictures do not do full justice to how authentic the wall looks. The paper is great quality, thick aka. no chance of tearing and yet easy to work with. Best of all it is paste on the wall type which is a breeze to install.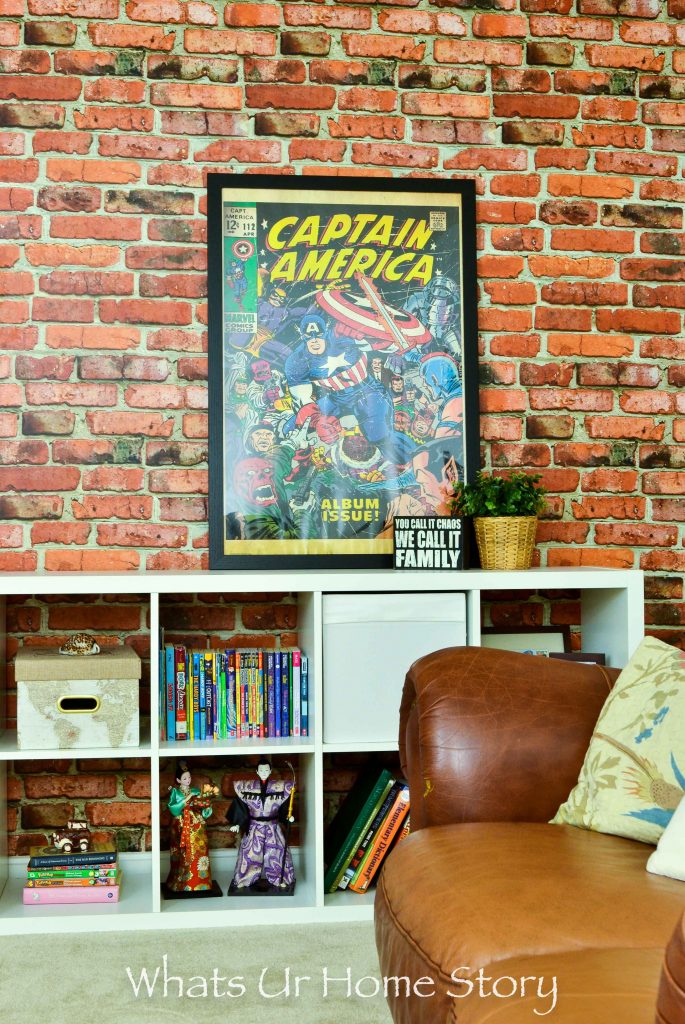 At 17.72″h x 41.34″w x 20.47″d, the Canton coffee table is the perfect size for our sectional. Not too big or too narrow, just perfect.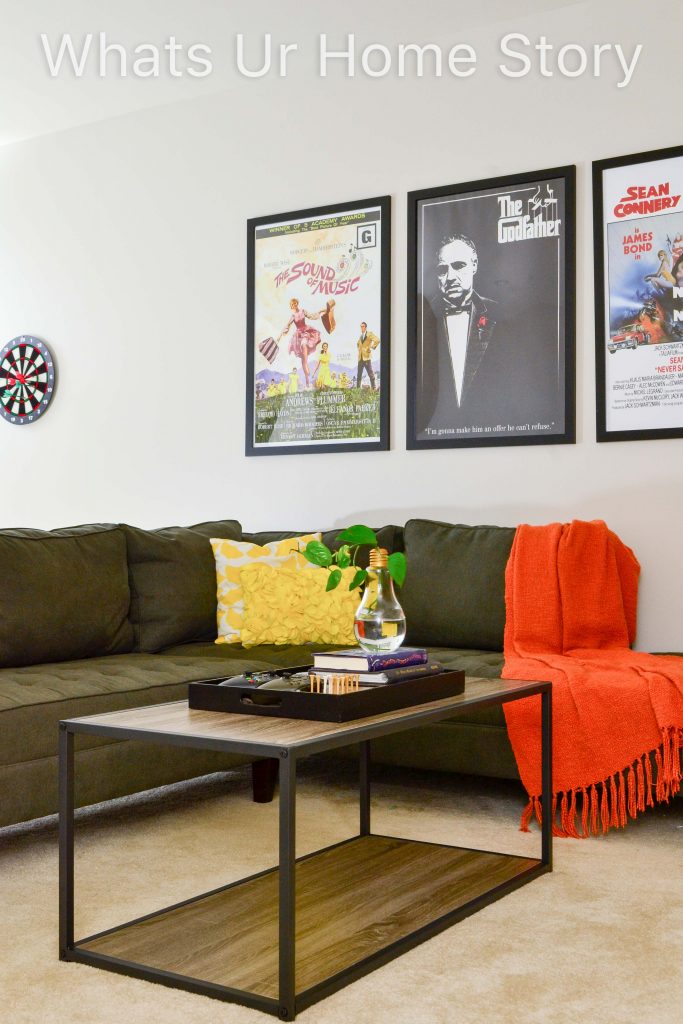 With the makeover this previously unused room has become our favorite room in the house, of course after our main family room.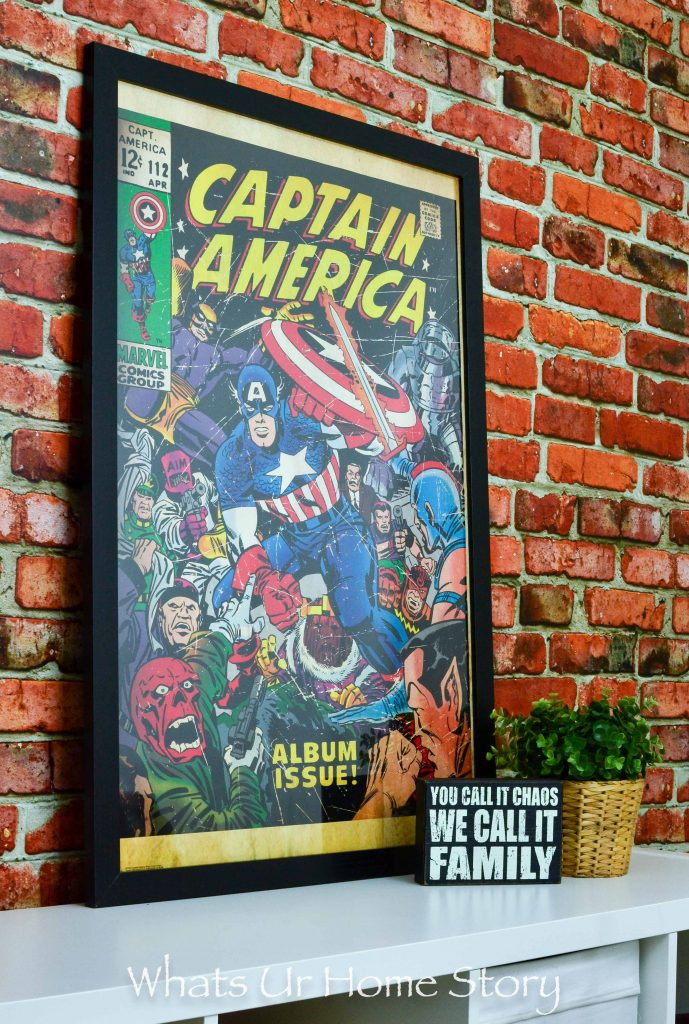 Here's a wider shot of the room. No idea why the charcoal gray sectional looks green in most pics.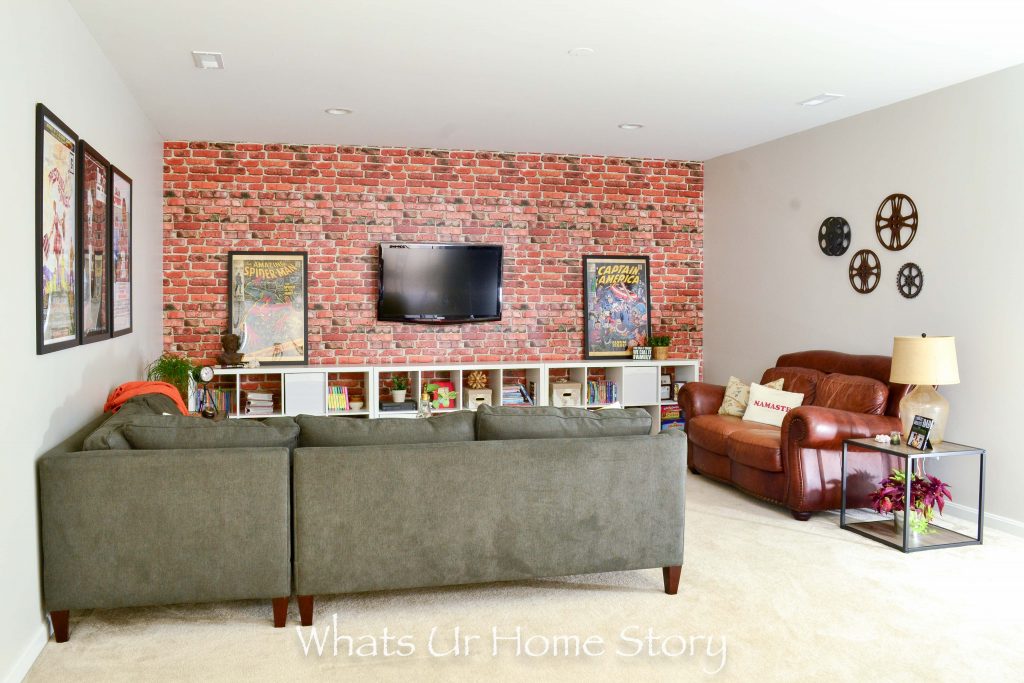 Are you a fan of the industrial loft look?
Sources for the furniture and accessories:
Wallpaper – Canton Factory Bricks by Milton & King
Canton Coffee Table with Metal Frame, Distressed Gray Oak –Ameriwood
Canton Accent Table with Metal Frame, Distressed Gray Oak –Ameriwood
Charcoal Gray Sectional – Havertys
Leather Couch – Is 13 years old, got it at a furniture store in Woodbrige NJ
Captain America, SpiderMan, The Godfather Posters – Hobby Lobby
Sound of Music Poster – Amazon*
Never Say Never Again James Bond Movie Poster – Amazon*
Poster Frames – Michaels
Cubbies – IKEA Kallax
Demijohn Lamp – DIY
Yellow Felt Circles Pillow – DIY
Soft Tip Darts and Dart Board Set – Amazon*
Large Brown Movie Reels – Vintage from the Lucketts Store Spring Market
Medium Movie Reel Wall Decor- Hobby Lobby
Suspensible Gear Wall Decor – Amazon*
Tripod Clock – At Home
Orange Throw Blanket – Pottery Barn
Iron Bust – Hobby Lobby
Light Bulb Vase – At Home
You call it chaos sign – At Home
Map Storage Boxes – Michaels
I received the Canton Coffee and accent tables as a free sample in exchange for an honest review.
*Affiliate link