To recap, after much searching I found two adorable cane chairs on Craigslist around this time last year. While I took my own sweet time trying to decide on what I wanted to do with them, they gathered dust in my already messy garage.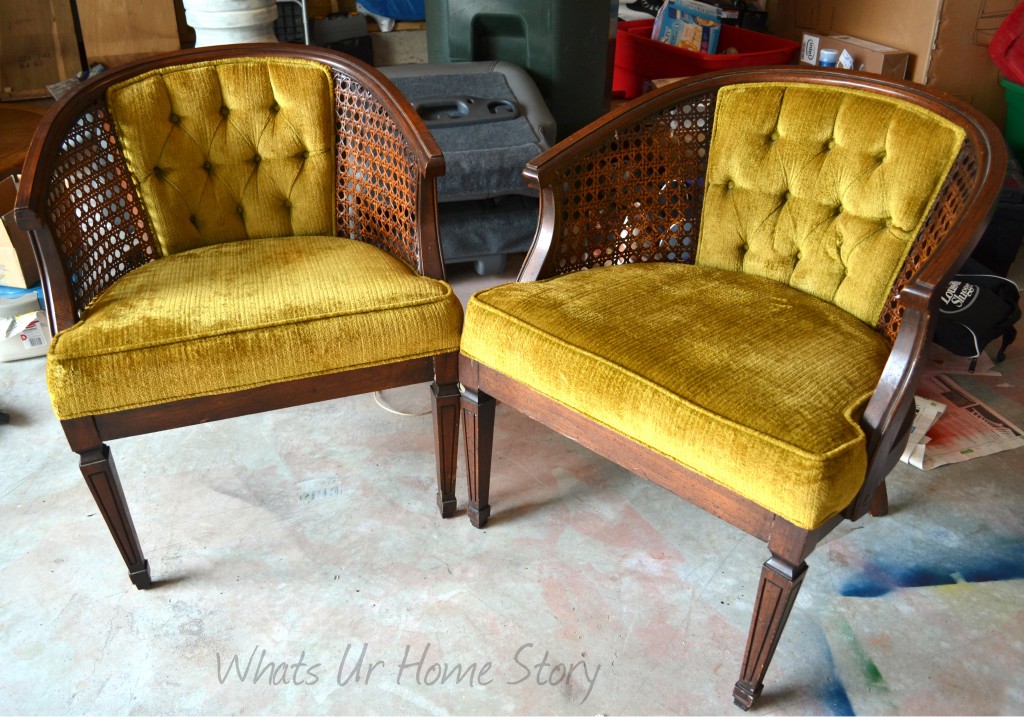 More design prodding followed and eventually last November I decided on the fabric. Now, exactly a year after I got them, the musty Kermit frog green velvet is off.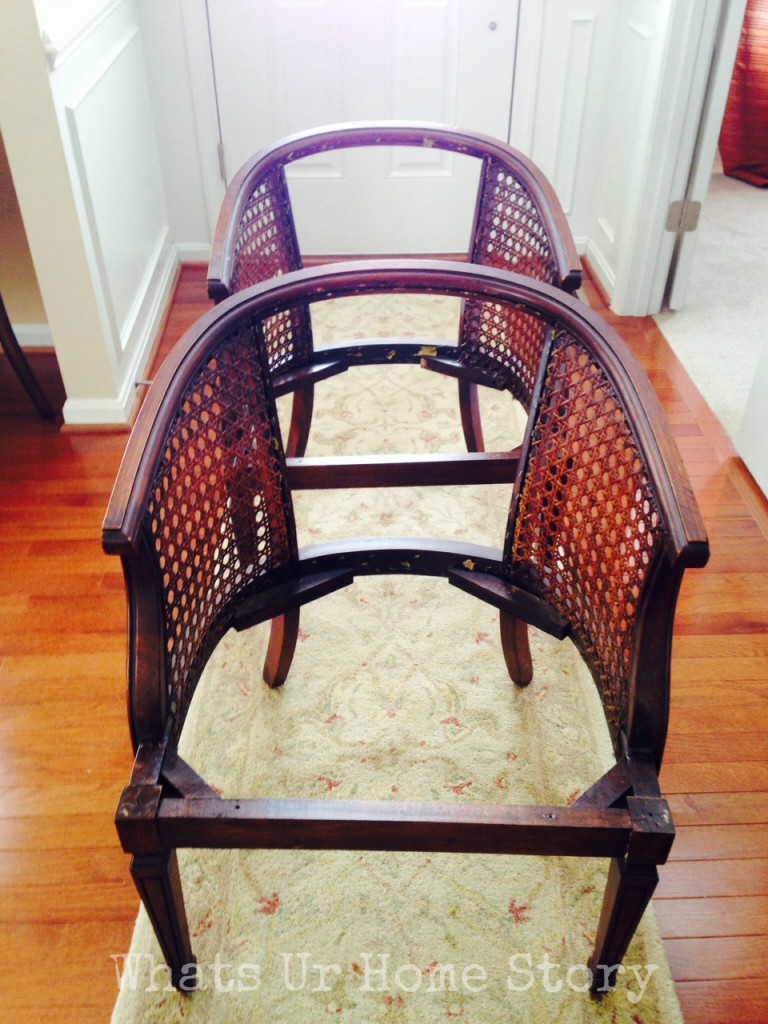 Unlike my previous chair makeover this time around the dismantling and un-stapling process was way easier 'coz we had the right tool, the Swingline Heavy Duty Staple Remover*. A quick sanding with a 220 grit sandpaper later;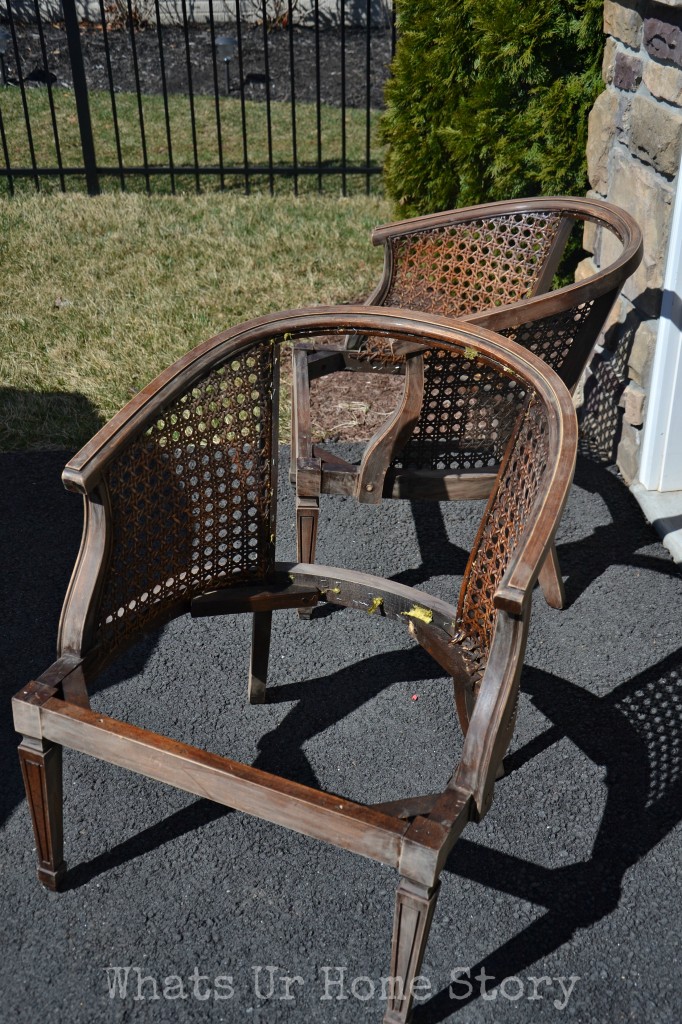 The original plan was to use Annie Sloan Chalk paint and I had my heart set on Napoleanic blue. But at the store the sample looked like this. 🙁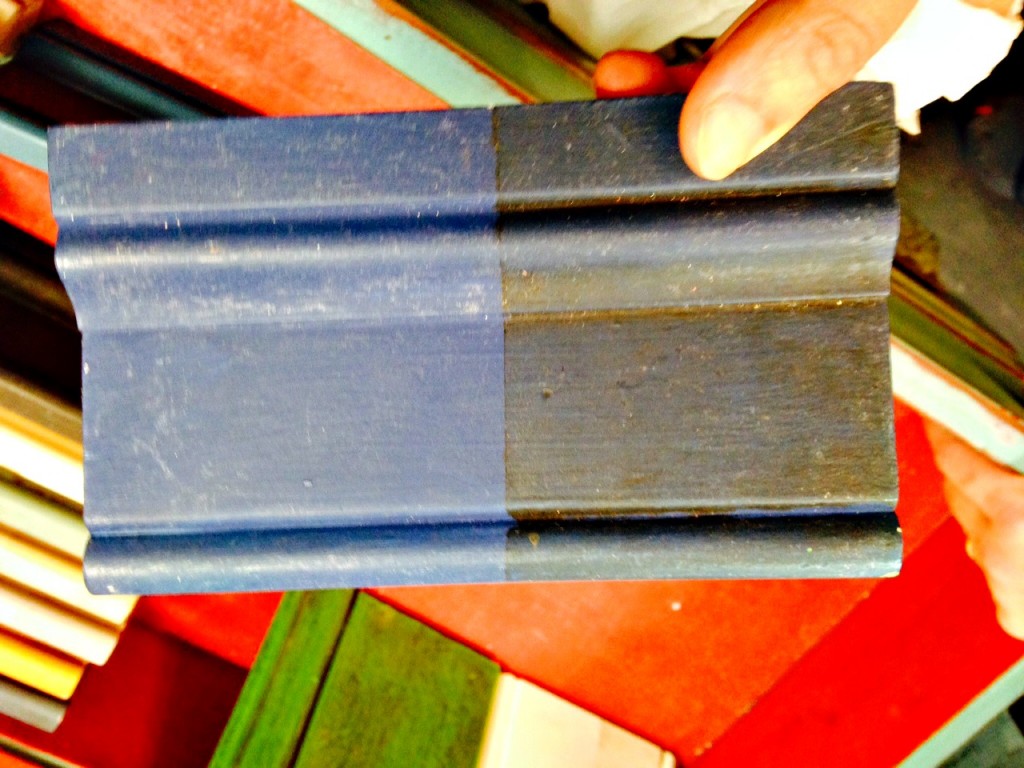 The left side is using the clear wax (what I have) to finish while the right side was finished with the dark wax. I was leaning towards the dark wax look but didn't want to spend $30 on getting a large tub of dark wax that I would hardly use. My clear wax tub is still intact. Wish ASCP waxes came in smaller tubs!
Anyways off to Home Depot I went and the guy there suggested Kilz! And I was like, "Why didn't I think of that?" Every blogger worth their furniture repainting worth swears by this gem and I had totally forgotten about it!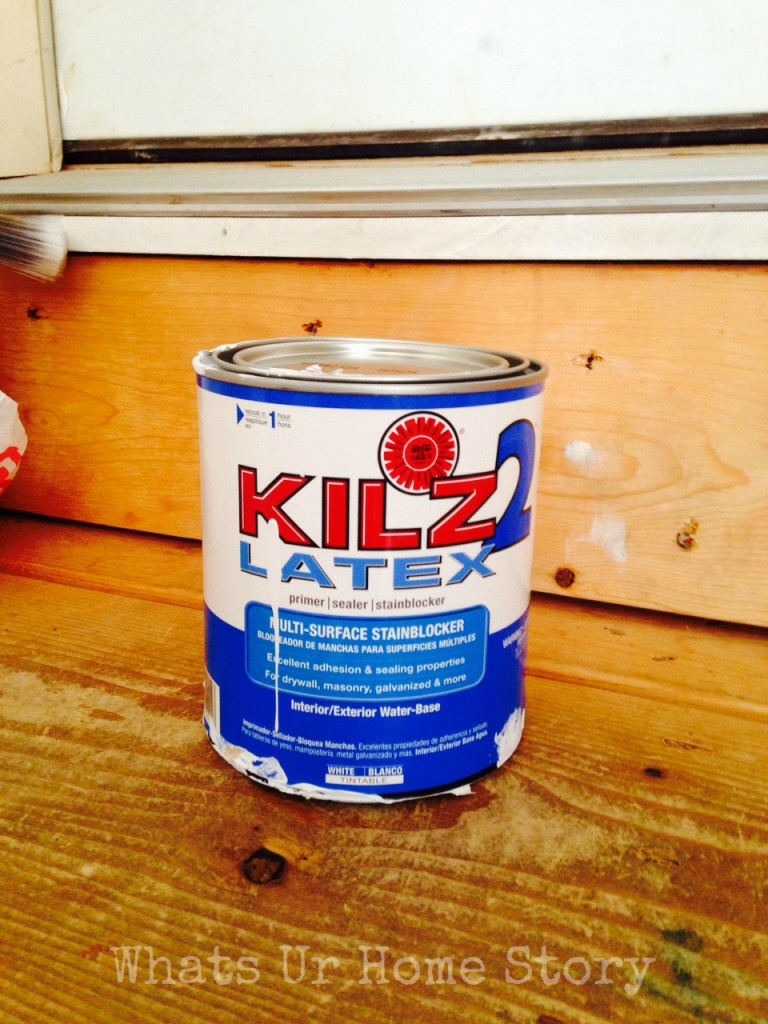 True to what I've heard Kilz sticks to things like it is no one's business. And this is where we are now ( ignore the mess in the background, the garage is long overdue for a cleaning) after a coat of Kilz;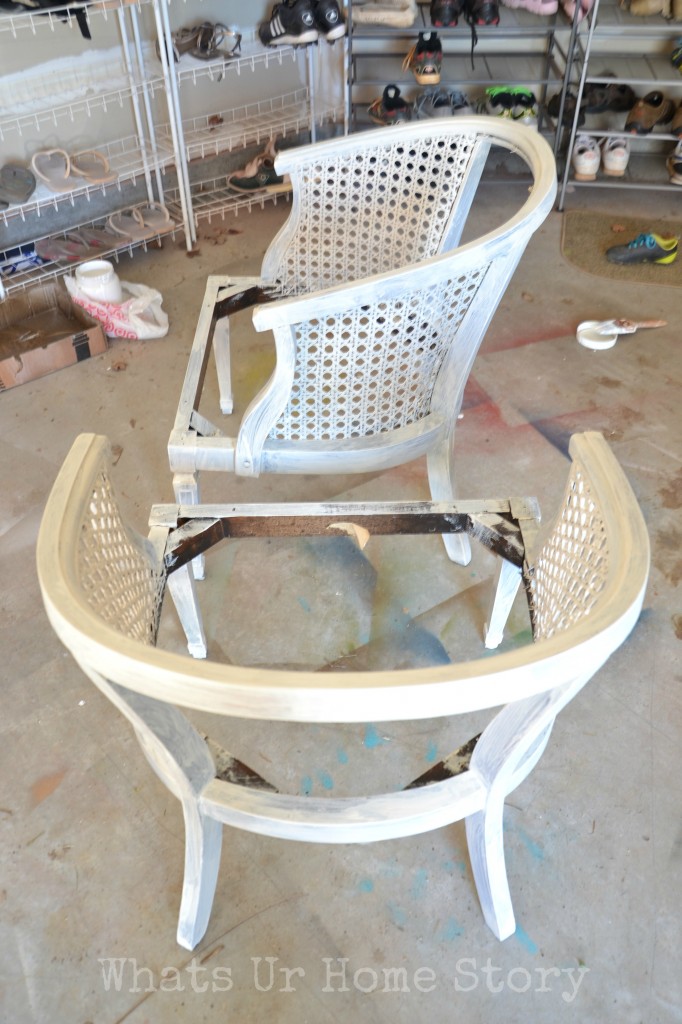 Oh, and I also used Elmer's Wood filler to fix a few dings and dents on the chair.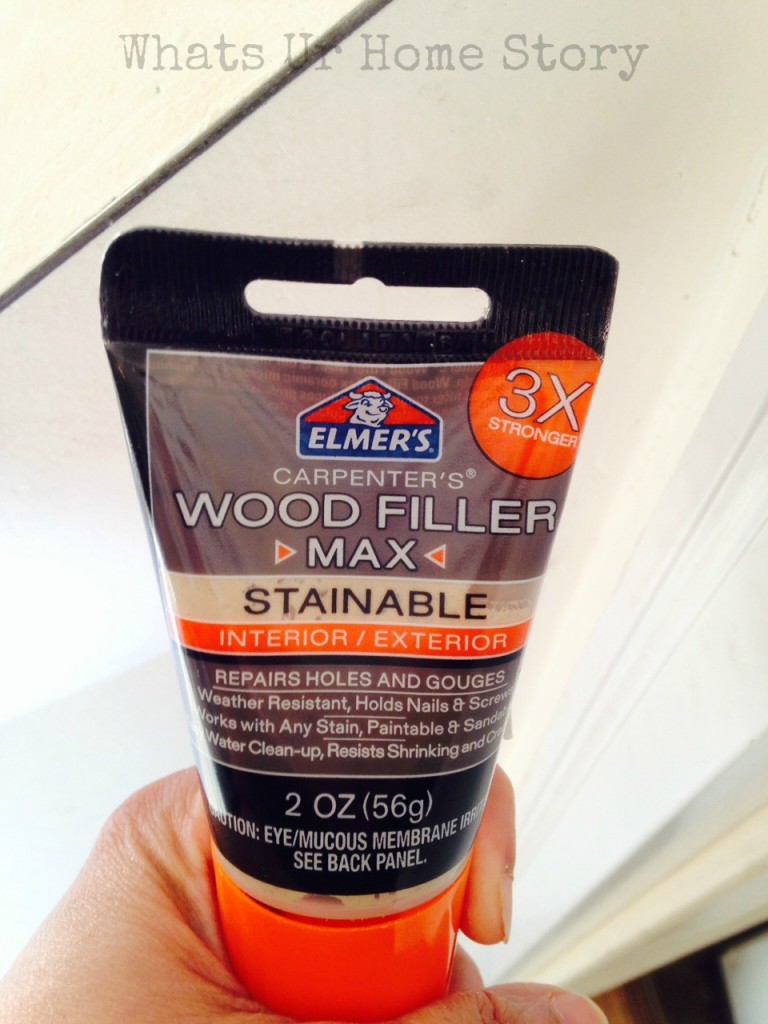 One thing I realized during this endeavor is that when it comes to paint, I'm very fickle and I change my mind at the very last minute. Contrary to all my plans I walked into Home Depot and just a picked a paint strip that spoke to me (Isn't that a normal thing? Don't paint strips talk to you?). I mean, even I couldn't believe myself, after all that planning! I just walk into the store, go to the paint section, decide on what I want then and there and order my paint!  I did the exact same thing for the laundry room herringbone ceiling! At least this time, I ordered only a sample pot of Behr Rain Storm, the darkest one on this strip.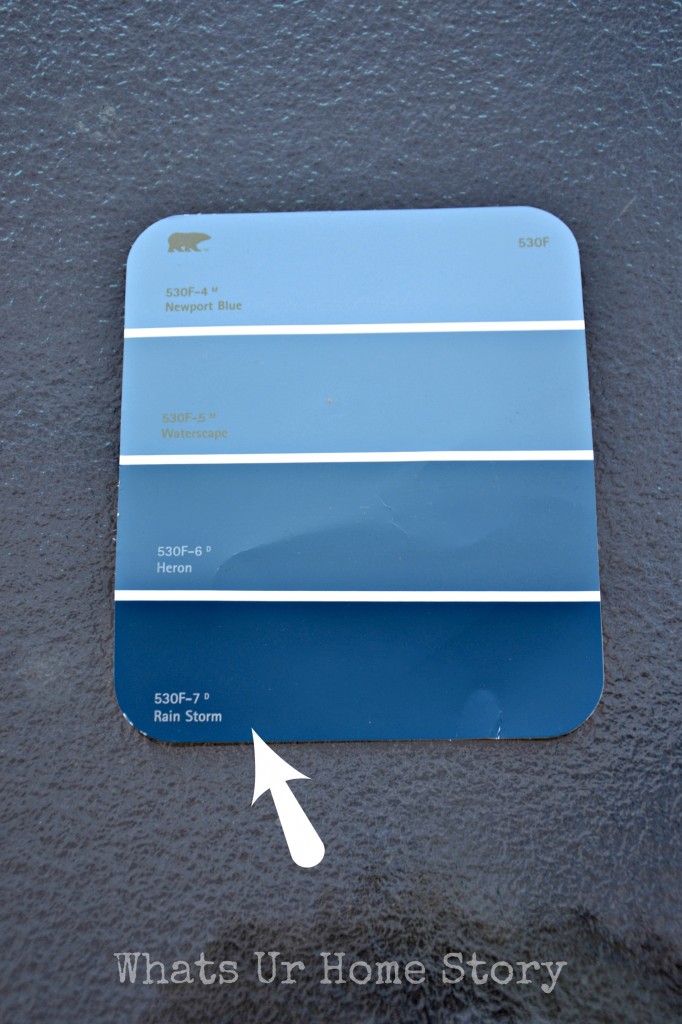 Even B is skeptical of the paint color but my heart says it will all fall into place in the end. Wish me luck folks, gonna paint today.
Have you made on the spot paint decisions in the store? How did it go?
  * Post contains affiliate links