Woot woot…part of the laundry room is ready! I couldn't wait for 'the rest of the room to take shape, so here we go!
FYI: The room has no light source other than that light you see here and I haven't yet figured out how to take good pictures with a glaring bulb!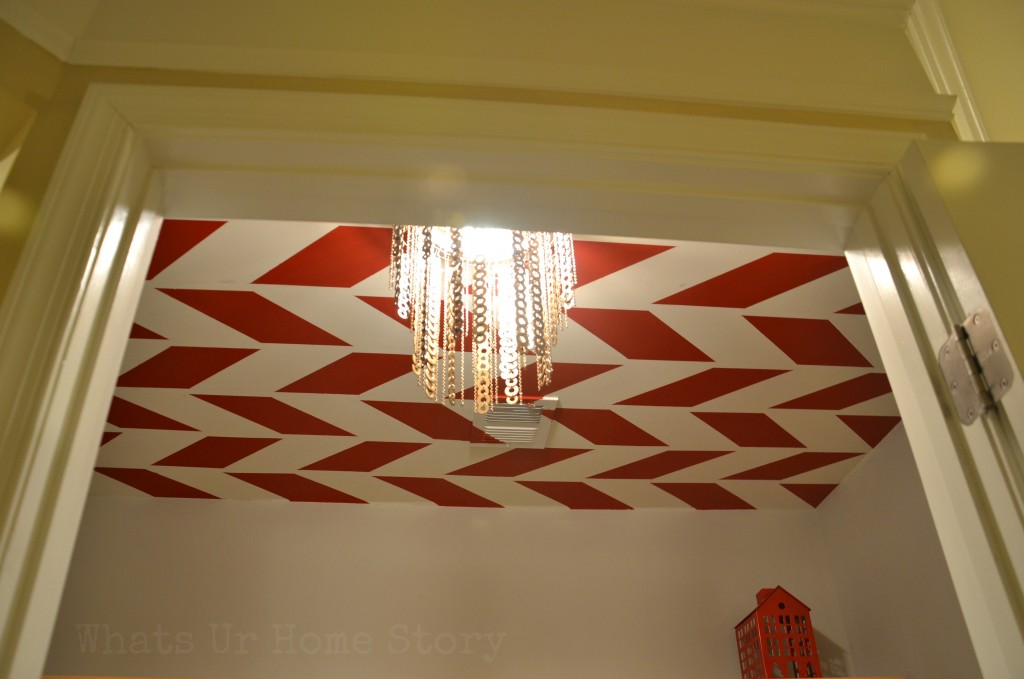 What do you think of the red? Here is what happened while I was painting;
The biggest Red fan in our home, my son, came along and asked, "Are you painting it red?"
"Yes"
"Yeah! We need more red in this house!"
"Really?"
"Of course!"
Doesn't matter what I paint if I paint it red I'm sure I'll have a cheer leader at home! 🙂
Actually my original plan was to stay away from red in this room ( red is my favorite color too and shows up in most of the rooms) but when I was looking for accessories all I was drawn to was Red! The fact that most of those were on clearance at Target (think Christmas & Valentine's) didn't help either. So red it was!
I started painting the Herringbone the traditional way, measuring and marking off sections, which was taking forever until B suggested something simpler. It is kinda similar to stencil but way more basic and easier!
My arch nemesis during the makeover. This one just gave me a hard time at every turn!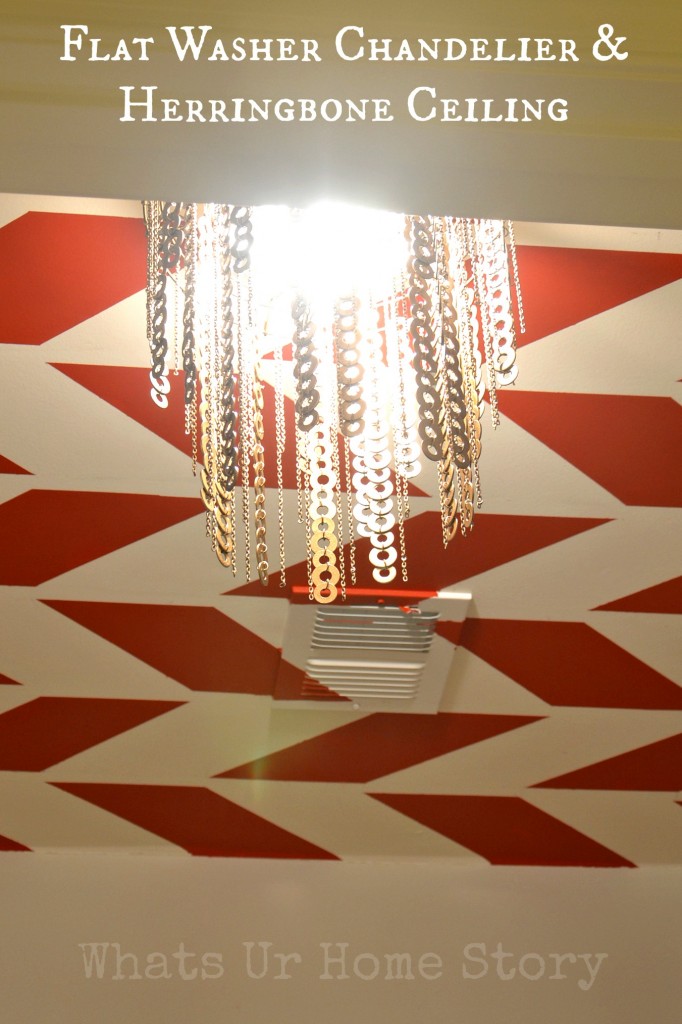 Yup, that chandelier is made of flat washers from the hardware store! Truth be told it is no fun stringing 400 Zinc washers in 2 days! Was definitely a test of my patience and endurance.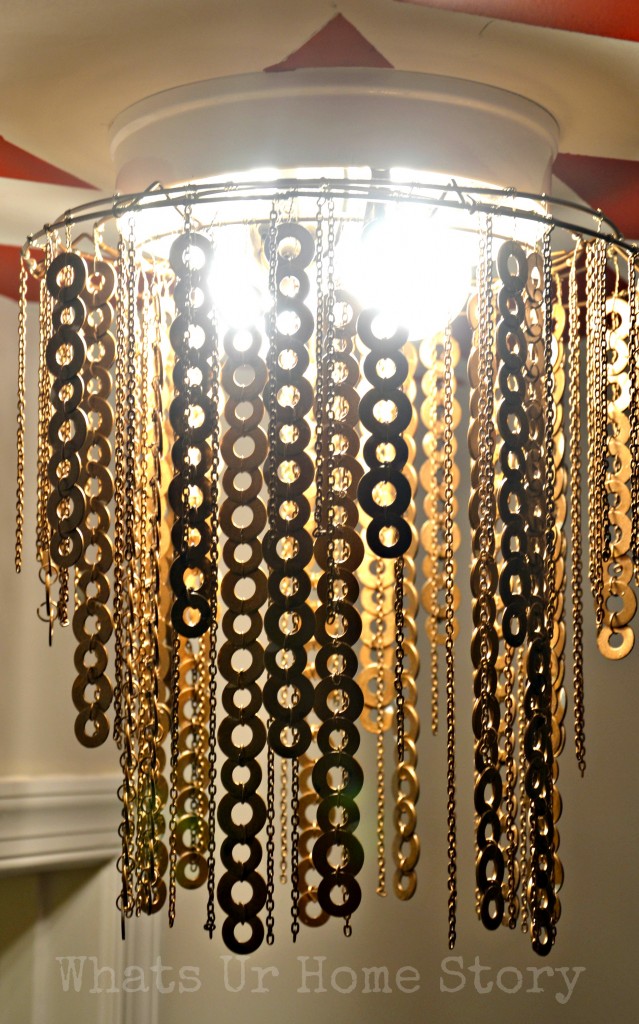 And because I like to lie down on the floor and take pictures of my Herringbone ceiling,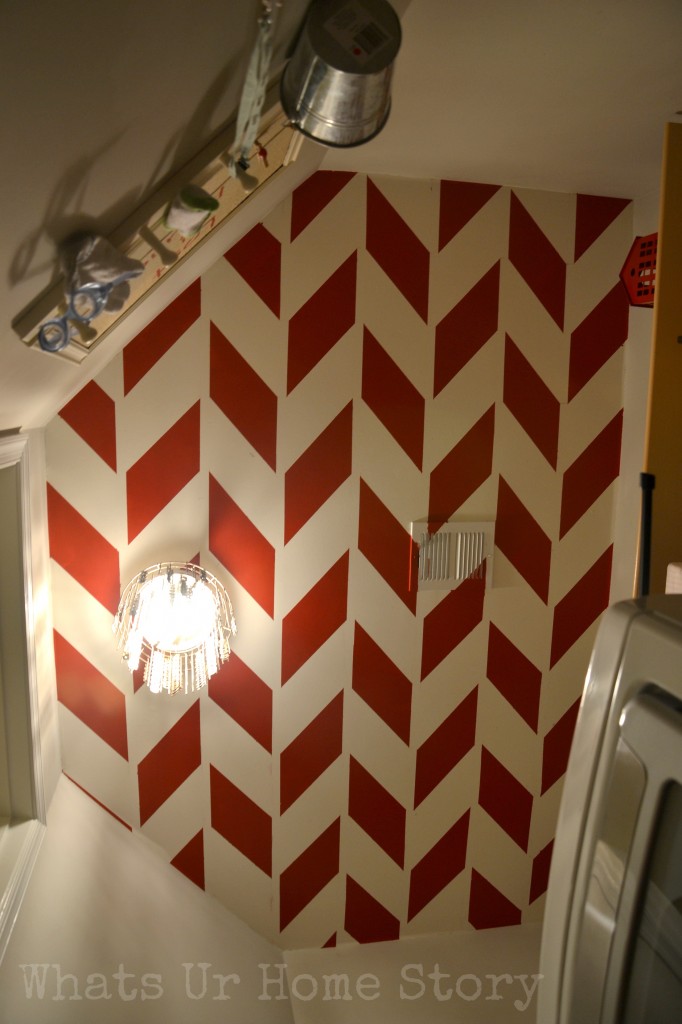 Ok, now you can leave a collective sigh out, "WTF was my builder thinking when they carved out (yes literally the walls are not even straight) this room!
Need to wrap up some more small projects in the room before I do the full reveal. So stay tuned. Leaving you with a shot of my badge of perseverance. 😉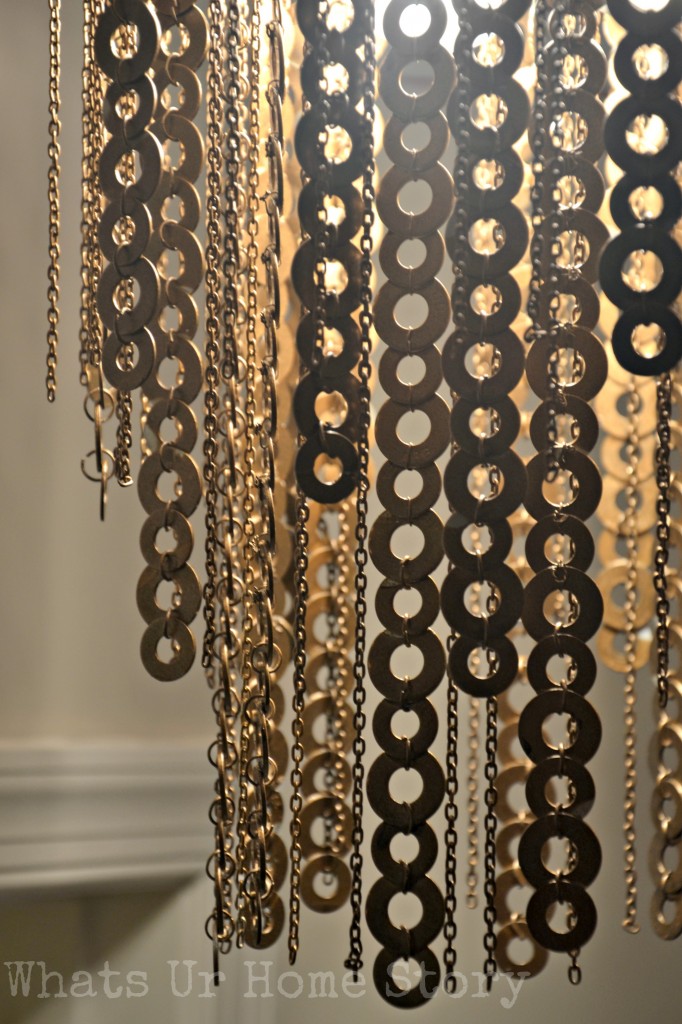 Oh and I'm linking this to East Coast Creative's "Creating with the Stars 2014 Contest" Link up. If you haven't heard about it, it is The American IDOL of the DIY blog world. A reality blogging contest were 12 blogging stars mentor 12 contestants and they compete for 4 weeks, where the readers can vote them out.
Linking up to;
Turquoise Home's Work it Wednesday