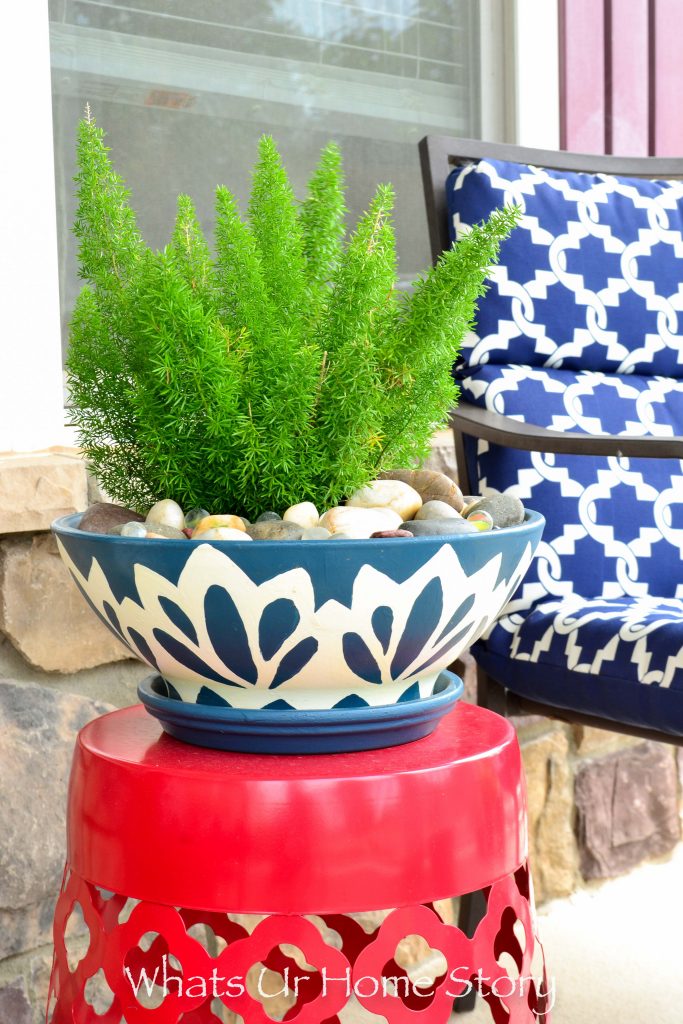 I love everything about early Fall except having to constantly check the weather app. No I'm not talking about deciding whether to wear a scarf or boots to work rather how cold is it going to be at night? Will my potted annuals and tender tropicals be able to withstand the drop in temperature at night? Especially since the weather around here is very erratic, 30-40 degree fluctuations throughout the day being a regular occurrence. Last week I had my first major scare of the season, night time temps below 50°F, a definitely signal to take my tender tropicals indoors. As I was moving my Foxtail fern indoors I realized I never shared how I made my own blue and white pottery. Can you believe that planter used to look like this?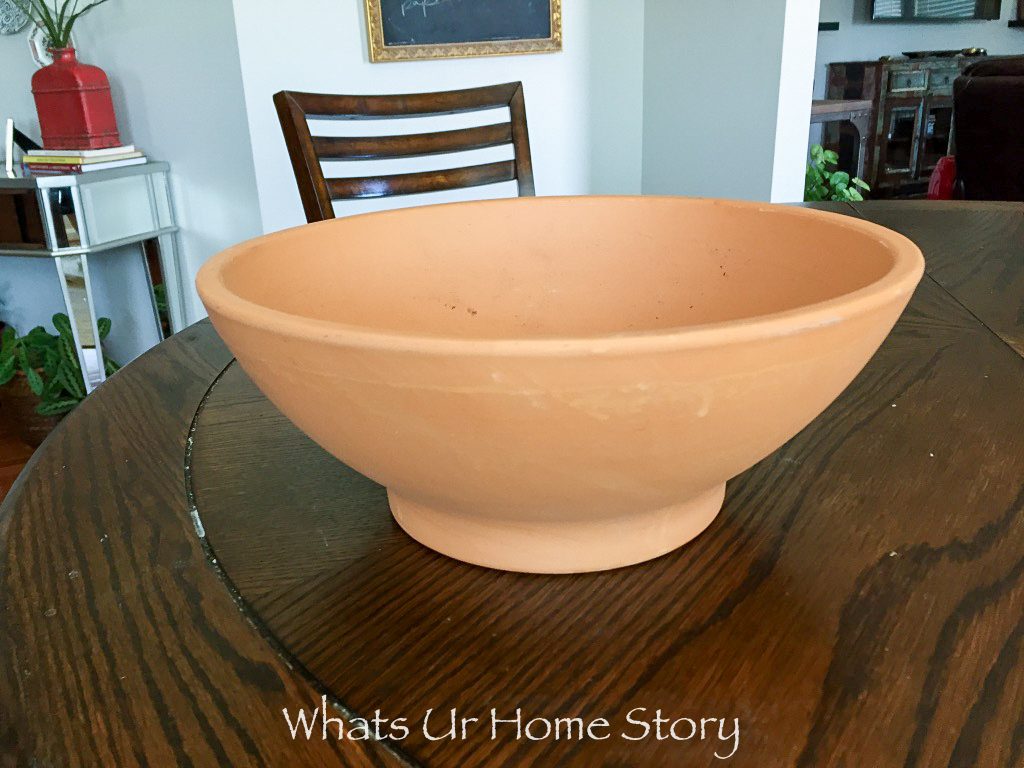 When I started the project I was well aware that I won't be able to achieve the glossy glazed look of blue and white pottery as I was neither working with clay nor planning on using the glaze and baking the planter in a kiln. So I tried to look elsewhere for inspiration on the design, handmade Mexican pottery, which allowed me to stick to a simple pattern.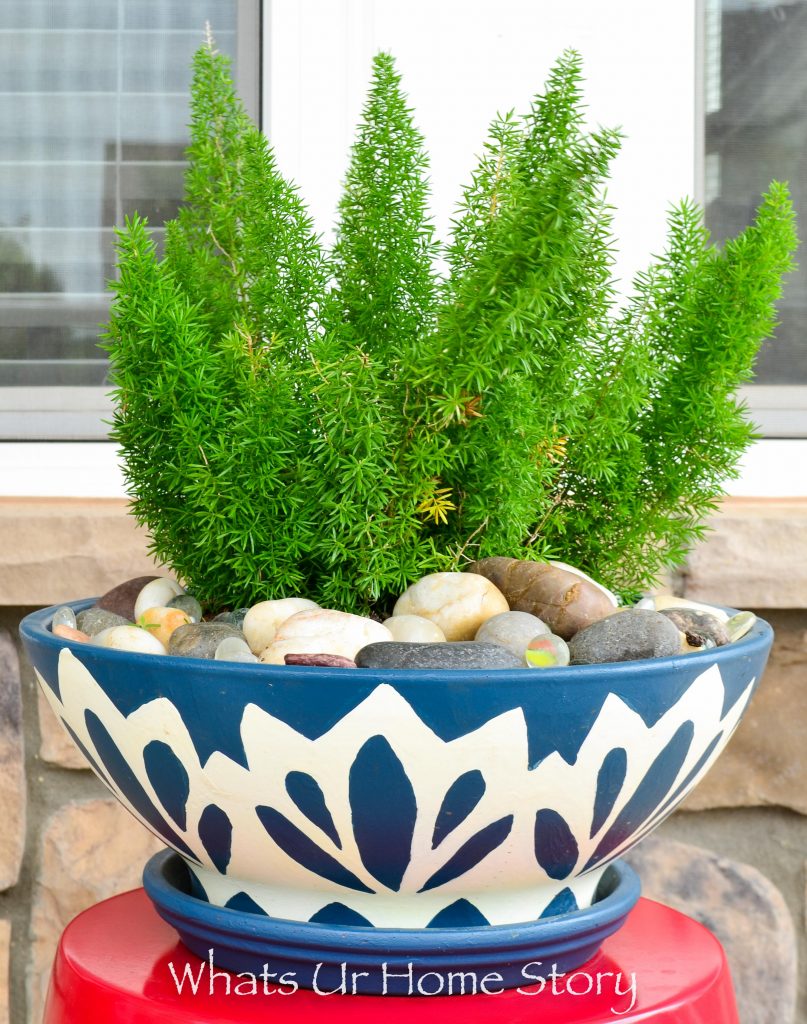 The blue is not the rich blue you normally associate with blue and white pottery as I used left over paint from my cane chair makeover. For the white I used paint left over from the builder, think it was McCormick interior flat. This is a very forgiving project as you don't have to paint between the lines or anything. Here she is adorning my red, white, and blue porch earlier in the Summer.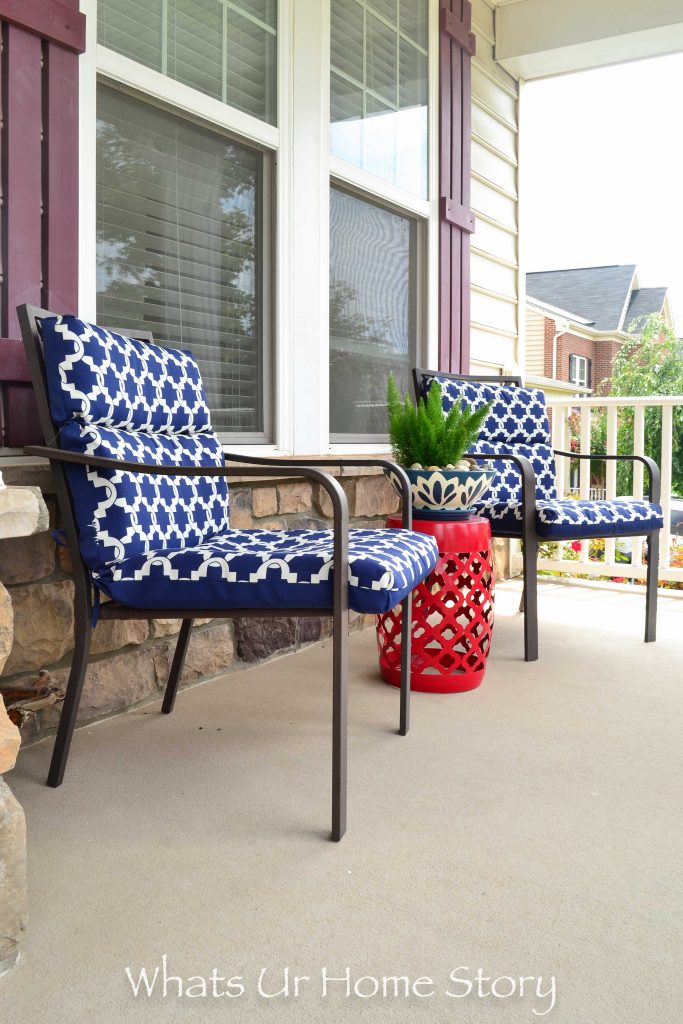 The Foxtail fern or Sprenger's Asparagus fern is a South African native and is hardy to zones 9-11, where it has been declared a weed. What a strange twist of fate, right? Where these can grow abundantly they can't grow it! I've always been fascinated by its arching plumes of tightly packed, needle-like leaves and marveled how graceful these tall plumes look in rock gardens. This Summer I found the plant at my local Lowes and decided to try my hand at growing this beauty. Hopefully she will survive indoors in the winter.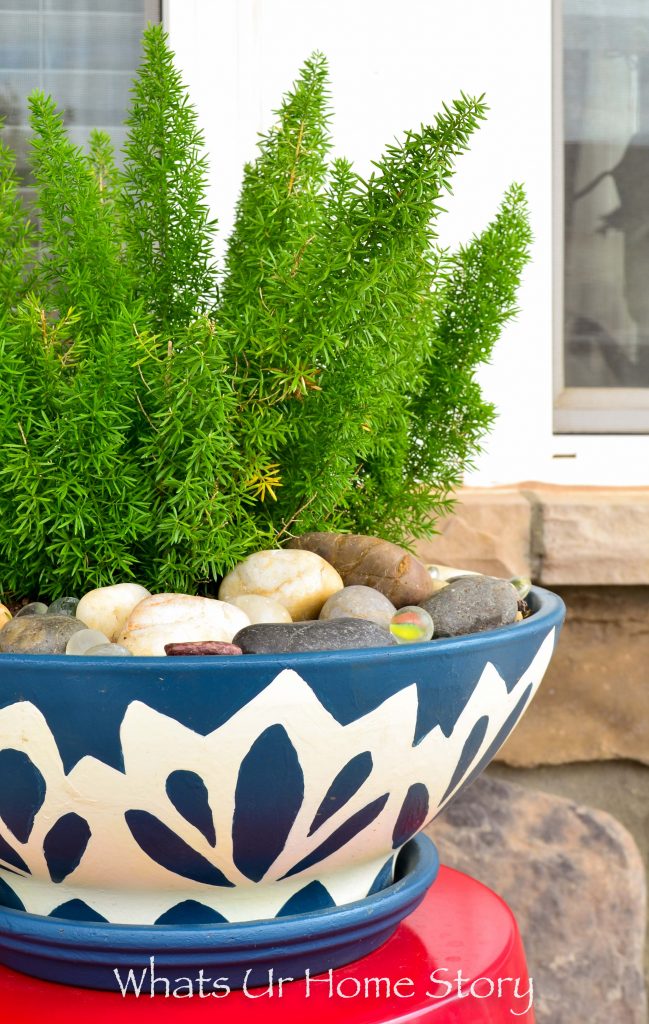 Materials
Terracotta planter
Poster board
Scissors
Pencil
Paint brushes
Paint – I used regular indoor paint. You could use acrylics too.
Mod Podge or Acrylic sealer
Tutorial
Clean the planter with a damp cloth and let it dry completely.
Draw your pattern on the poster board and cut it out.
Place the pattern over the planter and trace the design with a pencil. I just kept moving the template from one section to other to form a repeating pattern.
Feel free to free hand any other parts of your design or to fill in empty spots.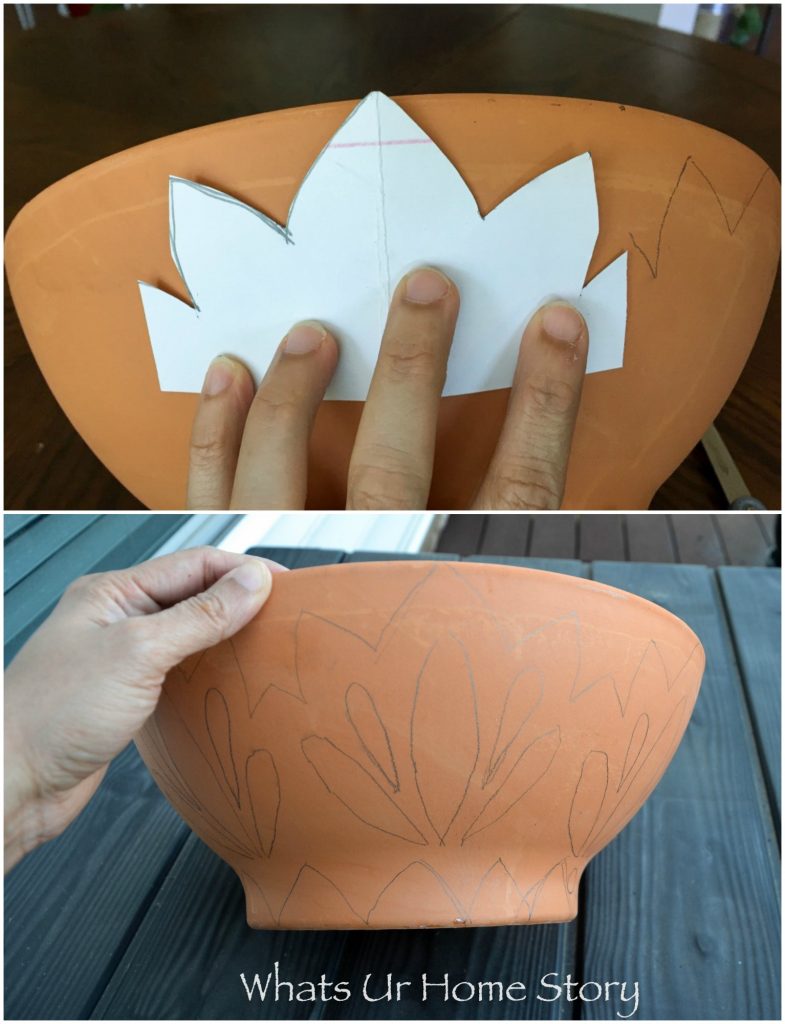 Working in sections paint one color all around the pattern. Again you can be as messy as you want. No strict rules about painting between the lines.
You might need to add 2-3 coats of paint depending on your paint's thickness.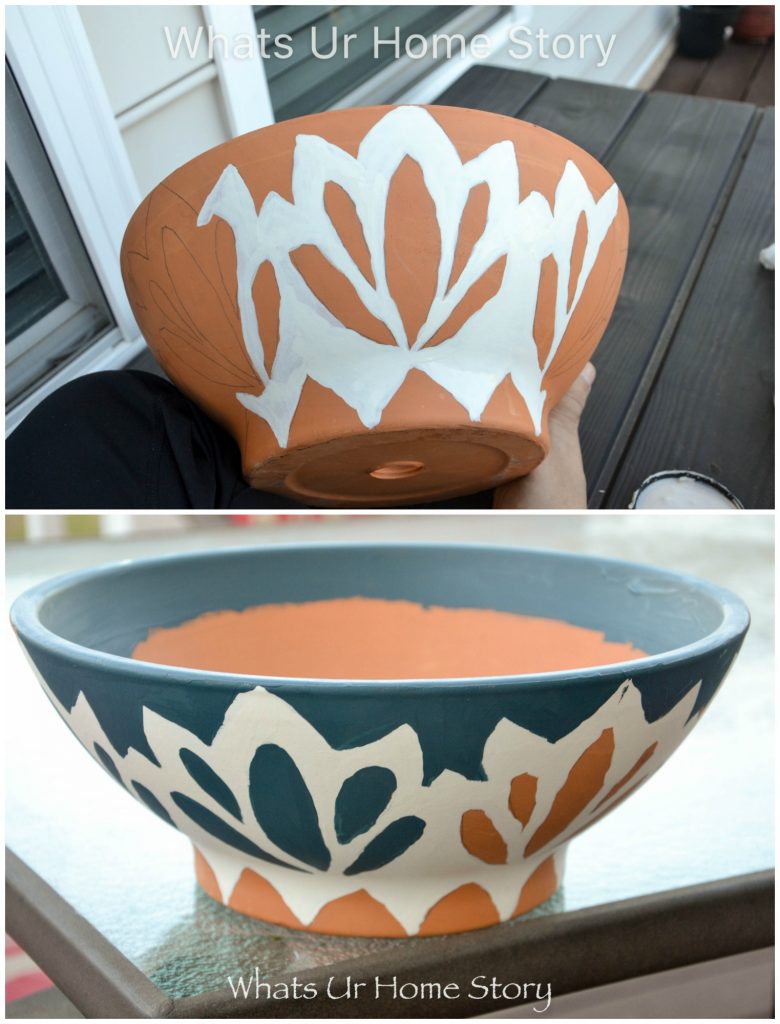 Repeat with the second color. Make sure to paint an inch or inch and half wide border inside the pot as well as you don't want to see the terracotta color from the inside. As you can see the lines aren't finished well at this stage.
Once you are satisfied with the pattern and the paint coats look uniform using a thin brush touch the lines as best as you can. I did not worry about getting perfectly straight lines as I feel the imperfections contribute towards the rustic look.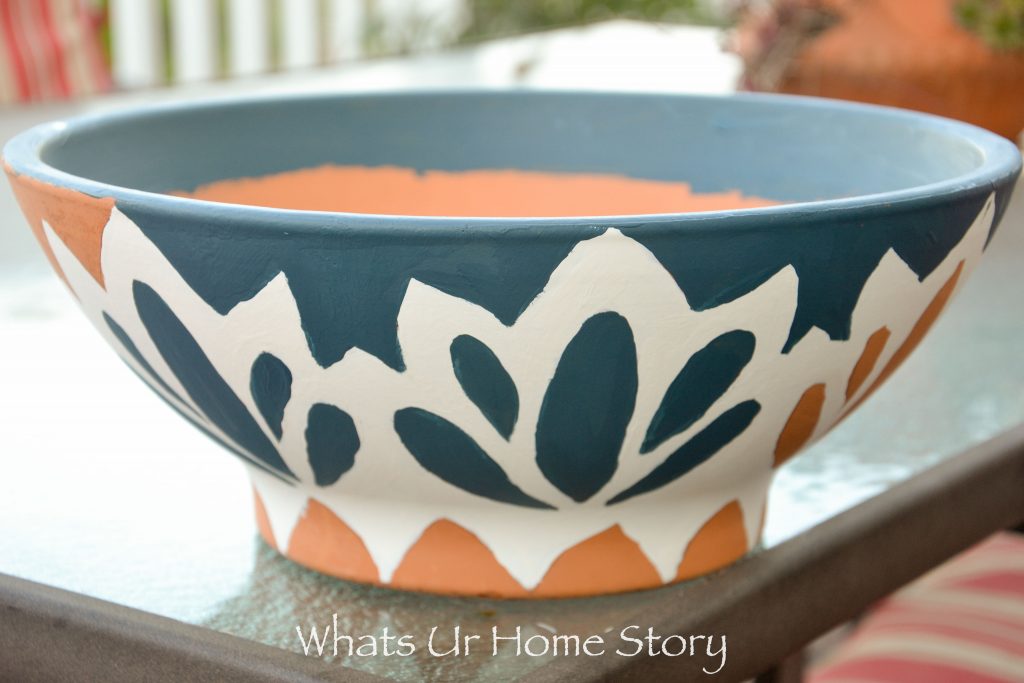 When the paint is dry apply 2 coats of Mod Podge or Acrylic sealer. Let it dry per the sealer instructions or for 2 days before using.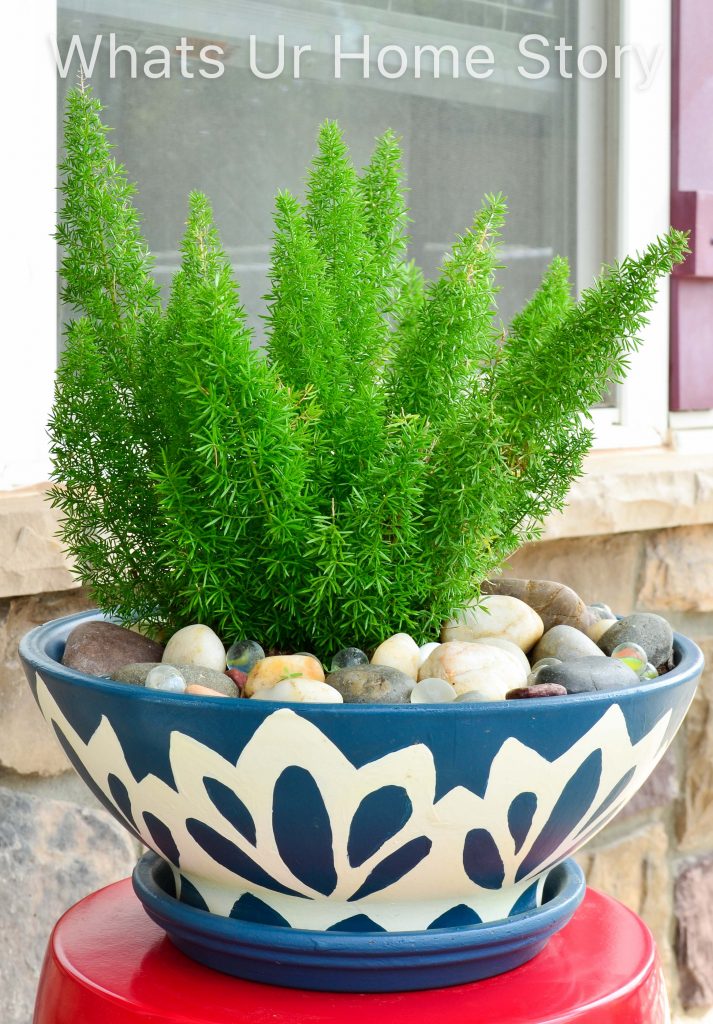 So far she seems to be doing ok indoors on my living room coffee table. Do you own one of these plants? How do you care for them indoors? I'm almost certain I might over water it. 🙁 Keeping my fingers crossed.