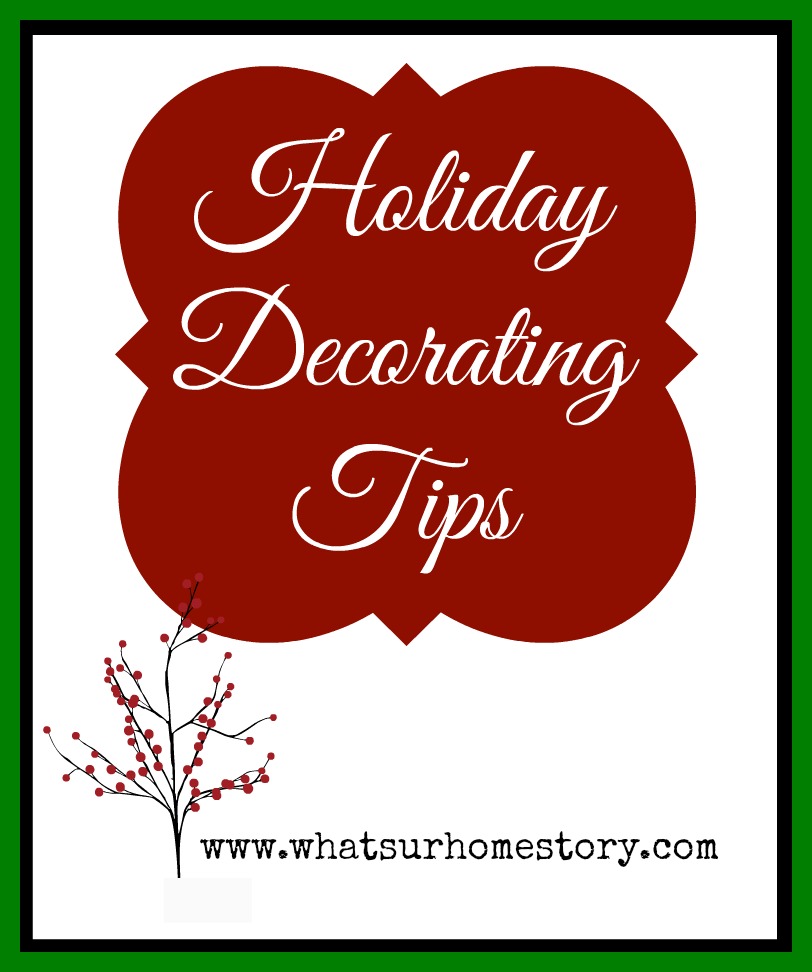 It is the busiest time of the year and the one thing all of us are short off is time! What with all the planning, shopping, gifts, hosting guests, cooking how do you find to time to decorate your home? Whether it is Thanksgiving or Christmas here is a holiday decorating checklist for ya.
Outside – I prefer to keep it simple and manageable for one and only one reason; I know that what goes up must come down and I don't like putting things away. If you go all out with outside decor a little planning ahead of time on the layout will save you a  lot of heart ache. You could also try to do it in batches, finishing off sections as you go instead of doing it all in one day.

Front Door

– A wreath on the door is always a warm welcome sign to your guests. Again I like to work off a base wreath for a season where I can change out the accessories depending upon the holiday (see how I updated my burlap wreath for Halloween; will show you how I updated it for Thanksgiving tomorrow)

. A win-win when it comes to the time, effort, and money saved! For a 

different

 take on the wreath idea you could use a pine bough from your yard instead of a wreath like below.
Stairs

– Nothing says holidays like the smell of fresh pine and a garland draping the stairs is a treat to the eye as well. You don't have to be super fancy, a simple pine garland with an ornament/pine cone and a burlap bow hung on the main banisters will do. For Thanksgiving instead of the ornament you could add some birch branches or quail feathers.
Tree – If they are hosting guests for Thanksgiving a lot of my friends set the tree up before the holiday. In our home the tree is basically the only real decorating we do. After I've started blogging we also deck up the mantel and add some outdoor decor. The tree, will do a detailed post once we are close to tree decorating season.
Mantel – Again staying true to my philosophy of trying to tweak the Thanksgiving decor to work for Christmas, I prefer simple neutral mantels where I can add and subtract accessories based on the holiday. Love the simplicity and versatility of this mantel by Shaunna from the Perfectly Imperfect blog. Change out the 'joy' to 'thanks' and instead of the ornaments add a few fall touches in orange and yellow hues and you have a chameleon mantel with minimal work.
The Chandeliers

 – This is an easy update that gets overlooked most of the time. Even simple additions like these pine cones tied with ribbons add up. You could add colorful felt acorns like these for Thanksgiving or ornaments to the mix for Christmas.
 The Little Touches Around the Home

– Add little holidays touches around the home, on the sofa table, on the book shelves, in the bathroom etc. by throwing in a few ornaments (pumpkins and gourds for fall) into your vase or a tray.
The Run Down
Pick a color palette of 2 or 3 colors and stick with it. No worries if you have things from previous years that do not fit the palette. As long as you keep repeating your palette around your home adding things that are a different color will not distract but add to the whole eclectic feel. You still have your main colors keep the continuity going.
Try to use as many personal items as you can in your decor. Holidays are a time to cherish our friends and family and be thankful for having all of them in our lives. Reminders of folks who add so much to our lives will only add to the holiday spirit.
Add lots of texture; warm throws/ blankets, pillows around the home, light a fire in your fireplace.
Fill the home with the scents of the season, whether it is bringing branches from the outside or candles or potpourri.
Add shimmer and shine with metals. Dozes of gold or silver around the home will ring in the season with cheer.
Did I miss anything? How do you decorate your home for the holidays?