What did you do with you uncarved Halloween pumpkins? I turned my daughter's devil pumpkin into this easy Thanksgiving table ready centerpiece.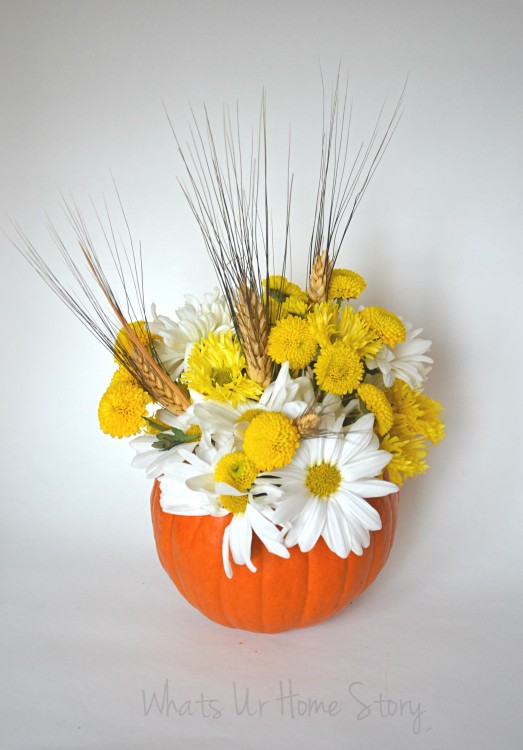 Usually when I do a floral arrangement post, I don't dwell much into how you can recreate the look in your own home. Mainly because I'm a very 'go with the flow' kinda person when it comes to flowers. I've always felt that the flowers talk to me and tell me how they want to be placed in the vase! Recently I've had some of you ask me to break it down in to easy steps. So here's my try at doing a step by step process of basically how my brain works when arranging flowers. 🙂
Start with your vase. In this case, I was trying to find a use for our Halloween pumpkin before it rotted.
Using a carving knife cut out the top making a hole big enough to fit a small container inside. Clean out the guts of the pumpkin so that your smaller container can lay flat, add water.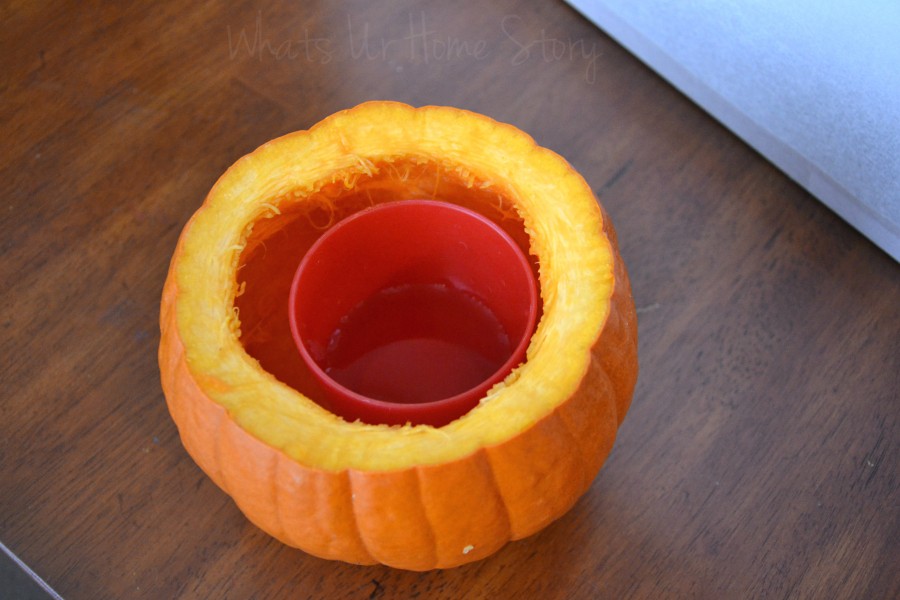 Choose your flowers. I prefer to keep the palette simple and stick with 1 or 3 colors. To increase interest and depth you could add different types flowers of the same color.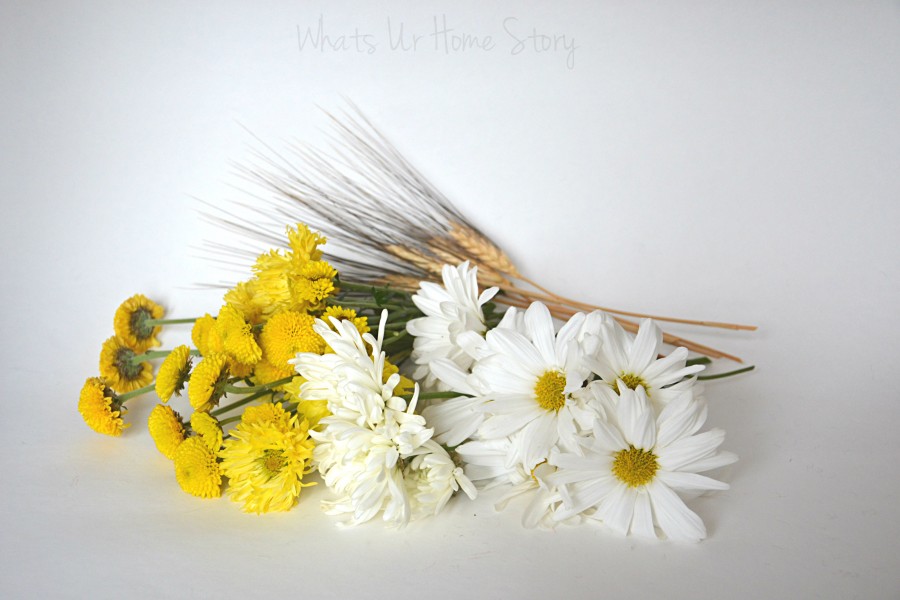 I used yellow and white mums and some wheat stems because those were the few flowers that I could save from this Costco bouquet. Note to self, at least next time please remember to divvy up the bouquet before the flowers start wilting.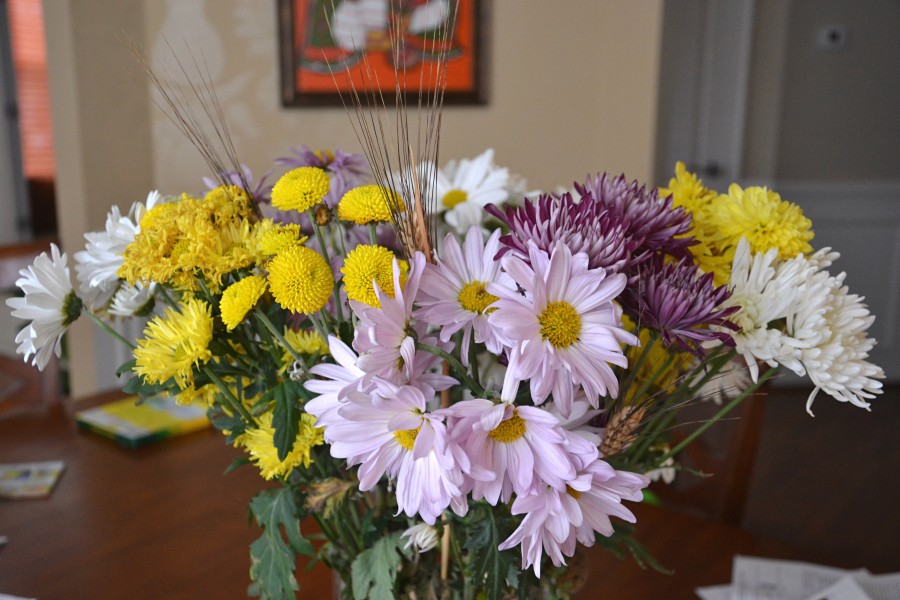 Cut the flowers to fit in the pumpkin. I like to vary the height of the stems slightly so that I can use the taller ones in the center, the medium ones in the middle, and the shorter ones in the front/sides.
Arrange your base layer of flowers first, in this case the larger white mums in the vase. Take care to spill some over the sides of the vase to cover up/ soften the sharp edges of the cut pumpkin.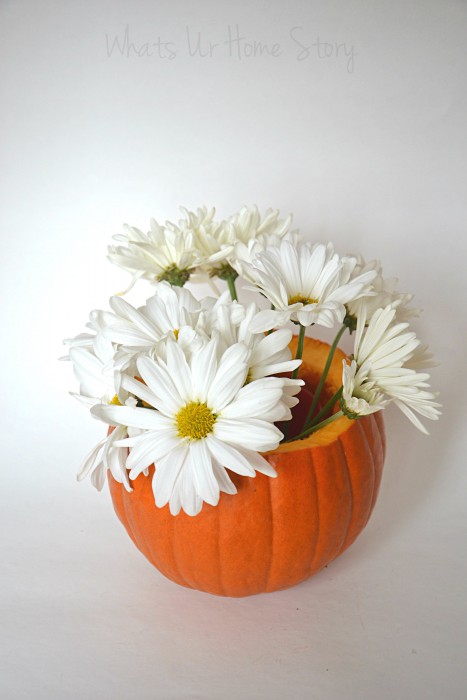 Fill the holes with your next color. Grouping like flowers and or colors together increases the impact.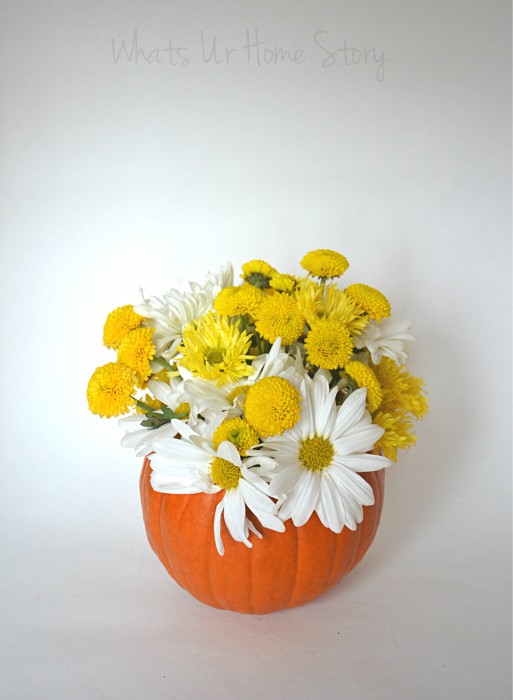 Frankly speaking the wheat stems were not part of the original plan. Once I reached this point I felt that it needed a little something more to vary the height. Just something that threw off that well rounded balance of white and yellow.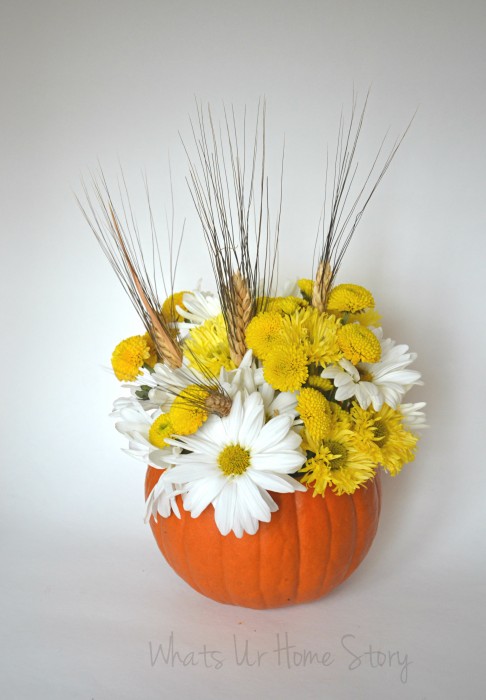 Like I said earlier, there is no right way of doing this. What looks good to you works. To prove the point I took out all the flowers and tried to rearrange it again and ended  up with this. Slightly different but still pretty.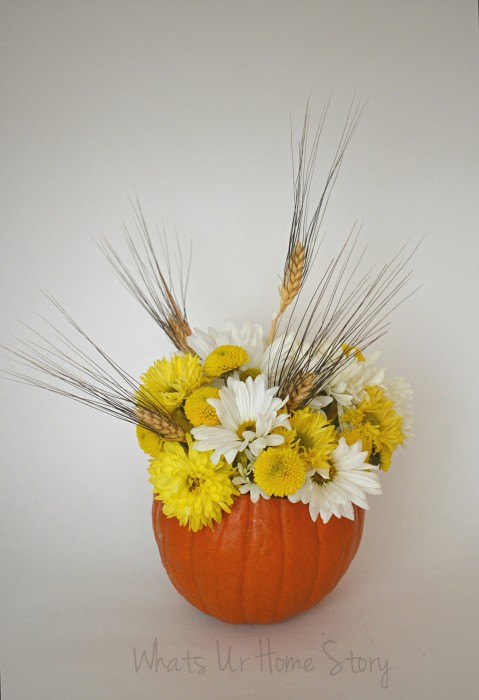 Do flowers talk to you too?
PS: You can see my other veggie turned centerpiece from last Thanksgiving here.