We have our first water lily of the season!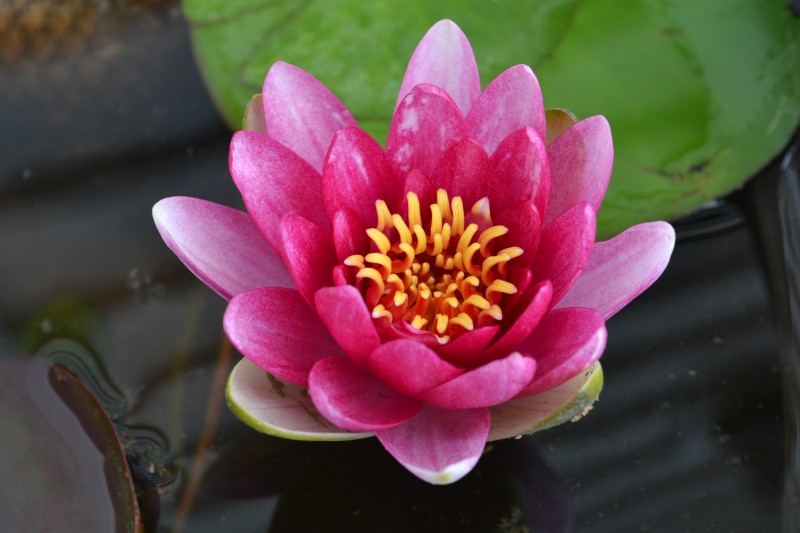 A second one is along the way. Water lily flowers open up fully by mid morning. Once the sun starts heading west they start to close up. All the shots in this post were taken at 6 in the evening (after I came back from work) when it was well on its way to calling it a day.
Now for the news, we had our first link party feature! My original post on the water garden was featured on the 'Greatest of the Great Outdoors' link party at  Eclectically Vintage. This was a one of a kind link party hosted jointly by 5 great bloggers! Thanks a ton Kelly!
Back to the water garden; after the recent
snafu
with the other water lily pot I had another setback. The other day I noticed that elephant ear tuber in the water garden pot started rotting while the ones planted outside were thriving.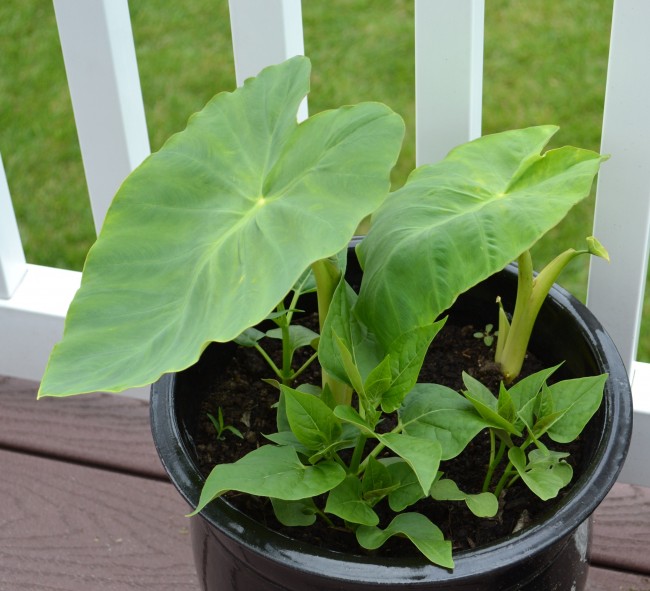 It seems that not all elephant ears do well in water; only 'taro', which is a special type of elephant ear grows in water. The others do not like wet feet though they like ample moisture. The solution that I found (online) was to keep the pot half submerged.  Not entirely convinced. So I've decided to wait it out for now. I took the tuber out cut off the rotting part and re-potted it. Hopefully it will grow back, outside the water. Once the other elephants ears get big and strong I'll try to introduce them back into the pot. After reading up more on these I don't have high hopes that it will survive. But it is worth a try.
Meanwhile, I've been craving for some more action in the water garden this year. So went plant searching at our local Lowes and found this.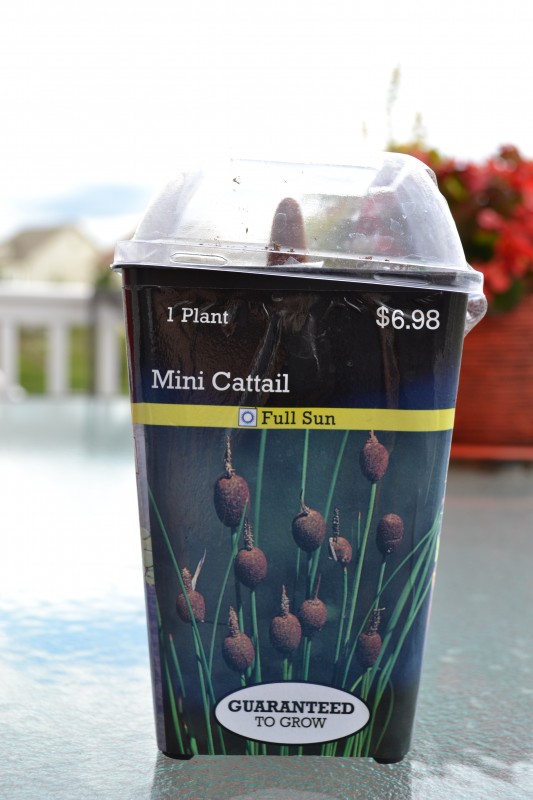 A mini cattail. For those of you interested, they also had water lilies in at least 4 different colors, a floater, and a maroon iris. All except the water lilies ($8.98)  were priced at $6.98. I kept reasoning that this year I hadn't incurred any $ on the water garden other than the fish (I had re-used all the plants from last year, which I had got on clearance) so I could indulge in a plant this time. Cattails have always fascinated me. Plus I wanted a nonflowering plant that had an interesting shape  (the elephant ear would have looked really great in it).  The plant came wrapped in an all natural filtering fiber covered in a net bag (to protect the plant from koi in case you are planting it in a pond).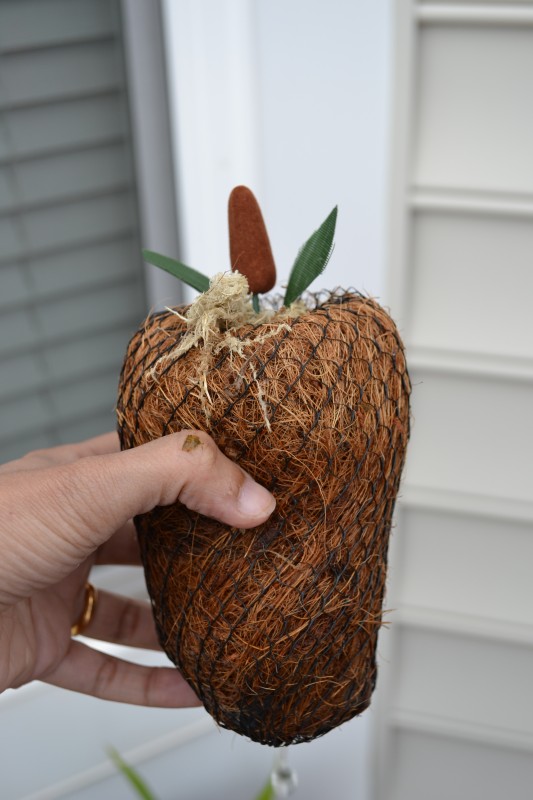 No, what you see there is not the plant. It is just a floating plant locator to give you an idea of where you dropped it. You are supposed to tie it to a string and attach it to the net (would make more sense if you have a pond). I just left it there. The planting instructions said to just drop the plant into the container at a height of 1-6″. I propped it up on a large stone that I found in the yard. It is supposed to grow on its own. Keeping my fingers crossed. 
We also had another casualty in the garden, one of the fishes. We have had unusually spring-y weather around here lately. Day time temps in the 60's,  so definitely the water temps would have been in the 50's, too low for tropical fish. I'm sure the other one is dead too though the kids refuse to believe it. I'm gonna wait for perfect summer weather to add any more fish to the garden.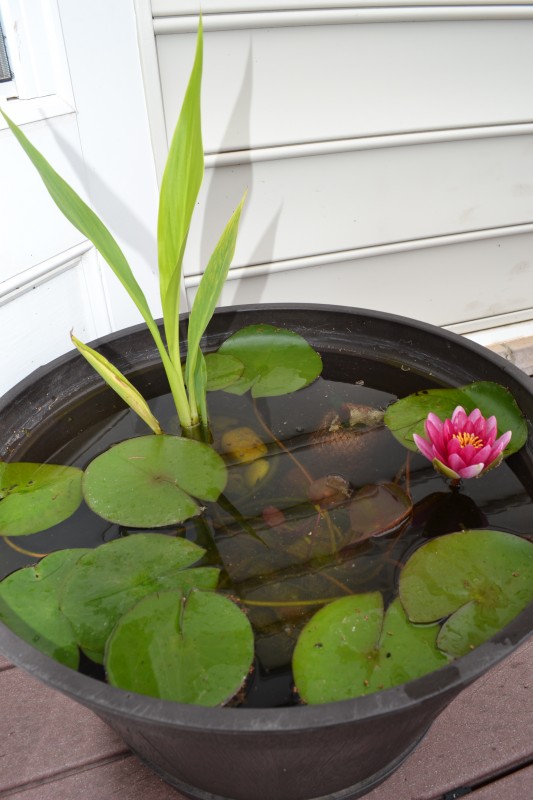 Let it grow…..let it grow……..One more shot of all that prettiness.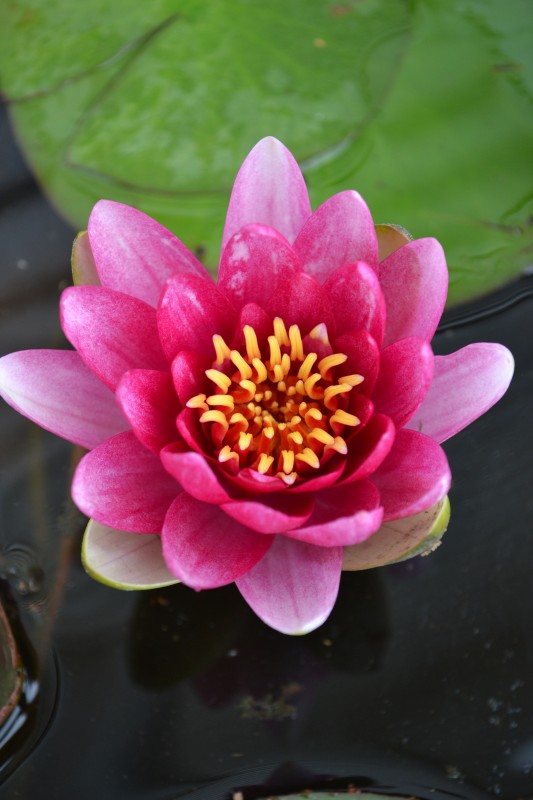 Note to self : Will need to winterize each of the plants the proper way this fall.
Anyone inspired to create a water garden yet?  You can get the detailed how to here.
Other Water Garden Posts You Might Enjoy;